A great loaf for the holidays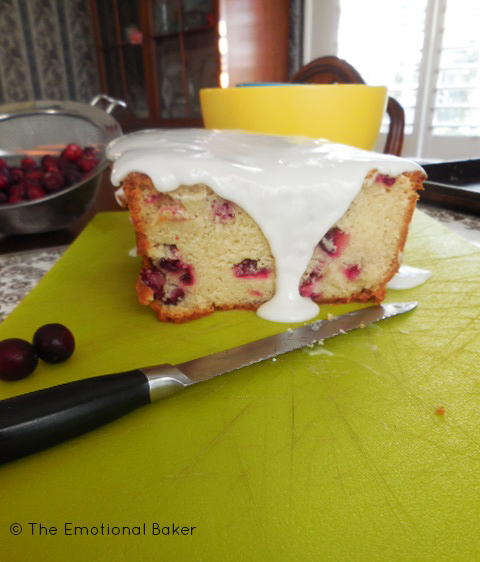 As soon as I saw fresh cranberries at the store, I started dreaming up this loaf. This cake is filled with all my favorite flavors – lemon, almond and cranberry.
When I first baked the loaf, I was so eager to taste it, I couldn't wait for it to cool so I could glaze it. (Just like these Pumpkin Scones.)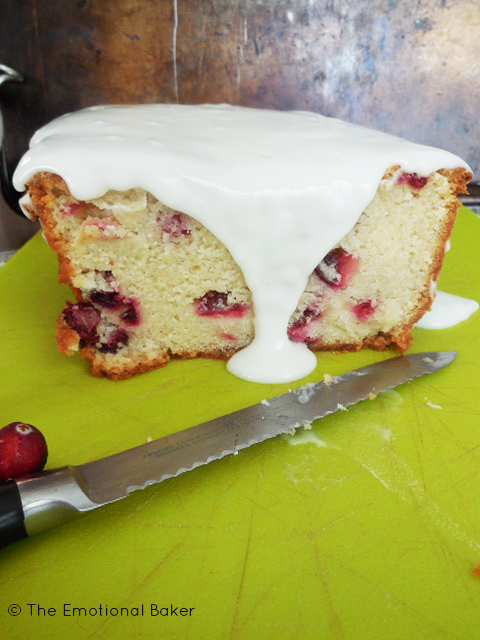 Although it was delicious straight out of the oven, it didn't nearly compare to the flavor the next day. I added a thick lemon icing that jazzed up the cake. Overnight all the flavors of the loaf came out creating the perfect, moist cake. I hope I get to make this loaf again this holiday season. You should, too 🙂
Cranberry Lemon Loaf
Author:
Ingredients
8 ounces lite silken tofu
3/4 cup canola oil
1/2 cup lemon juice
2 cups sugar
1 tsp vanilla extract
1 tsp almond extract
3 cups all purpose flour
1 tsp baking soda
1/2 tsp baking powder
1 tsp salt
1 1/2 cups fresh cranberries, sliced in half
2-3 cups powdered sugar, depending on desired consistency
Juice of 1-2 lemons, depending on desired consistency
Instructions
Preheat oven to 350 degrees.
In a blender, combine silken tofu, oil and lemon juice. Transfer to large bowl.
Mix in sugar, vanilla and almond extract.
In measuring cup, combine flour, baking soda, baking powder and salt.
Add to liquid mixture and mix until smooth.
Bake for 60-90 minutes. Check after 50 minutes, if getting too brown, cover with aluminum foil.
Transfer to wire rack and allow to cool.
Make glaze: Combine powdered sugar and lemon juice in small bowl, until desired consistency is reached.
Pour on cool cake. Allow to set before slicing.