A great bar for the holidays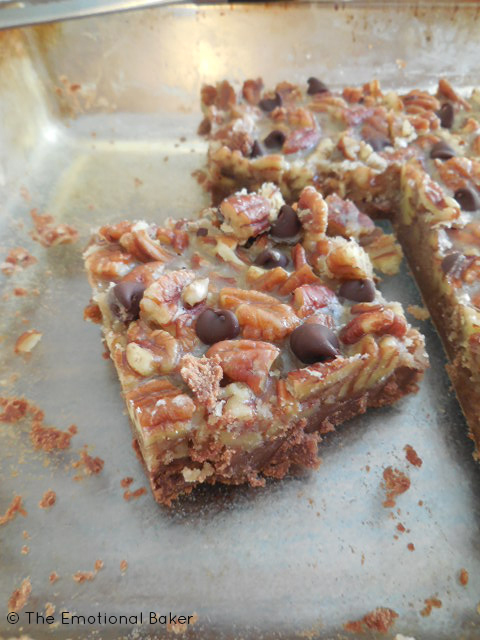 I've been dreaming of pecan bars for the past several weeks. I originally thought of making mini pecan pies, but soon that idea morphed into a bar. The next idea was a chocolate pecan fudge, but then I realized I didn't have enough powdered sugar. I'm glad I didn't though because if I had I wouldn't have been able to have these delicious bars.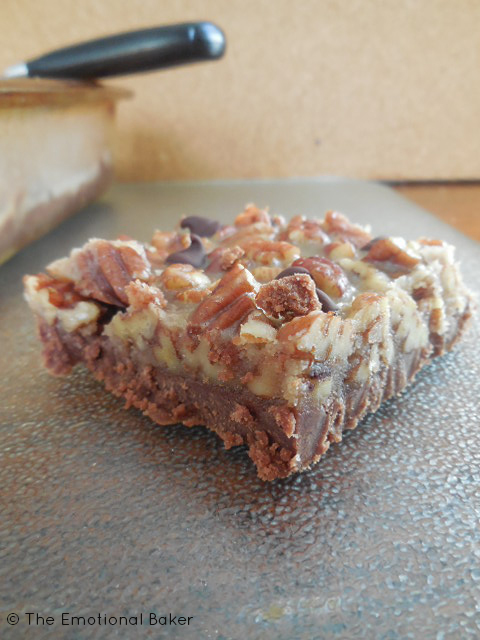 You start by making the crust, which is a chocolate shortbread. The technique is very similar to pie crust in that you incorporate the margarine into the flour. Once incorporated, press into a 9 inch square pan. Allow to bake for 10 minutes.
While the crust is cooling, you'll prepare the pecan topping. This is a really simple topping, but be sure to catch right when the sugar/maple syrup mixture comes to a boil. Quickly turn your eye to low for the sugar mixture to simmer. I added chocolate extract with the pecans, but if you don't have that on hand, simply use more vanilla extract.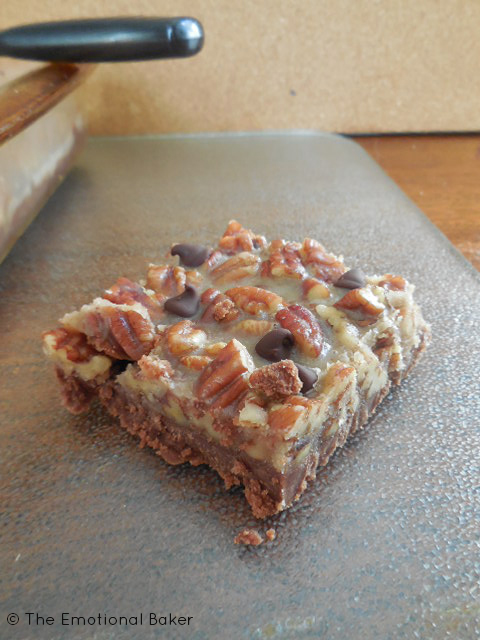 Do you dream up recipes weeks in advance or are you a spur of the moment baker?
Chocolate Pecan Shortbread Bars
Author:
Ingredients
For the crust:
1 cup all purpose flour
2 tbsp brown sugar
2 tbsp sugar
2 tbsp cocoa powder
1/4 tsp baking powder
1/4 tsp salt
1/2 cup margarine
For the pecan topping:
1/4 cup brown sugar
1/4 cup sugar
1/4 cup maple syrup
4 tbsp margarine
2 tbsp almond milk
2 cups pecan halves, broken in thirds
1/2 tsp vanilla extract
1/2 tsp chocolate extract, or more vanilla
Chocolate chips
Instructions
For the crust:
Preheat oven to 350 degrees.
Combine flour, brown sugar, sugar, cocoa powder, baking powder and salt, in medium bowl. Cut margarine up in tablespoon segments. Use hands to incorporate margarine and flour.
Once combined, press into greased 9 inch square pan.
Bake for 10 minutes.
Allow to cool.
For the pecan topping:
Combine brown sugar, sugar, maple syrup, margarine and almond milk in pan and bring to a boil.
Once boiling, reduce heat and simmer sugar mixture for 5 minutes.
Remove from heat and mix in pecans, vanilla extract and chocolate extract.
Pour on top of crust and press pecans lightly. Sprinkle chocolate chips on top and press in to pecan mixture.
Place in refrigerator and chill overnight, or until firm.