A festive granola filled with holiday flavors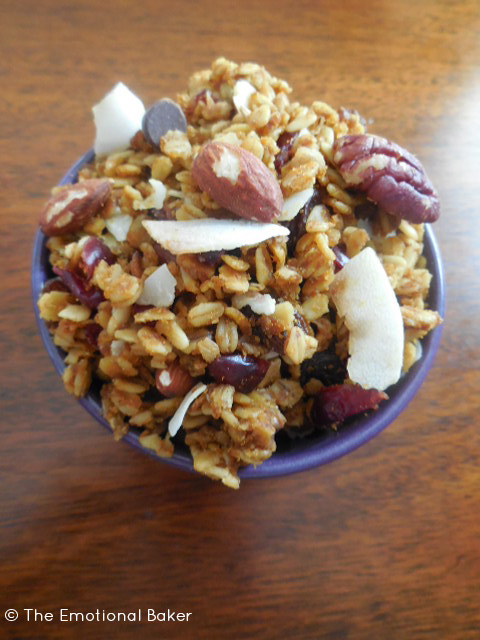 I'm back today with a festive granola recipe after an unintended hiatus from blogging (but definitely not baking.) At first I was just going to take a couple days off surrounding Thanksgiving, but then I lost motivation to create new recipes.
I'm excited to get back in the groove of things sharing great recipes for the holidays.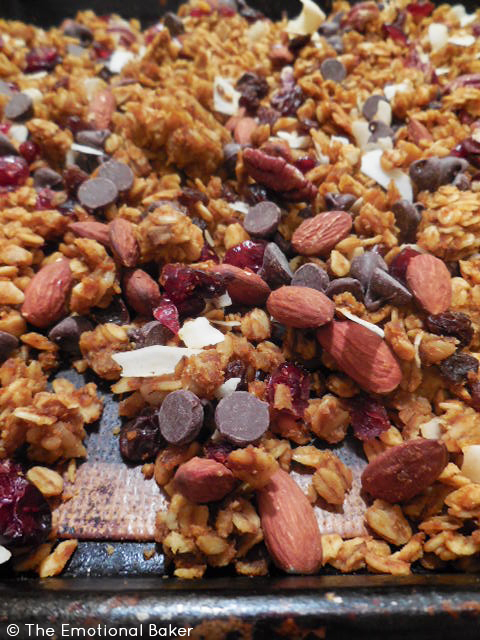 First up is this granola recipe. It is filled with all my favorite holiday flavors – pumpkin, pecans, cranberries – and many more.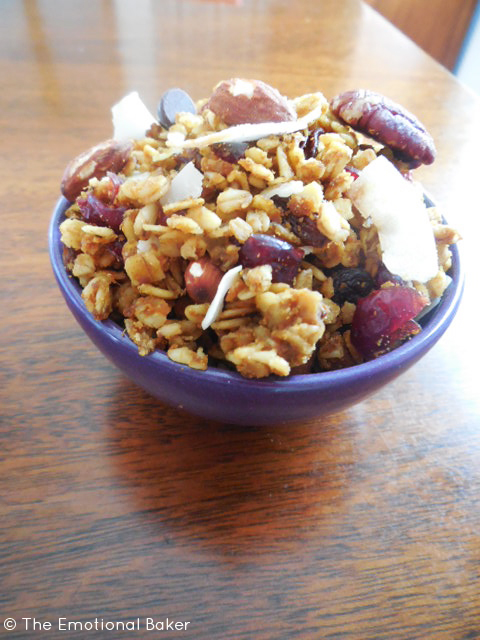 This would make a great light holiday breakfast, filling, but not too heavy.
Granola
Author:
Megan – The Emotional Baker
Ingredients
1 cup pumpkin
¼ cup apple juice
¼ cup maple syrup
¼ cup canola oil
¼ cup peanut butter
1 tsp almond extract
1 tsp cinnamon
3½ cups oats
½ cup cranberries
½ cup raisins
½ cup pecans
½ cup almonds
½ cup coconut flakes
½ cup chocolate chips
Instructions
Preheat oven to 300 degrees.
Combine pumpkin, apple juice, maple syrup, canola oil, peanut butter, almond extract and cinnamon in large bowl. Once combined, fold in oats.
Spread on baking sheet in an even layer. Bake for 20 minutes.
After 20 minutes, stir in cranberries, raisins, pecans, almonds and coconut flakes. Bake an additional 30 minutes.
Allow granola to completely cool. Stir in chocolate chips.