A quick cereal bar combining the flavors of white chocolate and peppermint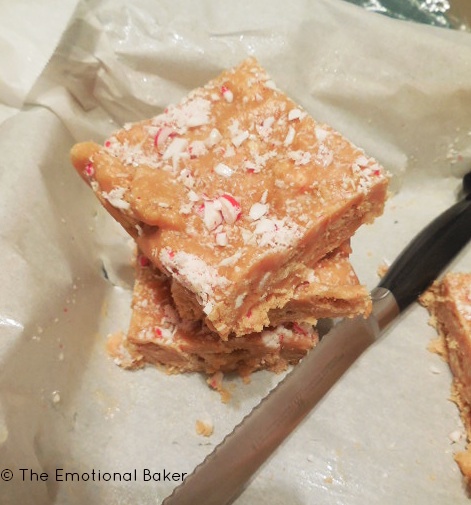 Every Christmas I love baking with crushed peppermint. A go to is chocolate chip cookies sprinkled with candy cane pieces.
I always have a little trouble smashing the candy canes, but never like I did this year. I decided to get round mints early – like around Thanksgiving – so I wouldn't have to worry about not having any so I could go ahead and start baking.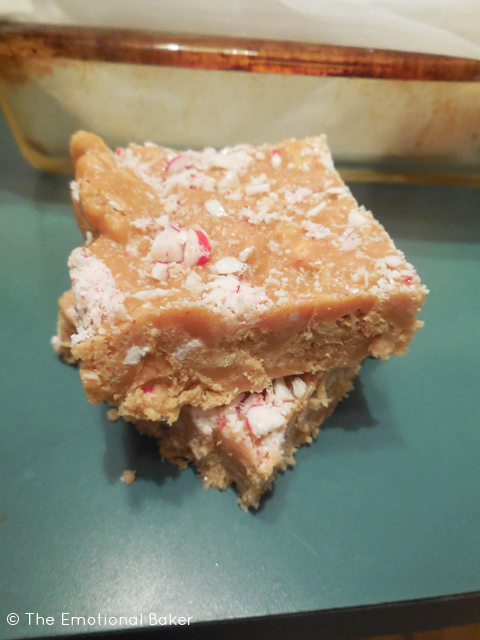 Well, that was a mistake. Those little boogers are a pain to crush. You spend most of the time shooting the candies out of the parchment paper onto the floor. If you do manage to break one, you end up getting just fine powder instead of bits of candy.
Do you have any tips for how to crush peppermint? Probably should just stick to candy canes, but of course they didn't have any today at the store.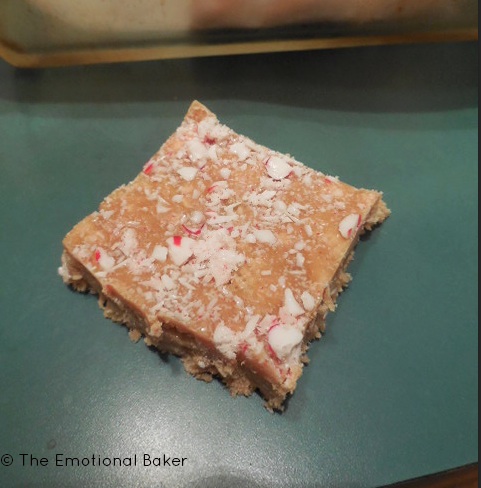 On to these bars – they are super easy to make. They simply combine White Chocolate Wonderful Peanut Butter, Vanilla Chex and crushed peppermints. It's a great snack that makes for a festive afternoon treat.
White Chocolate Peppermint Bars
Author:
Ingredients
1/2 cup sugar
1/2 cup corn syrup
1 cup white chocolate peanut butter
2 cups vanilla Chex
1/2 cup crushed peppermint
Instructions
Line an 8×8 inch square pan with parchment paper. Spray with cooking spray.
In a medium size saucepan, bring sugar and corn syrup to a boil.
Once boiling, remove from heat and stir in peanut butter.
Place chex in large bowl. Pour in peanut butter mixture. Add half of crushed peppermints and stir to combine.
Press mixture into prepared pan. Sprinkled reserved crushed peppermint and press into bars. Chill in refrigerator for one hour or until set. Cut into bars.
Store in refrigerator.