A sweet holiday bar filled with dried cranberries and white chocolate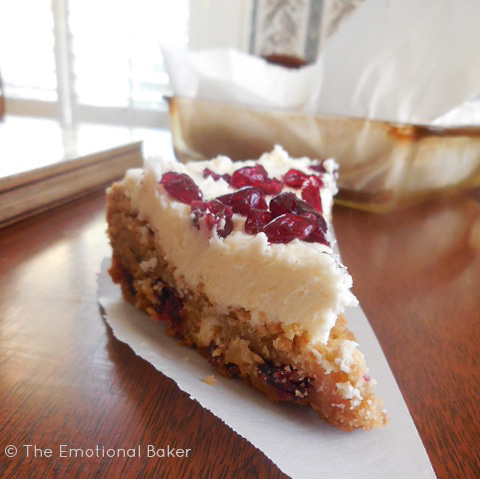 I've been dreaming of these bars since summer, but held off making them until now. They are inspired by Starbucks' ever popular "Cranberry Bliss Bars," but these skip the cream cheese icing and opt for a white chocolate almond frosting.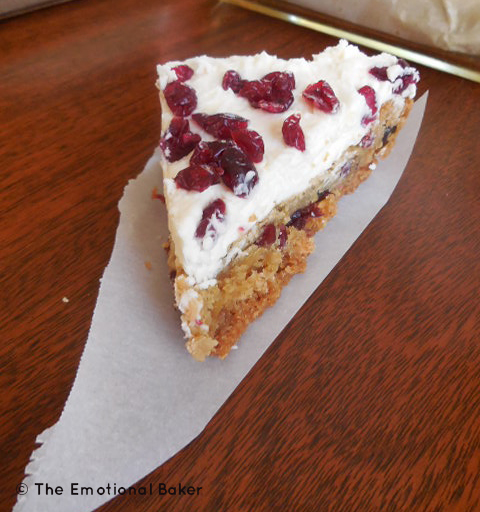 These were super decadent and I'd take them any day over Starbucks. I used an 8 x 8 inch square pan and then cut the bars into triangles. I cut two diagonals and then cut an "x" making 8 triangles.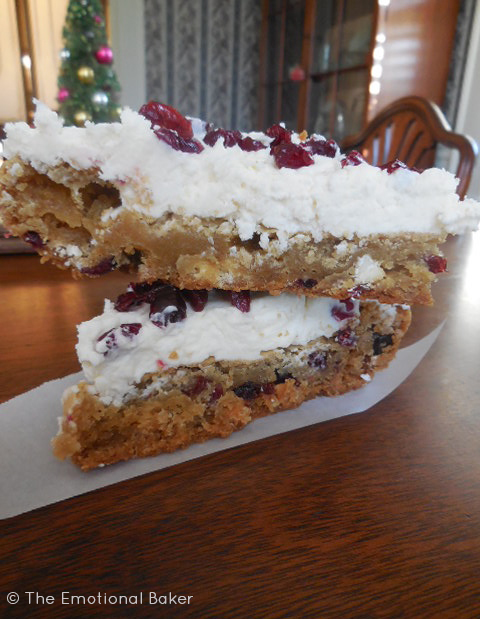 Have you made any copycat recipes that are better than the original?
PS: Can you believe I let the bars completely cool before frosting? Well, I did. The secret is to bake the bars when you still have another baked treat on hand. I still wanted to taste them fresh out of the oven, but I held off.
Cranberry Bars
Ingredients
Bars:
1/3 cup almond milk
1/3 cup canola oil
1/2 cup brown sugar
1/2 cup sugar
1 tsp almond extract
1 1/2 cups all purpose flour
1/2 tsp baking soda
1/2 tsp salt
1/4 tsp baking powder
1/2 cup dried cranberries
1/2 cup white chocolate chips
Icing:
1/4 cup white chocolate chips
1 stick margarine
2 cups powdered sugar
1-2 tsp almond milk
1/2 tsp almond extract
Instructions
Bars:
Preheat oven to 350 degrees.
Line an 8 x 8 inch square baking dish with parchment paper. Spray with cooking spray.
In large bowl, combine oil and milk. Mix in sugars and almond extract.
In measuring cup, mix all purpose flour, baking soda, salt and baking powder. Pour into large bowl with liquids. Mix until combined.
Fold in dried cranberries and white chocolate chips.
Pour into prepared baking dish.
Bake 25-30 minutes, until edges are golden brown and toothpick comes out clean. A few crumbs are ok. Allow to cool completely before frosting.
Icing:
Melt icing in microwave safe bowl by microwaving for 1 minute at 50 percent power. Then stir. If not completely melted, microwave 30 seconds at 50 percent power until melted.
Combine all items in large bowl. Beat with hand mixer until combined. Once combined, beat on medium speed for 3 minutes or until fluffy.
Spread on top of cooled bars and sprinkle dried cranberries on top.