A yummy cookie filled with white chocolate chips and cinnamon bears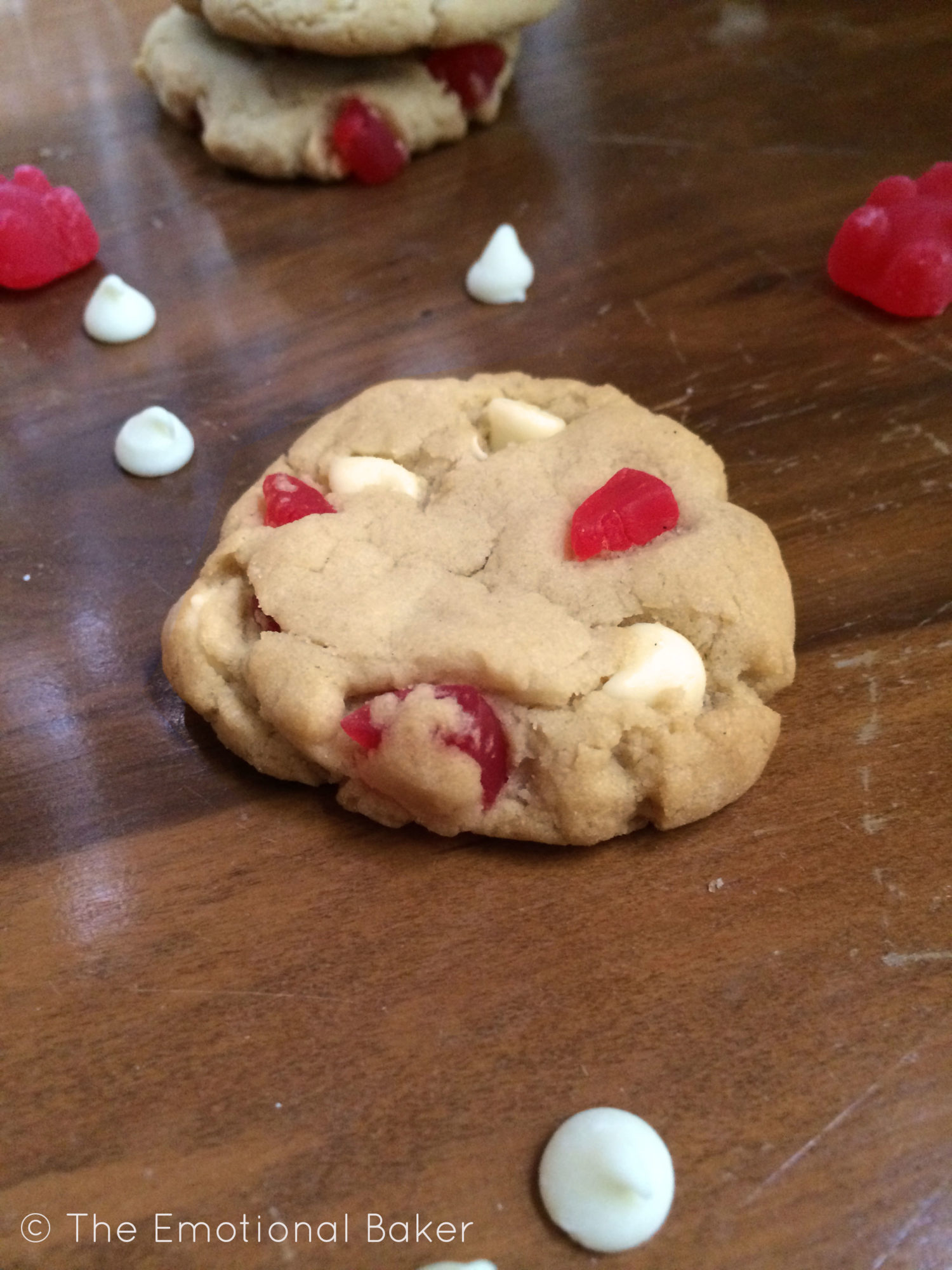 Are you a gummy fan? I know I am. I don't think I always loved gummies, but these days they are my favorite candy.
One of my favorite gummy candies are these Cinnamon Bears from Sweet Candy Company. The bears are larger than your normal gummy and have just a hint of cinnamon, the flavor is not overpowering.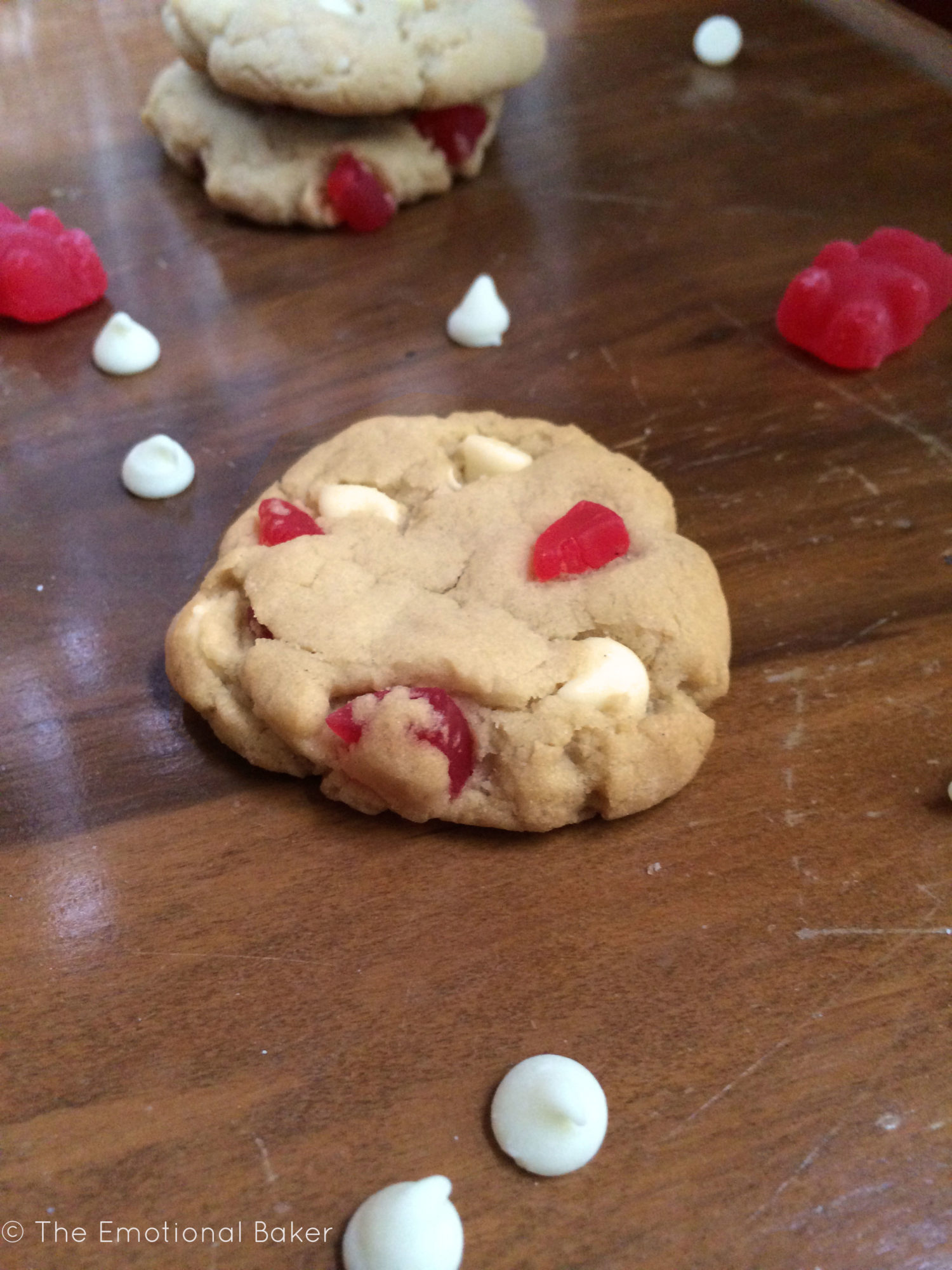 When I first saw these Soft Baked White Chocolate Orange Slice Cookies, on Design Eat Repeat, I knew I had to try them. Although I haven't had a chance to try Melissa's version, these cookies have many of the same elements.
& a word to the wise – DON'T eat this cookie dough, it's addictive! I had at least 6 cookies worth – WHOOPS!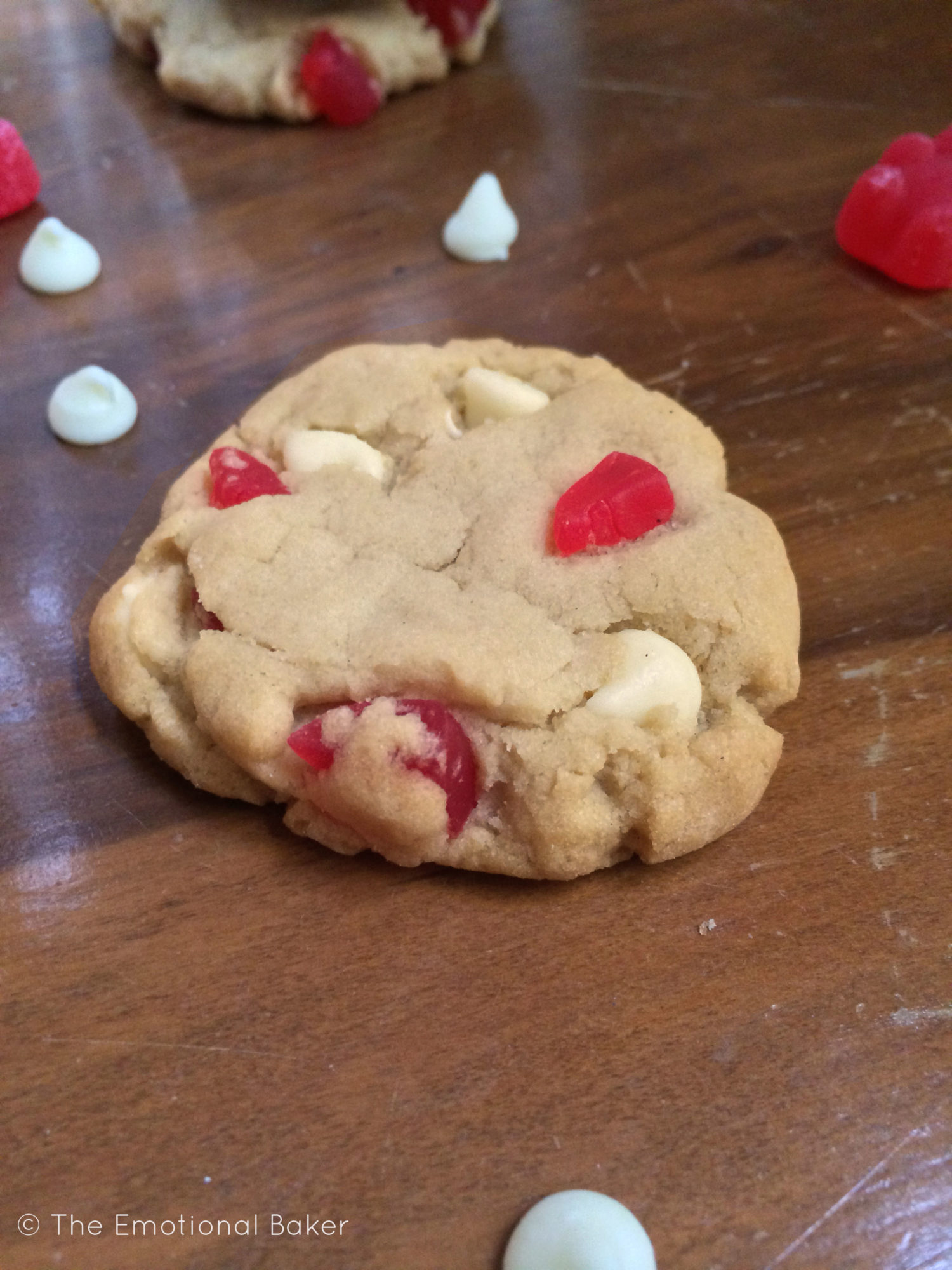 I can't wait to try these with other gummies. Also, I bet they'd be great with the Valentine's cinnamon hearts. The gummy possibilities are endless!
Cinnamon Bear White Chocolate Cookies
Author:
Ingredients
1/2 cup white chocolate chips
1/2 cup margarine
1/2 cup brown sugar
1/2 cup sugar
1 tsp vanilla
2 cups all purpose flour
1 teaspoon baking soda
1/2 teaspoon salt
up to 1/4 cup almond milk
1/4 cup chopped cinnamon bears – about 6
1/2 cup white chocolate chips
Instructions
Preheat oven to 350 degrees.
Melt 1/2 cup white chocolate chips and margarine in microwave safe bowl for one minute on 50 percent power. Continue to microwave at 30 second intervals at 50 percent power until fully melted. It's OK if it looks like the white chocolate and margarine are not completely uniform.
Mix in brown sugar and sugar. Once combined, stir in vanilla.
In measuring cup, combine all purpose flour, baking soda and salt. Add to liquid ingredients and mix until a dough forms.
If dough is too dry, stir in one tablespoon of almond milk. You may need to use up to a 1/4 cup of milk. Use your hands to help fully form the dough.
Chop Gummy Bears: Add a teaspoon or two of flour to your measuring cup. Chop gummies by slicing the bear in half and each half in thirds. Add to measuring cup with flour and shake. This helps the bear pieces not all stick together.
Once dough is combined, add in chopped gummy bears and white chocolate chips. You may need to use your hands to get the mix-ins into the dough.
Divide dough into 18 equal pieces. Roll into balls and place on baking sheet. Flatten slightly. Place extra white chocolate chips and gummy pieces into cookies, if desired.
Bake for 10 minutes. Cookies will feel soft. Allow to rest on baking sheets for 10 minutes. Then transfer to a cooling rack.