An easy, and addictive, caramel corn recipe made without corn syrup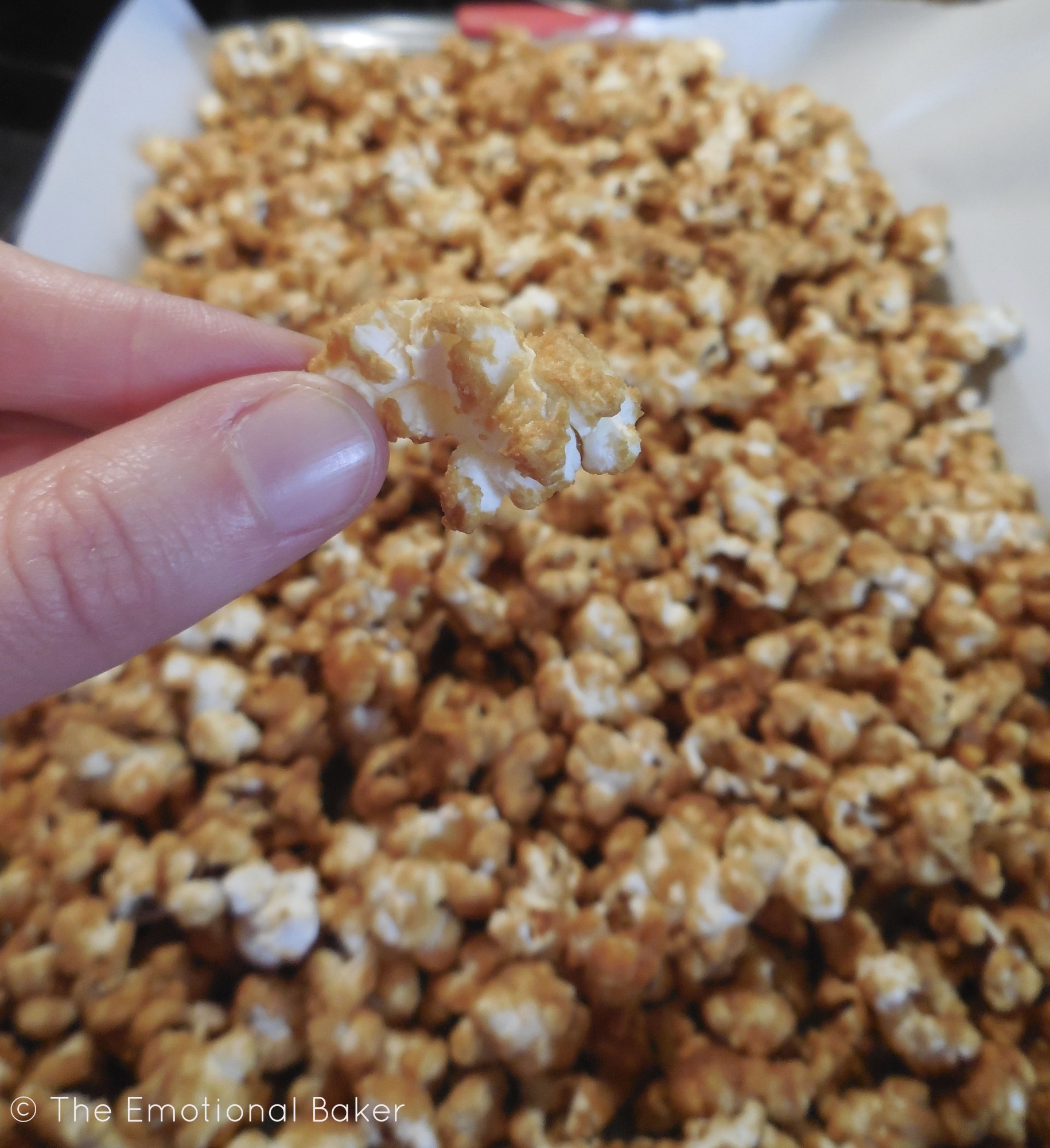 After my first semester in college, I came home, watched a movie and snacked on my first chocolate covered popcorn. I never knew there was a whole world of popcorn besides plain popcorn with salt and butter.
I thoroughly enjoyed this sweet treat, but I couldn't imagine ever making it myself. When my family makes popcorn, we always devour it right after it's been freshly popped.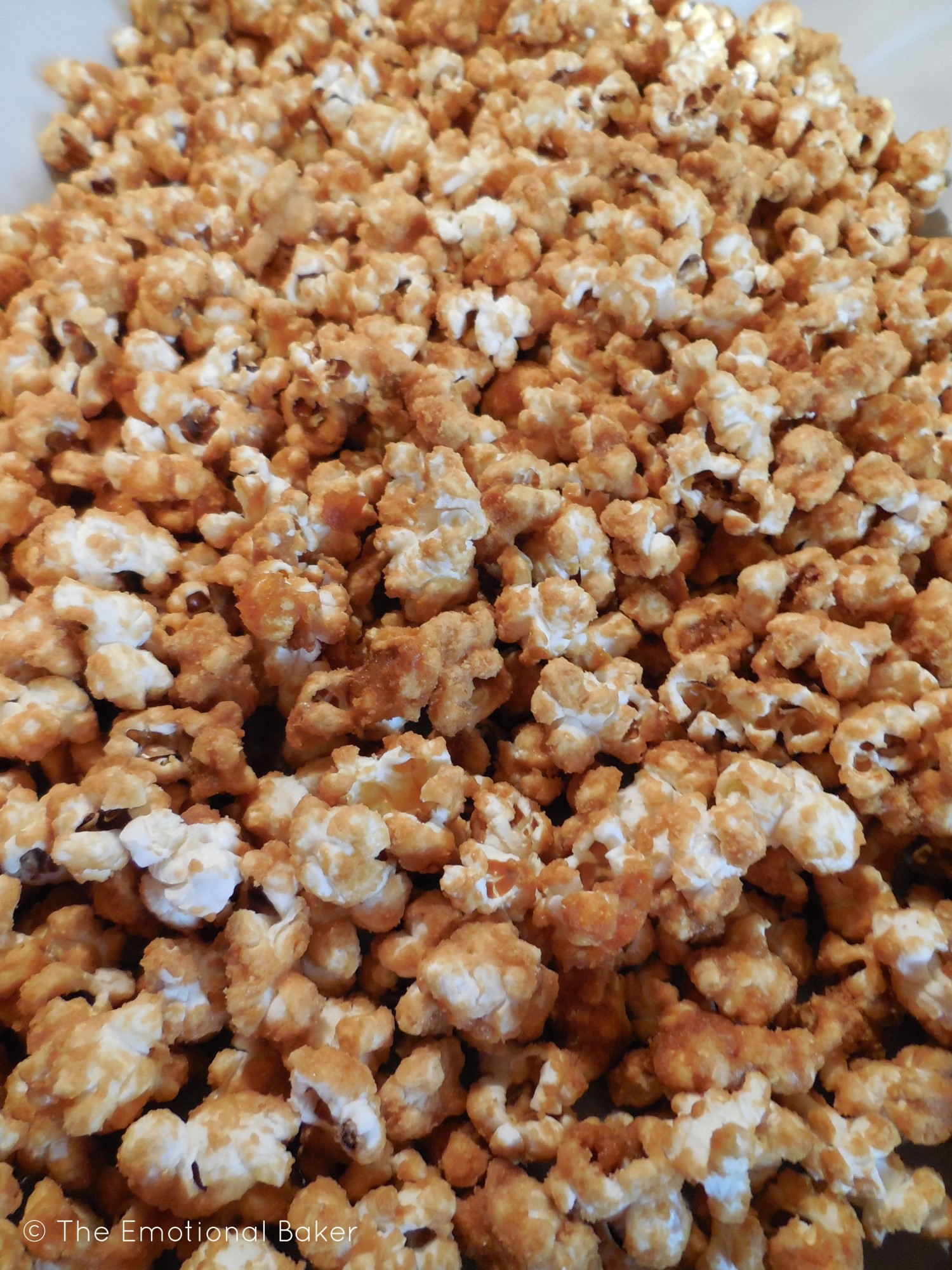 A couple of weeks ago, I had some free time in the morning. The thought came to mind that this would be the perfect time to pop some popcorn. It wouldn't be eaten right away and this would give it time to cool for "dressing."
After this, it was time to make the caramel. I don't have the best track record with caramel – see this – but everything went smoothly.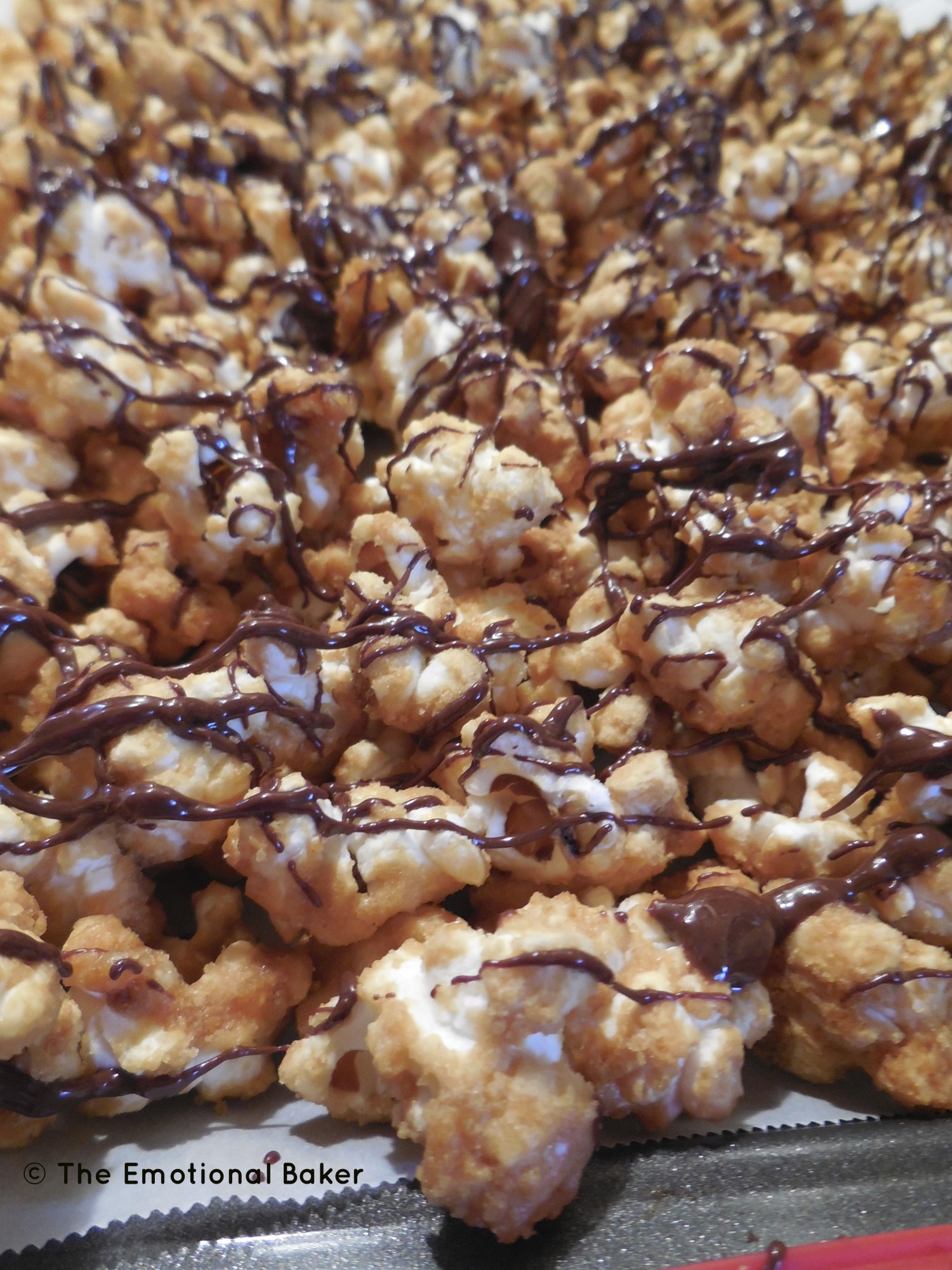 Next up – baking the corn – and – testing – the dangerous part. This corn is so delicious on it's own. I couldn't stop eating it! The chocolate adds a special touch, but it is optional.
Another great thing about this corn – no corn syrup! Just brown sugar and maple syrup!  I can't wait to make my next batch and experiment with more recipes.
Maple Caramel Corn with Chocolate Drizzle
Author:
Ingredients
For popping corn:
1/2 cup unpopped popping corn
3 tbsp canola oil
If using already popped corn – about 8 cups, popped
1/2 cup margarine
3/4 cup brown sugar
1/4 cup maple syrup
1 tsp salt
1 tsp vanilla extract
1/4 tsp baking soda
For chocolate drizzle:
1/3 cup chocolate chips
1 tsp oil
Instructions
To pop corn:
Put unpopped popping corn and oil in large pan. Place over medium high heat with a partially covered lid. Once corn starts popping, observe closely. When it starts to slow remove from heat. Transfer to large clean bowl, making sure to catch any unpopped kernels. Allow to cool completely.
For Maple Caramel:
Preheat oven to 300 degrees.
Over medium heat, melt margarine. Once melted, add brown sugar and maple syrup. Bring to a boil. Turn temperature to low. Allow to simmer 5 minutes without stirring. After 5 minutes, stir. Cook an additional 5 minutes stirring every minute or so. Turn off heat and add salt, vanilla extract and baking soda. Pour mixture over popped corn. Stir to coat. Spread coated corn onto baking sheet lined with greased parchment paper. Bake for 15 minutes, stirring every five minutes, or until corn is dry and crisp.
Transfer to clean baking sheet lined with fresh parchment paper. Allow to cool completely.
For chocolate drizzle:
Melt chocolate chips in microwave safe bowl at 60 percent power for one minute or until chocolate is melted. Stir in oil. Use a fork to drizzle chocolate over cooled popcorn. Allow to set.
How do you like your popcorn?