A springlike cupcake flavored with banana, pineapple and pecans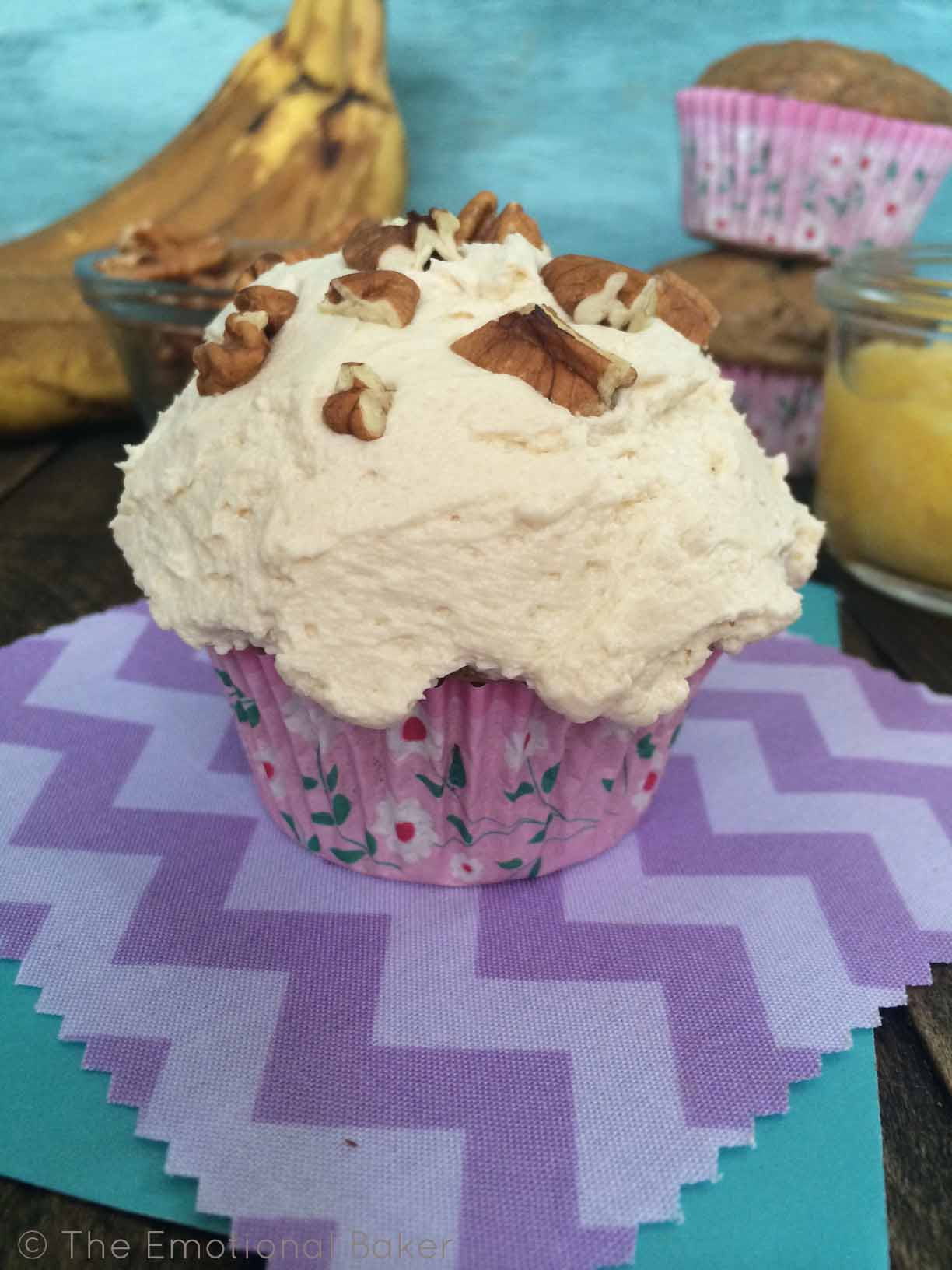 Today's post is extra special. Not only am I sharing the perfect spring cupcake, but also I'm throwing Erin of The Speckled Palate a baby shower with some very talented bloggers. (Be sure to check out what they brought to the party at the bottom of this post!)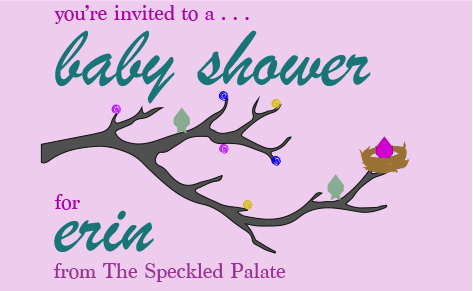 I first found Erin's blog when searching for a Vegan Blueberry Muffin recipe. Typically when I make muffins I can never get a crisp exterior. Erin's, on the other hand, were perfect and restored my faith in muffin making. Ever since then I have followed her blog always in awe of her amazing creations. Some of my favorites include: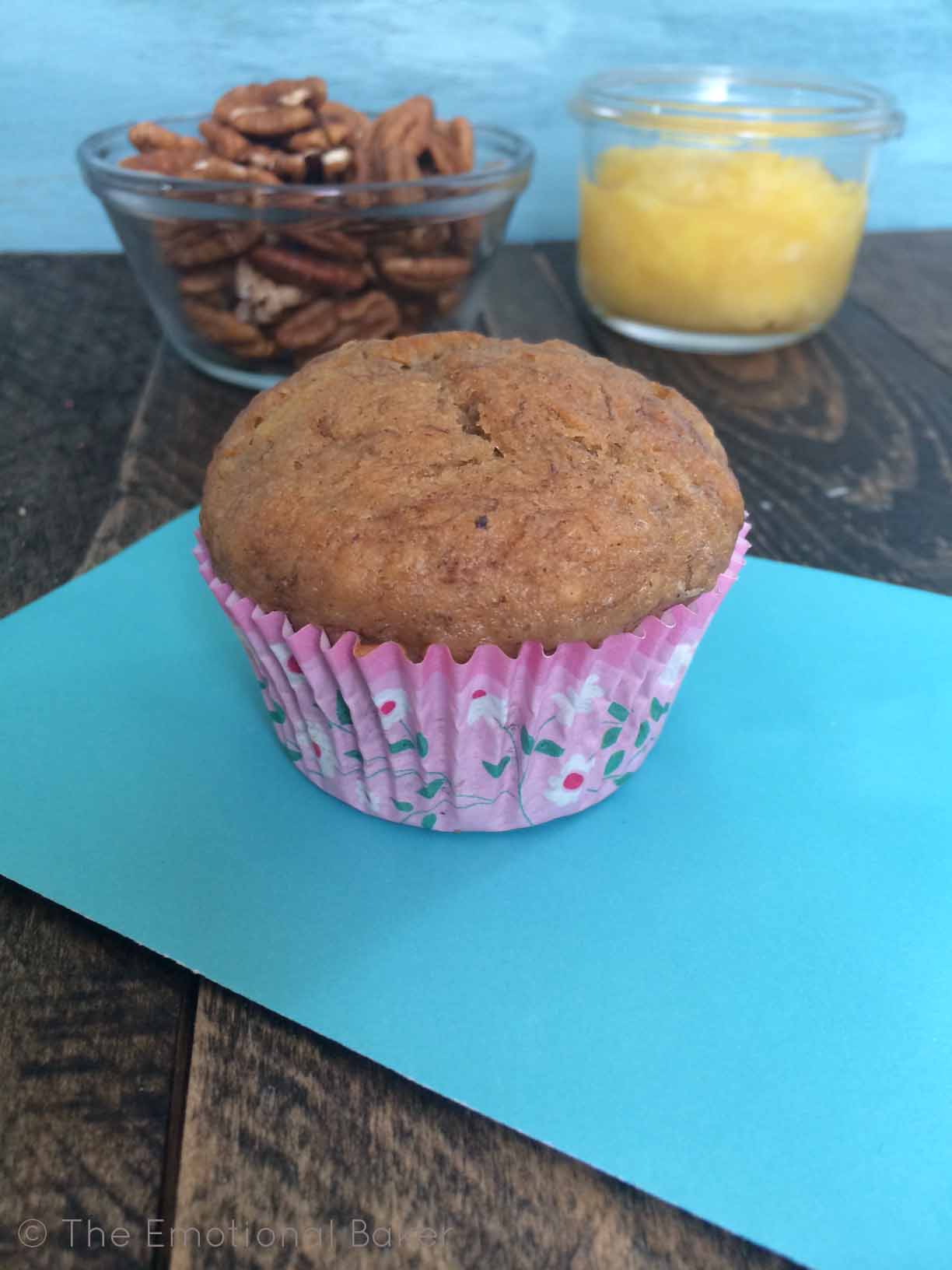 Erin, you'll be meeting Lady Baby any day now! Cherish every moment. Before long, she'll be baking and taking awesome photos, just like her mommy!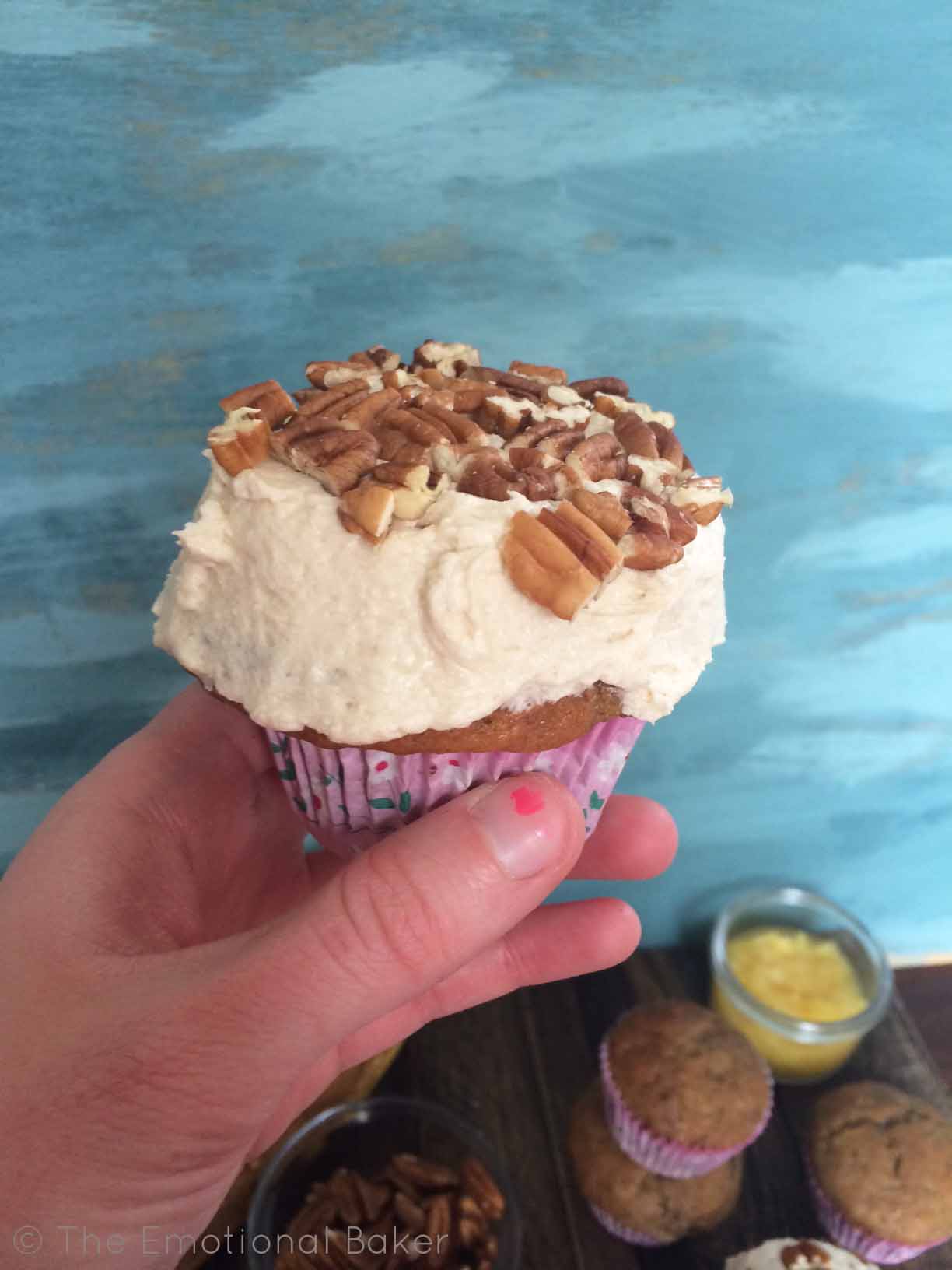 On to these cupcakes – I've been wanting to make a Hummingbird Cake, but haven't had a chance. Last week I had some overripe bananas taking up space on the kitchen counter. & it hit me! Make your favorite vegan banana muffin & hummingbird-ify it. So I did just that. The crushed pineapple make these super moist and may be my new go to secret weapon.
So yea, these are really just muffins in disguise, but everybody's gotta get dressed up for a party, right? 😉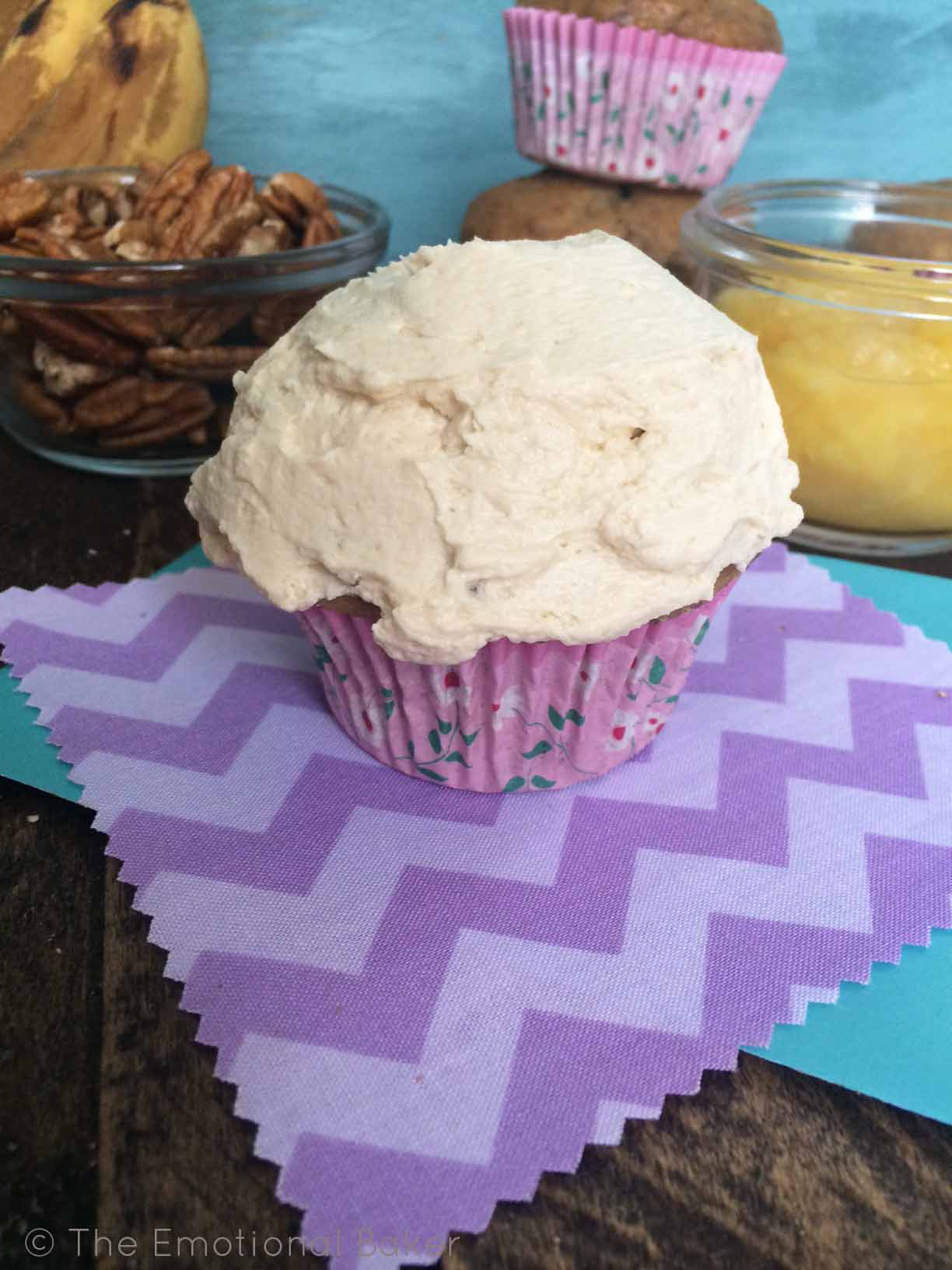 Check out the other bloggers' treats: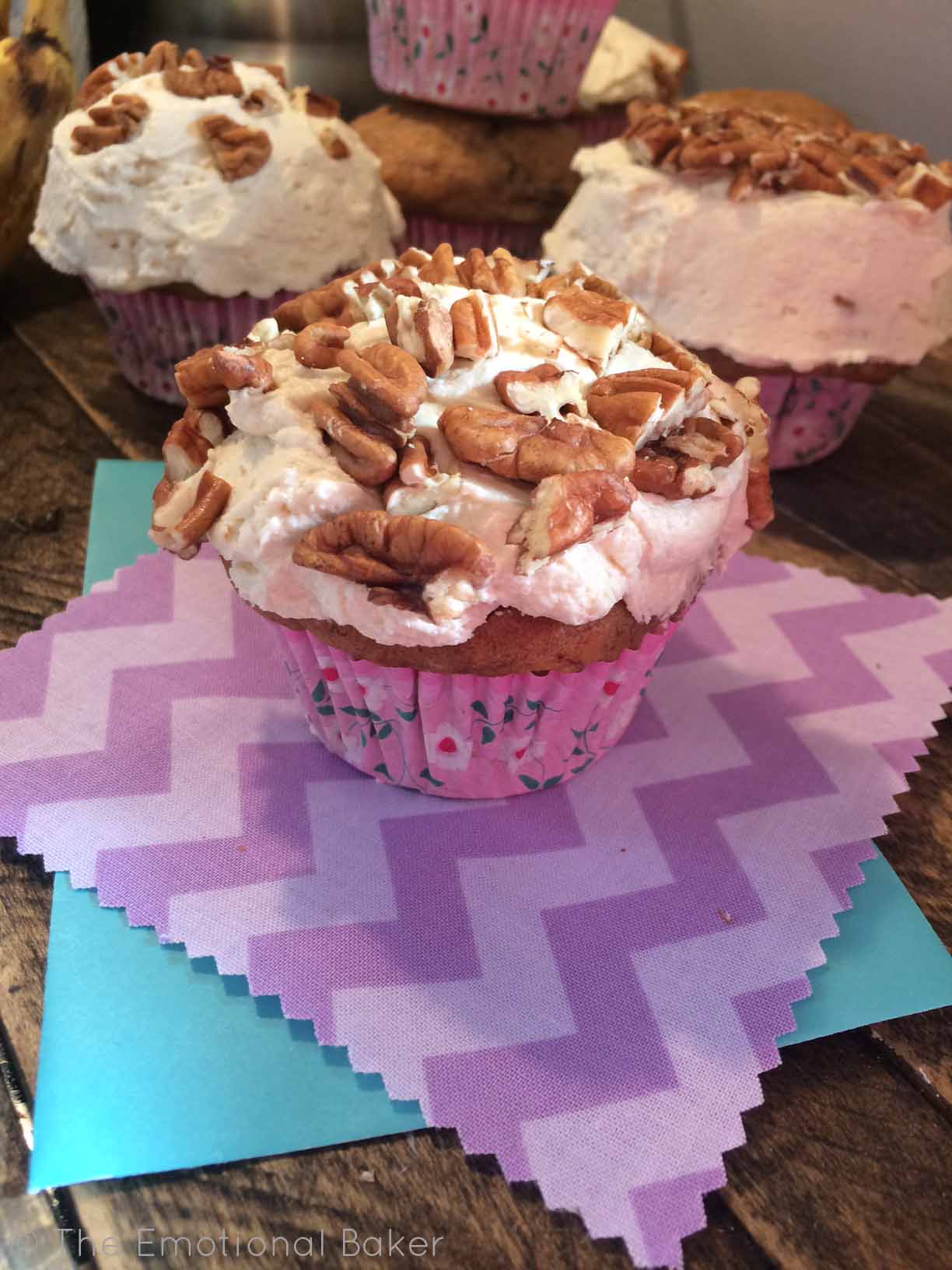 Hummingbird Cupcakes
Author:
Ingredients
3 overripe bananas
¼ cup canola oil
1 cup sugar
2 cups all purpose flour
1 tsp baking soda
1 tsp salt
1 tsp cinnamon
½ cup chopped pecan halves
½ cup crushed pineapple with juice
1 cup margarine
3 cups powdered sugar
2 tsp vanilla extract
2 tbsp almond milk
Instructions
Preheat oven to 350 degrees.
Spray muffin tin with cooking spray.
Mash bananas in large bowl. Once mashed, mix in oil and sugar.
Add flour, baking soda, salt and cinnamon, and mix into banana mixture.
Fold in pecan halves and crushed pineapple.
Divide up evenly into prepared muffin tin.
Bake for 20 minutes, or until a toothpick inserted in the center comes out clean.
While cupcakes are cooling, prepare frosting. Beat margarine. Add powdered sugar. Beat until combined. Add vanilla extract and almond milk. Beat until fluffy, about two minutes. Spread on cupcakes and sprinkle with chopped pecans.