Homemade vegan mint oreos with Creme de Menthe frosting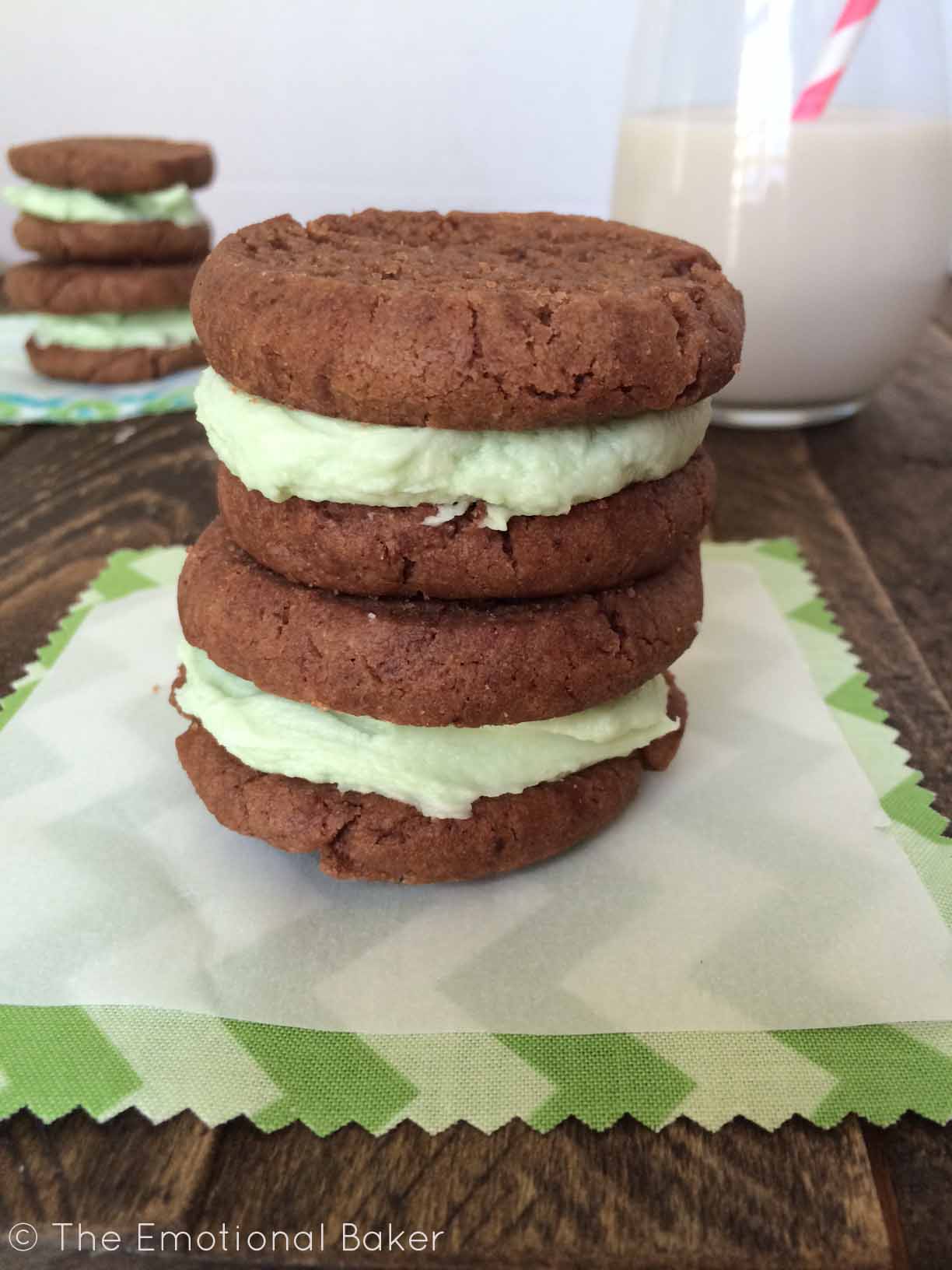 You know, I'm really not as big as an "emotional baker" as I used to be. When I started this blog, I was always freaking out when things didn't go my way in the kitchen (and otherwise, too.) There's plenty of evidence of this from my first blog, megbakes. I think a combination of patience and just a teensy bit more experience, has helped me become a calmer baker.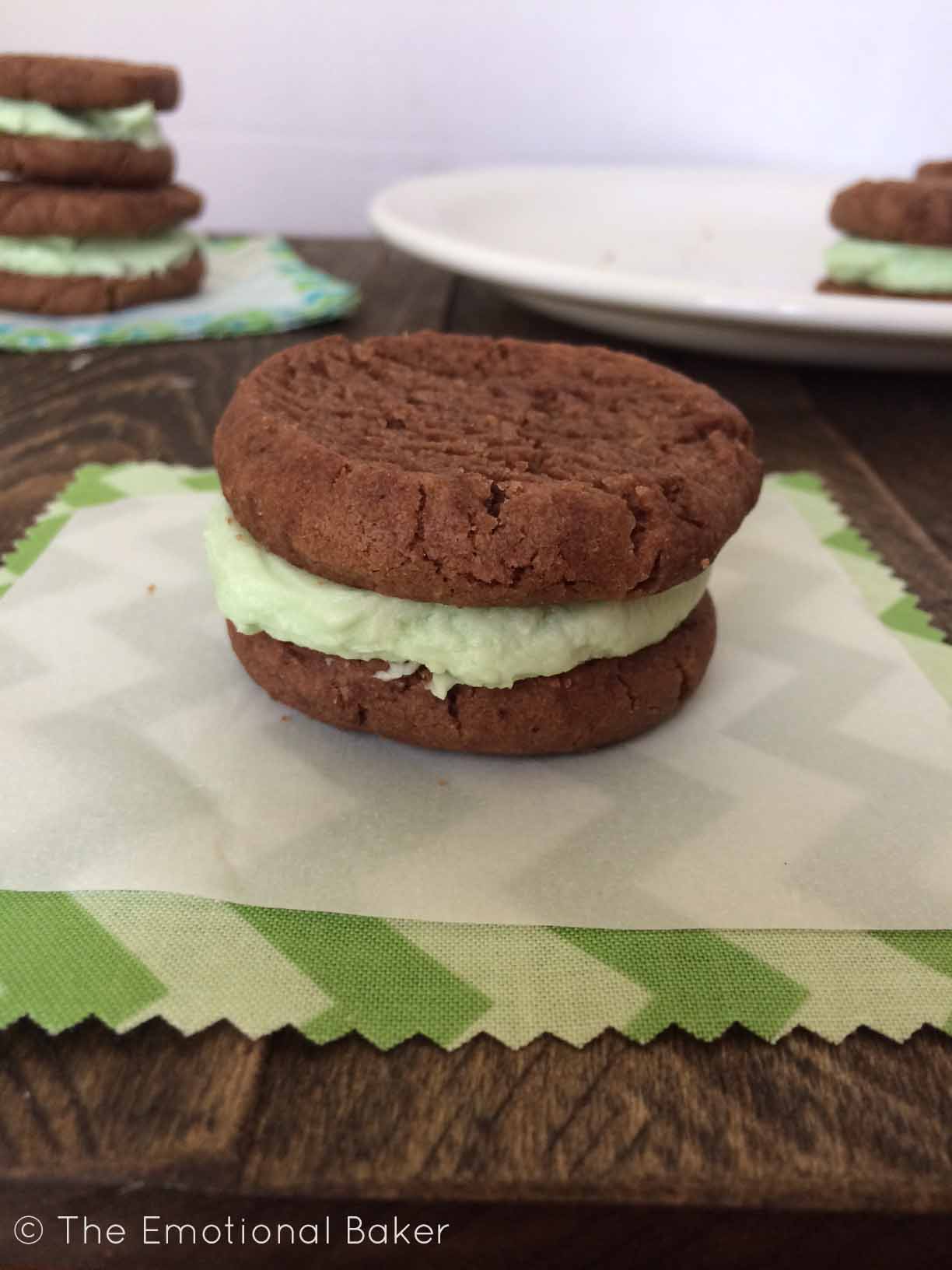 For instance, I made a similar cookie as these for megbakes. The whole post I lamented about how much trouble I had with the cookies.
The dough kept falling apart and I was about to throw the whole batch of dough out the window.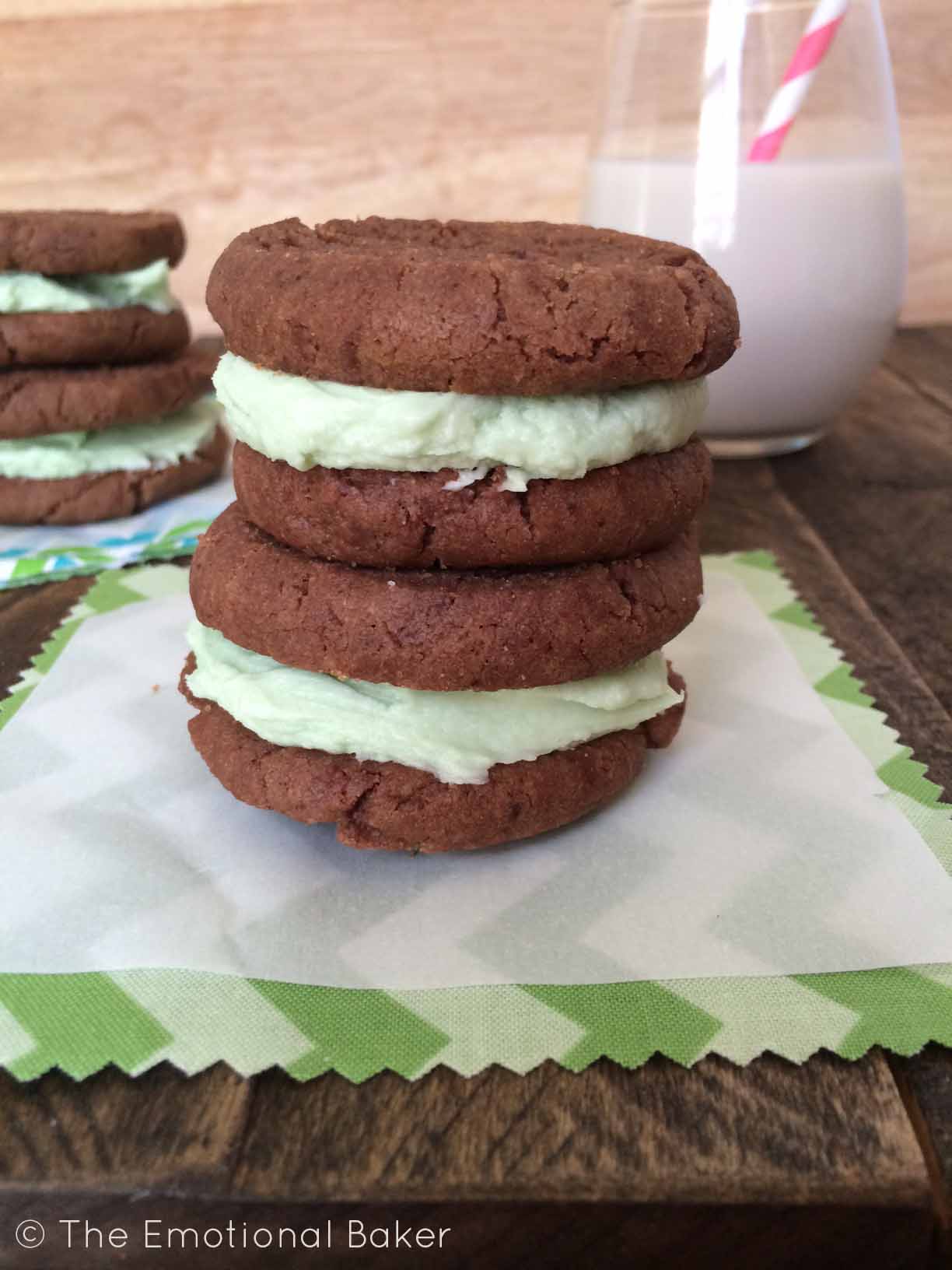 The same can be said about this Leprechaun Cake. This entire cake was meant for the trash since it busted into a million pieces, but I managed to salvage it.
In comparison, these cookies were a breeze. The dough sliced perfectly, the cookies crisped while baking and the frosting melded with the cookies.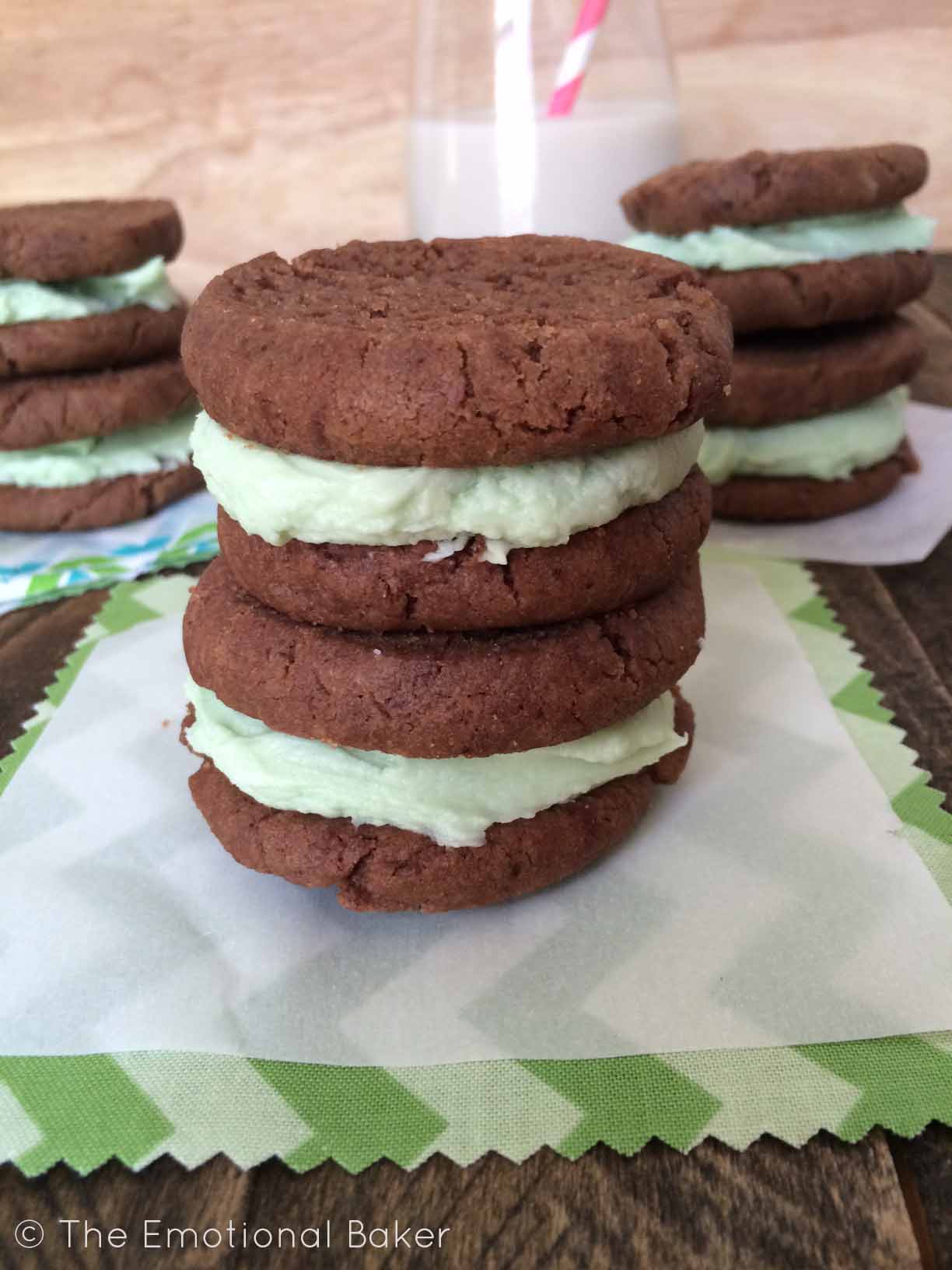 Even those these cookies were pretty stress free, don't worry I'm still pretty emotional about other things and I'm sure I'll have some more emotional kitchen messes in the near future – like yesterday 😉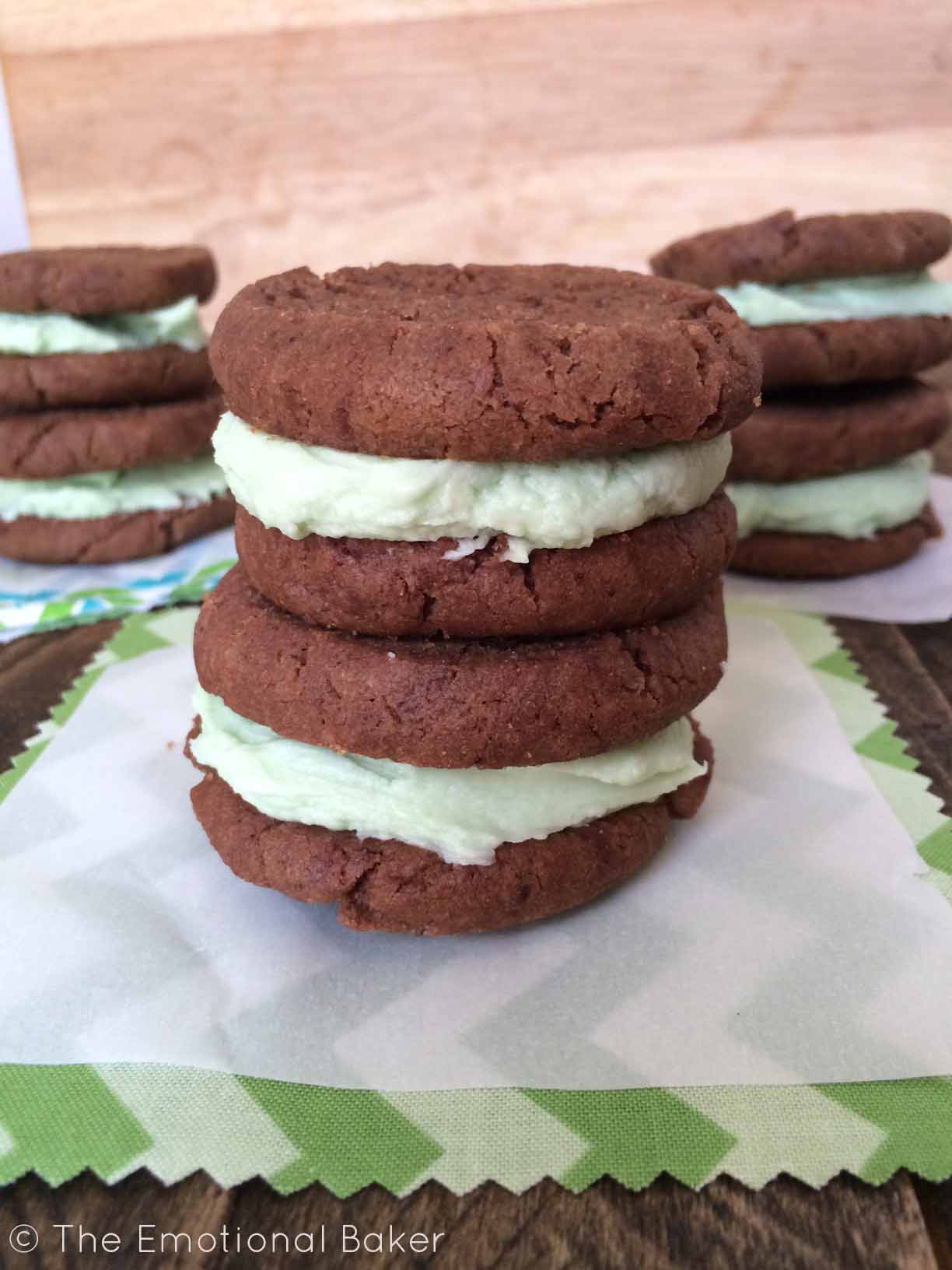 Ingredients
Cookies:

2 cups all purpose flour
½ cup cocoa powder
1 tsp baking soda
1 tsp baking powder
1 tsp salt
½ cup canola oil
½ cup brown sugar
1 cup sugar
1 tsp mint extract
1/3 cup almond milk
1/3 cup canola oil

Frosting:

1/4 cup margarine
3/4 cup powdered sugar
1 tbsp Creme de Menthe syrup like Torani
Instructions
Cookies:

In measuring cup, combine flour, cocoa powder, baking soda, baking powder and salt. Set aside.
Combine oil, brown sugar, sugar and mint extract in large bowl.
Add almond milk and canola oil to sugar mixture. Fold dry ingredients into wet.
Split dough in two. Roll into logs about 12 inches in length. Wrap in plastic wrap and chill in refrigerator for 1 hour.
Preheat oven to 350 degrees.
Line baking sheet with parchment paper or Silpat.
Cut cookies into ¼ inch slices. Place on baking sheet.
Bake 10 minutes. Allow to cool for 5 minutes. Then transfer to wire racks.

Frosting:

Beat margarine. Add powdered sugar. Beat until both are fully incorporated. Add syrup and beat until fluffy, about two minutes.
Spread frosting on cooled cookies.
Note: frosting makes enough for 6 sandwich cookies.
http://theemotionalbaker.com/2015/03/11/mint-oreos/