Granola filled with the flavors of spring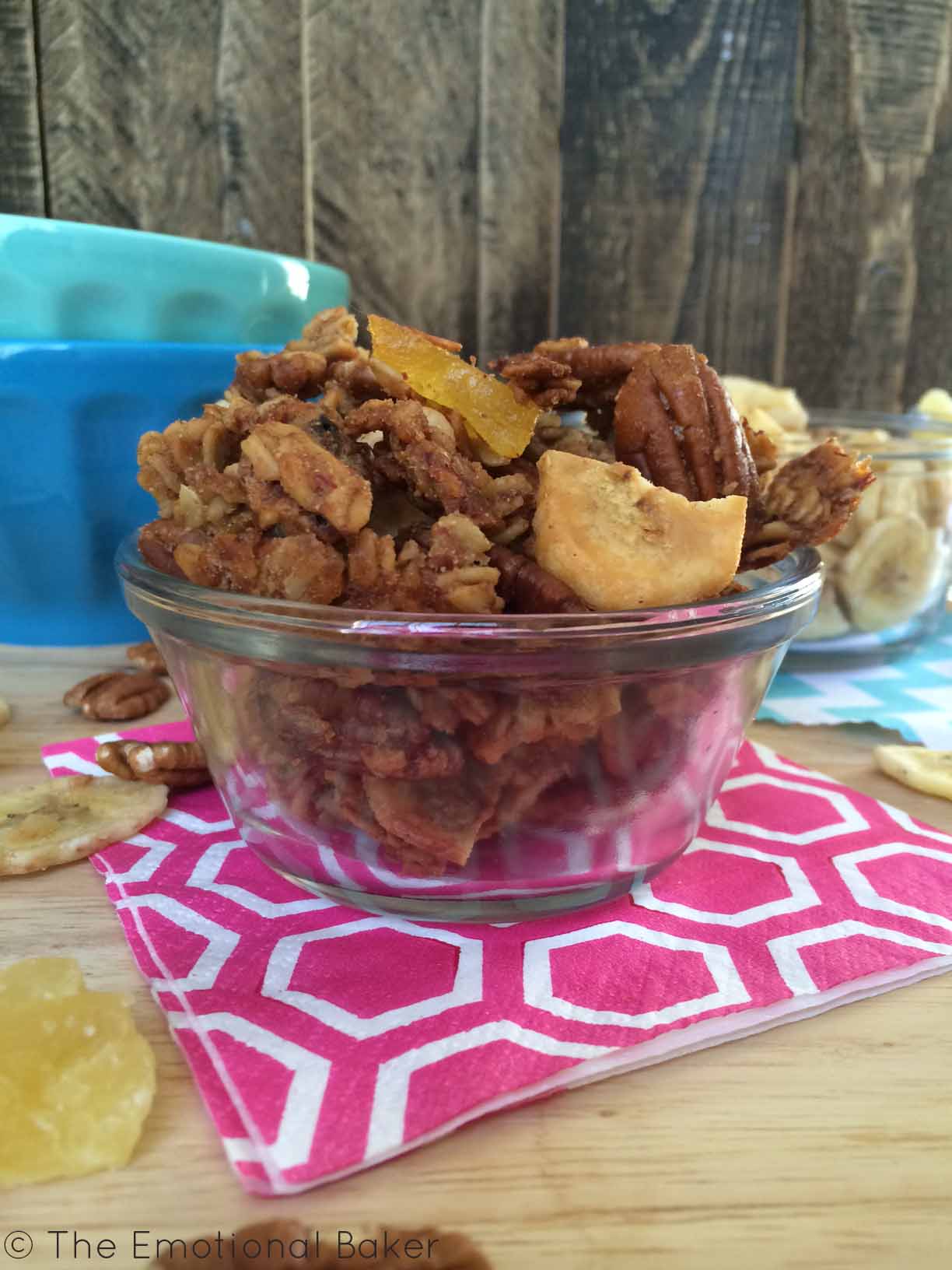 There's big news at the TEB household – we have kittens!
I'm obsessed with cats, so you know I went wild when I heard the news. I actually couldn't believe it.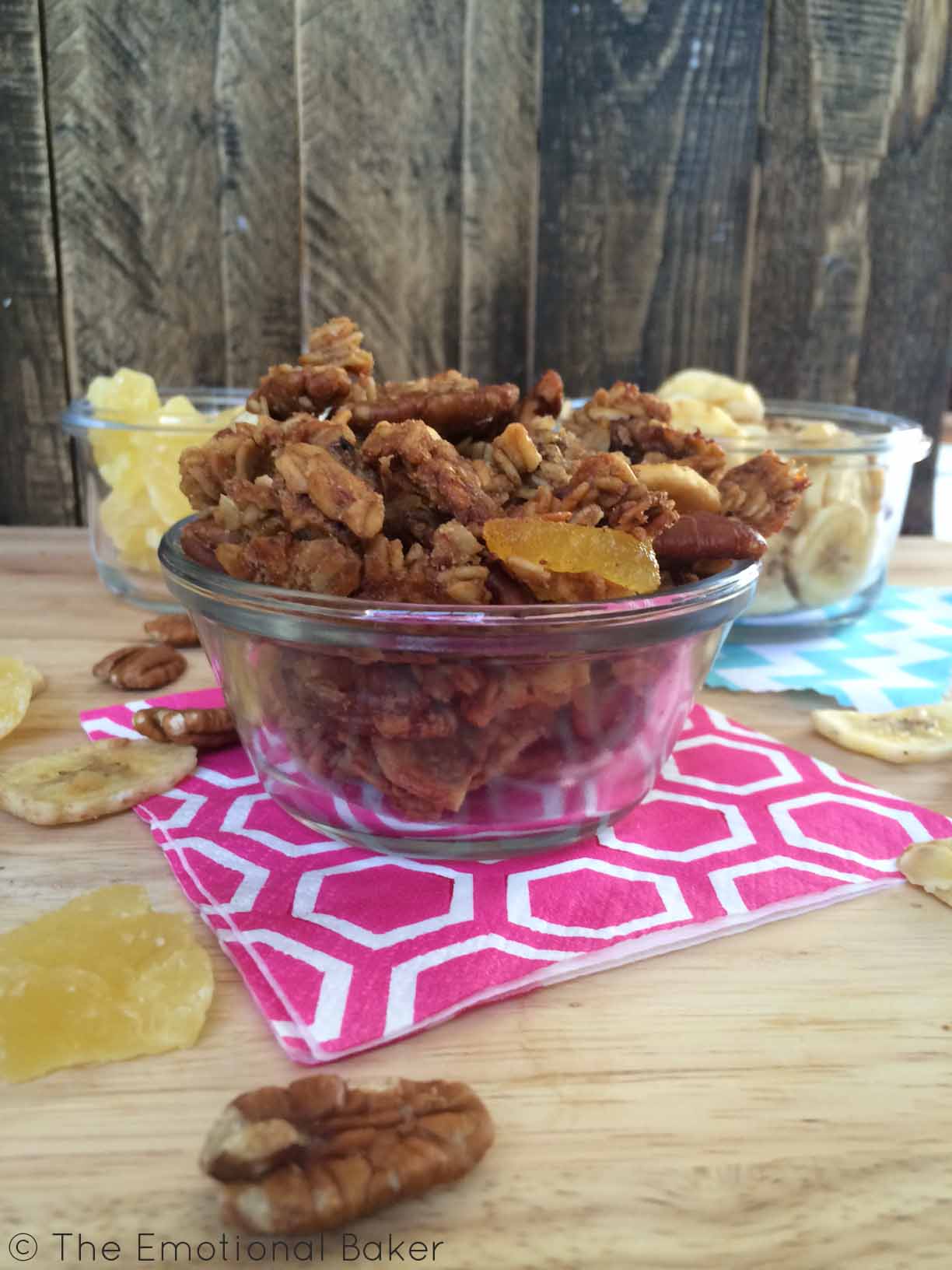 See – this female cat started coming by each day at the same time and same place. The first time I saw her I thought she was "in heat," so I joked that we would be having kittens soon – but I didn't mean in two days!
It turns out she had the kittens in our backyard. We have owls and foxes that roam the area and our neighbors wanted us to bring the cats in. We happily obliged! Can you believe I've never seen a kitten before?!?!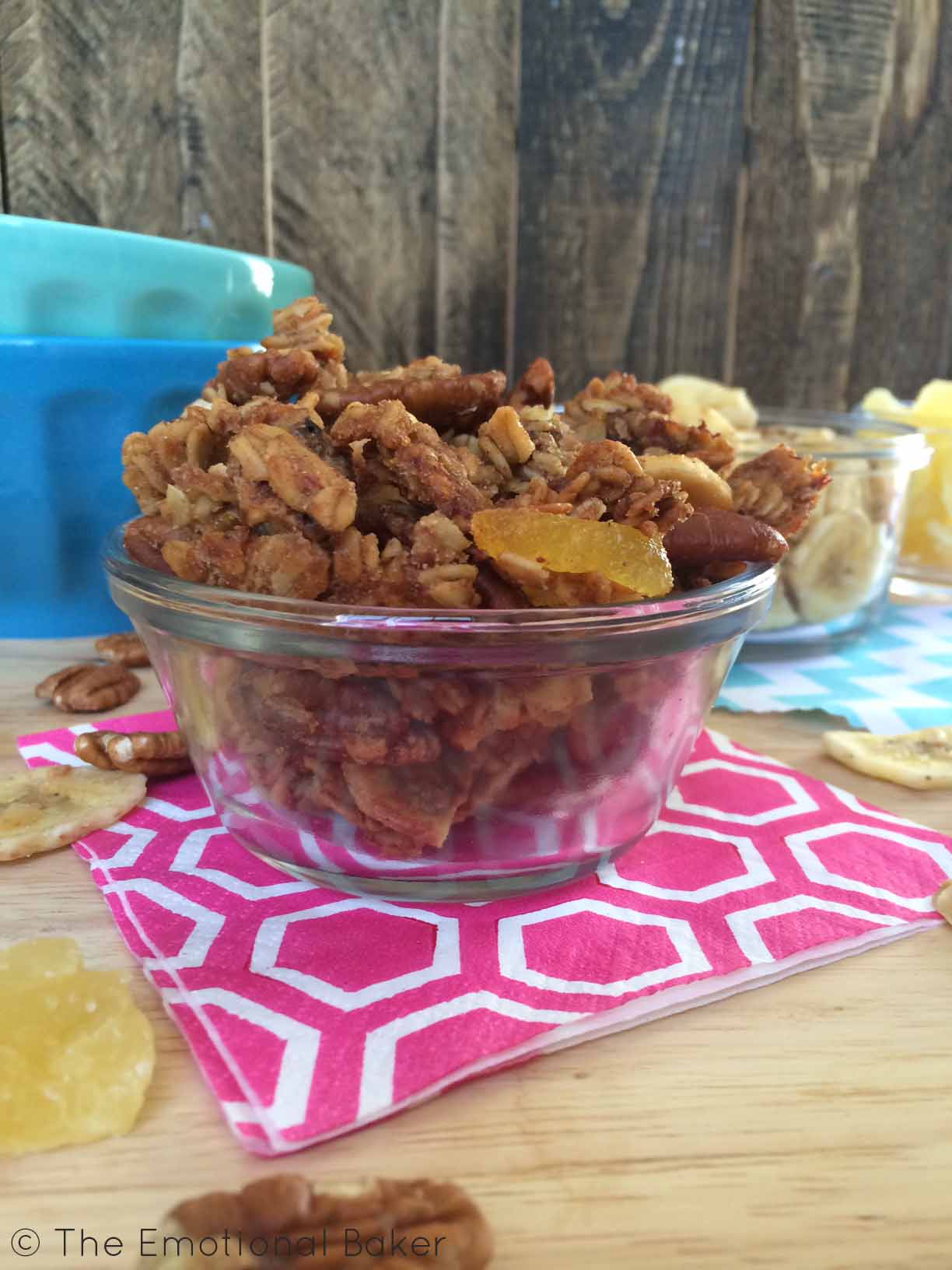 There are five kittens in total. I can't wait to watch them grow up, but I'm already dreading when it'll be time for them to find homes. (But I'm sure Winston will be glad when I can devote all my free time to him again 😉 )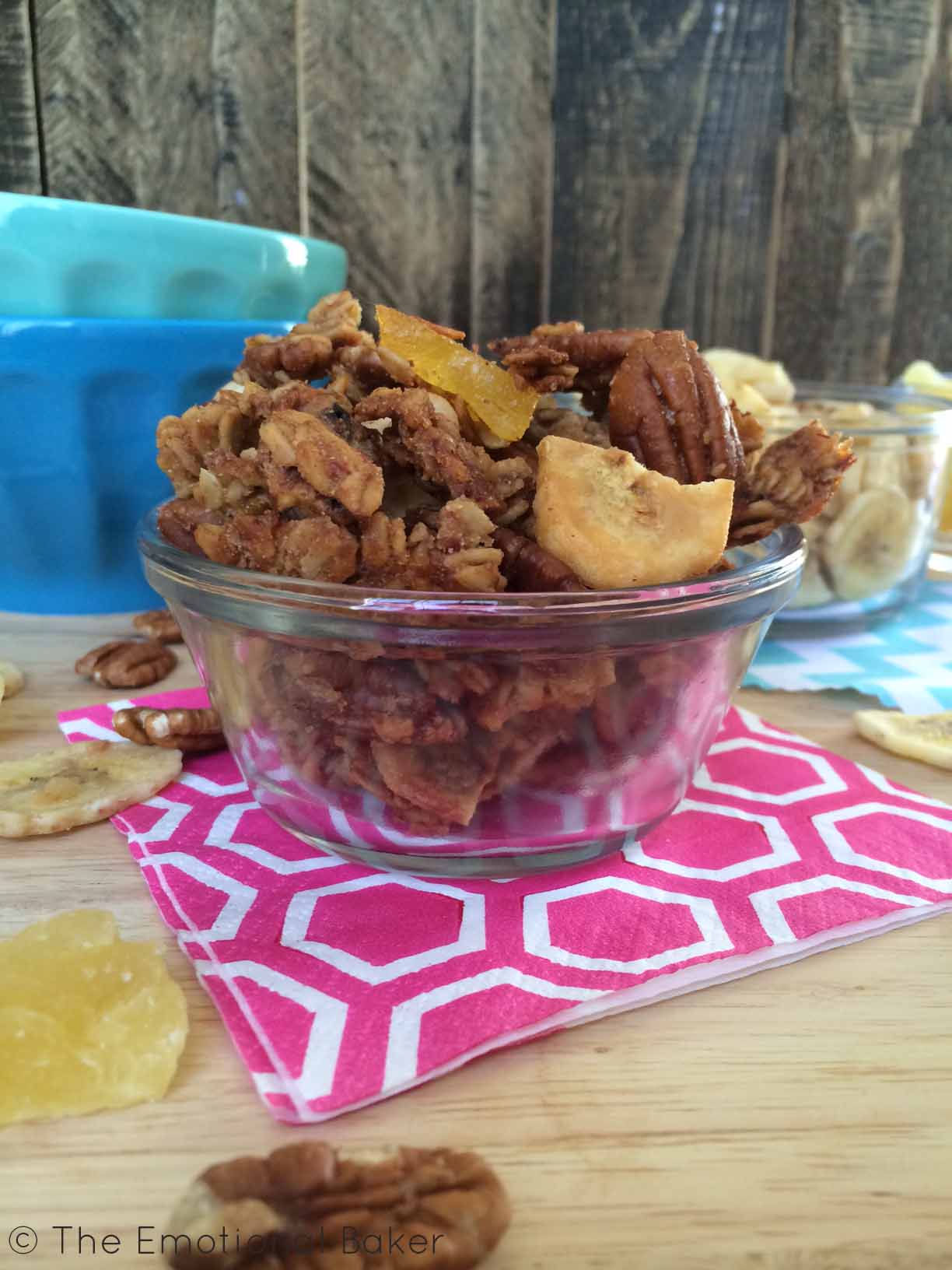 On to this granola. Ever since I made the Hummingbird Cupcakes, I've been dying to replicate the flavors in other treats. This granola is based off of my basic granola recipe with the addition of mashed banana, banana chips, dried pineapple chunks and pecans. Let's just say I couldn't keep my hands off this sweet, spring treat (kinda like how I can't keep my hands off these kittens 😉 )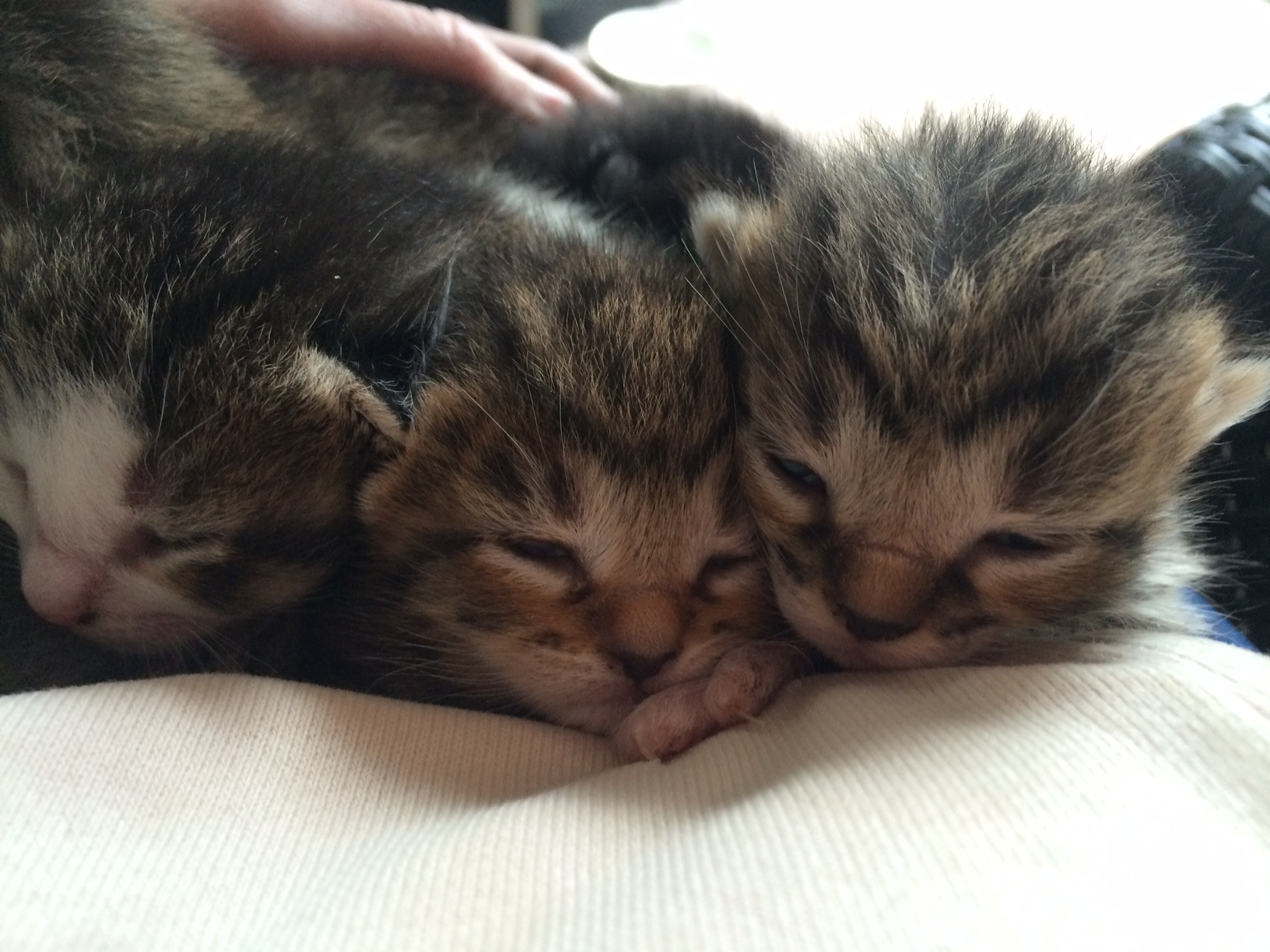 Other Granola Recipes:
Hummingbird Granola
Author:
Ingredients
3 cups rolled oats
1/3 cup whole wheat flour
1 tsp cinnamon
1 cup pecan halves
1/2 cup canola oil
1/2 cup maple syrup
2 mashed overripe bananas
1 tsp vanilla extract
1/2 cup banana chips, broken in half
1/2 cup dried pineapple chunks
Instructions
Preheat oven to 300 degrees.
Grease baking sheet with canola oil.
In large bowl, combine rolled oats, whole wheat flour, cinnamon and pecans.
In measuring cup, combine canola oil, maple syrup, mashed banana and vanilla extract.
Pour liquids into dry mixture. Mix to coat.
Spread oats on baking sheet, pressing into a single layer.
Bake for 30 minutes. Flip oats. Add banana chips and dried pineapple chunks. Bake an additional 20 minutes.