Chocolate and granola meet in this delicious breakfast treat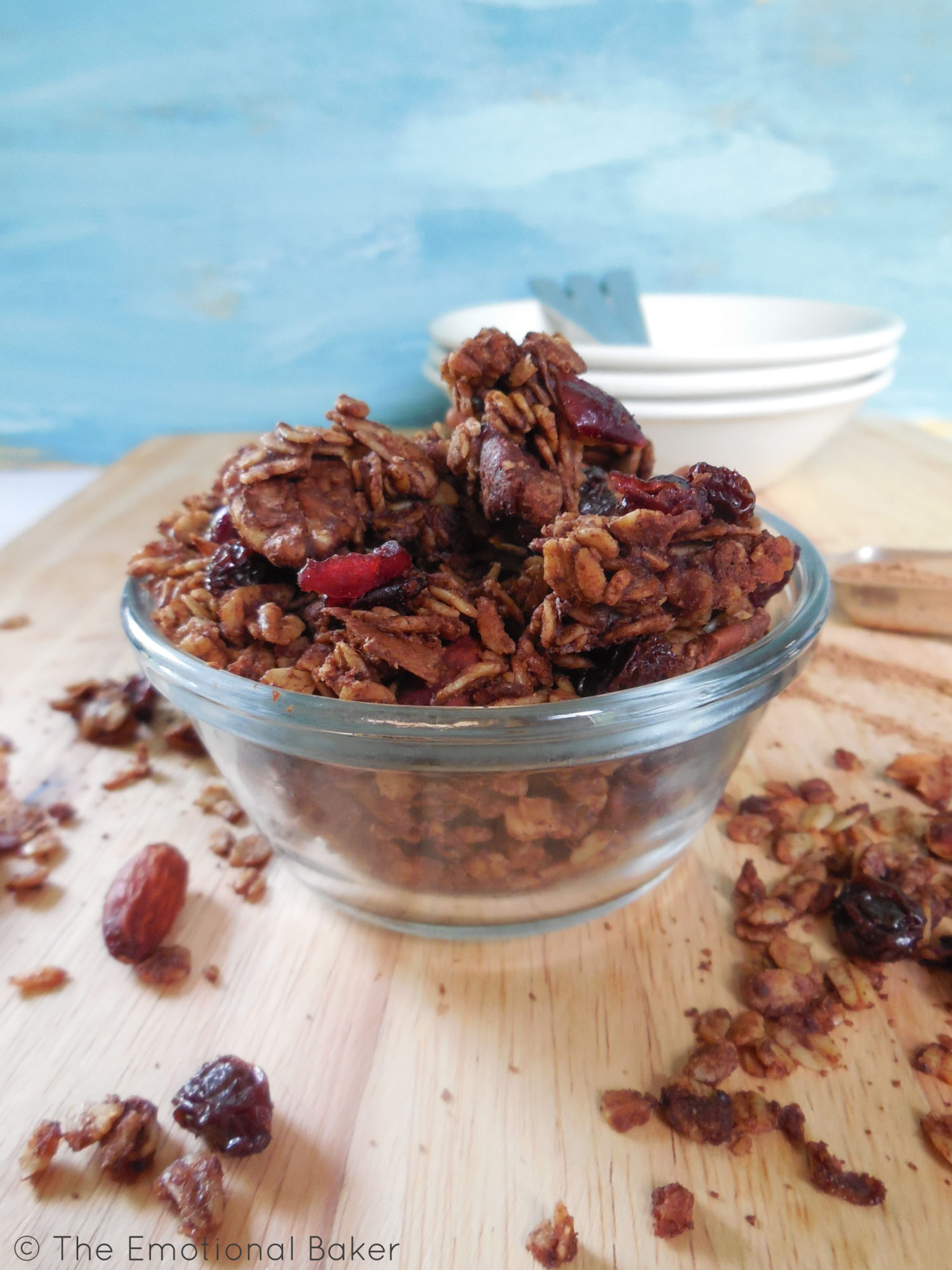 When I was growing up, I had the same routine every morning. For some reason, I would get up extra early. My mom left early for work and my dad worked 2nd shift. It was my responsibility to wake my dad up to get me ready for school.
While I waited for 7:30 to roll around, I watched my favorite shows like Aladdin and Saved by the Bell. To my dad's dismay, his least favorite show came on when I woke him up – Timon & Pumba! I thought it was hilarious and always made sure to turn the sound up while he was fixing my breakfast.
Back in those days breakfast consisted of toast with some kind of shady jam – or so my ten-year-old self thought. I think my dad got a kick out of serving me damson plum jam. The look on my face was probably priceless!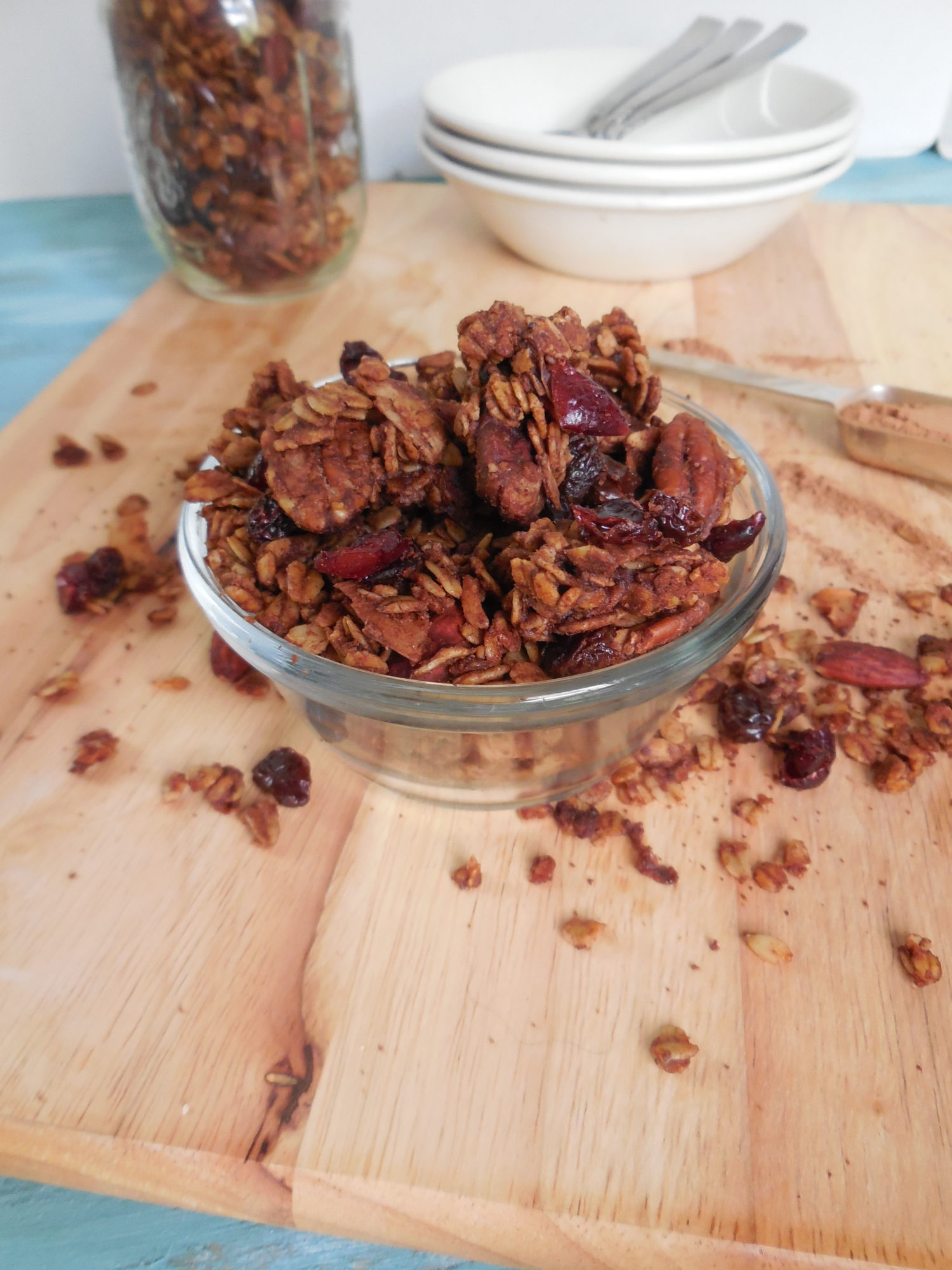 These days almost every day starts with granola. I love trying new recipes, but always come back to this one. It's super customizable – add your favorite nuts and dried fruits – these are just my favorites. Also, cacao nibs make a delicious, crunchy addition. Try these from my home state 😉
Do you have a special morning routine?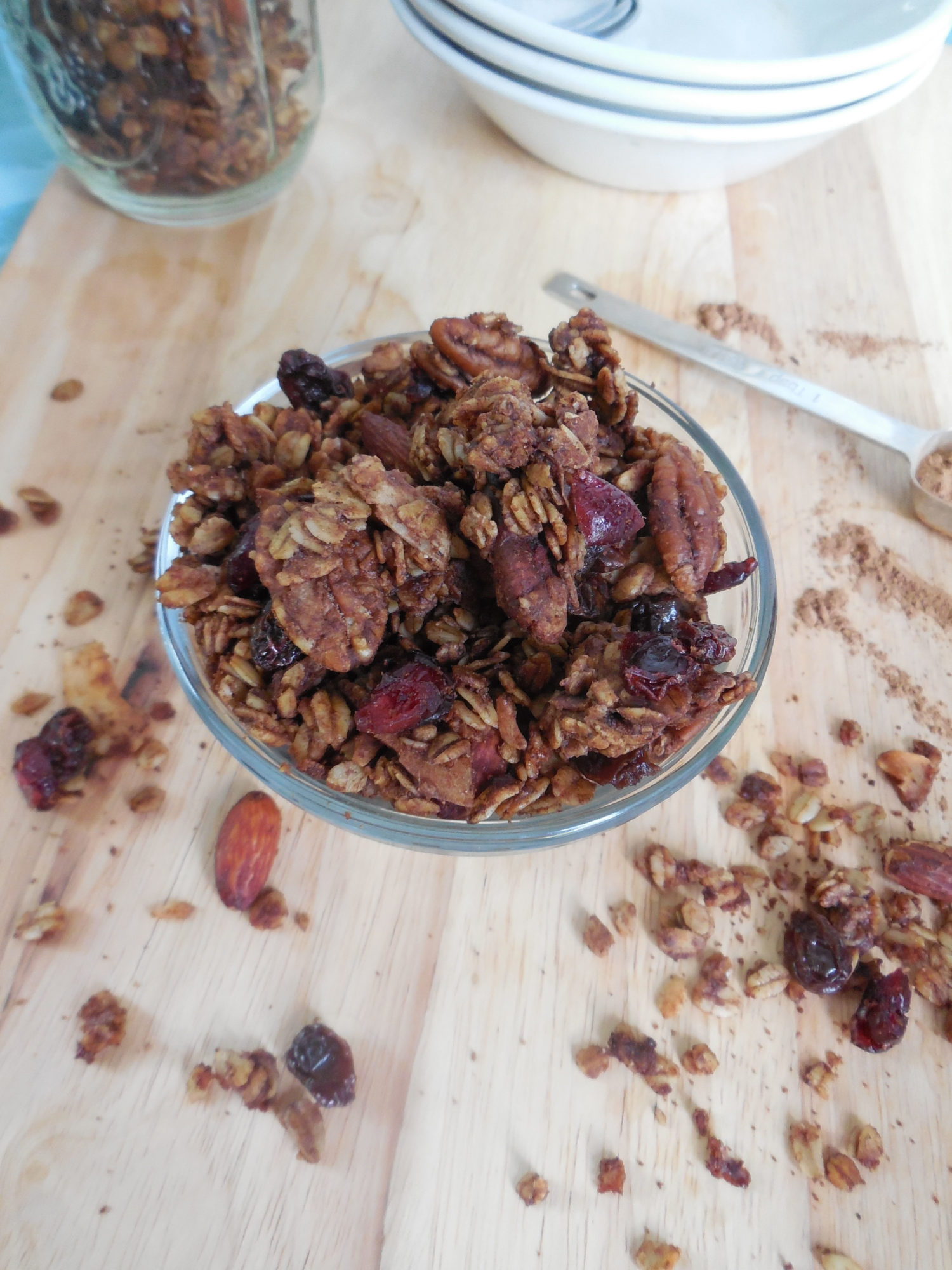 Other Granola Recipes:
Chocolate Granola
Author:
Ingredients
3 cups rolled oats
⅓ cup whole wheat flour
1/3 cup cocoa powder
1/3 cup cacoa nibs, optional
1/2 cup pecan halves
1/2 cup almonds
½ cup canola oil
½ cup maple syrup
1 tsp vanilla extract
½ cup raisins
1/2 cup dried cranberries
Instructions
Preheat oven to 300 degrees.
Grease baking sheet with canola oil.
In large bowl, combine rolled oats, whole wheat flour, cocoa powder, cacao nibs (if using,) pecans and almonds.
In measuring cup, combine canola oil, maple syrup and vanilla extract.
Pour liquids into dry mixture. Mix to coat.
Spread oats on baking sheet, pressing into a single layer.
Bake for 30 minutes. Flip oats. Add raisins and dried cranberries. Bake an additional 20 minutes.