A delicious dinner of roasted veggies and granola tortillas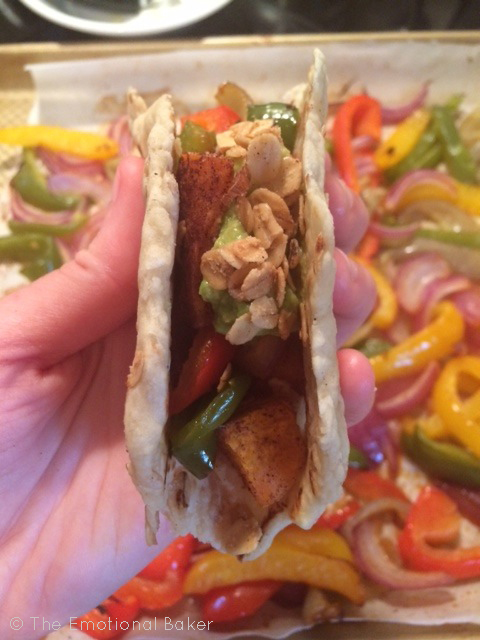 I'm not just an emotional baker. No – I'm an emotional cook, emotional student, emotional daughter – the list goes on and on.
I'm in charge of most dinners in my household. The menu changes – sometimes easy meals, sometimes harder meals – based on my schedule. For some reason, it's usually the easy meals that make me an emotional wreck.
Just this last week, two meals got me all stressed out. & Both were supposed to be easy.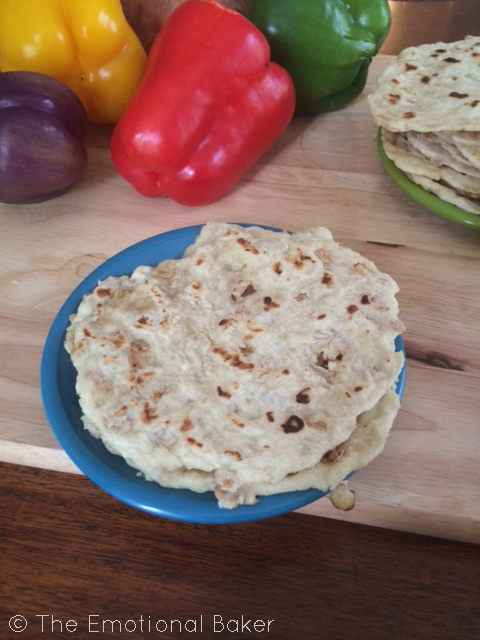 The first was zucchini fritters served on pita bread. You would think making the pita bread would have stressed me out. If it didn't puff up, how would I serve the fritters? But no – it was just the fact I was running late. One of my dinner guests – ahem – prefers the meal be served at a certain time. I started at a decent time, but I got behind schedule. Before I knew it, I was beyond frazzled.
The next night was even easier – just heat up a few things. I needed a protein – veggie burger, veggie dog, etc. The microwave was occupied, the oven was occupied. Everything was due to be ready and I didn't have much time. I hastily threw some veggie sausages into a pan and followed the instructions – add 1/4″ of water and allow to evaporate and then cook sausages until browned – or something like that. The water wasn't evaporating, the cauliflower and potatoes were ready. So, I ditched the water and tried to brown the sausages, but they were just sticking to the pan. Ahh!!! Well, we survived. The meal was served and it really wasn't so bad after all.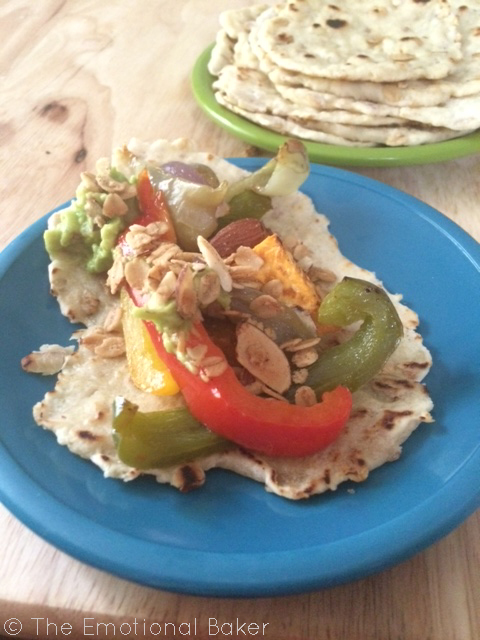 These tacos on the other hand are so easy and so delicious! For some reason, Mexican inspired dishes hardly ever give me trouble. Simply roast some peppers, onions, sweet potatoes. Make an easy granola infused tortilla. Assemble with guacamole and granola.
So why granola? I took the Golden Girl Granola Challenge!  Originally, I created the Chocolate Granola Pie, but then I found out I needed to create an entree. You would think I would've freaked, but I stayed moderately calm.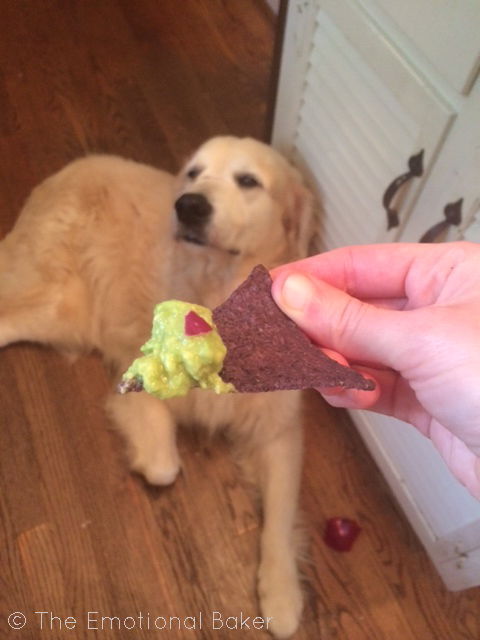 You should definitely try these and check out Golden Girl Granola!
Ultimate Veggie Tacos with Granola Tortillas
Author:
Ingredients
Tortillas:
1.5 cups all purpose flour
1/3 cup granola, try Golden Girl Granola Forest Maple
1 tsp baking powder
1 tsp salt
3 tbsp canola oil
1/2 cup water
Sweet Potatoes:
2 medium sweet potatoes, chopped
1 tbsp olive oil
1/2 tsp salt
1/2 tsp cinnamon
Veggies:
1 red onion, sliced
3-4 peppers – red, yellow, green – your choice, sliced
1 tbsp canola oil
1/2 tsp salt
1/2 tsp smoked paprika
Toppings:
guacamole
granola
Instructions
Tortillas:
Mix dry ingredients – flour, granola, baking powder and salt. Stir in oil and water until dough forms. Allow to rest for 15 minutes.
Heat skillet over medium high heat. Divide dough into 12 pieces. Roll dough into desired shape. Place tortilla in pan. Once it begins to brown, flip. Once all tortillas have cooked wrap in towel to keep them soft.
Sweet Potatoes:
Preheat oven to 425 degrees. Line baking sheet with parchment paper. Combine sweet potatoes with oil, salt and cinnamon. Spread into one layer. Bake 15 minutes. Stir. Bake an extra 10 minutes, or until tender.
Veggies:
Preheat oven to 425 degrees. Line baking sheet with parchment paper. Combine peppers and onions with oil, salt and smoked paprika. Spread into one layer. Bake 15 minutes. Stir. Bake an extra 10 minutes, or until tender.
Assemble:
Top tortilla with sweet potatoes, veggies, guacamole and sprinkle with granola.