The flavors of fall in a handheld cake treat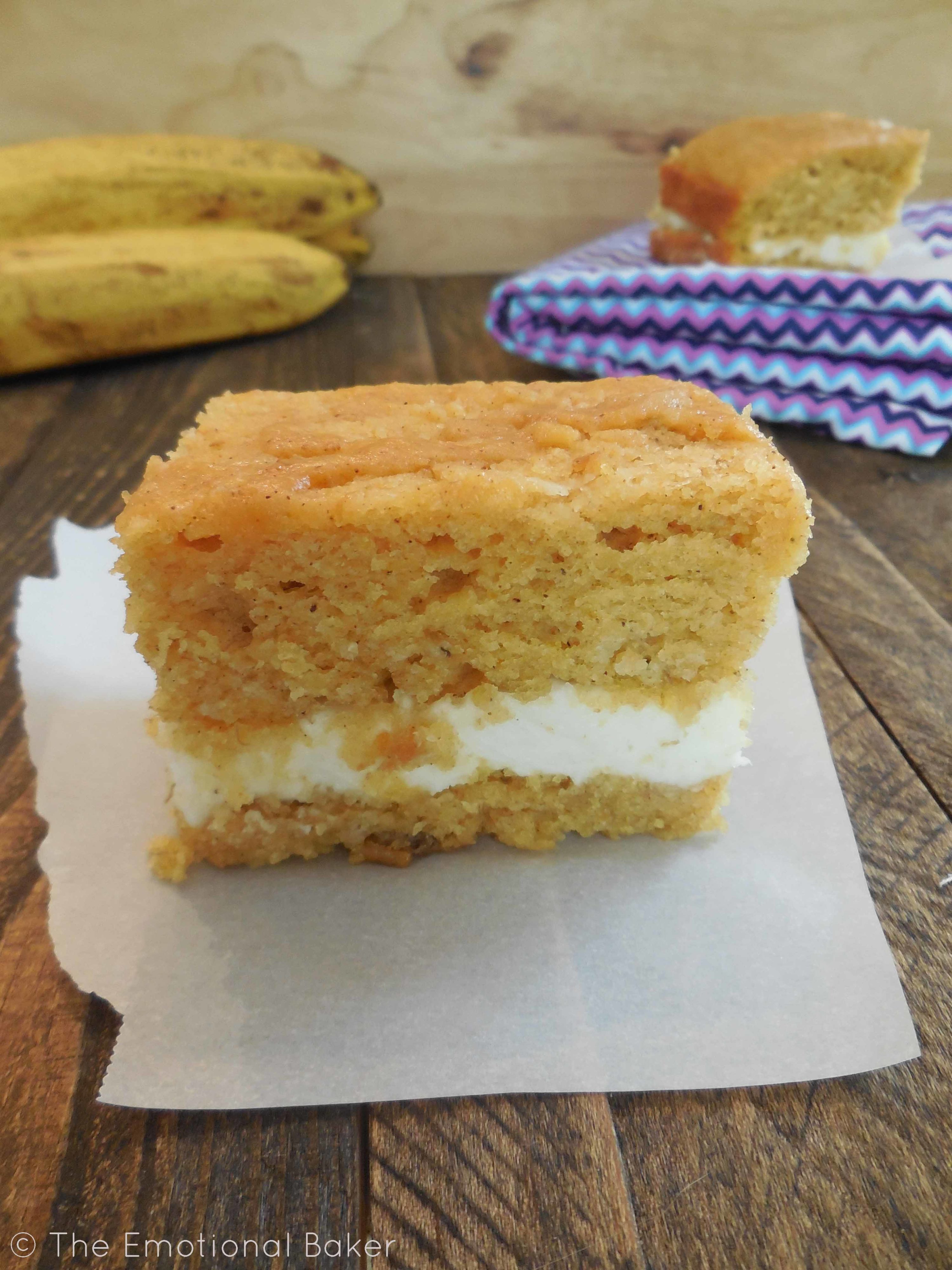 There aren't many things I'm scared of, but there is one exception – bees! Up until recently, I had never been stung. I think that's what made it so terrifying. November 5th I think the bees were out to get me.
I first did a crazy food blogger thing (please tell me I'm not the only one to do wacky things in the name of the blog!) I've been on a real Instagram kick – & I wanted to get a pic of my newest treat with some pretty fall leaves on the ground. On my walk with Winston, I saw the perfect display, but I'd have to drive there because I'm on walk restriction (OMG – I think I have another stress fracture :/ ) I planned to multi-task and also vacuum my car on the trip.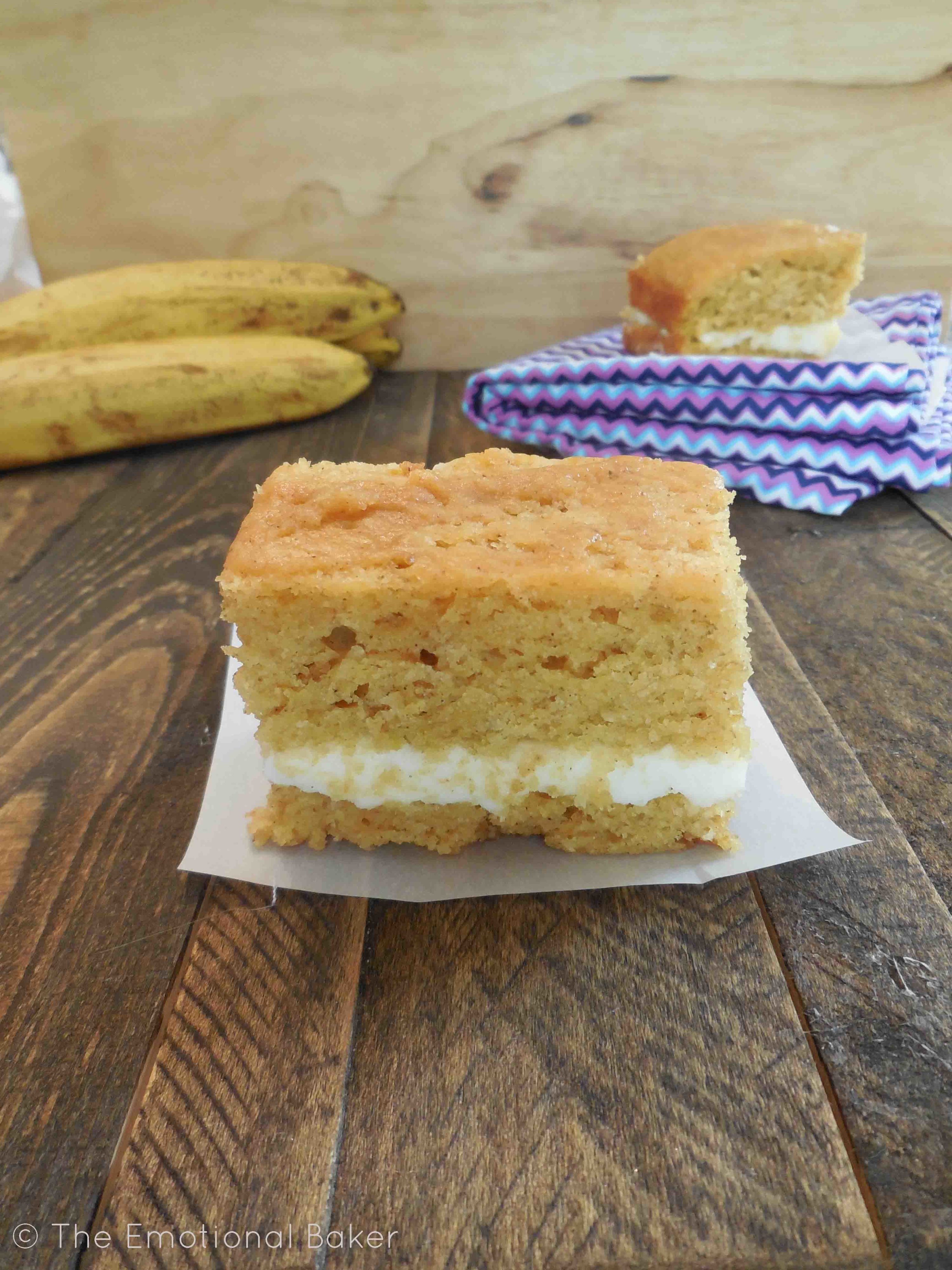 I wrapped the treats in plastic wrap. When I was through taking pics, (that didn't turn out, boo!) I headed to the car wash. I had the treat sitting on the cup holders. The doors were all open. Everything was going fine, and then I realized there was a yellow jacket in the car! I must've not completely rewrapped the treats. The bee was swarming them. I rolled down a window and he got out, I was safe. But I still had a door open and he got back in! I was freaking out because there was no way I was getting back in that car! Luckily, I did the window technique again and quickly closed the door! Ahh, I escaped!
Or so I thought.
When I got home, I needed to go to the recycling bin. I had on shorts (it was nearly 75 in NC!) and immediately felt something sting/bite/inflict pain (I can't explain how it felt,) and immediately swiped at my leg. Then I had the sensation on my hand! I proceeded to the bin. At this point, I'm not sure if I knew it was a bee or not. For some reason, I looked down, and there was a huge bumblebee on my shorts! I've heard these don't sting, but that didn't seem to be the case for me (unless multiple bees were involved.) I had on running shoes, so I couldn't easily slip the shoes off. I started to take them off and then the bee was crawling up my shirt! I attempted to use a leaf to get him off, but those buggers have some pretty intense legs! Then I flung the shirt off and ran inside! I hope no one saw me, but I just canNOT handle bees!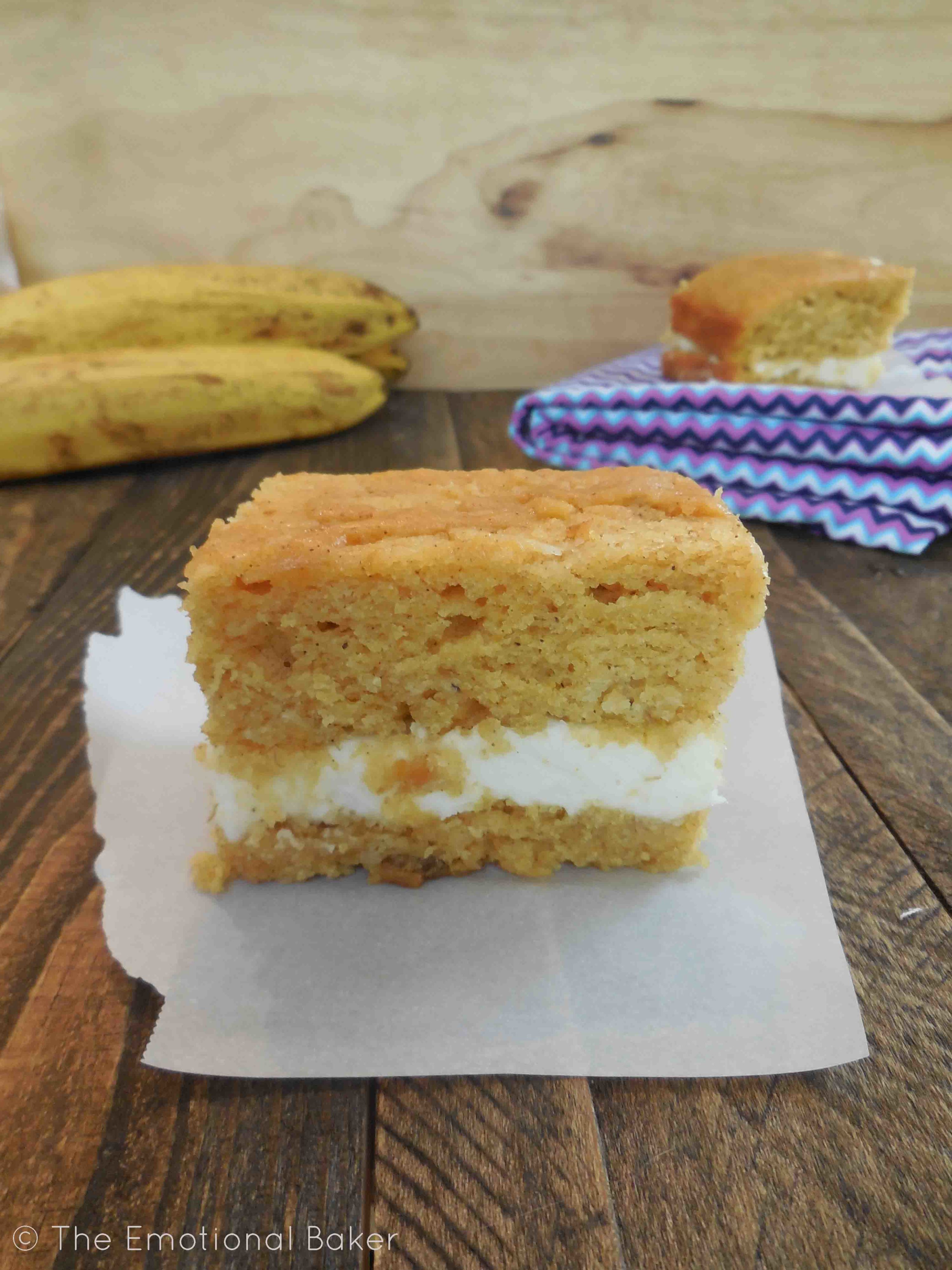 Well, no worries – these cake bars certainly won't sting – quite the opposite! These don't need frosting in the middle, but it makes for a very delightful treat!
Is there anything you're scared of?
Pumpkin Banana Snack Cake
Ingredients
3 cups all purpose flour
2 cups sugar
1 tbsp baking powder
1/2 tsp salt
2 tsp pumpkin pie spice
1 cup pumpkin
3 bananas, mashed
3/4 cup cashew milk
3/4 cup canola oil
1.5 cups powdered sugar
1/2 cup shortening
1 tbsp cashew milk
Instructions
Preheat oven to 350 degrees. Grease a 13 x 9" pan.
In large bowl, combine flour, sugar, baking powder, salt and pumpkin pie spice. In a medium bowl, combine pumpkin, mashed bananas, cashew milk and canola oil. Pour wet into dry and milk until combined.
Pour into prepared pan. Bake for 35 minutes or until a toothpick inserted in the center comes out clean.
Allow cake to cool completely. Then invert. Carefully slice in half horizontally.
Prepare frosting: Beat shortening. Add in powdered sugar. Beat until small pellets are formed. Add cashew milk and beat until fluffy. Spread on interior, bottom portion of cake. Carefully place top portion on top of frosting.
Note: Frosting may only be enough for half of cake, depending on how thinly it is spread.
http://theemotionalbaker.com/2015/11/09/pumpkin-banana-snack-cake/