A festive cookie loaded with dark chocolate and crushed peppermint
For the past few years, Christmas has snuck up on me. It seems it gets here, and I just don't really get excited until it's over. I wish I still felt the excitement like when I was a little girl. Well, to get me in the Christmas spirit, I thought I'd share some of my favorite Christmas traditions.
#1 – Christmas Tree Picking
Ever year on my birthday, (or as close to it as we can,) we pick our Christmas Tree. Now, I'm partial to a particular tree – one that's tall and extra round at the bottom. The past few years it's been hard to find the right tree. Sometimes it takes forever to make a decision, but recently I've just been going by freshness and something taller than me. Because as my dad says – "Once you get the tree home and decorated, they're all gonna be beautiful."
#2 – Grapevine Ball Throwing
My mom loves having lit balls in the trees. So, every year, whether it's 2 degrees or 70 degrees (this year!) we're out in the front yard struggling with these grapevine balls. We try to toss them over high branches, or use long sticks to place the balls. It's quite the chore, but it's beautiful once they are all in place.
#3 – Christmas Light Drive-Bys
The Christmas Light viewing season always starts with our annual trip to the "Lanes of Light," sponsored by a retirement community. There are so many creative displays like puffins, reindeer, a sea serpent, and more! Then, throughout the season, we go around to different neighborhoods to check out the best lights in town.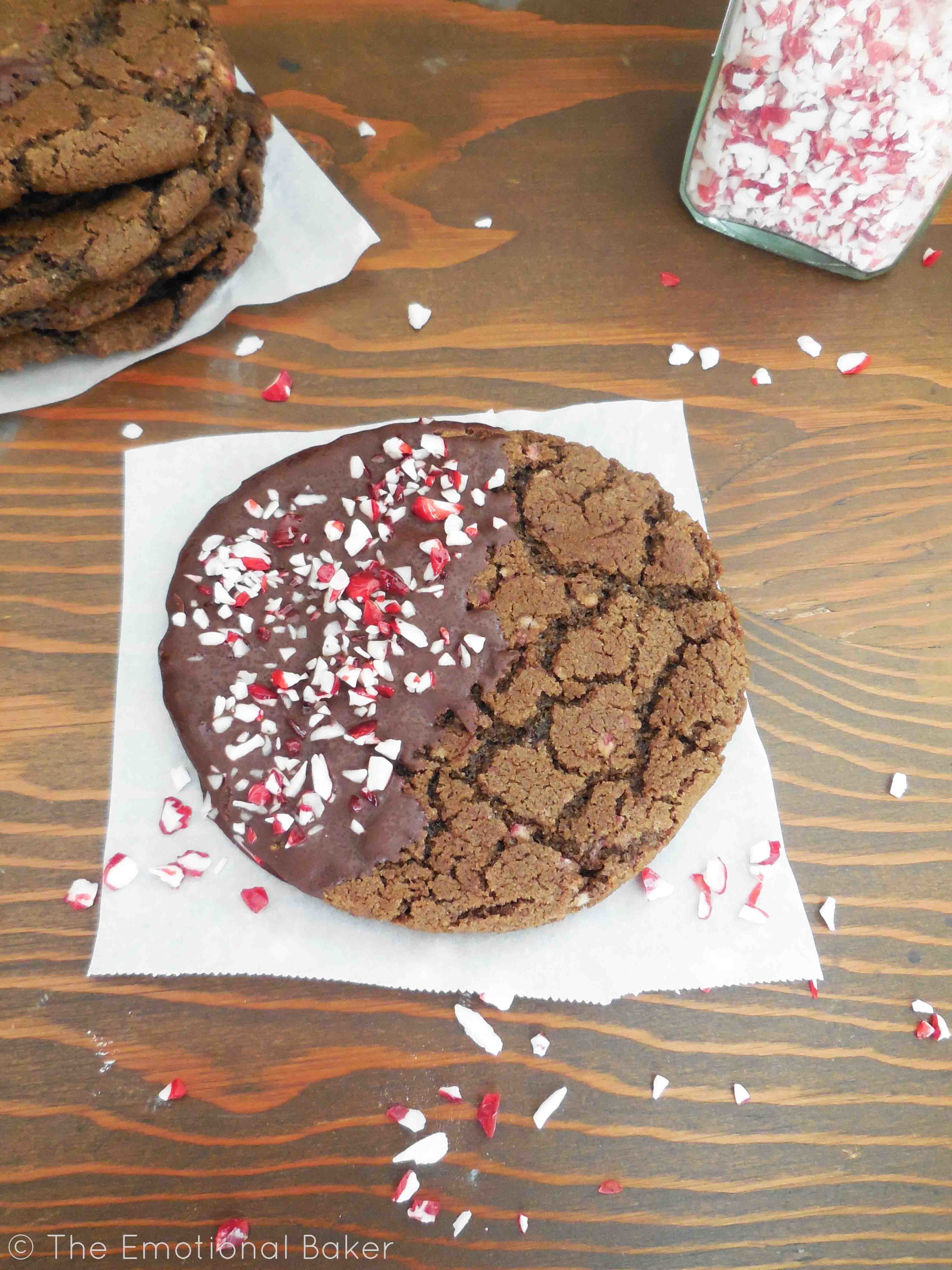 #4 – Christmas Movie Classics
Yea, I may have said I don't like movies, but I'm a sucker for a good Christmas movie. Every year I look forward to these favorites:
– A Boyfriend for Christmas – When I first saw this movie, I thought it was so funny when Patrick Muldoon's character needs a cover-up name and he comes up with Douglas Firwood because he's holding a Douglas Fir!
– The Most Wonderful Time of the Year
– The Santa Clause – I mean, this is a classic for me. I don't know if I saw it when it first came out (I would've been 3,) but I remember being a goofy girl giggling hysterically when Tim Allen asks his son if he knows how to call 911!
#5 – Golden China for Christmas Eve Dinner
Our favorite Chinese restaurant is Golden China. Every year we go on Christmas Eve and get our special Christmas Eve dishes – including Sugar Buns! If we eat at home, we dine on Spode Christmas Tree plates and it just feels so special!
#6 – Santa's Chocolate Chip Cookies with Crushed Peppermint 
This is one of my all time favorite cookies and I try to make them every Christmas Eve. This year I hope to do a variation based on Hip Foodie Mom's Double Peppermint Chocolate Chip Cookies!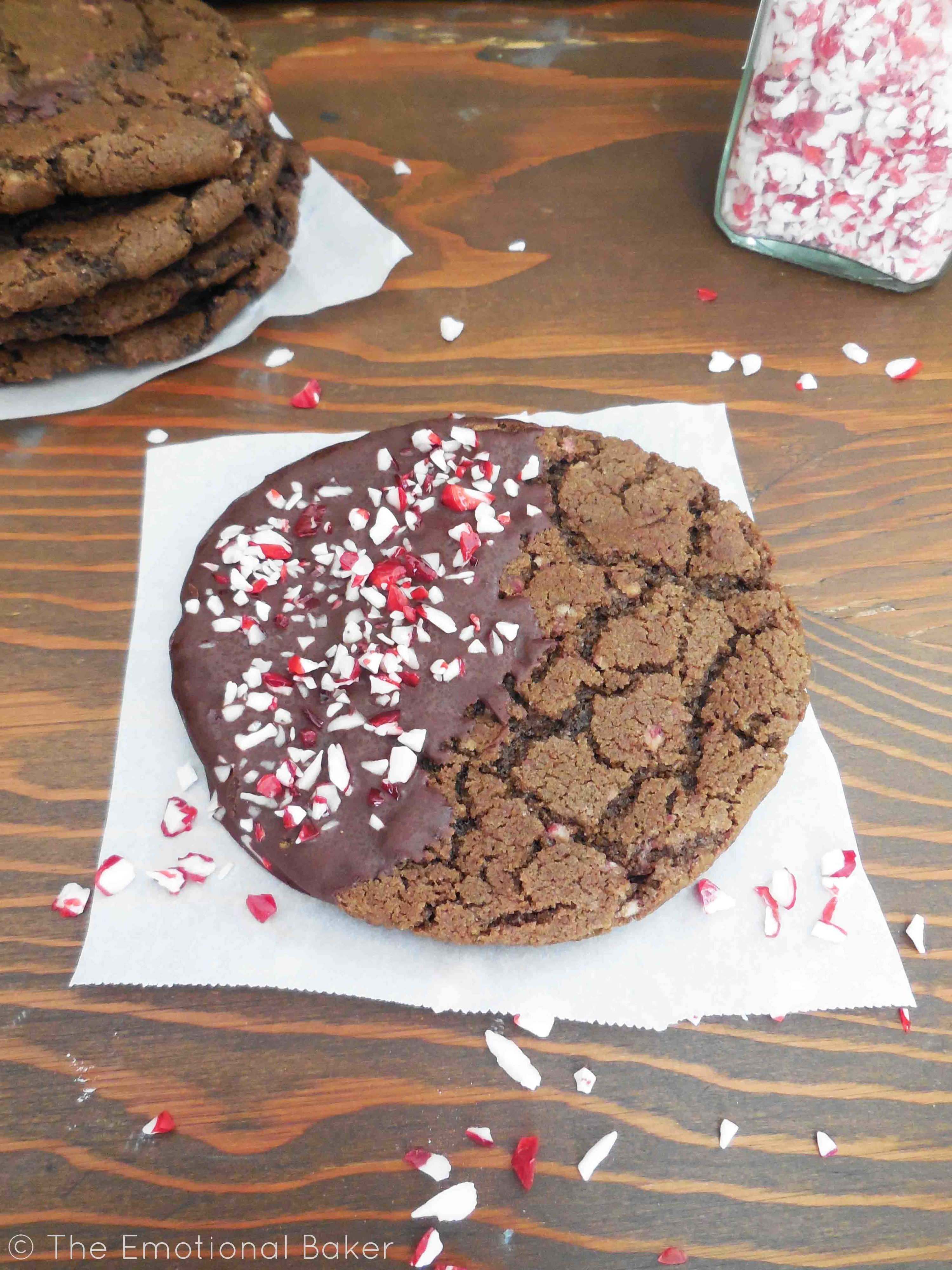 So, when thinking of cookies for The Great Food Blogger Cookie Swap, I knew I wanted to include these flavors, but in an updated cookie. These cookies include coffee to bring out the chocolate and were pretty darn delicious. I hope they arrived safely to their destinations!
Peppermint Dark Chocolate Cookies
Ingredients
1 cup sugar
1/2 cup brown sugar
1/2 cup canola oil
1 tsp vanilla extract
1/3 cup brewed coffee
1/2 cup cocoa powder
1.5 cups all purpose flour
1 tsp baking powder
1 tsp baking soda
1 tsp salt
3.5 oz 72 percent dark chocolate, chopped
1/4 cup crushed peppermint candies
Topping:
about 3 - 3.5 oz 72 percent dark chocolate bars, melted
3/4 tsp ground coffee
3/4 tsp canola oil
~1/2 cup crushed peppermint candies
Instructions
Preheat oven to 350 degrees. Line baking sheets with parchment paper.
In a large bowl, use a fork to combine sugar, brown sugar, canola oil and vanilla extract. Once combined, stir in brewed coffee.
In measuring cup or medium bowl, combine cocoa powder, all purpose flour, baking powder, baking soda and salt. Once dough forms, add chopped dark chocolate and crushed peppermint.
Divide dough into 24 equal balls. Flatten with palm of hand. Bake for 10 minutes. Allow to cool for five minutes. Then transfer to wire racks.
Topping:
Note: You may want to fix topping in thirds. Start with 3.5 oz dark chocolate with 1/4 tsp ground coffee and 1/4 tsp canola oil. See how many cookies are coated. Cookies are delicious without topping as well!
Once cookies are cool, melt chocolate. Break into pieces and microwave at 50 percent power for one minute. Stir. Then microwave in 30 second increments at 50 percent power until chocolate is completely melted. Then stir in ground coffee and canola oil.
Prepare a parchment lined pan. Use a spoon to drizzle chocolate over half of cookie. Place on parchment and top with crushed peppermint. Place in refrigerator for 15 minutes or until chocolate hardens. Remove from parchment and wrap cookies individually in plastic wrap. Store in a cool place. If room is warm, leave in refrigerator.
Note: The dough will be kind of wet, but just do your best to roll it into balls. Try to tuck the dark chocolate chunks into the center of the dough. The dark chocolate chunks will look kinda funky when you pull the cookies out of the oven, but that's OK!
http://theemotionalbaker.com/2015/12/16/peppermint-dark-chocolate-cookies/