Wake up with a delicious granola flavored with tea and spices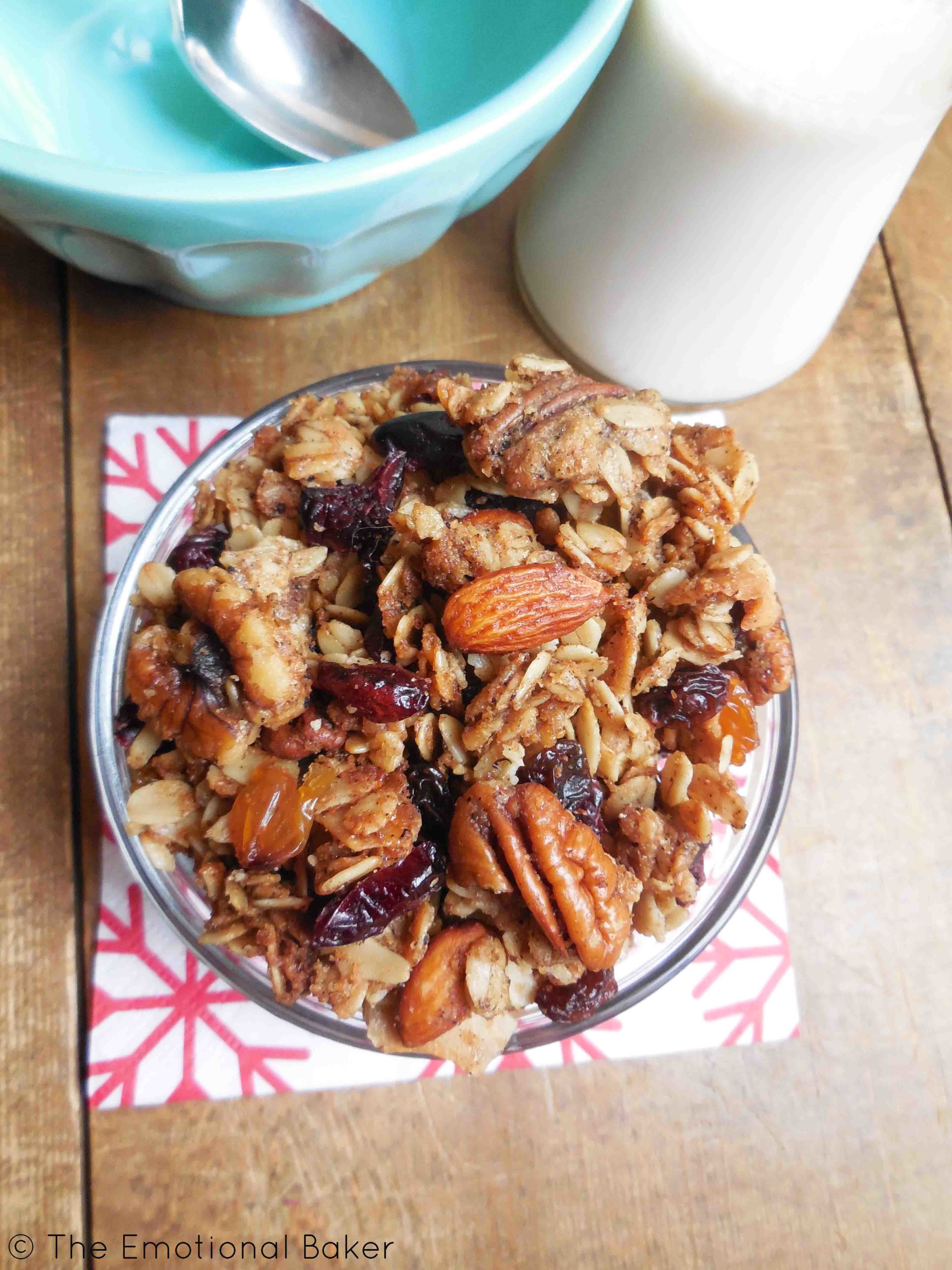 I'm a recycling fiend. I may not hold any records, and I'm sure there's room for improvement, but anything that has a recycling symbol on it, I'll do my darn best to make sure it makes it into the can.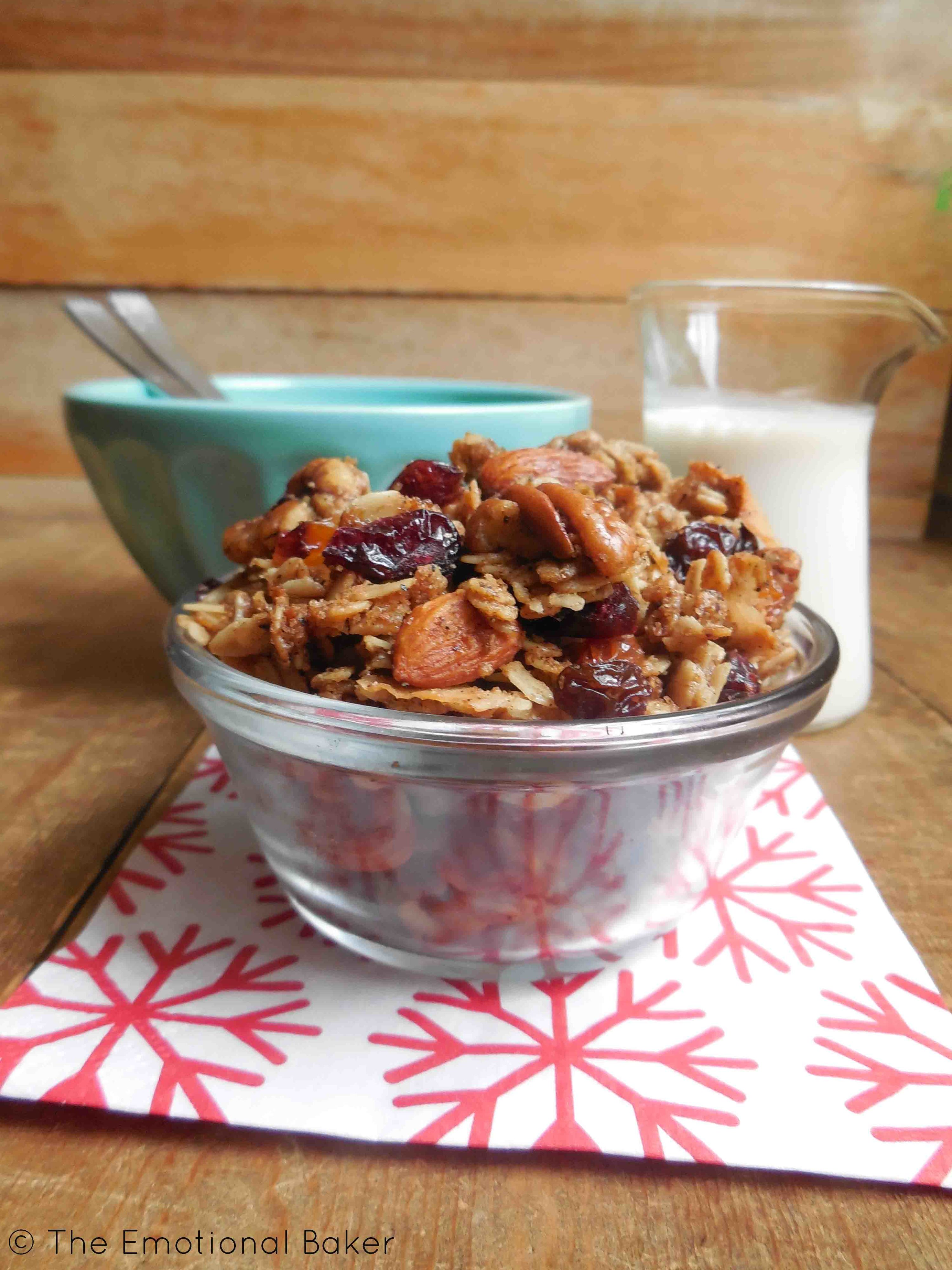 So, that means lots of washing out plastic and glass containers. This past weekend, things got a little out of hand. Now, I may think recycling is a critical part in helping the environment, but you probably wouldn't guess it if you saw my bedroom. My bedroom is loaded with 25 years of memorabilia and my dresser is covered with used, empty cosmetics containers – eek – How embarrassing!
I finally took the time to tackle all those mascara tubes, lotion bottles and lip balms. It was time consuming (and there's still more to do!) but it's great to get them out  (& hey, triad based recycling crew: if they're not clean enough to meet inspection, please don't toss them, I really tried to get 'em tidy!)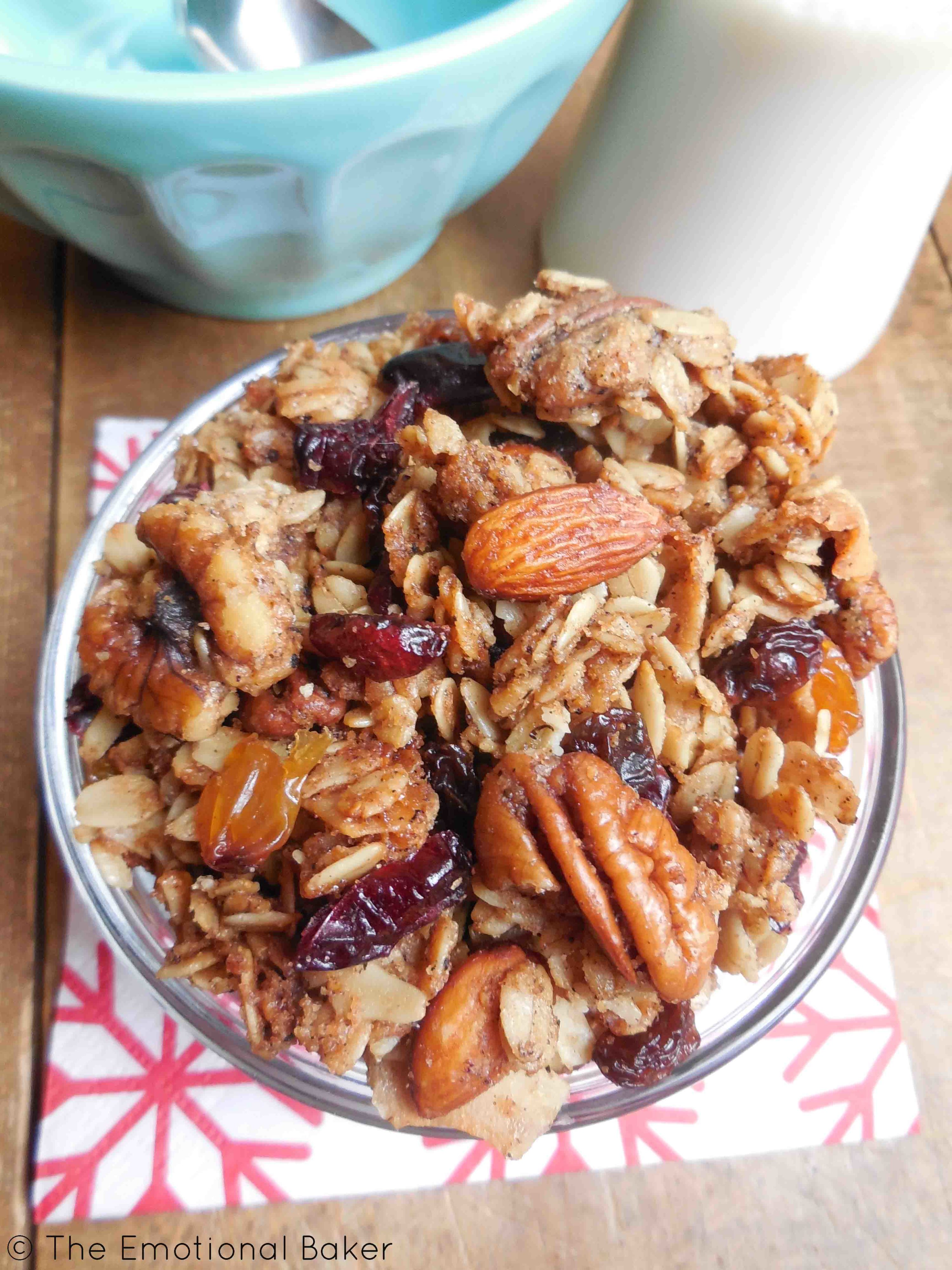 Also, on my cleaning list – half empty nut butter jars. Someone in my household – ahem! – leaves jars and jars in the refrigerator. For several weeks, I've been working on getting these out. Winston used to help with the plastic jars, but the glass ones are a little more complicated.
One thing that doesn't get left uneaten is granola. Every week or so I make a new batch. I was solely making Chocolate Granola, which is delicious, but I decided to switch it up. This is based off one of my favorite drinks. Believe me – this is seriously the best thing you can have for breakfast.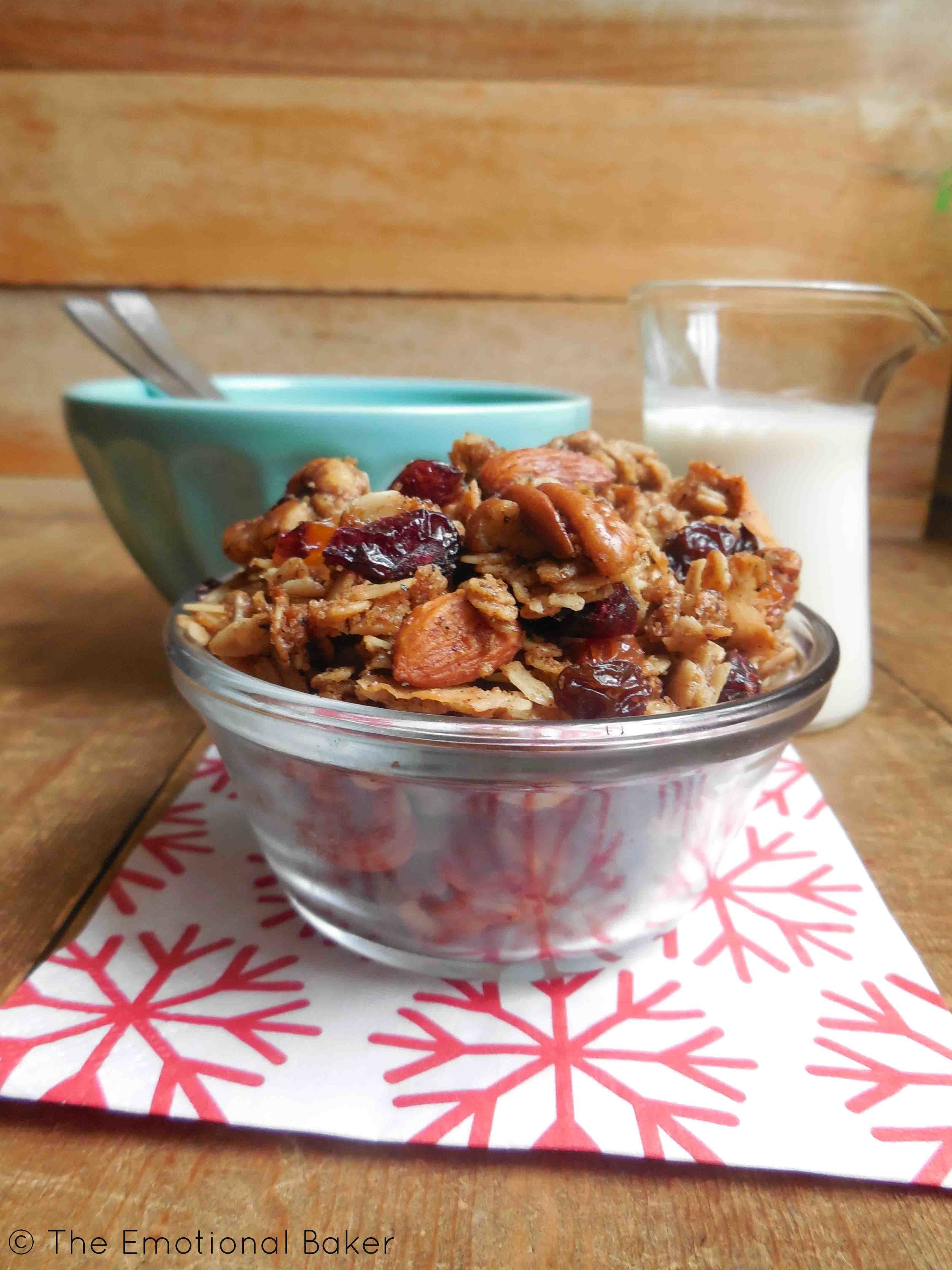 Happy New Year! Here's to a 2016 full of yummy treats 😉
Ingredients
3 cups rolled oats
1/3 cup whole wheat flour
2 tbsp brown sugar
2 tbsp sugar
1 tsp black tea, from contents of opened tea bag
1 tsp cinnamon
1 tsp cardamom
1/2 tsp ginger
1/4 tsp cloves
1/4 tsp nutmeg
1/4 tsp allspice
1/4 tsp salt
pinch of black pepper
1/2 cup pecan halves
1/2 cup walnuts
1/2 cup almonds
1/2 cup maple syrup
1/2 cup canola oil
1 tsp vanilla extract
1/2 cup raisins
1/2 cup golden raisins
1/2 cup dried cranberries
Instructions
Preheat oven to 300 degrees. Grease a baking sheet with canola oil.
In a large bowl, combine oats, whole wheat flour, brown sugar, sugar, tea leaves, cinnamon, cardamom, ginger, cloves, nutmeg, allspice, salt, black pepper, pecans, walnuts and almonds.
In medium bowl, combine maple syrup, canola oil and vanilla extract. Add to dry ingredients, stir to combine.
Spread in even layer on prepared baking sheet. Bake for 30 minutes. Then add raisins, golden raisins and cranberries. Flip granola with spatula until fruit is well incorporated. Press down and then bake an additional 20 minutes.
Allow to cool, then store in air tight container.
http://theemotionalbaker.com/2016/01/04/chai-tea-granola/