Disclosure: I received free products from Sesame King Tahini in exchange for reviewing the product and hosting a giveaway. As always, all opinions and recipes are my own. Thanks for supporting the brands that support The Emotional Baker!
Tahini cookies loaded with lemon flavor, oreos and chocolate chunks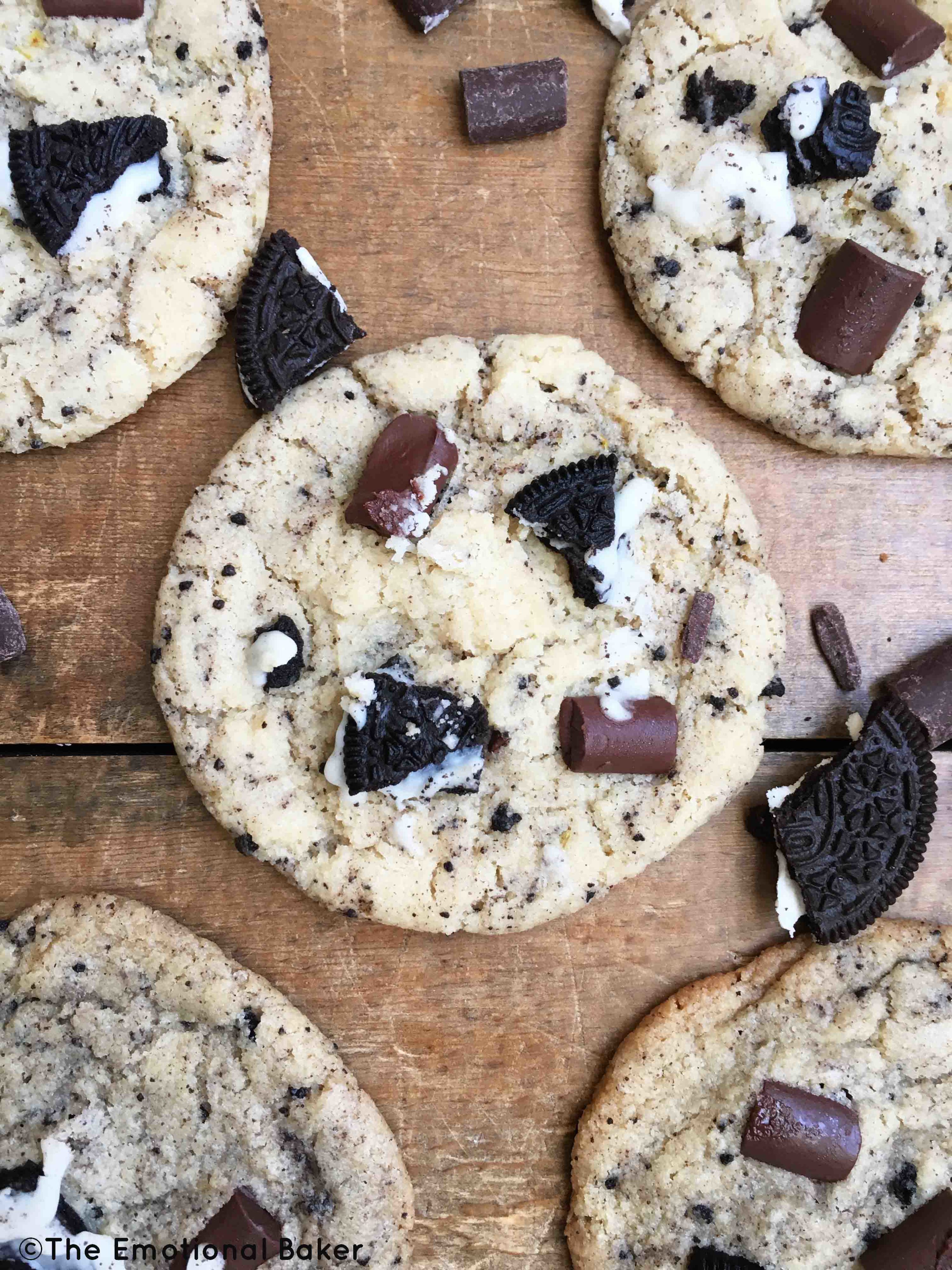 Can you believe I wouldn't make peanut butter treats solely because I didn't want to deal with the sticky, gooey mess of cleaning the spoon and measuring cup?
In desperate times, I just got a big spoon and estimated the needed amount.
& then, pb and me had a falling out. I guess it was payback for ignoring it so long (but just in baking – not in smoothies or sandwiches!)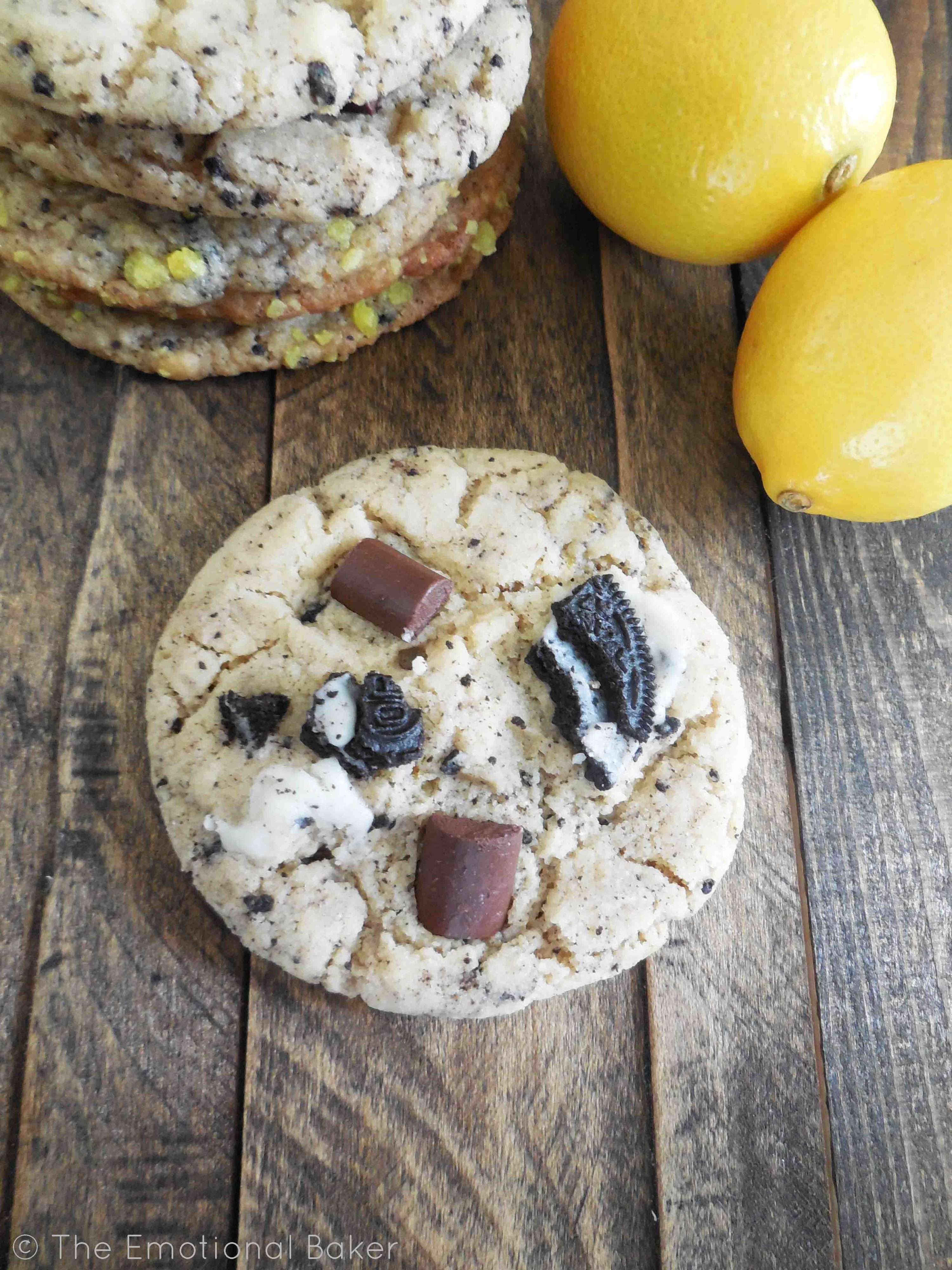 One day I went to get some for snacking purposes and the pb had a weird smell. I was trying a new brand – so I thought maybe that was the problem. Then I went to my favorite brand and it had the smell too, and the taste wasn't any better – uhh!
Well, I don't know what's going on with me, but I've been turning to other nut butters until my sitch gets resolved.
So, when I was contacted about trying Sesame King Tahini – I was all in! Of course, I use tahini all the time when cooking, but have never baked with it. I had some leftover oreo crumbs from the Chocolate Peppermint Pie and thought it would make the perfect accompaniment to Tahini Cookies.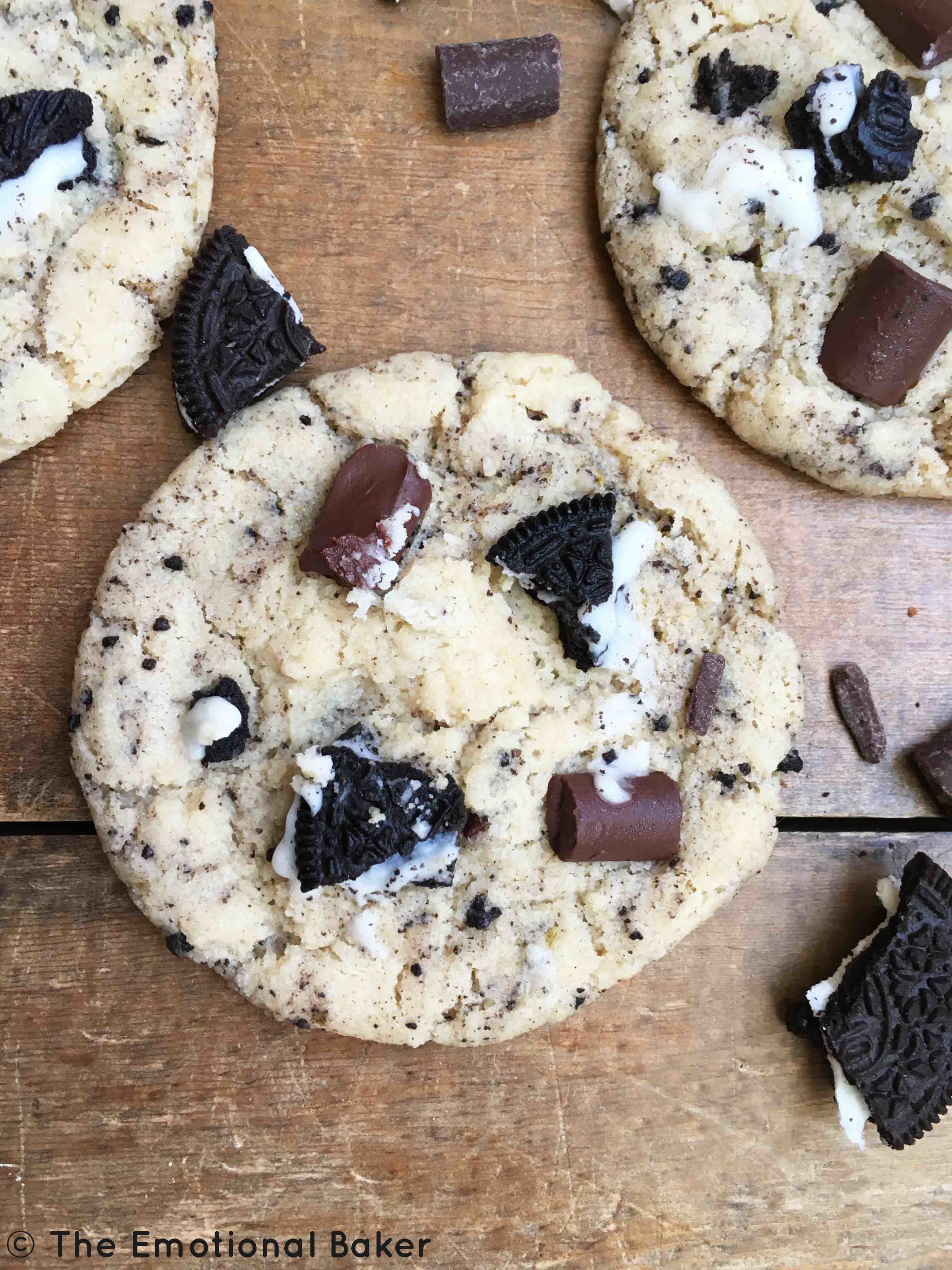 I recommend enjoying these the day after baking, unless you are a die hard tahini fan. For me, the taste was a little strong, but as the cookies aged, they were super delicious!
In search for a Tahini brand? Although I haven't tested it in hummus, dressing, etc., I highly recommend Sesame King Tahini, at least for the packaging. Typically, when I open a new jar of tahini, I spill the oil when stirring it. With Sesame King, the tahini is not filled up all the way to the top, making it easier to stir. Also, this tahini is available in lots of different flavors, which is awesome. There is light roasted, roasted, cajun, garlic, honey and olive oil.
Wanna try a couple of flavors? Well, you're in luck. Enter the giveaway below for a chance to win two jars of tahini, in your choice of flavors.
Ingredients
2 cups all purpose flour
1 tsp baking soda
1 tsp baking powder
1 tsp salt
1 cup sugar
1/2 cup brown sugar
1/2 cup canola oil
1 tsp vanilla extract
1/2 cup Sesame King Tahini Paste - Light Roast
1/4 cup lemon juice
2-3 tbsp cashew milk
1/2 cup crushed oreos
Zest of 2 lemons
8-10 oreos, broken in thirds
about 1/2 cup chocolate chunks
Instructions
Preheat oven to 350 degrees. Line baking sheets with parchment paper.
In measuring cup or medium bowl, combine flour, baking soda, baking powder and salt. Set aside.
In a large bowl, use a fork to combine sugar, brown sugar, canola oil and vanilla extract. Once combined, stir in tahini. Then add lemon juice.
Add dry ingredients to liquid. If dough is too dry, add one tablespoon of milk until desired dough consistency is reached. Fold in lemon zest and crushed oreos. Divide dough into 24 equal pieces and roll into balls. Take two chocolate chunks and stuff into balls. Then flatten with palm of hand. Decorate with broken oreos and additional chocolate chunks.
If dough is dry, bake cookies 8 minutes. If dough is wetter, bake cookies 10 minutes. Allow to cool 5 minutes. Then transfer to wire racks to completely cool.
http://theemotionalbaker.com/2016/01/11/tahini-oreo-cookies/