Fudgey brownies topped with a cinnamon candy infused frosting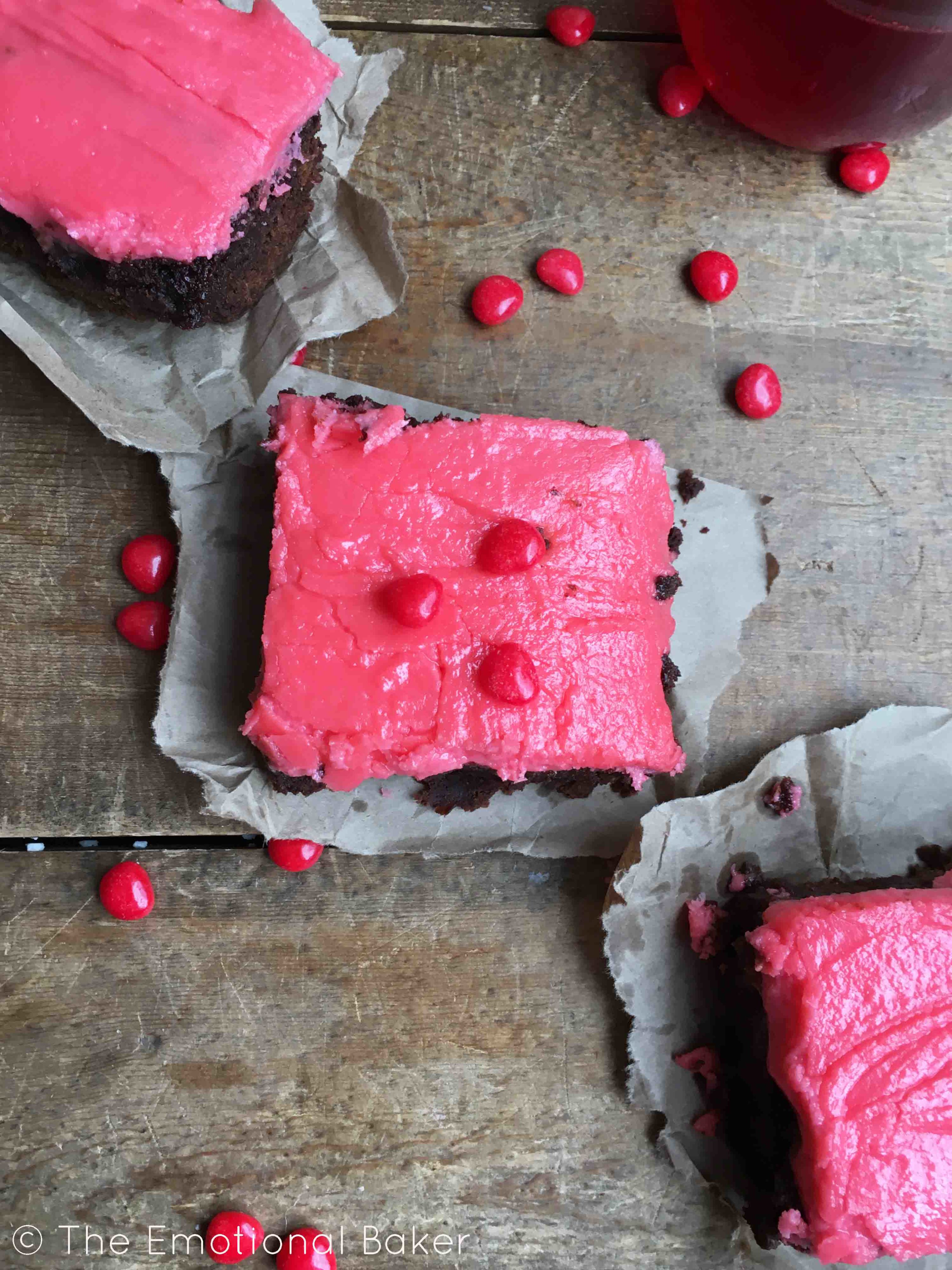 The swimming pool is out to get me. Ok – well not really, but I've been having some seriously bad luck in the pool.
So – ya know I've had to cross train like crazy since I can't run these days. Well, half my time is spent swimming – or it was.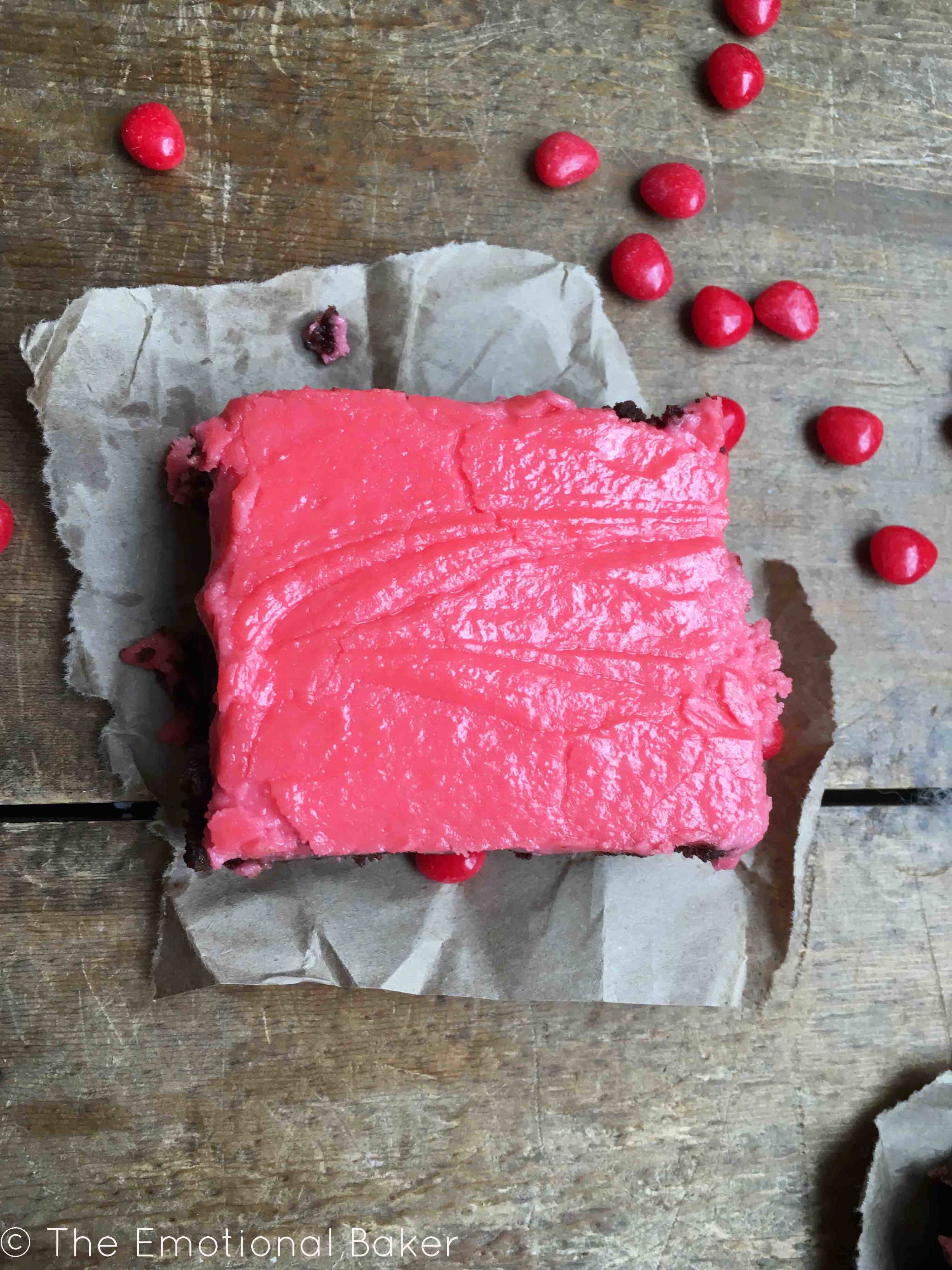 My trouble all started on Christmas Eve Eve. I had this feeling like my ear was filling up with water. & then the memories all "flooded" back from my years on the high school swim team (as the slowest and least knowledgable swimmer ever – I mean I did a flip turn in a breaststroke event!) I was experiencing a good old ear infection. & this one was a beast!
I let that booger heal and then I proceeded back to the pool. & within a day's time I managed to infect the other ear!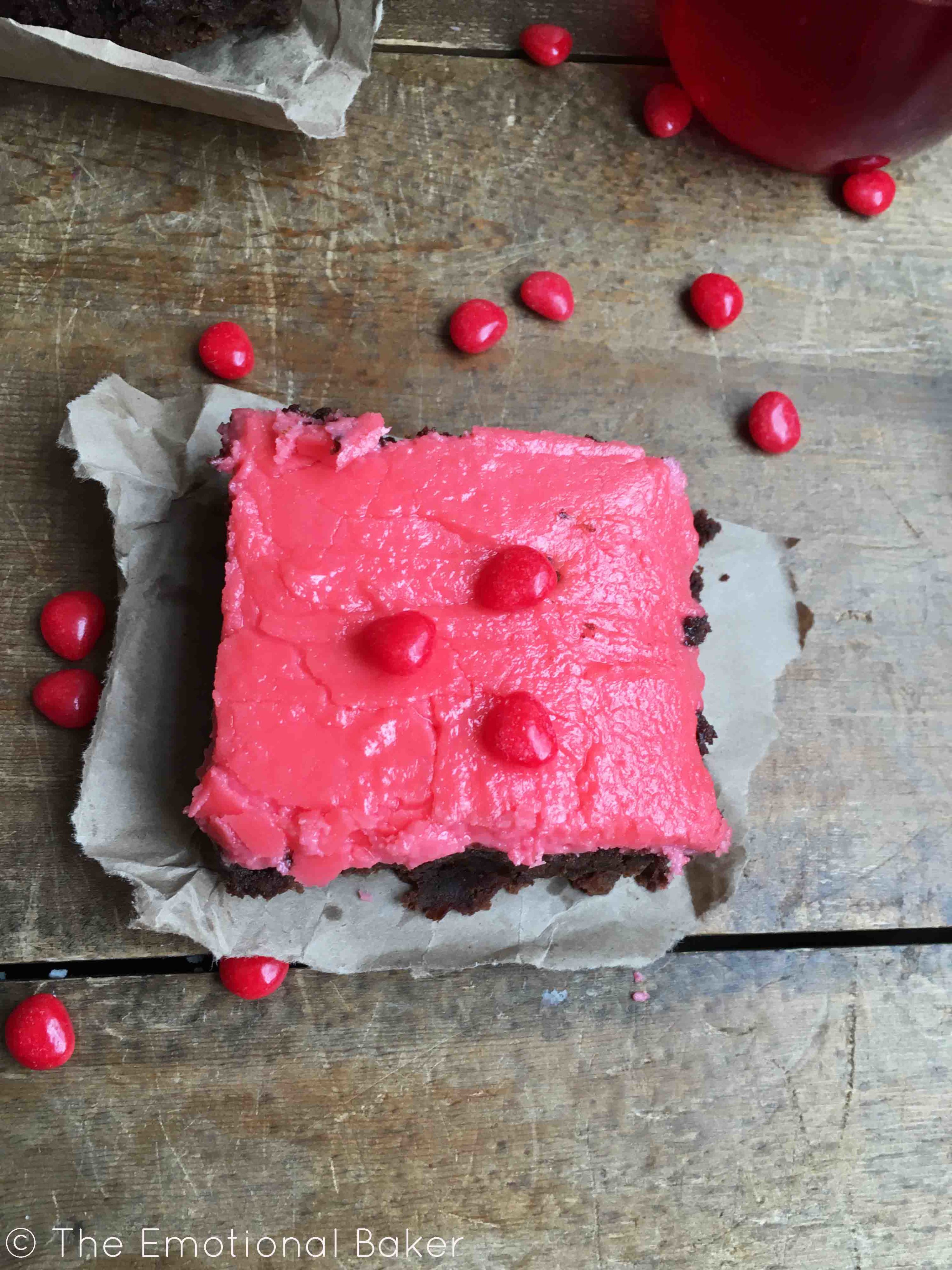 So, I took some time off to let me ears fully recuperate. Then, not 3 swim's later, I totally messed up my eye! That boy watered all day and then was really swollen.
This one was probably my fault. I read online to use dish soap as an anti-fog goggle treatment. I had previously gotten a little in my eye, but after that, I was really careful about "buffing" the soap after it dried. Well, I guess not that careful.
From now on, I'll just swim foggedly (yea, that's not a word) through the pool!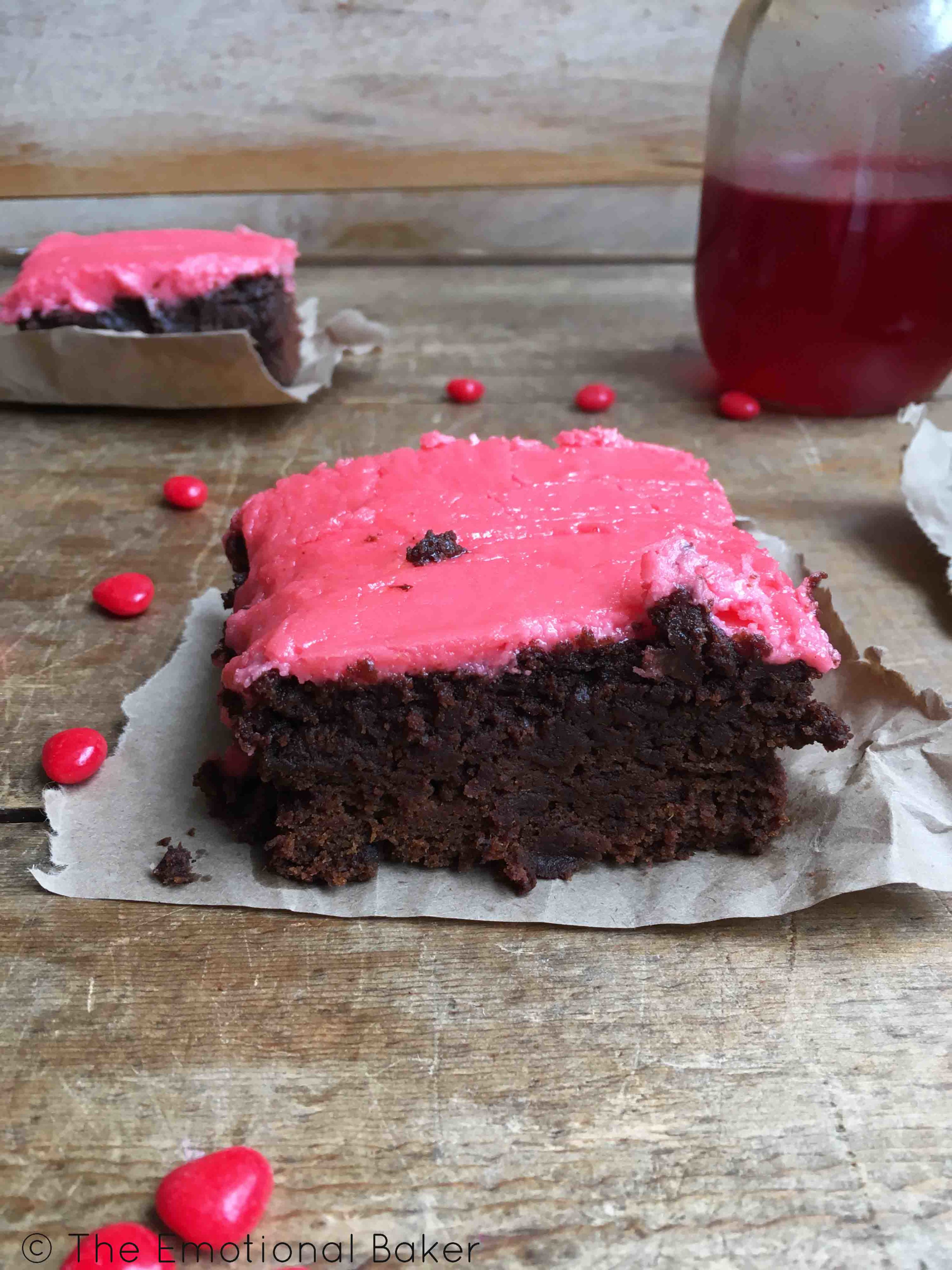 Well – enough with that – now on to this awesome treat – perfect for Valentine's Day!
A bag of red hots has been staring me down. I wasn't sure how to use them, but then it came to me. I took my favorite brownie recipe (yea, it's made with pumpkin, but you'd never know it) and added a frosting, but not just any frosting. A frosting flavored with red hot cinnamon candies. Simply melt the candies into a syrup and voila. I recommend making the syrup the day before.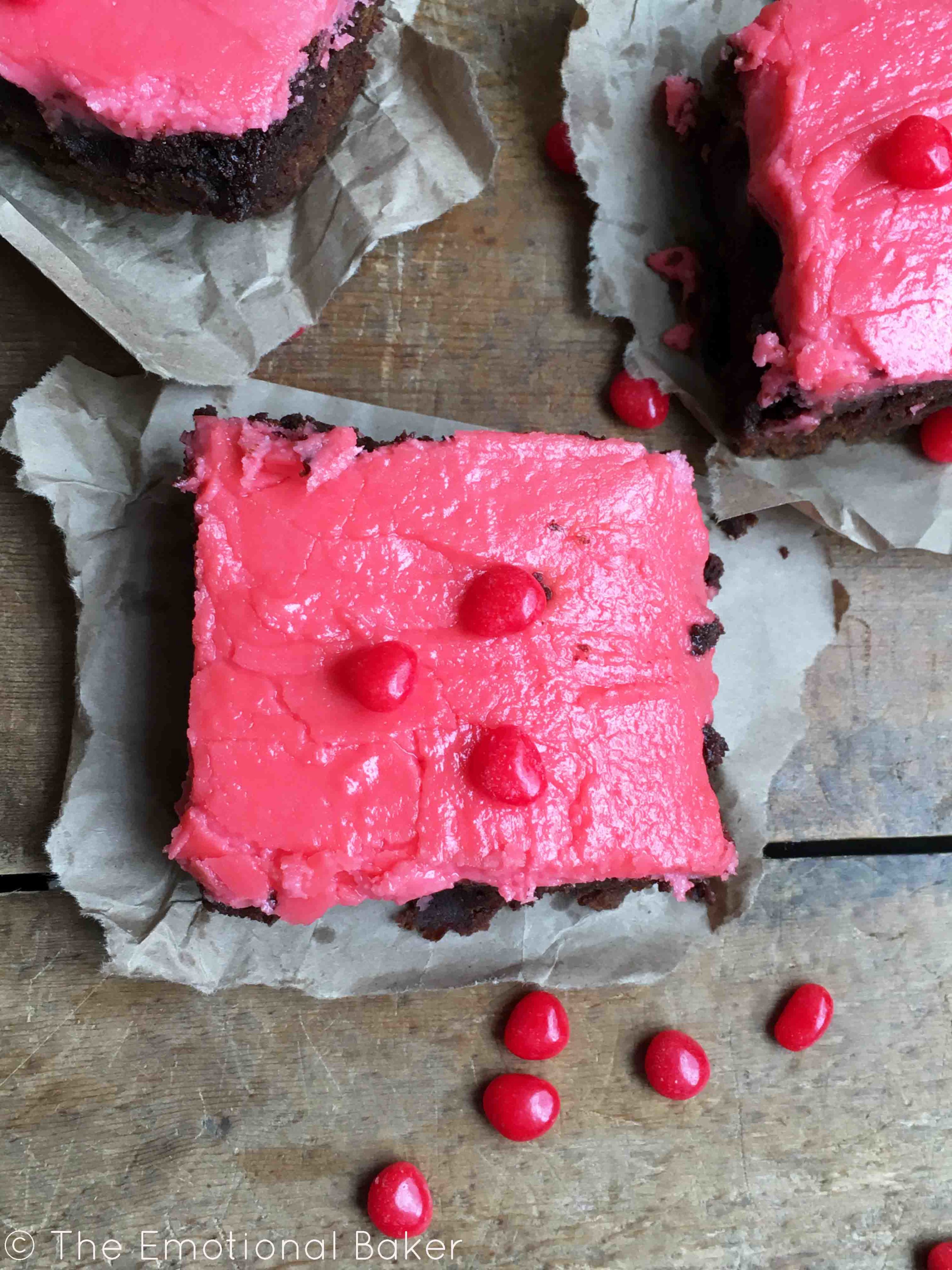 Do you have any special Valentine's plans?
Brownies with Red Hot Cinnamon Frosting
Ingredients
Red Hot Cinnamon Simple Syrup:

1 cup red hot cinnamon candies
1 cup water
1 tsp sugar

Brownies:

3.5 oz 72% dark chocolate
1.5 cups all purpose flour
1/2 cup cocoa powder
2 tbsp cornstarch
1/2 tsp baking soda
1/2 tsp salt
1- 15 oz can pumpkin
1.5 cup sugar
1/2 cup canola oil
1 tbsp Red Hot Cinnamon Simple Syrup

Frosting:

1/2 cup margarine
2 cups powdered sugar
2 tbsp Red Hot Cinnamon Simple Syrup
1/8 tsp cinnamon oil
5-10 drops red food coloring, if desired
Instructions
Red Hot Cinnamon Simple Syrup:

Over medium heat, combine candies, water and sugar in small saucepan. Stir continuously. Candies will clump together. Heat until fully dissolved then allow to cool and set aside.

Brownies:

Preheat oven to 350 degrees. Grease a 13 x 9 inch glass pan and line with parchment paper.
Melt dark chocolate at 50 percent power in 30 second increments, stirring in between. Once fully melted, set aside.
In medium bowl, combine flour, cocoa powder, cornstarch, baking soda and salt. Set aside.
In large bowl, combine pumpkin, sugar, oil and red hot cinnamon simple syrup. Add dry to wet and mix until fully incorporated. Fold in melted chocolate.
Pour batter into prepared pan. Bake for 35 minutes or until a toothpick inserted in the center comes out clean. Place pan on wire rack and allow to cool at least one hour before frosting.

Frosting:

Beat margarine. Add powdered sugar and beat until small pellets form. May take 3-4 minutes. Add simple syrup in 1/2 tbsp increments. Once desired consistency is reached, add cinnamon oil and red food coloring, if using. Beat 2-3 minutes or until frosting is fluffy.
Spread frosting over cooled brownies.
http://theemotionalbaker.com/2016/02/01/brownies-with-red-hot-frosting/
More Valentine's Treats: