Pretzels get a sweet update with cocoa powder, a light glaze and a donut shape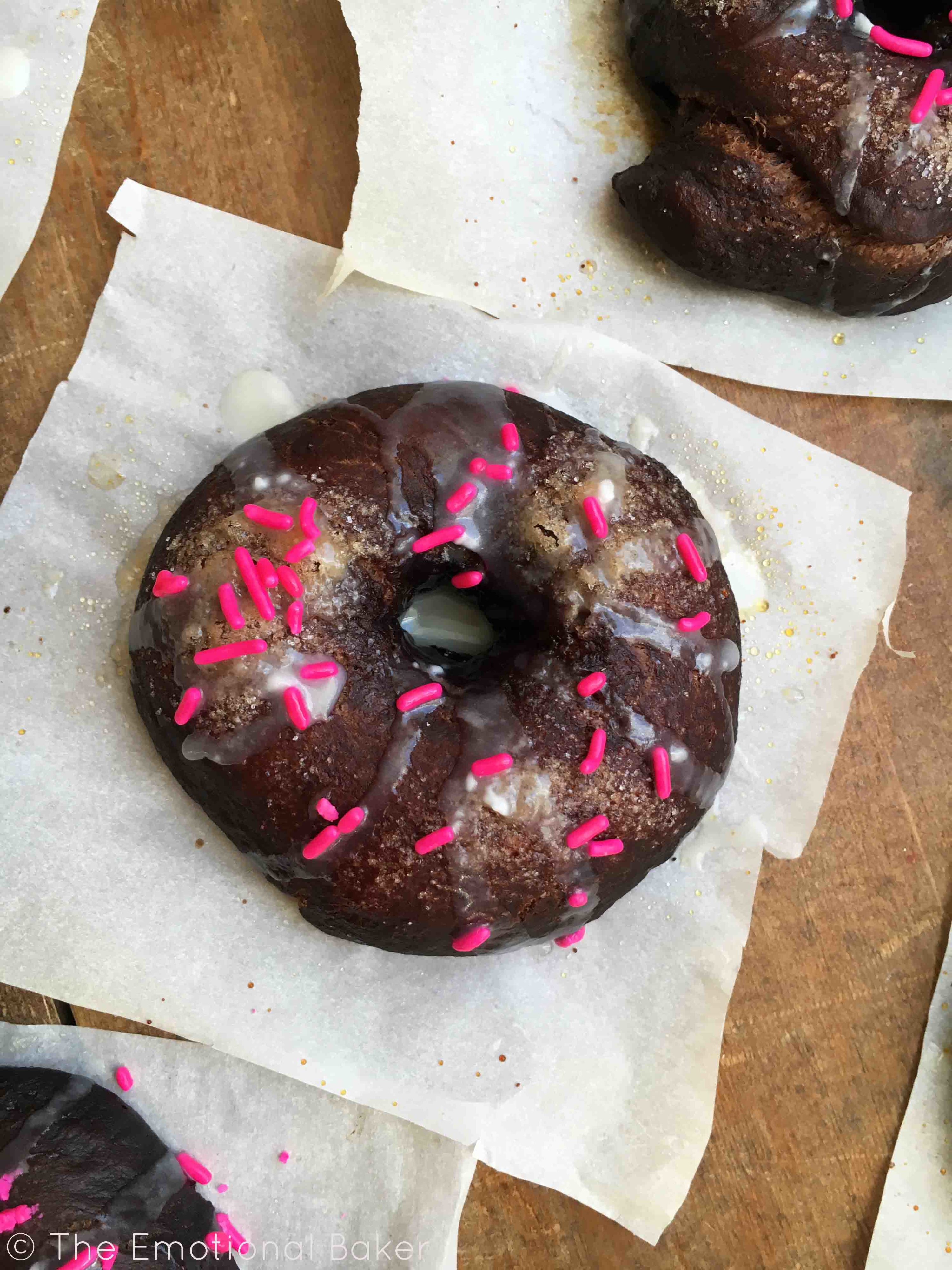 Today is an extra special, donut filled day 😉 It's baby shower day for Cate from Chez Catey Lou!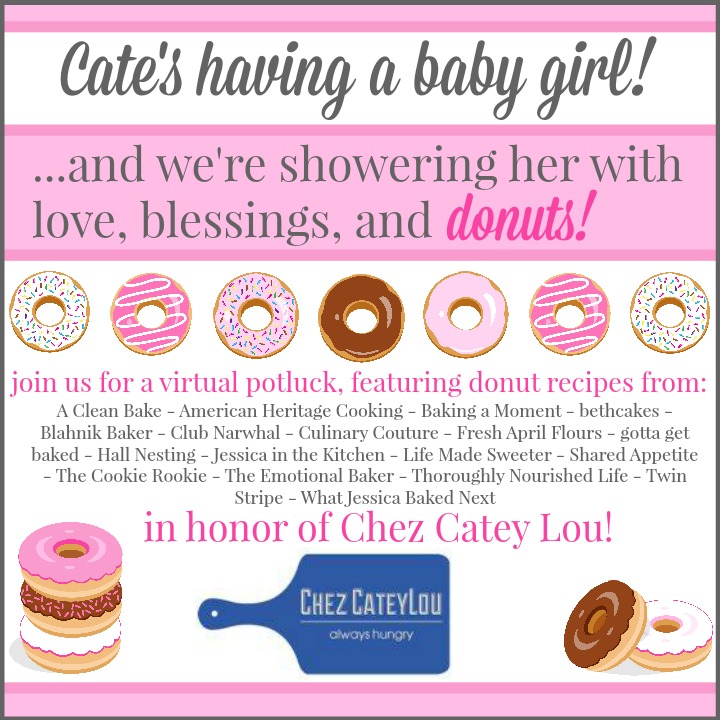 Cate always creates the most gorgeous treats. Some of my favorites include:
Pumpkin Yeast Bread – This is seriously one of my favorite bread recipes! It's so moist and flavorful & makes the best "Thanksgiving" Sandwiches 🙂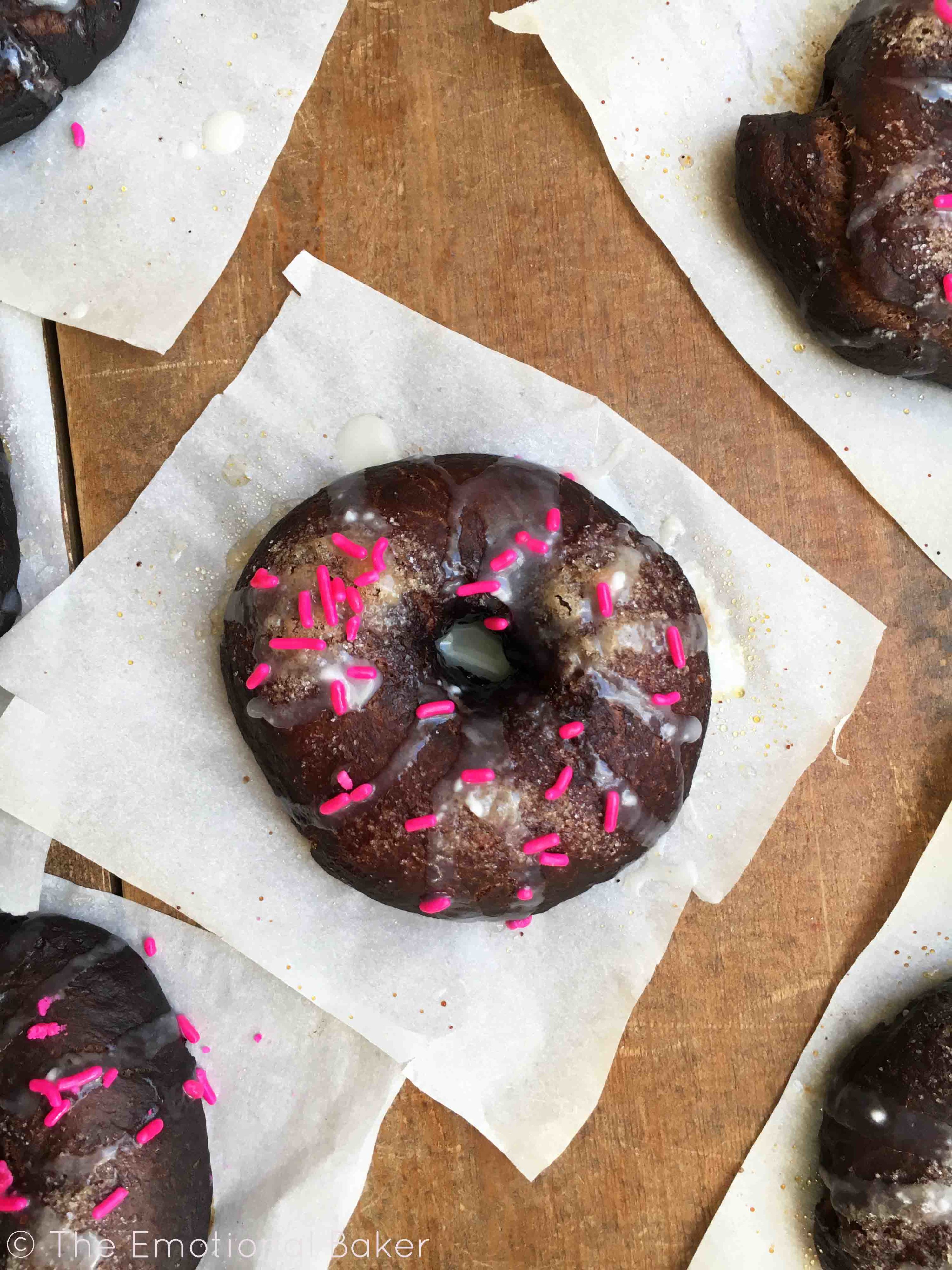 Cate, I know you must be so excited to meet your little girl. Enjoy every moment. Sending you and your family lots of love 🙂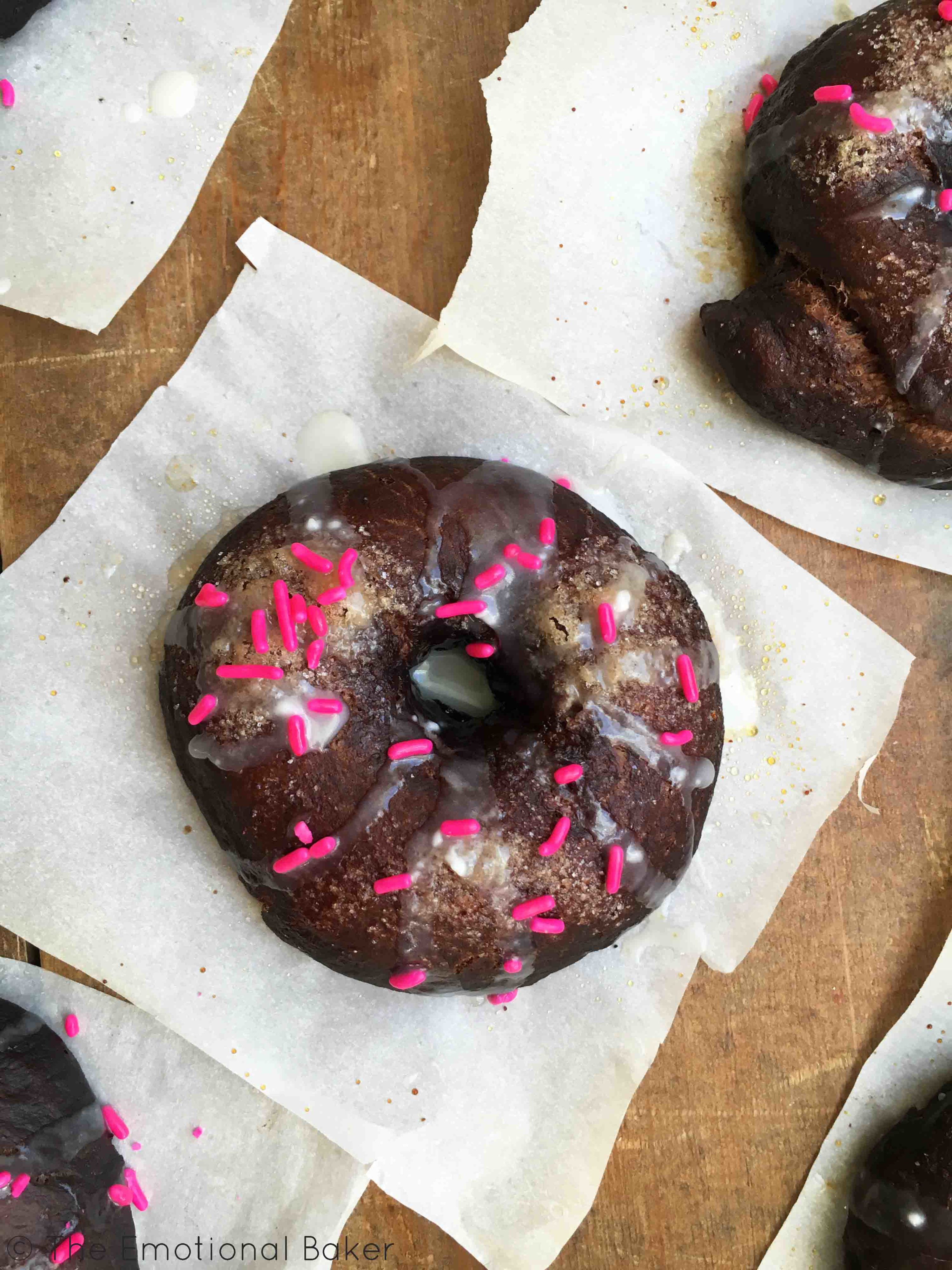 When Zainab contacted me about participating in this baby shower I was thrilled – especially with the donut theme. I've always wanted to make a traditional donut. I've only made baked donuts. This time I was intent on frying up a batch. But – I was low on canola oil. Let's be honest, this was probably for the best. Knowing me I would've caught the kitchen on fire – eek!
So, I settled for an old favorite – pretzels! I took my favorite pretzel recipe and revamped it to be more donut-ty! These were so delicious. They were a great treat without being overly sweet.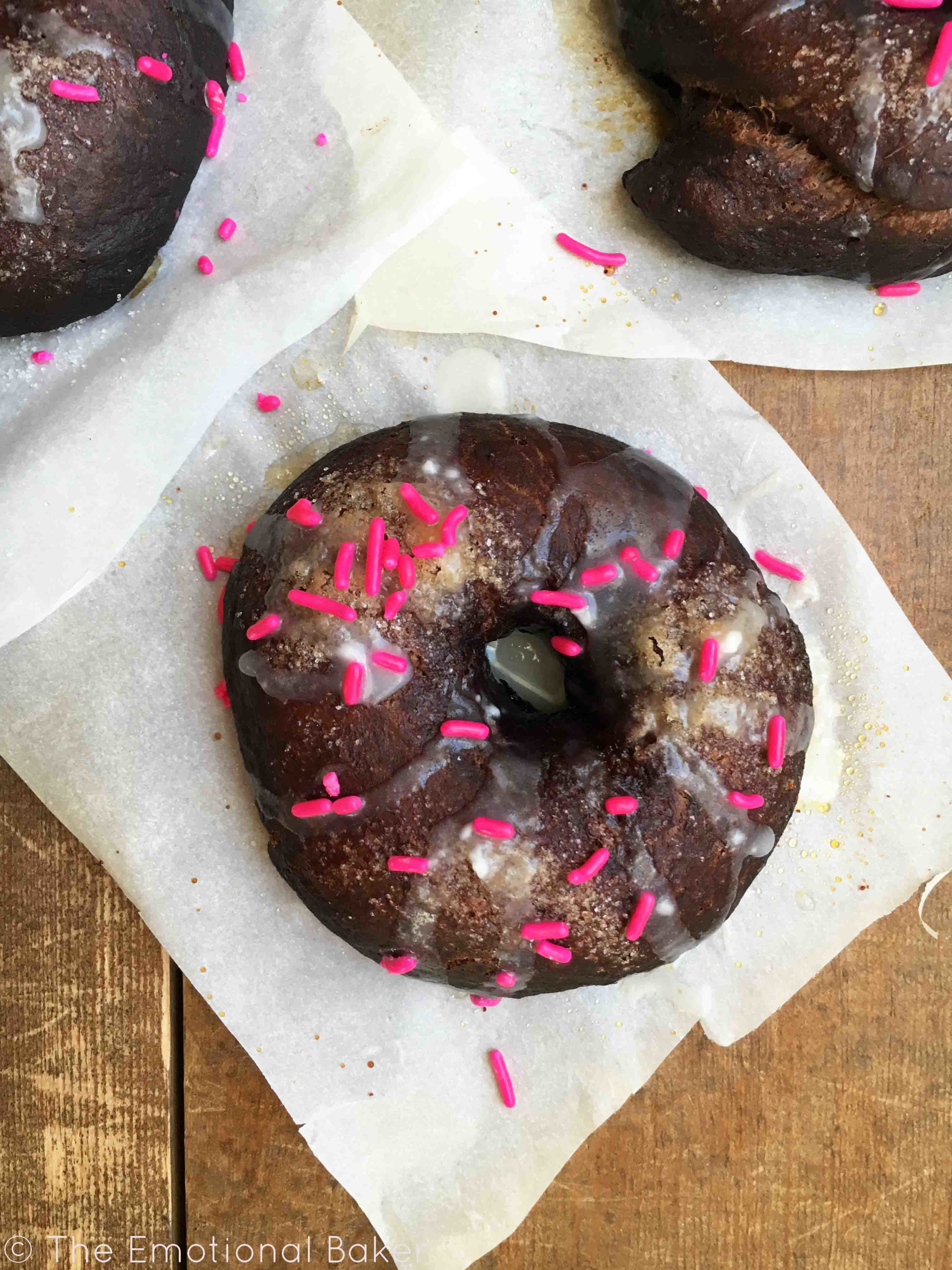 What's your favorite type of donut to make?
Ingredients
Donuts:

2.25 tsp active dry yeast
1.5 cups warm water
1 tbsp sugar
2.5 cups all purpose flour
1/2 cup cocoa powder
2 tsp salt
1/4 cup canola oil
1/3 cup baking soda
10 cups boiling water

Glaze:

1 cup powdered sugar
1 tbsp boiling water
Sprinkles, optional
Instructions
Donuts:

In a large bowl, combine yeast, water and sugar. Allow to sit five minutes.
In a measuring cup, combine flour, cocoa powder and salt. Add to liquids.
Once combined, add oil. Knead for five minutes.
Transfer to an oiled bowl and allow to rise one hour.
Preheat oven to 450 degrees.
Divide dough into 12 equal pieces. Roll into balls and use finger to make a hole in the middle. Allow to rise 30 minutes.
Towards the end of rising time, bring water and baking soda to boil.
Line baking sheets with parchment paper and lightly coat with oil.
Boil donuts one at a time for 30 seconds each. Place on prepared baking sheet and top with oil and sprinkle with sugar.
Bake 10 minutes.

Glaze:

Combine powdered sugar and boiling water. Drizzle on hot donuts and top with sprinkles if desired.
http://theemotionalbaker.com/2016/02/22/chocolate-pretzel-donuts/
Check out all the other awesome Donut Treats:
Baked Dark Chocolate Strawberry Donuts – Club Narwhal
Baked Lemon Donuts – What Jessica Baked Next
Biscoff Donuts – Baking a Moment
Chai Donuts – Fresh April Flours
Chocolate Cake S'mores Donuts – Jessica in the Kitchen
Chocolate Pretzel Donuts – The Emotional Baker
Coconut Matcha Donuts with White Chocolate Glaze – Blahnik Baker
Coffee and Donuts Breakfast Bake – The Cookie Rookie
GF Lemon Donuts with Raspberry Glaze – Thoroughly Nourished Life
Maple Glazed Donut Holes – Hall Nesting
Old Fashioned Sour Cream Cake Donuts – American Heritage Cooking
Paleo Chocolate Frosted Donuts – A Clean Bake
Raspberry Jam Filled Cupcakes – gotta get baked
Sausage, Egg, and Cheese Donut Breakfast Sandwich – Shared Appetite
Strawberry Margarita Oreo Donuts – Life Made Sweeter

Baked Mini Samoa Donuts – Culinary Couture
Donut Holes with Sweet Strawberry Dipping Sauce – Twin Stripe