Muffins made with cooked carrot and studded with pistachios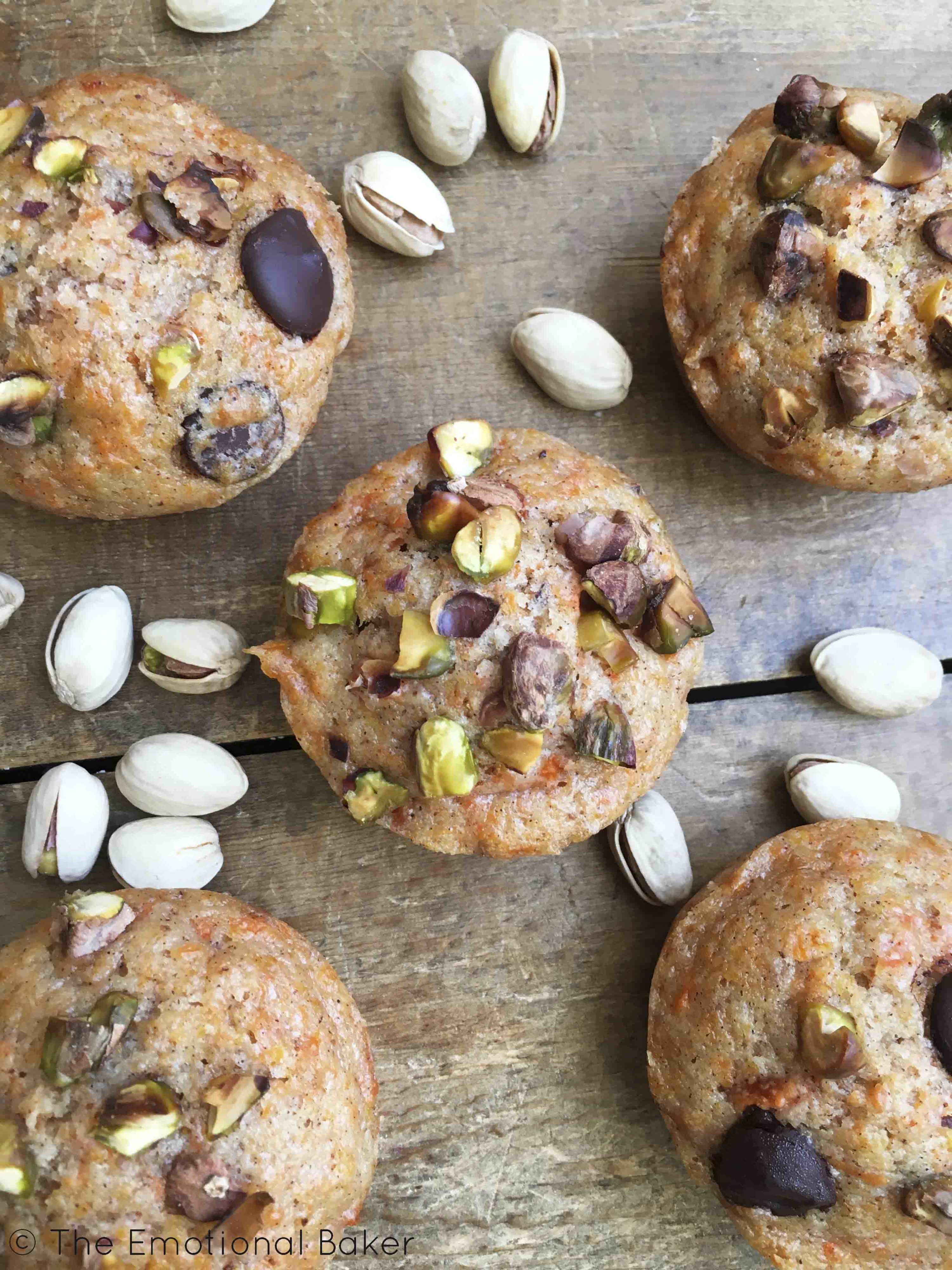 Do you ever just want to kick yourself for your baking decisions? Well, I've been doing a lot of that this past week.
It all started when I didn't get an item on my weekly grocery trip. Then the next day, I was freaking out thinking I wouldn't be able to bake the rest of the week. Don't worry though – I still managed to whip up some treats.
However, one of them (well, I take that back) TWO of them, didn't go as planned.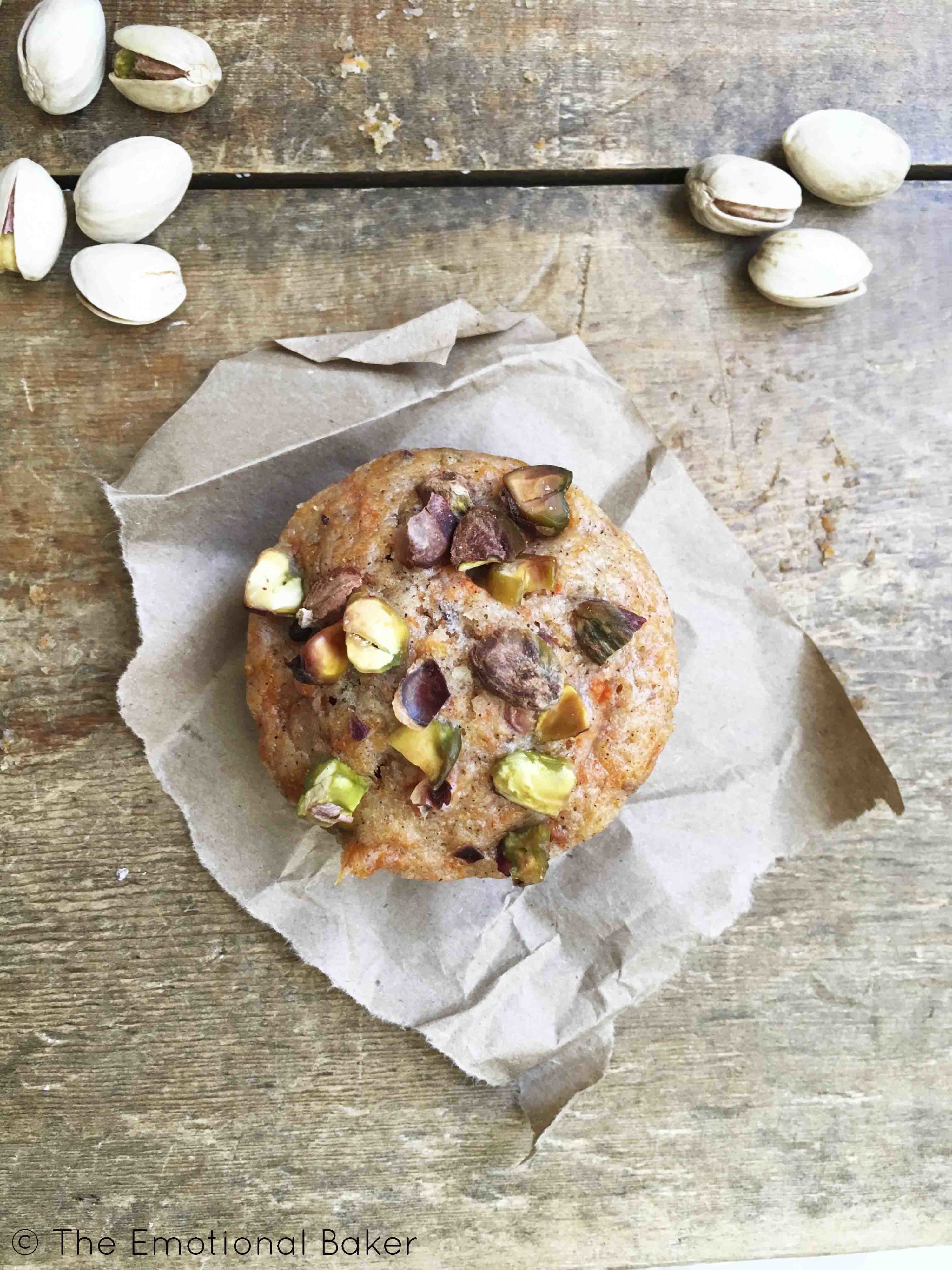 The first was a carrot cake cookie. I wanted all the typical carrot cake flavors, without sacrificing my favorite cookie texture. So, I was extra careful to keep the liquids to a minimum. I even pressed out extra moisture from the carrots. The dough looked perfect – these were going to be extraordinary cookies – & then – I under baked them. I mean who does that? They were still delicious, but the appearance was only so, so.
On to the next dream bake – Creme de Menthe Pie. I have a record when making pie to have little cornstarch clumps throughout. Now, probably most of my taste testers don't pick up on the clumps – and they don't taste bad, but for me it's just disappointing. So, I researched how to avoid this – the answer, a slurry. Every thing was ready, but – I didn't use enough cornstarch! I was pretty sure it wouldn't set, but I took my chances anyway. & – yep it was soup, but a delicious soup at that 😉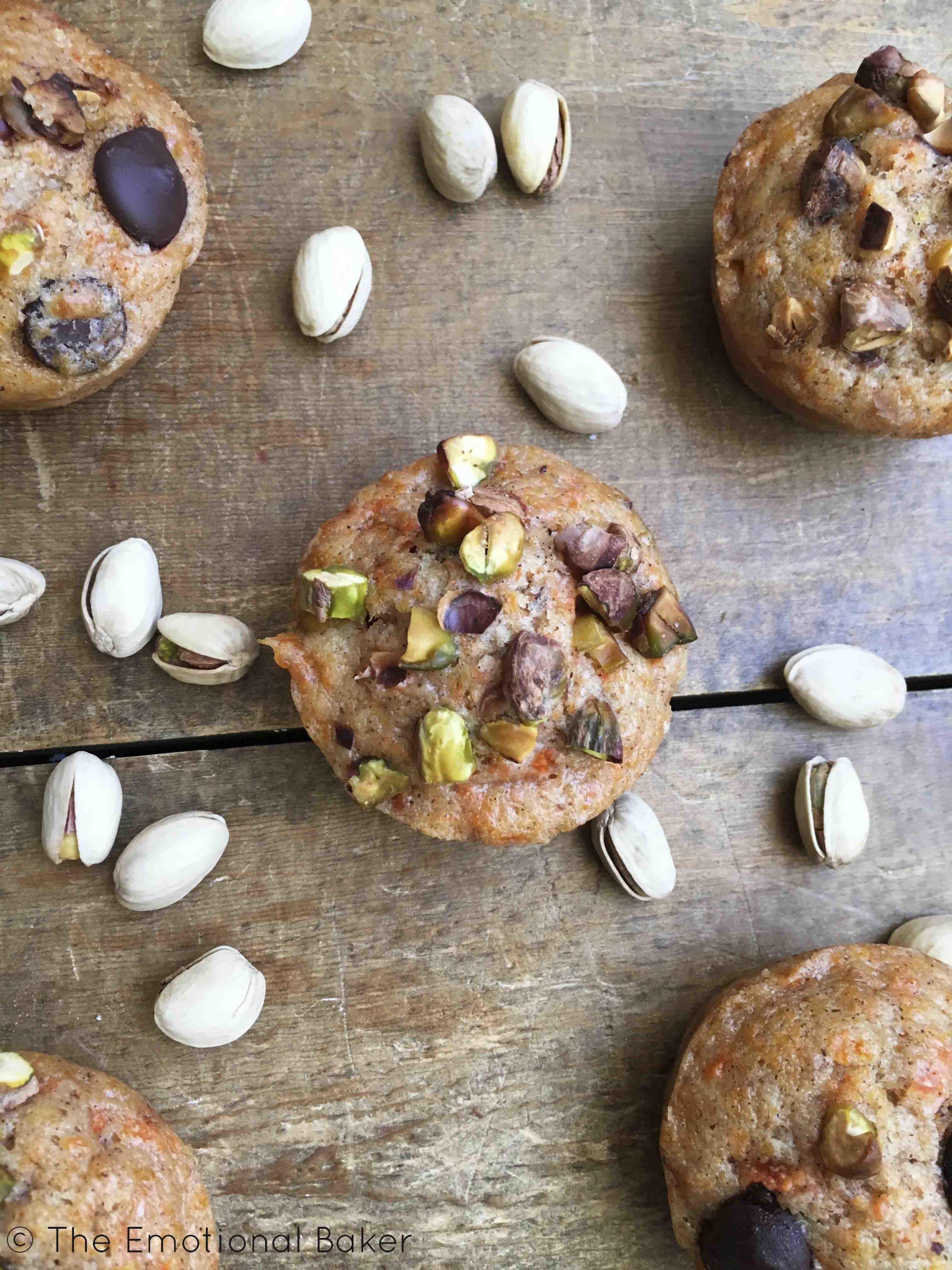 Then on to yesterday's treat (who's success or failure is unknown at this time.) I really didn't know what to make. I wanted to make an Easter related treat, but I didn't know if I should retry cookies, try a loaf or what. I settled for a carrot inspired loaf. I whipped it all up and threw it in the oven. As soon as I did, I thought – I shoulda topped it with some of the mix-ins for presentation. Then, while it was baking, I thought I should of used the leftover coconut milk I had (I hate wasting things!)
Well, regardless of all those poor baking choices, these Carrot Pistachio Muffins turned out beautifully. While watching The Great British Baking Show and The Great Holiday Baking Show, the contestants kept baking with carrot. First, Ruby baked a carrot and pistachio cake. I was obsessed with this flavor combo! Then Ainslie baked with cooked carrot and I thought, I have to try that. So, these muffins are an ode to Ruby and Ainslie 😉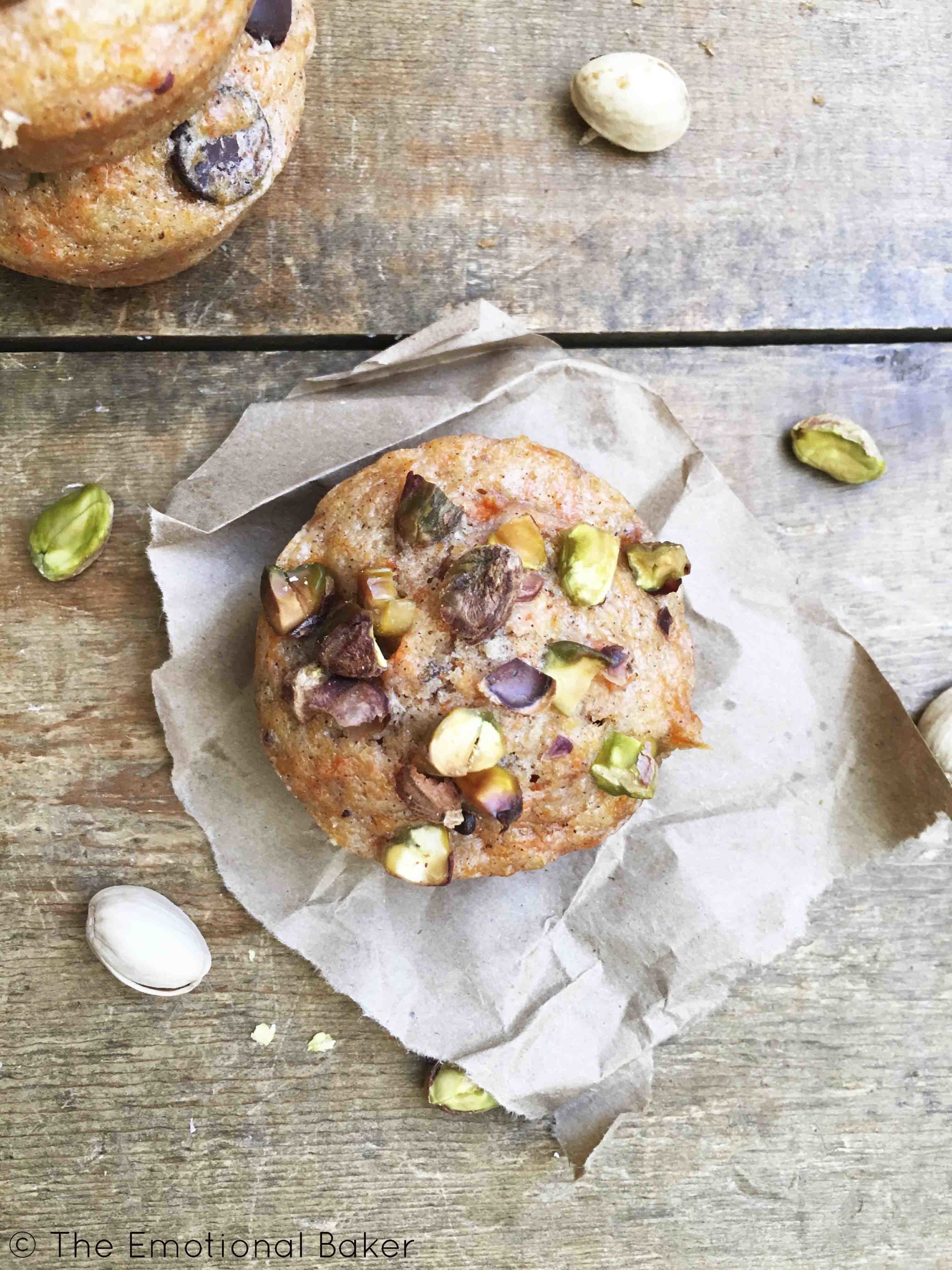 These would be perfect to prep your tastebuds for Easter – I can't believe it's only a month away!
Ingredients
1.75 cups all purpose flour
1.25 cups sugar
1 tbsp baking powder
1/4 tsp salt
1 tsp cinnamon
1/2 tsp nutmeg
1/8 tsp cloves
1.33 cups cooked, mashed carrots
1/2 cup cashew milk
1/2 cup canola oil
1/2 cup chopped pistachios, divided
1/4 cup dark chocolate chips, divided
Instructions
Preheat oven to 400 degrees. Grease a muffin tin.
In a large bowl, combine flour, sugar, baking powder, salt, cinnamon, nutmeg and cloves. In a medium bowl, combine carrots, cashew milk, and canola oil. Pour liquids into dry and mix until combined. Fold in a 1/4 cup of chopped pistachios and 2 tbsp dark chocolate chips.
Divide batter among muffin tin, should yield about 18 muffins. Top with extra pistachios/chocolate.
Bake for 15-18 minutes or until a toothpick inserted in the center comes out clean.
Note: About 1 lb of carrots should yield 1.33 cups mashed, cooked carrots. To cook carrots, cut in 1 inch pieces and place in saucepan. Cover with water. Bring to a boil, then reduce to a simmer. Cook until carrots are tender. Then remove from water and mash with a fork or potato masher.
http://theemotionalbaker.com/2016/02/29/carrot-pistachio-muffins/

More Carrot Treats: