Chocolate tarts filled with chocolate mint ganache and topped with mint glaze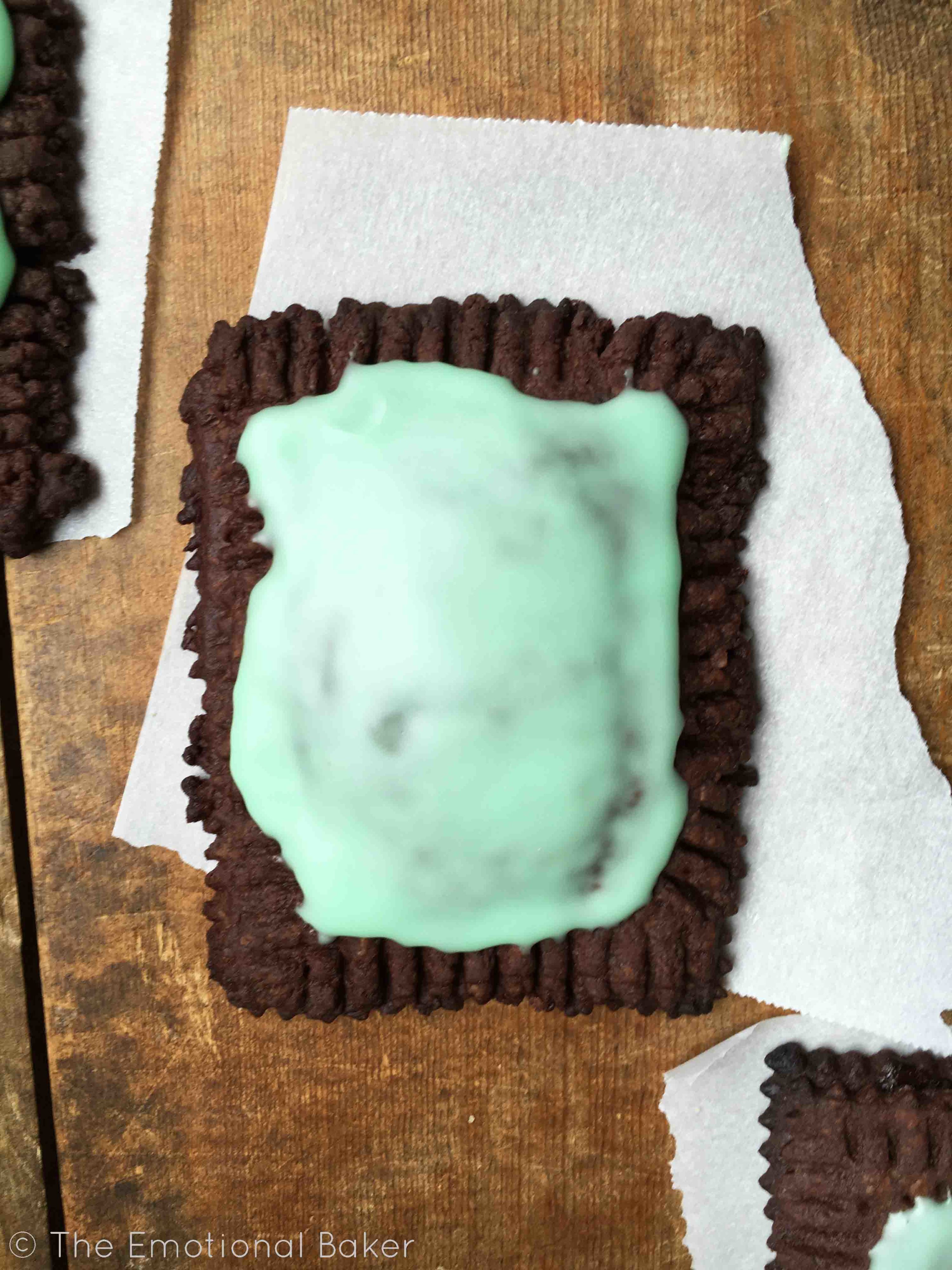 What's the most basic cooking skill? Boiling water?
Well, if it is, it's something I have trouble doing. Yes, I can put water in a pot, set it on the stove and turn it to high. But it's the subjective decision of when the water exactly hits 212 degrees. (I'm crazy enough to get a thermometer and find the precise time when it hits boiling.)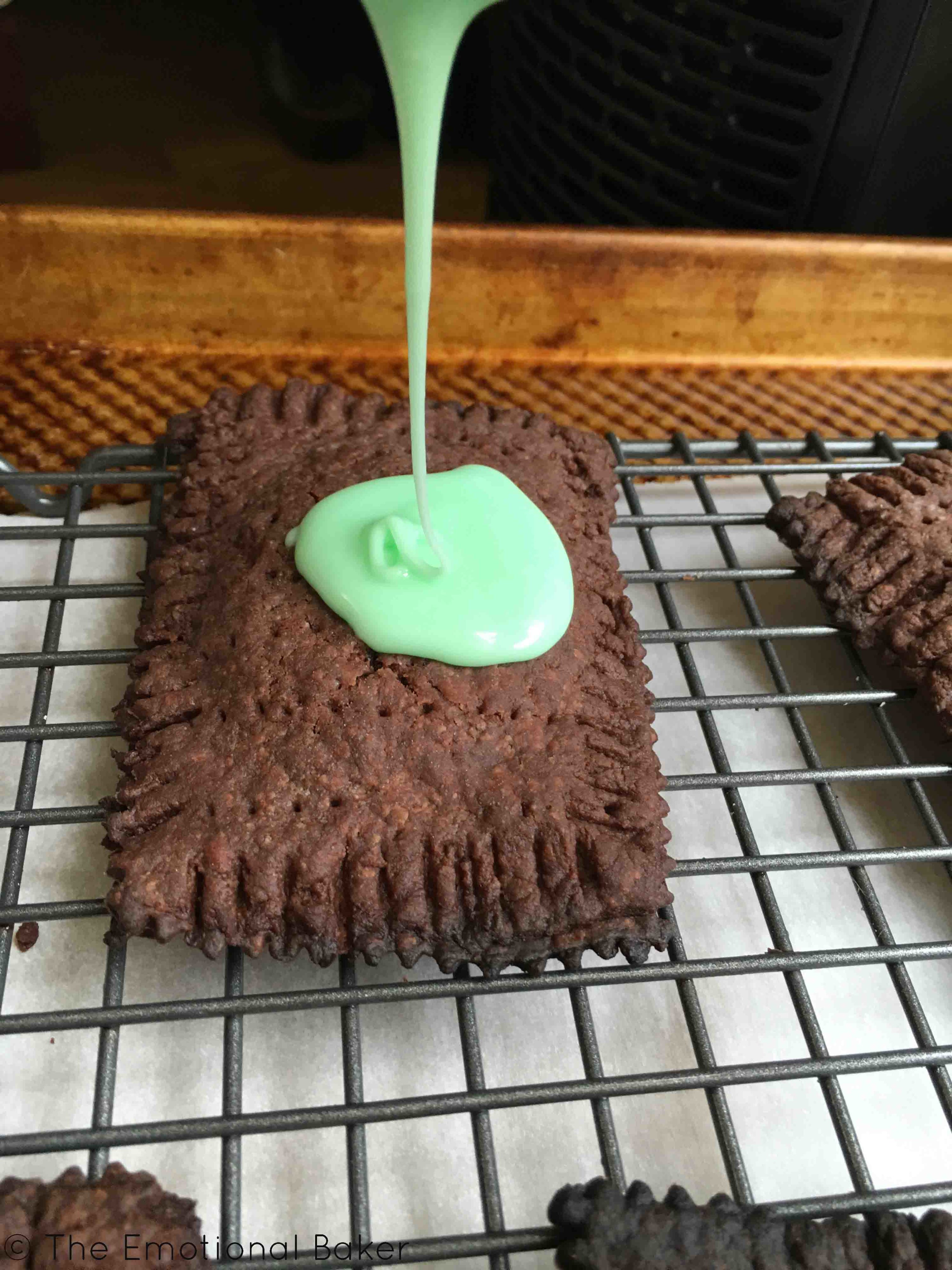 I mean is it when it just starts bubbling up, or a rapid boil, or somewhere in between?
This is most likely why, for the longest time, I couldn't cook rice. I would either open the pot and find burnt rice or watery undercooked rice. Still to this day, I over boil it and have water spew all over the stove.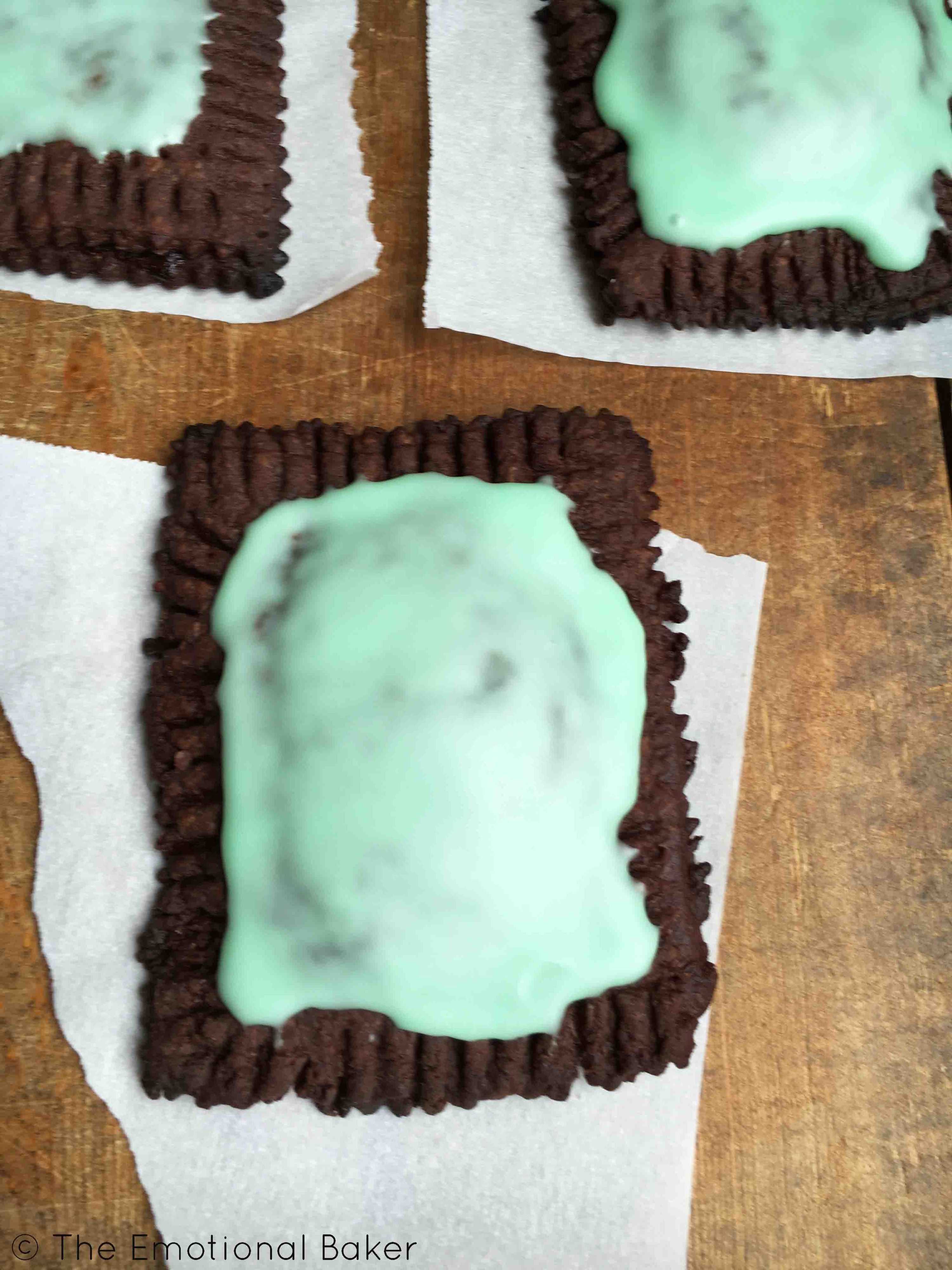 Pie making has a similar history. But luckily there are always pop tarts 😉
I wanted to make a traditional round pie for Pi Day this year, but things didn't go as planned (check this out.) So, I tried again, intent on making a combo Pi and St. Patrick's treat. These tarts were the perfect option. I used Creme de Menthe for mint flavoring, but I'd love to try again with mint extract for a more intense flavor.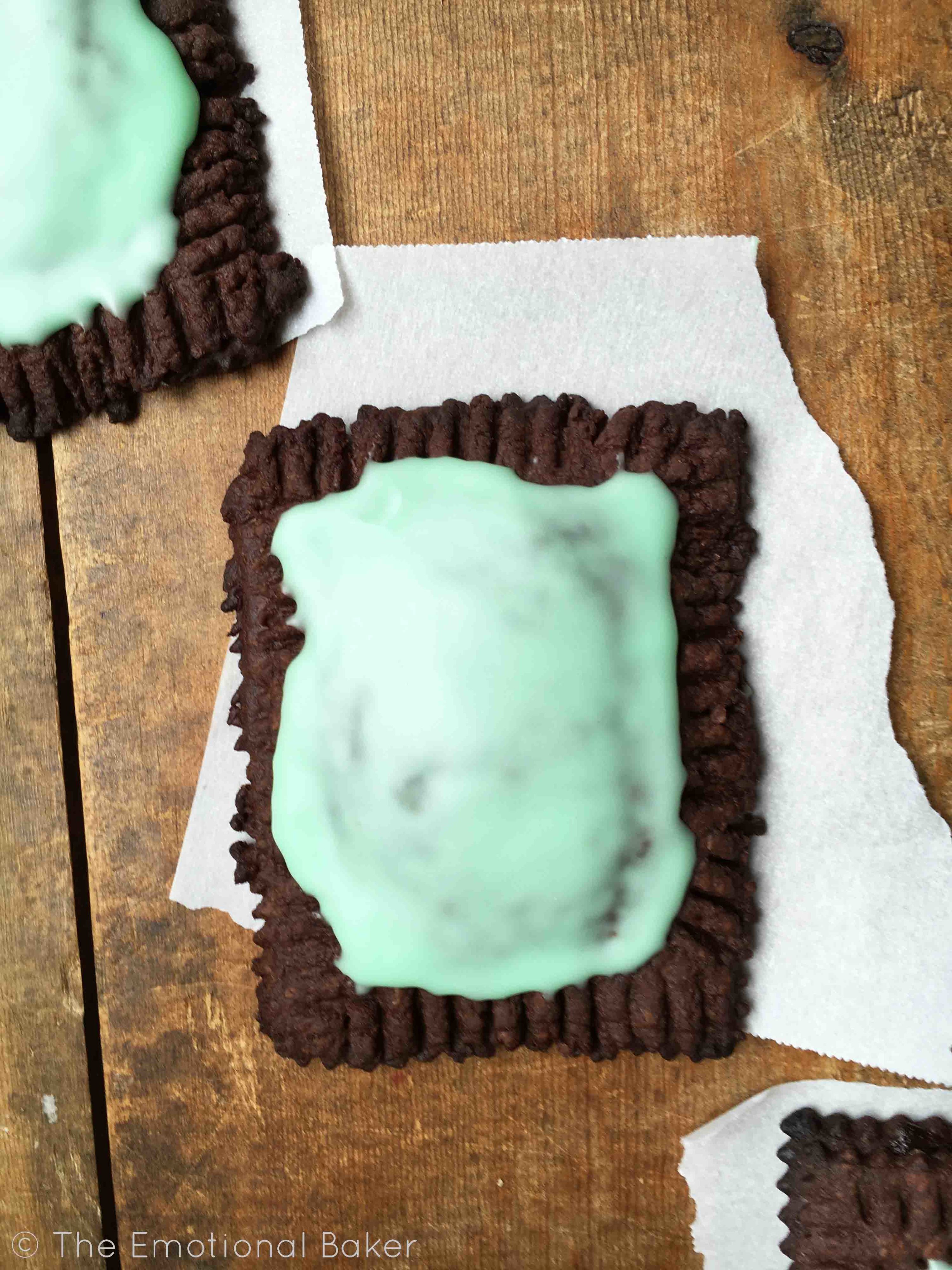 Ingredients
Crust:

Ice water
2 cups all purpose flour
1/2 cup cocoa powder
1/2 cup sugar
1/2 tsp salt
1/2 cup margarine
1/2 cup shortening

Filling:

4 ounces 60% dark chocolate, finely chopped
1 tbsp margarine, cut into small pieces
1/4 cup full fat coconut milk
1 tbsp sugar
1 tbsp Creme de Menthe

Glaze:

1 cup powdered sugar
1 tbsp boiling water
1 tsp Creme de Menthe
Instructions
Crust:

Fill a large bowl with ice and cover with water. Allow water to chill.
In a large bowl, combine flour, cocoa powder, sugar and salt.
Cut margarine/shortening in tbsp chunks. Place in dry mixture. Use fingers to combine flour and fats. Large chunks are ok, but try to incorporate as best as possible.
Once clumps form, add 1/3 cup ice water. Mix and add additional tablespoons of water until dough forms. Divide dough in half, form into balls, wrap in plastic wrap, and flatten into discs. Allow to chill at least one hour, preferably overnight.

Filling:

Place chopped chocolate and margarine in a metal bowl.
Over low heat, combine coconut milk, sugar and creme de menthe, until sugar dissolves. Allow mixture to reach low simmer. Once simmering, pour over chocolate and margarine. Allow to melt, about 5 minutes. Then stir until completely melted. Place in refrigerator, until set, about 1 hour. When ready to assemble tarts, bring filling out and allow to come to room temperature.

Assembly:

Preheat oven to 500 degrees. Line baking sheets with parchment paper.
Roll one pie crust into a 9 x 12 inch rectangle. Trim excess. Cut into eight equal rectangles. Spoon filling in center of one rectangle and top with another rectangle. Use a fork to crimp the edges and poke holes in the top. Repeat with second crust, until all dough is used. Can also make mini round pies, if desired.
Reduce oven to 425 degrees. Bake tarts for 12 minutes. Either allow tarts to completely cool before icing or proceed with glaze while still hot.

Glaze:

In small bowl, combine all ingredients and stir until smooth. Spread over pop tarts.
Note: Pop tarts can be reheated in a 300 degree oven. Heat 5-10 minutes or until tarts are warm.
http://theemotionalbaker.com/2016/03/14/chocolate-mint-pop-tarts/
PS: Enter to win $500 worth of HelloFresh meals.
The winner can choose between a mix of HelloFresh veggie boxes, classic boxes and family boxes.
Win $500 Worth of Delicious HelloFresh Meals!

Giveaway Courtesy of HelloFresh and Arousing Appetites
More Pie: