With cookie butter swirls and topped with cookie butter – these are the ultimate cookie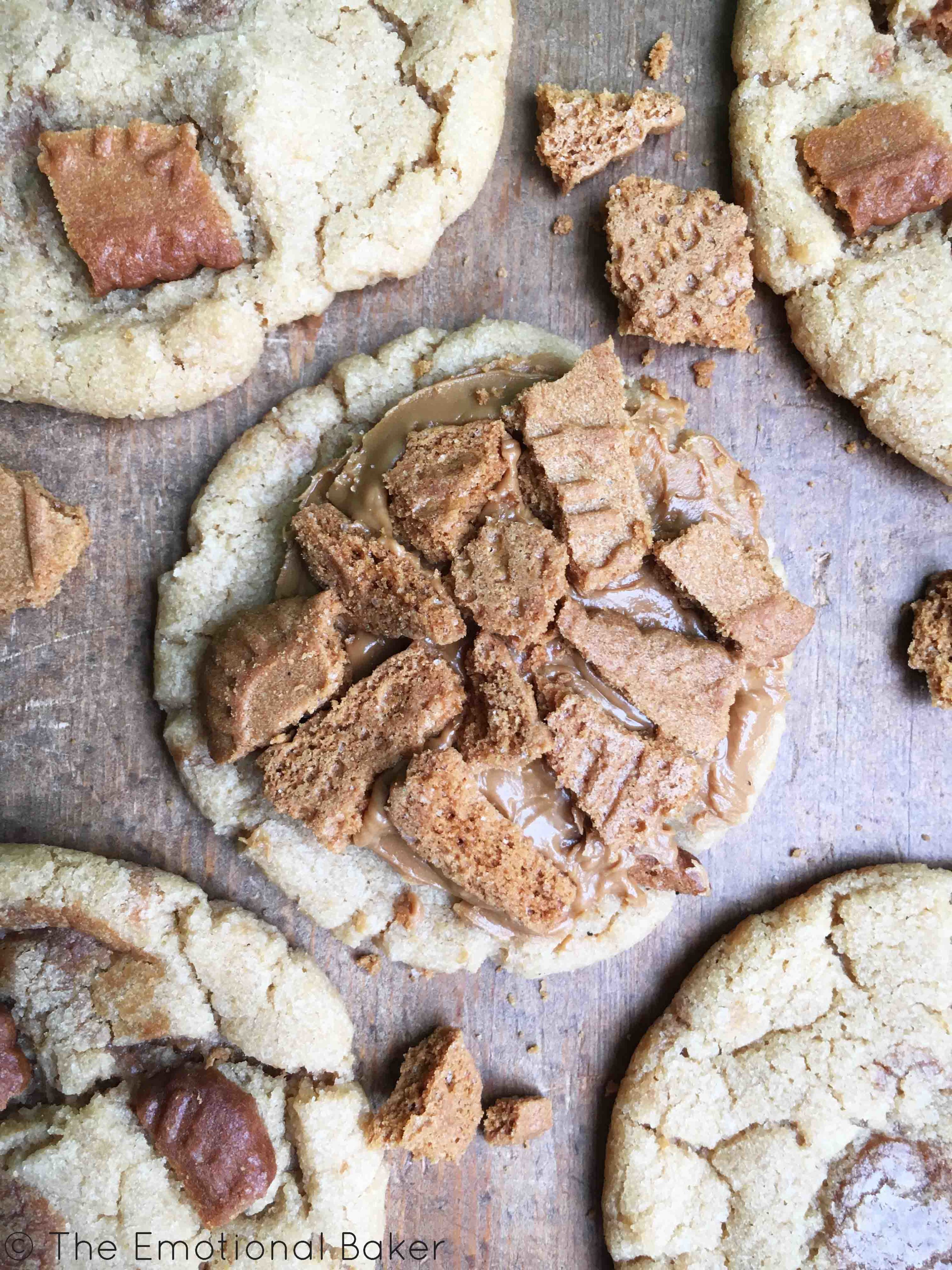 Matcha, cookie butter, funfetti, puppy chow. All food trends that I was late to the party for.
I've since checked them all off the list, but one I kept holding off trying – & that was cookie butter. I must have sensed how dangerous it would be to have a jar of that goodness in my pantry.
I kept seeing so many people use it, but I had no idea what it was like. I just couldn't imagine what cookies ground up into a butter would taste like.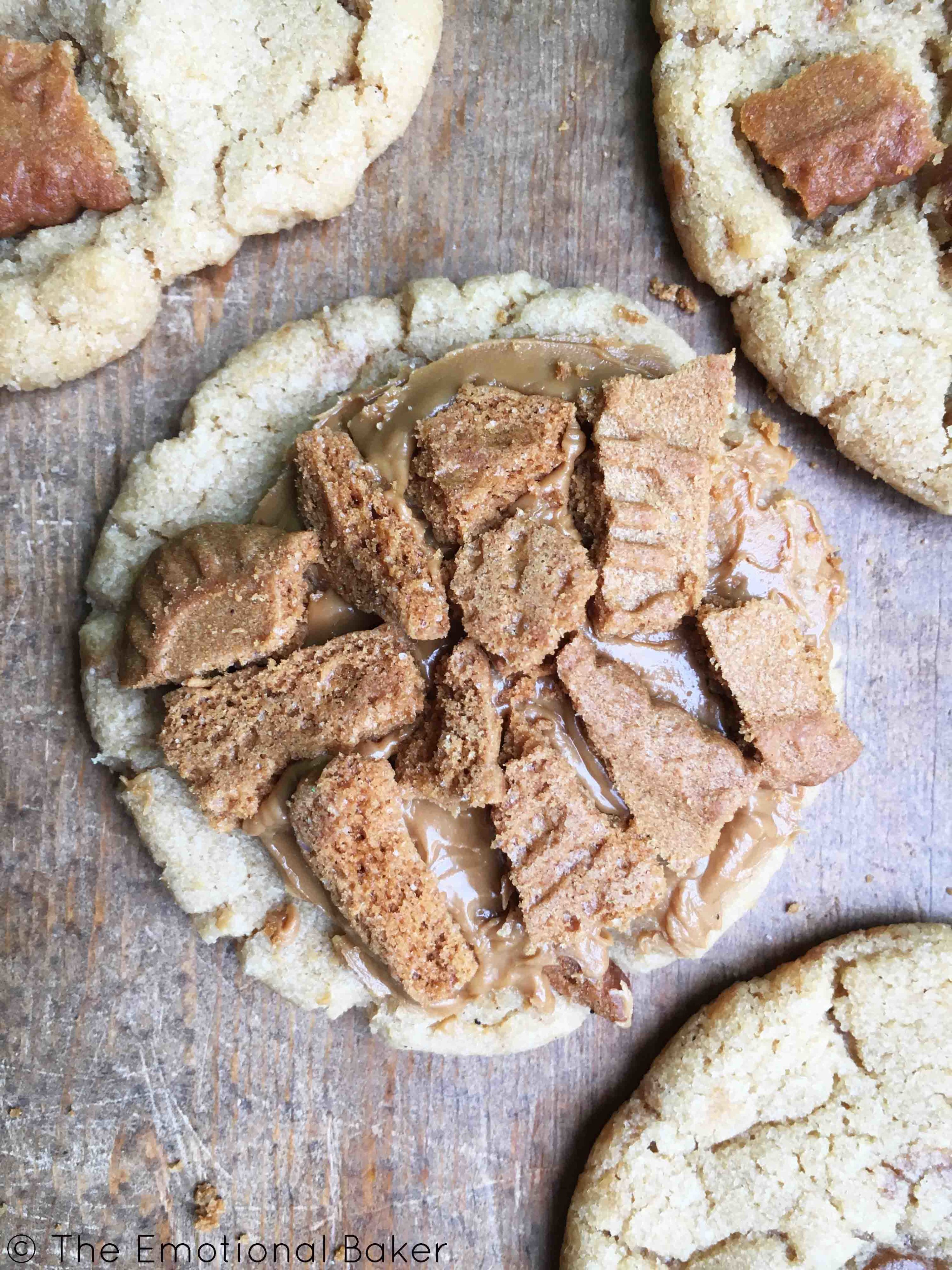 Finally, I broke down and began the quest to acquire a jar. I spent weeks scouring the internet for a great deal. I came across Biscoff's Duo Pack with one creamy and one crunchy jar. I thought, how can I truly test it if I don't know both consistency options? Well, luckily at the last second, I found a better deal at my local Target.
I brought the little jar home. Ever so carefully I tested a small bit on a piece of bread, screwed the lid on tightly and placed the jar in the pantry – but it didn't stay there for long! I was automatically hooked. Let's just say that jar didn't last more than two days – &, yes, I did say DAYS.
After that, I didn't let myself come near cookie butter again. When I'm addicted to a new food, it's highly dangerous.
It would be months until I tiptoed back to cookie butter. I've learned to love it in moderation. These cookies were originally inspired by Life Made Sweeter. I was coming off of a cookie fail and needed a recipe to renew my faith in baking 🙂
These cookies are for serious cookie butter addicts only! The dough has cookie butter, cookie butter chips* and Biscoff cookie pieces. Then it's topped after baking with more cookie butter spread and Biscoff cookie pieces!
*I made Heather's French Press' Homemade Peanut Butter Chips, but subbed in cookie butter. This step is completely optional. The chips do not retain their shape, but they add extra swirls of cookie butter throughout.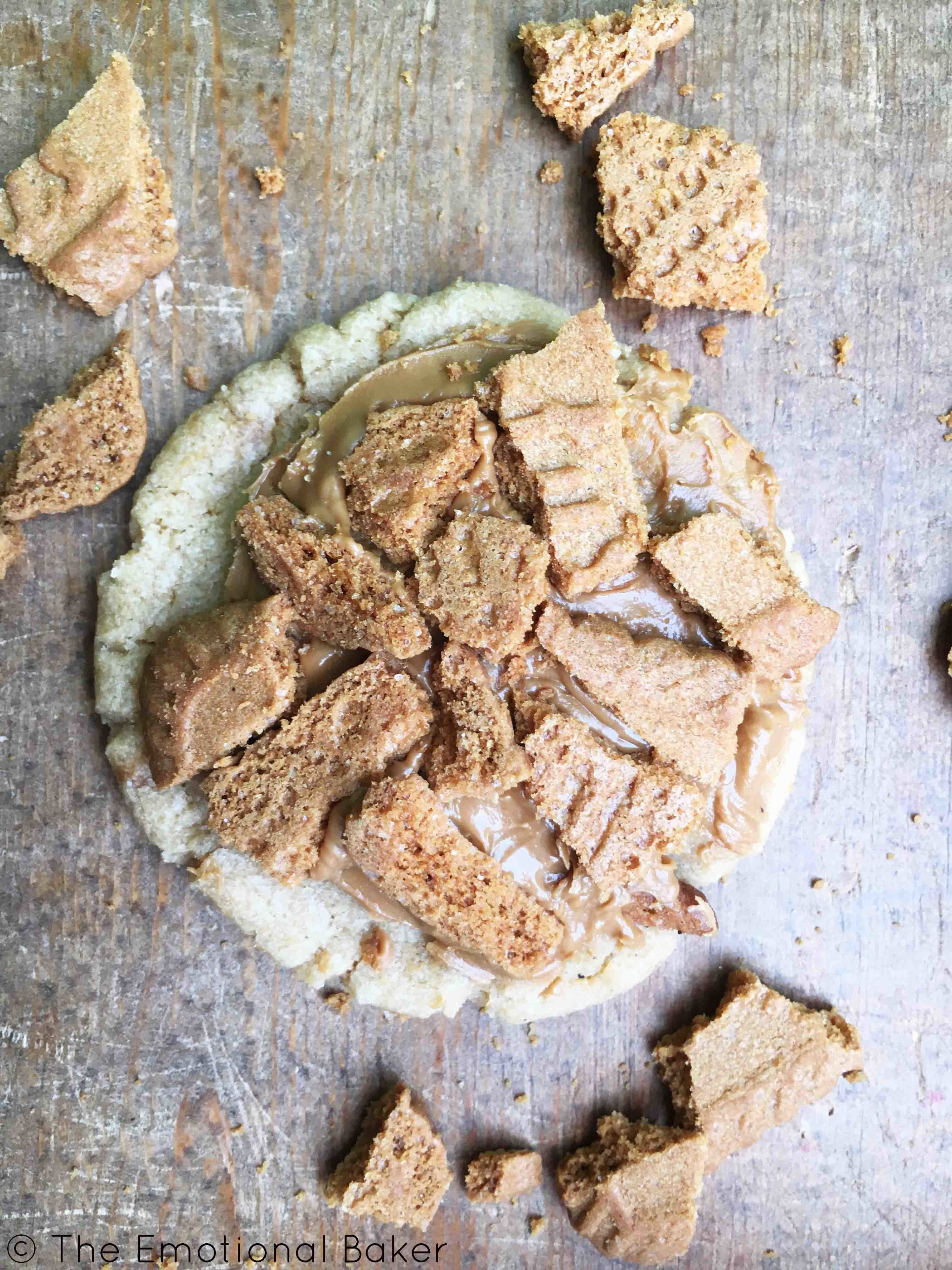 What food trends are you late to adapt to? What treats are you addicted to?
Cookie Butter Lovers' Cookies
Ingredients
2 cups flour
1 tsp baking soda
1 tsp baking powder
1 tsp salt
1 cup sugar
1/2 cup brown sugar
1/2 cup canola oil
1 tsp vanilla
1/2 cup cookie butter, plus more for topping
1/3 cup cashew milk
1/2 cup Biscoff cookie pieces, plus more for topping
1/2 cup cookie butter chips (optional, see notes)
Instructions
Preheat oven to 350 degrees. Line baking sheets with parchment paper.
In measuring cup or medium bowl, combine flour, baking soda, baking powder and salt. Set aside.
In a large bowl, use a fork to combine sugar, brown sugar, canola oil and vanilla extract. Add cookie butter and mix to combine. Stir in cashew milk.
Add dry ingredients to liquid and mix well. Fold in cookie pieces and cookie butter chips.
Divide dough into 24 equal balls. Roll into balls, flatten with palm of hand. Press extra cookie pieces and chips into cookies, if desired.
Bake for 10 minutes. Leave on baking sheet 5 minutes. Then transfer to wire racks to complete cooling.
Once cookies have cooled, spread with cookie butter and top with cookie pieces.
http://theemotionalbaker.com/2016/03/28/cookie-butter-lovers-cookies/

More Cookies: