Your burger deserves an awesome bun. These buns are loaded with caramelized onions and are extra soft thanks to mashed potatoes.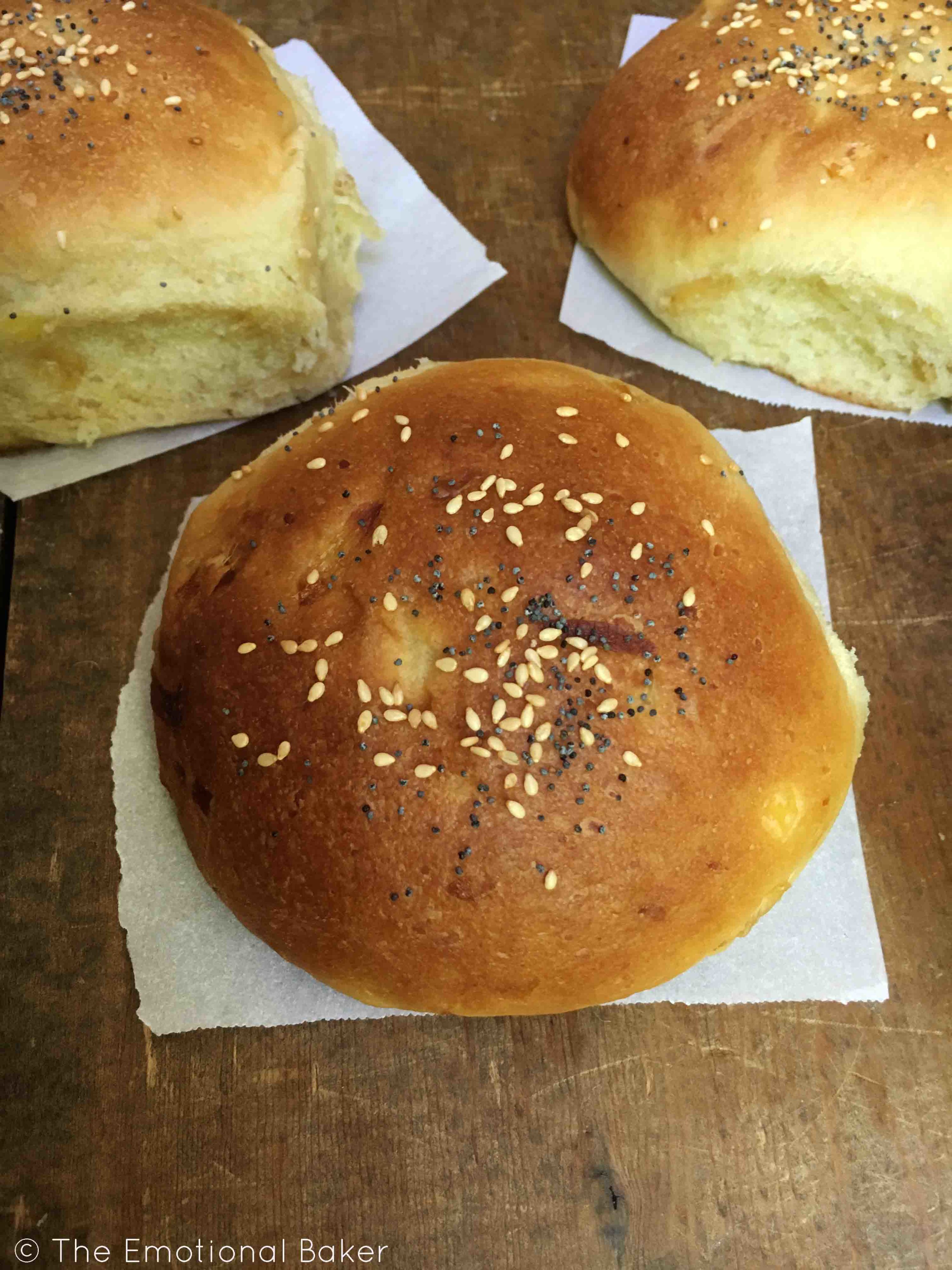 Something big happens this week. On May 11th, at 211 (our street number,) Winston turns 11! For the past two years, I've shared facts about him. This year, I thought I couldn't come up with many new ones (I've already shared 19!,) but it tuns out, I have 11 new ones! So, hang tight – here's an overload of info about my best bud.
1) He has seasonal allergies that make his skin flare up. To combat it, we give him Benadryl. We stuff the pills in bread. Thus, he loves pill time and comes running if he hears the opening of bread or opening of medicine. (& loves to pull scams by spitting out the pills!)
2) He may or may not like going to the vet. I think he gets really anxious, but my parents think he's excited to be there. Either way, he's a favorite patient.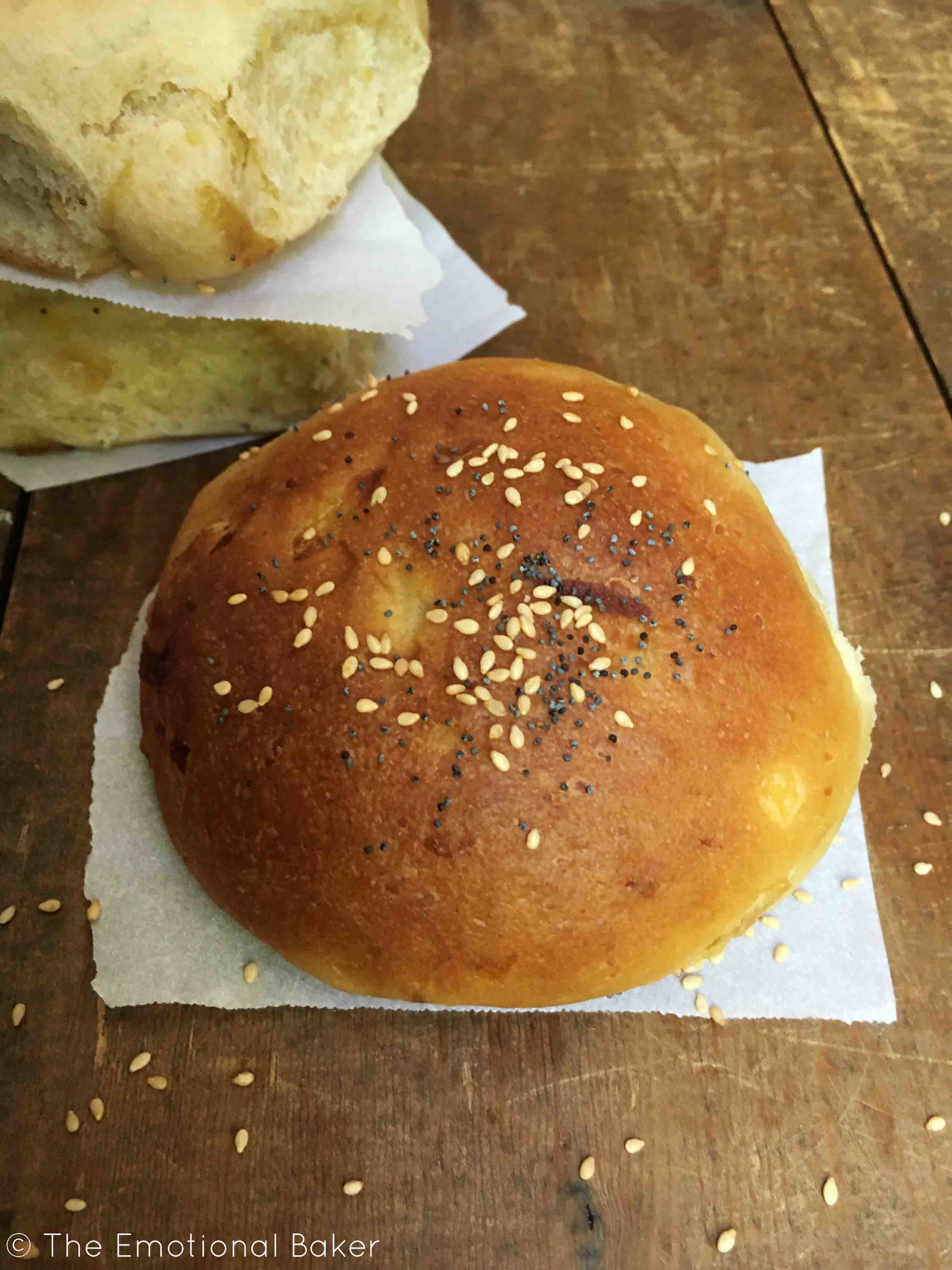 3) He's a pretty stylish dude, with his Red Frasier Plaid leash and alternating bandanas.
4) While I love a good cookie, Winston's favorite treats are Pearly Whites Bones. These are pretty big bones, but he'll gulf one down in less than 10 minutes.
5) Baths seem to irritate his skin even more. So, he rarely has a bath. If you like a real natural dog smell, come to my house 😉 (I do!)
6) When he's home alone, he gets in trouble (only sometimes!) He's been known to tear up a cookbook, open a soda bottle and tear up lots of paper.
7) He has to eat moistened food. The wait for breakfast/dinner can be unbearable (& I can understand!)
8) He's in charge of our security department. Whenever UPS comes or someone knocks on the door, he lets 'em know this is his house and you better watch out!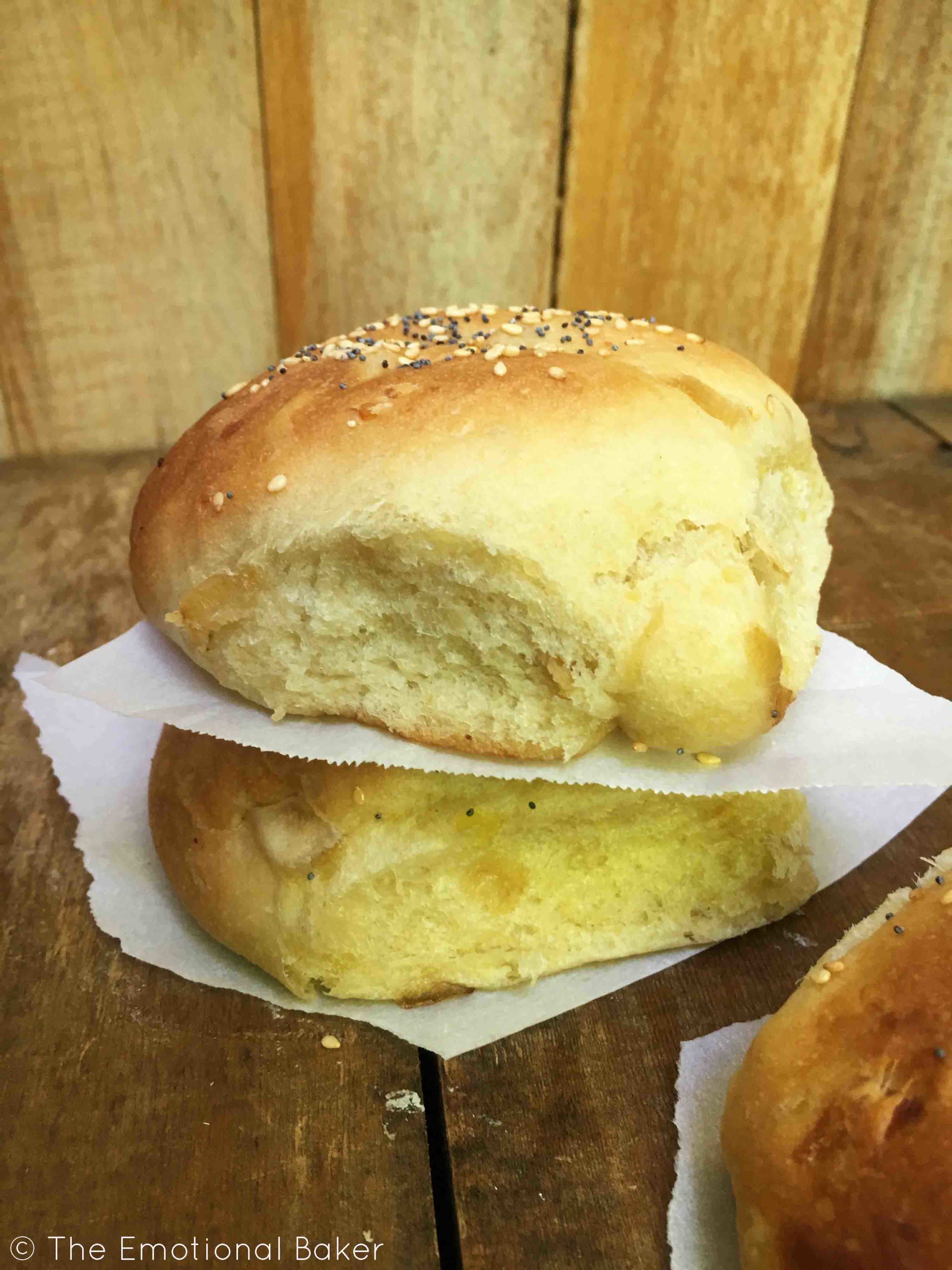 9) He's not quite sure what to think of little kids. Basically, he doesn't like them and he's not afraid to tell them.
10) He has a secret admirer. A neighbor, a collie named Lexi, always goes crazy when he walks by her house.
11) He's a kitchen counter thief. He's been known to steal anything – even an entire loaf of bread!!
So, in honor of his bread love – here are some Onion Potato Burger Buns. These are a bold option for all your summer burgers. The onion wakes the buns up, and the potato keeps these super soft. (& I know onions are poisonous to dogs – I made sure Winston didn't get any!)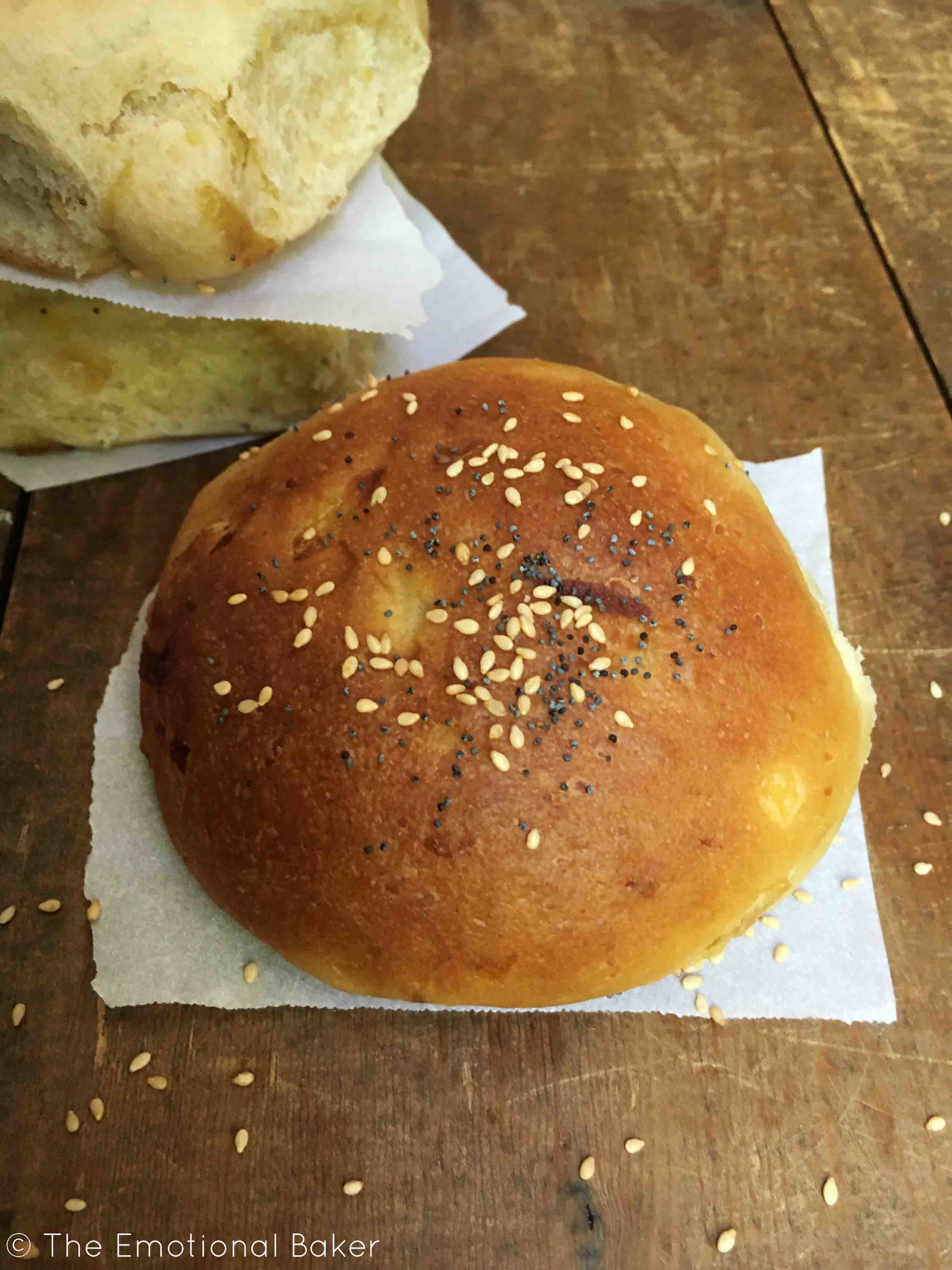 Winston's still putting in requests for his birthday treat. He has good taste – so I'm thinking he might settle for something with carrot, or banana, or peanut butter – we'll just have to see.
Happy Birthday, Winston! Thanks for being my kitchen assistant and best bud 🙂
Ingredients
Onions:

1 onion, diced
2 tbsp margarine
1/4 tsp salt

Potatoes:

2 small/medium potatoes, cubed
1 tbsp cashew milk
1 tbsp margarine

Buns:

1/2 cup warm water
4.5 tsp active dry yeast
2/3 cup warm cashew milk
1/2 cup canola oil
4 cups all purpose flour + ~ 1-2 cups (closer to 1)
1/2 cup brown sugar
2 tsp salt
Poppy seeds
Sesame seeds
Instructions
Onions:

Melt margarine in small skillet over medium heat. Once melted, add onions and salt. Saute for 20 minutes or until onions are light golden brown.

Potatoes:

Place potatoes in saucepan and cover with water. Bring to a boil. Simmer for 10-15 minutes, or until potatoes are fork tender. Drain potatoes and mash with form. Add cashew milk and margarine. Mix to combine.

Buns:

In a large bowl, combine yeast and warm water. Allow to rest a few minutes.
Then add milk, oil, potatoes, flour, brown sugar and salt. Stir to combine. Gradually add extra flour until soft dough forms. Knead for five minutes. In last minute, add onions to half of dough. Place dough in greased bowl and allow to rise one hour.
Divide dough into 6 equal buns and one loaf. Allow rolls to rise 30 minutes. Allow loaf to rise one hour.
Preheat oven to 375 degrees. Brush buns with oil and sprinkle with poppy and sesame seeds. Bake buns for 20 minutes or until golden brown and internal temp is 190 degrees. Bake loaf 20 minutes, tent with foil, bake an additional 5-10 minutes or until loaf reaches 190 degrees.
Note: Onions and potatoes can be made in advance. Warm slightly before adding to dough.
http://theemotionalbaker.com/2016/05/09/onion-potato-burger-buns/