Chocolate and cherries collide in these shortbread bars. They are topped with streusel and a white chocolate drizzle.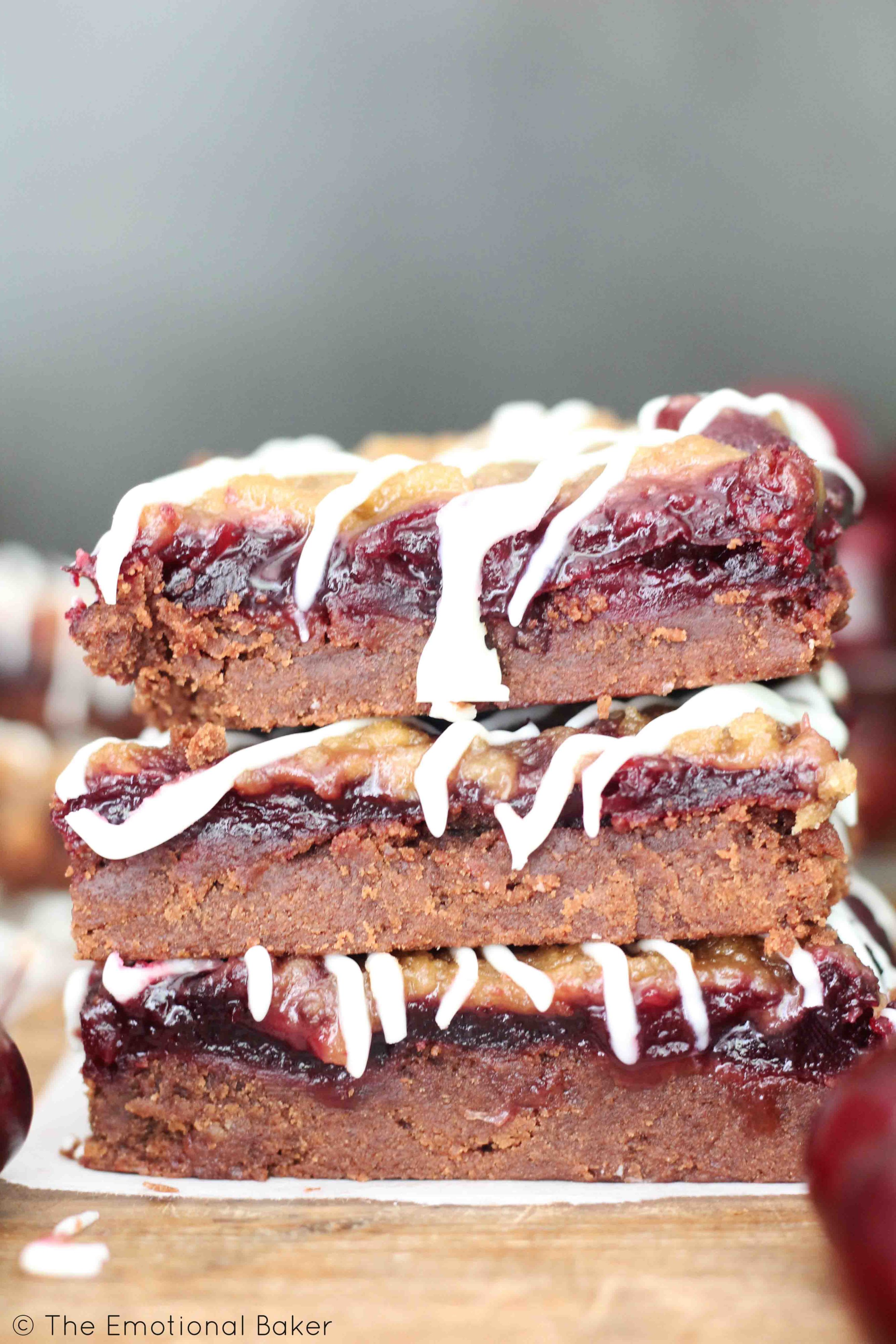 Would you prefer to just go with the flow or fight everything with resistance, stubbornness and lots of tears?
Former me (& a little bit of present day me) chose the latter. Especially when my family went out to eat on beach vacations.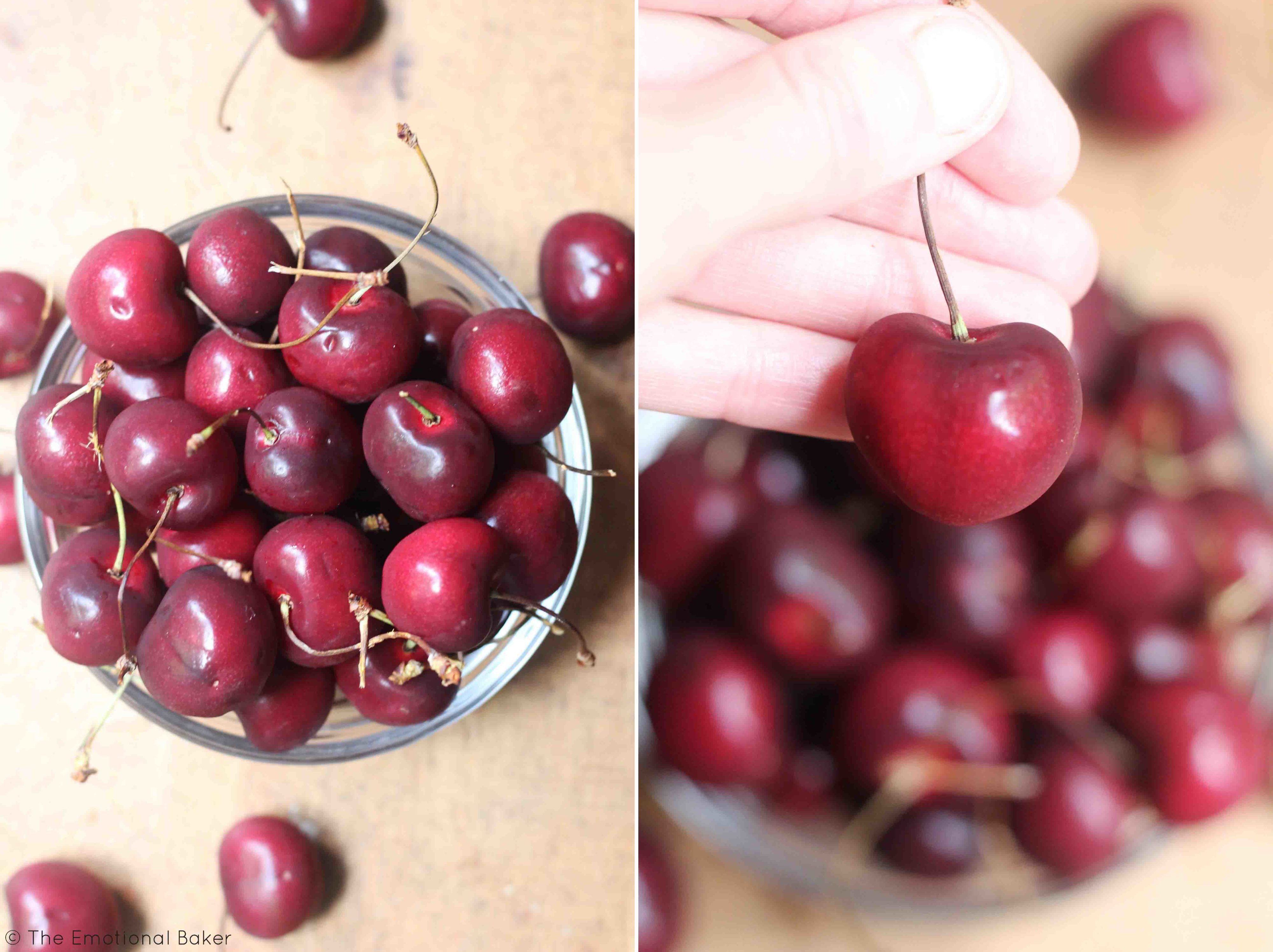 If we didn't go where I wanted to (which consisted of probably one place,) I pitched a huge fit, pouted, and probably created a huge scene – what a nightmare!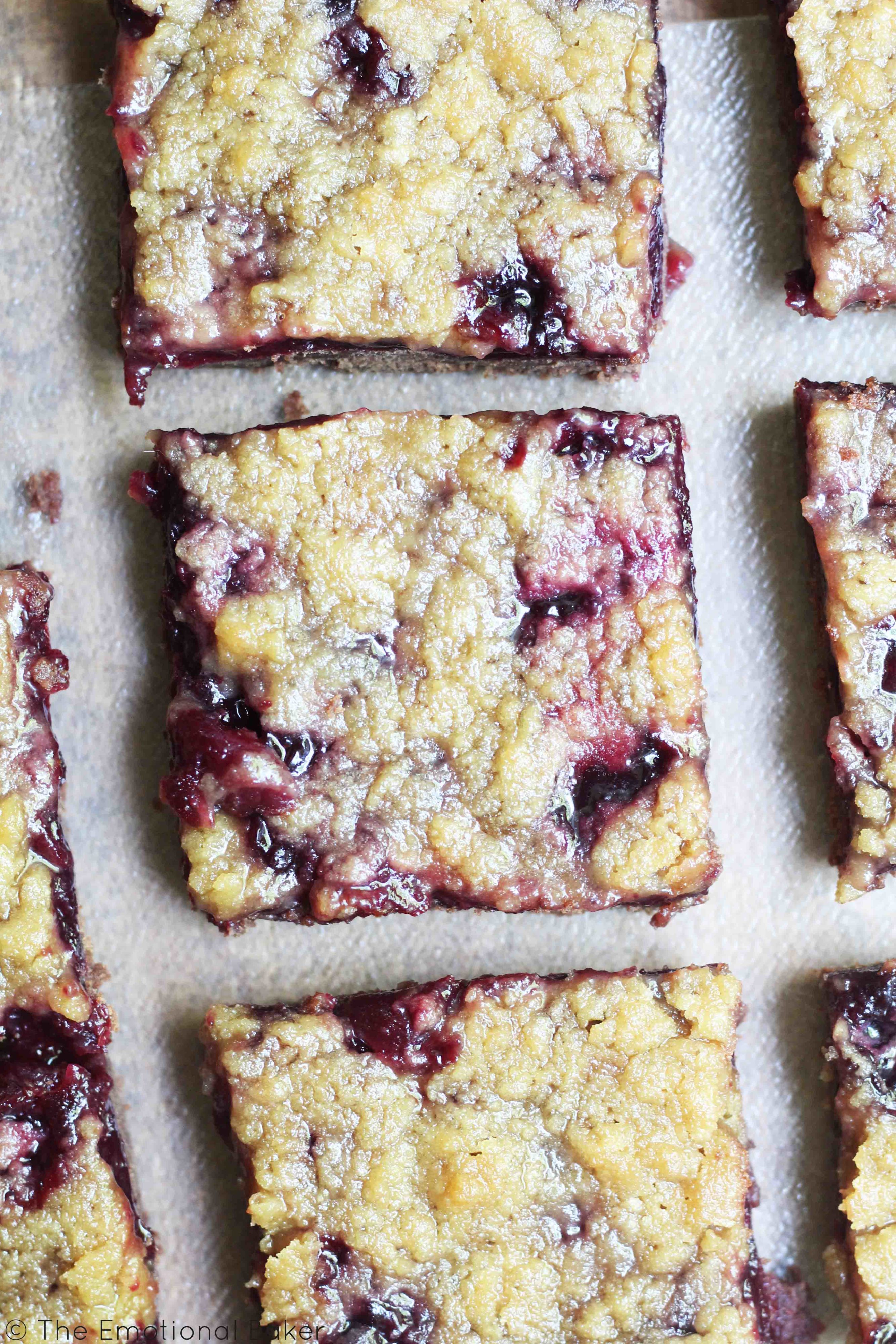 The only thing that would calm me down was a special drink – the infamous Shirley Temple, my favorite carbonated drink, in a gorgeous hue, with a cherry on top! Even back in the day, I believed in not wasting anything because I even tried to eat the stem!
After all that, I still wasn't happy until we stopped at my favorite frozen custard spot. Each day they have a special flavor and I couldn't miss one.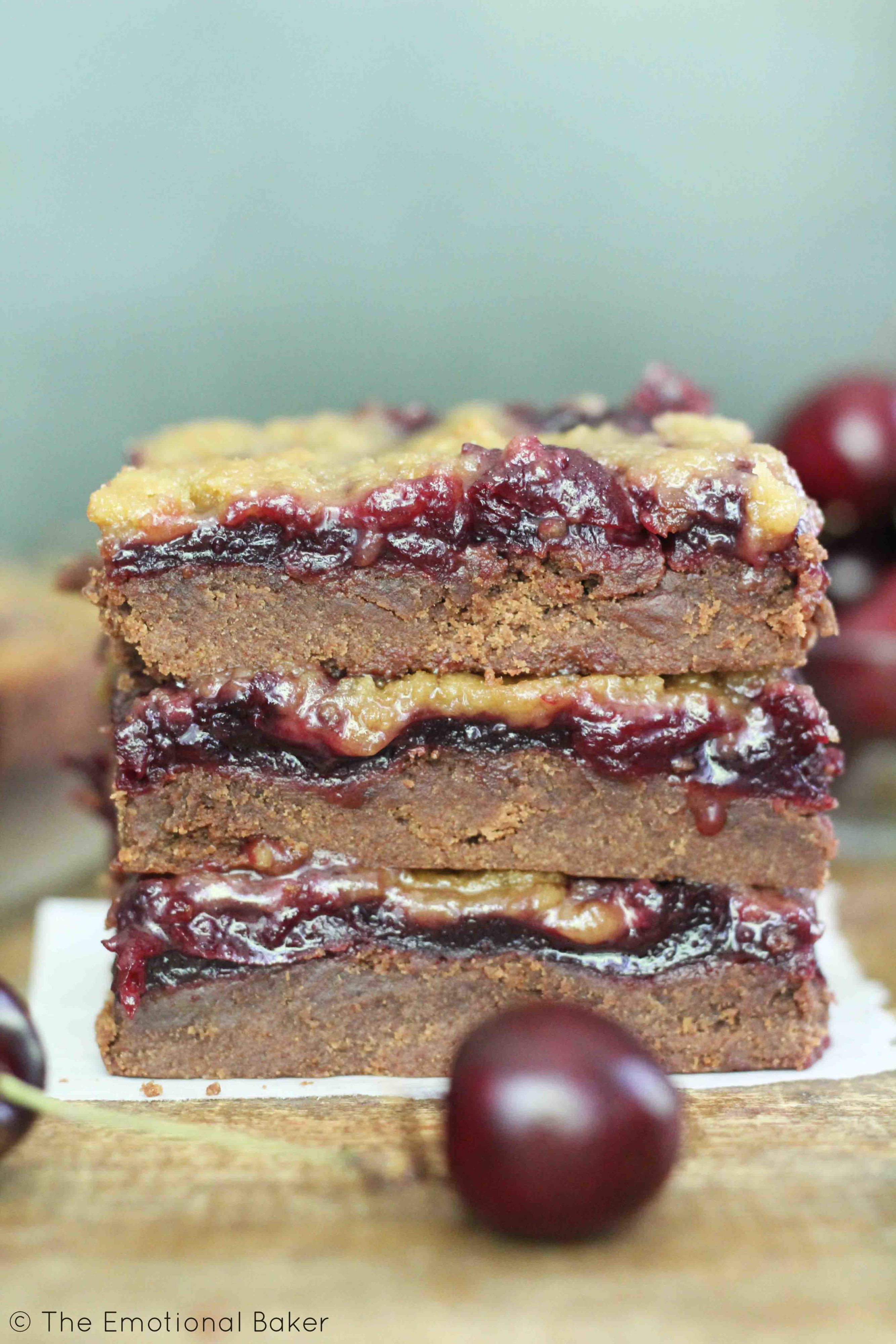 Well, these days I'm perfectly happy making dinner at home and, of course, baking all my favorite sweet treats.
This summer I've been having entirely too much fun baking with fresh fruit. From strawberries, to blueberries to peaches – can't it always be fruit season?!?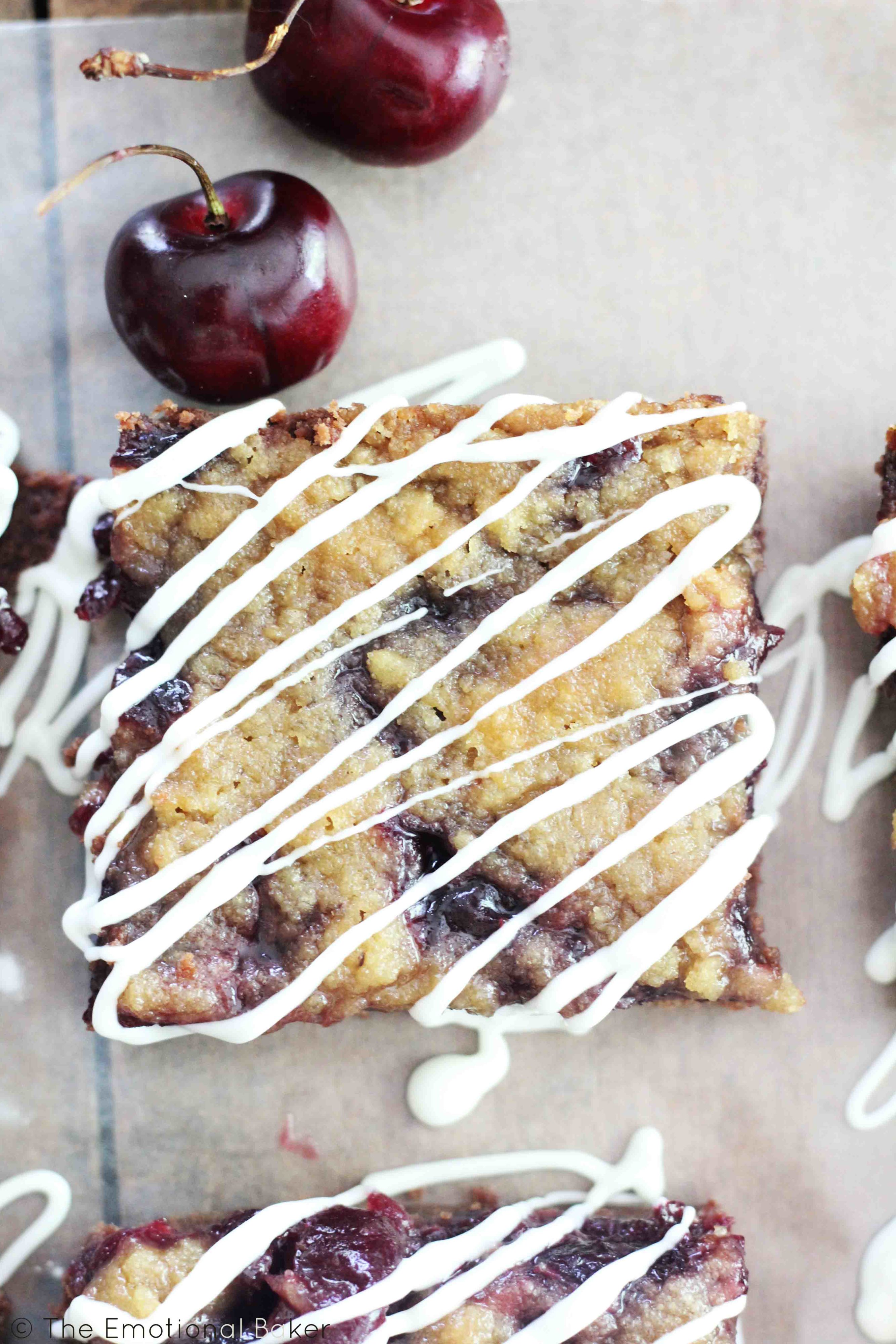 These cherry bars are a mash-up of some old TEB recipes. I took the chocolate shortbread from my Chocolate Pecan Shortbread Bars and the streusel from my Banana Streusel Muffins to create the perfect complement to this cherry pie filling. & just to make these even more special, I drizzled some white chocolate on top. You have to try these bars!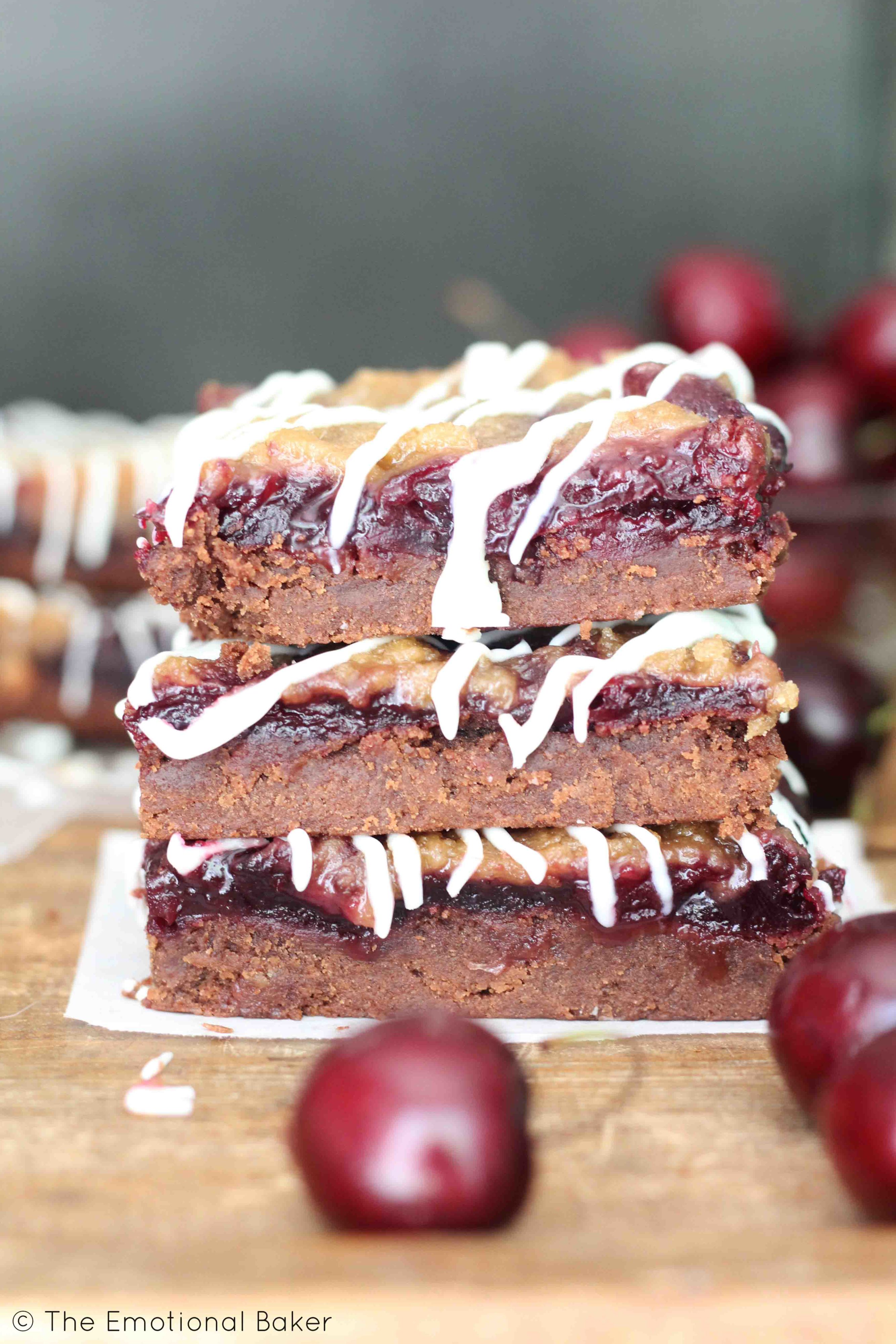 Are you easy to please or more demanding?
PS: Following the TEB garden saga? This vegetable turned out to be a Spaghetti Squash! I see lots of stuffed squash in my future 🙂
Cherry Pie Chocolate Shortbread Bars
Ingredients
Filling:

3 cups cherries
1/3 cup sugar
1/3 cup water
2 tbsp cornstarch
1/4 tsp almond extract

Shortbread:

1 cup all purpose flour
2 tbsp brown sugar
2 tbsp sugar
2 tbsp cocoa powder
1/4 tsp baking powder
1/4 tsp salt
1/2 cup margarine

Streusel Topping:

4 tbsp margarine
1/4 cup brown sugar
1/4 cup sugar
1/4 cup all purpose flour

White Chocolate Glaze:

1/3 cup white chocolate chips
1 tsp canola oil
Instructions
Filling:

In a saucepan, combine cherries, sugar, water and cornstarch. Bring mixture to a boil. Stir continuously. Lower heat and cook for 10 minutes. Remove from heat and stir in almond extract. Set aside.

Shortbread:

Preheat oven to 350 degrees. Grease a 9 inch square pan. Line bottom with parchment paper. Grease paper.
In medium bowl, combine flour, brown sugar, sugar, cocoa powder, baking powder and salt. Cut margarine up in tablespoon segments. Use hands to incorporate margarine and flour.
Press dough into prepared pan.
Bake for 10 minutes.

Streusel:

Combine margarine, brown sugar, sugar and flour. Use fingers to incorporate ingredients.

Assembly:

Spread cherry filling on cooked shortbread. Sprinkle streusel topping on top of cherries. Bake for 30 to 35 minutes or until cherries are bubbling and streusel is golden brown. Allow to cool completely.
Slice into bars.
Melt white chocolate chips in microwave for 45 seconds at 50 percent power. Add canola oil. Stir until smooth. Transfer melted chocolate to zip lock bag. Cut end. Carefully drizzle chocolate over bars.
http://theemotionalbaker.com/2016/07/25/cherry-pie-chocolate-shortbread-bars/

Disclosure: I received free Bing Cherries from Hale Groves in exchange for developing a recipe. As always, all opinions and recipes are my own. Thanks for supporting the brands that support The Emotional Baker!