Disclosure: This is a sponsored post brought to you by Pearson Farm. As always, all opinions and recipes are my own. Thanks for supporting the brands that support The Emotional Baker!
Coconut cookies topped with sweet peach filling and crunchy coconut streusel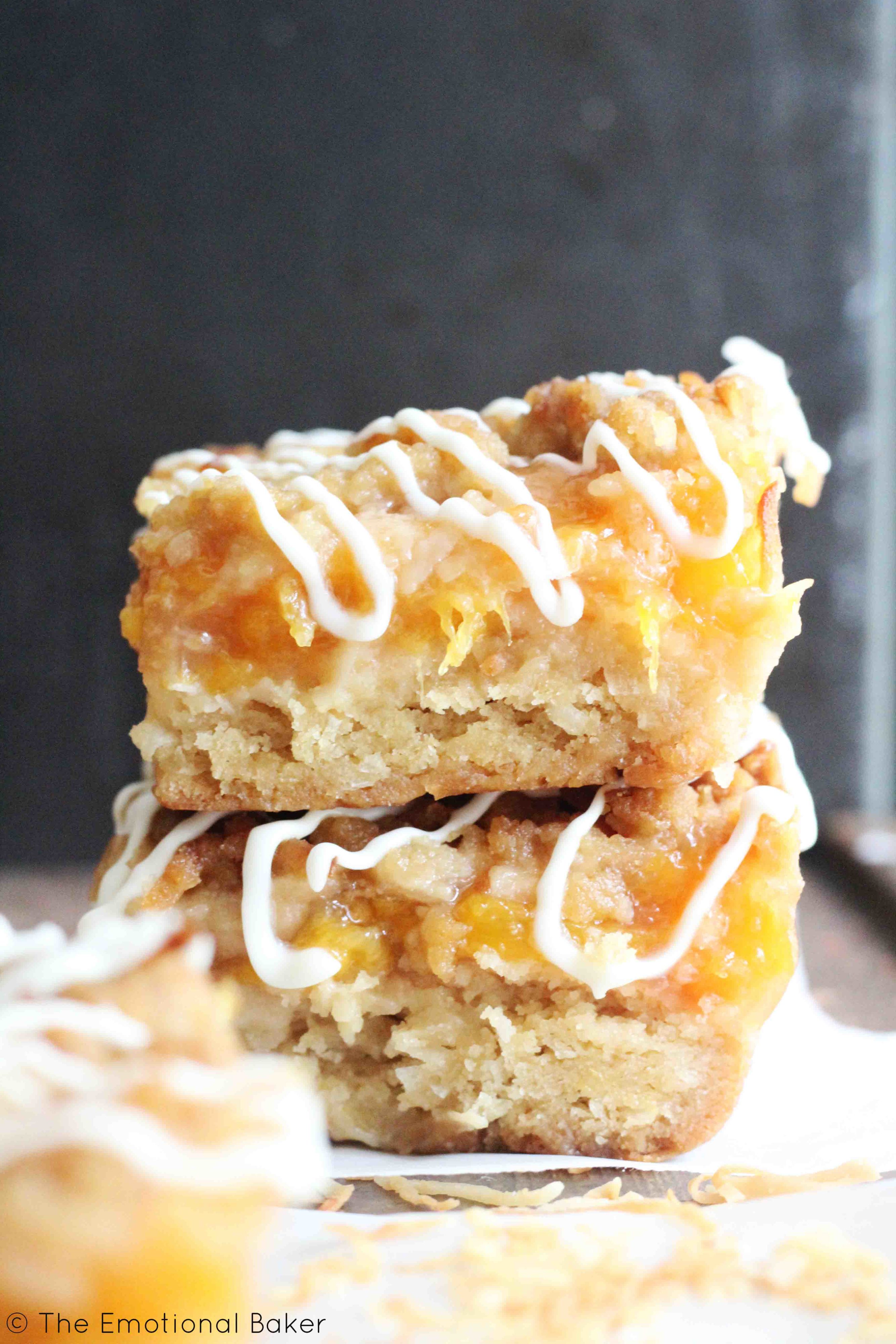 "Time is a thief when you're undecided."
Rod, (& Carmine, Duane and Kevin) I couldn't have said it better.
& unfortunately, I know that all too well. From important life decisions to simple baking decisions, like what size pan to use, I always struggle with making a choice.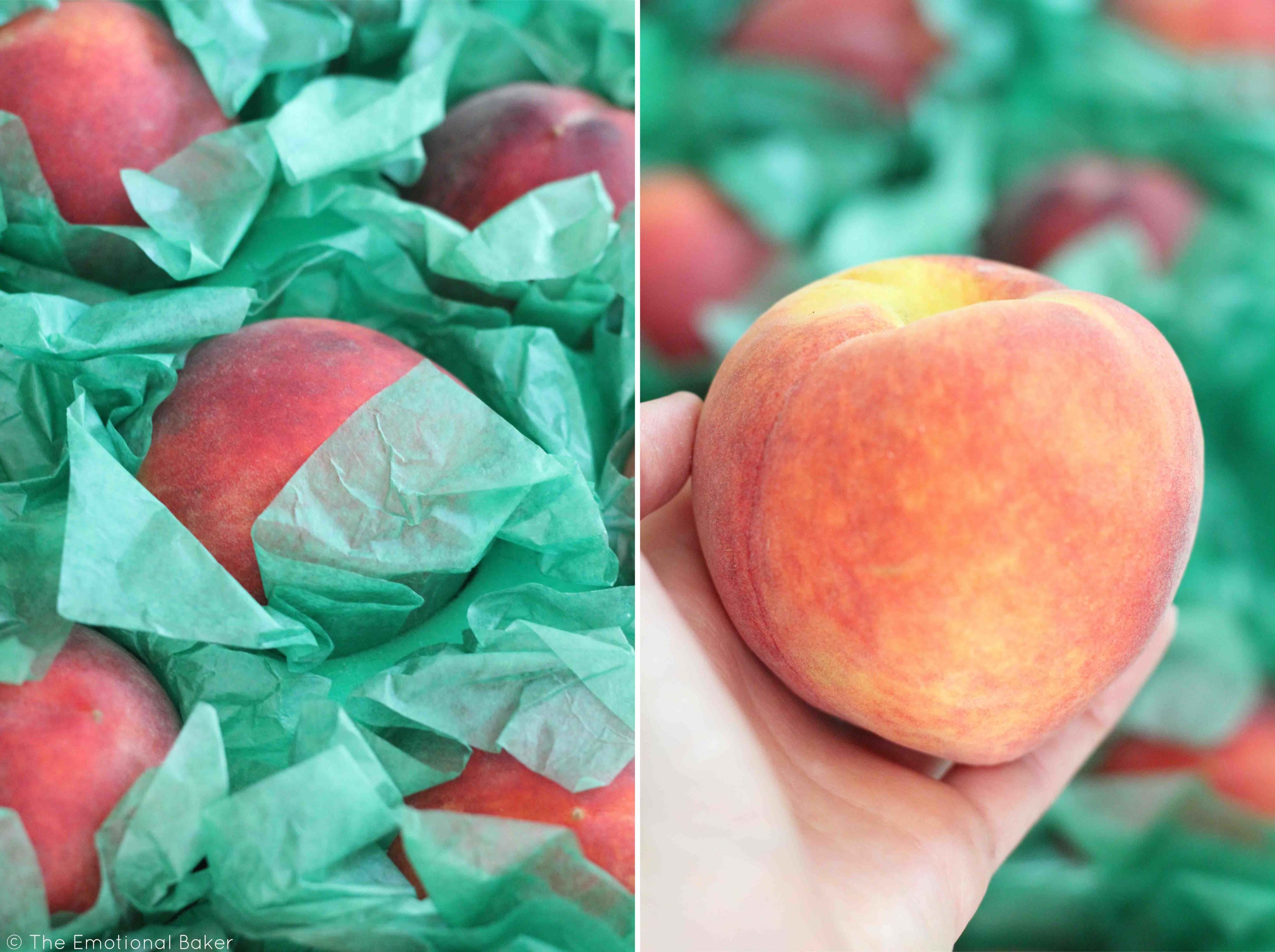 Just this past week, I paced the kitchen floor entirely too long trying to decide what kind of pan to bake cornbread in – a basic square dish, a muffin pan or a small tea loaf pan.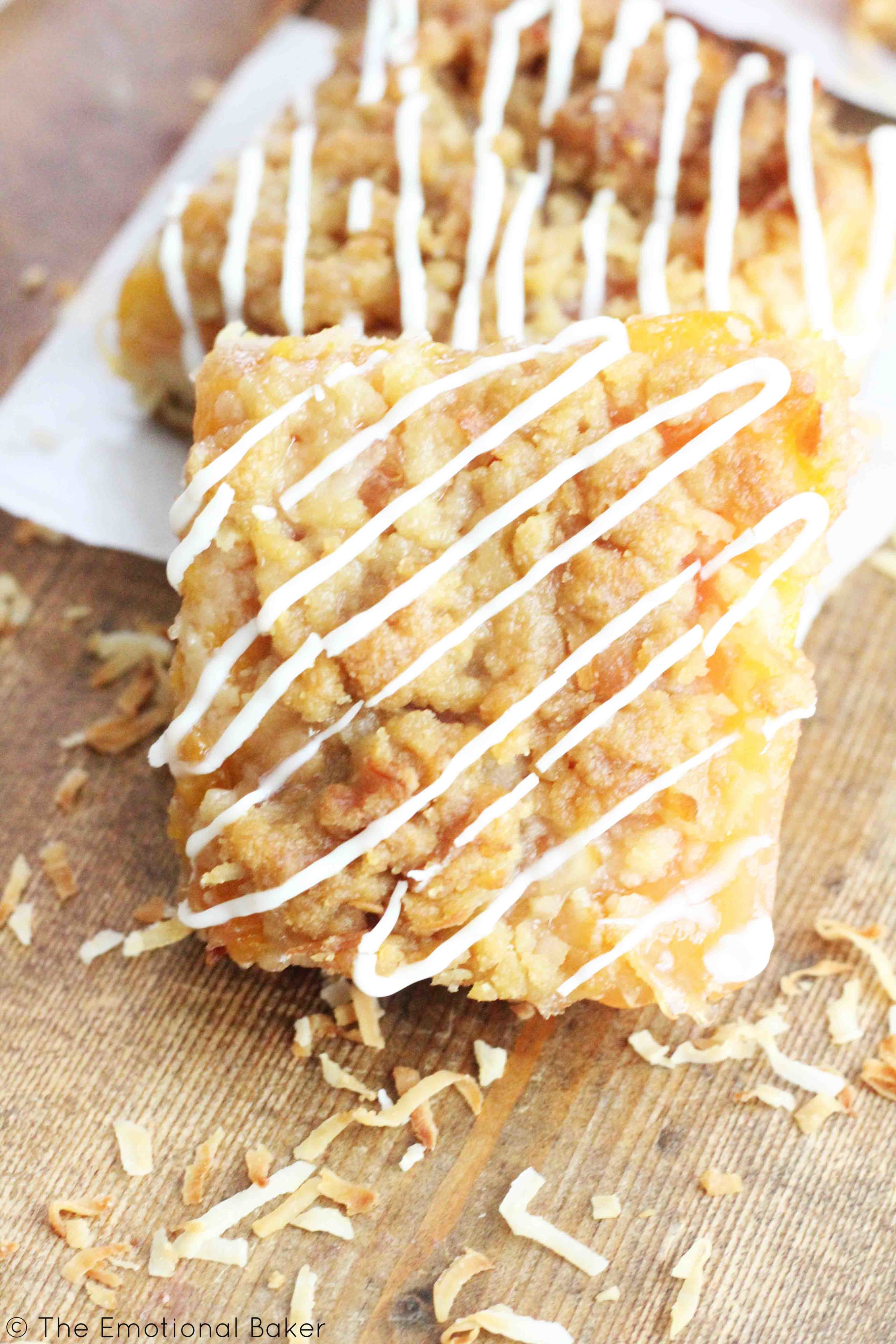 Originally, I was going to use a small loaf pan. But then I revisited my pics from another cornbread (debuting Summer '17!) and thought it would be dull to use the same size for this new cornbread flavor.
I scoured the web for inspiration and thought using a square dish for classic cornbread pieces would be nice, but the pan was currently housing some banana crumb cake & I didn't want to waste time washing the pan and relocating the treat (but, hello! Wouldn't that have been easier?)
After making Jumbo Mixed Berry Banana Muffins, I thought maybe I could successfully showcase the cornbread as muffins. But I wasn't sure how the batter would bake.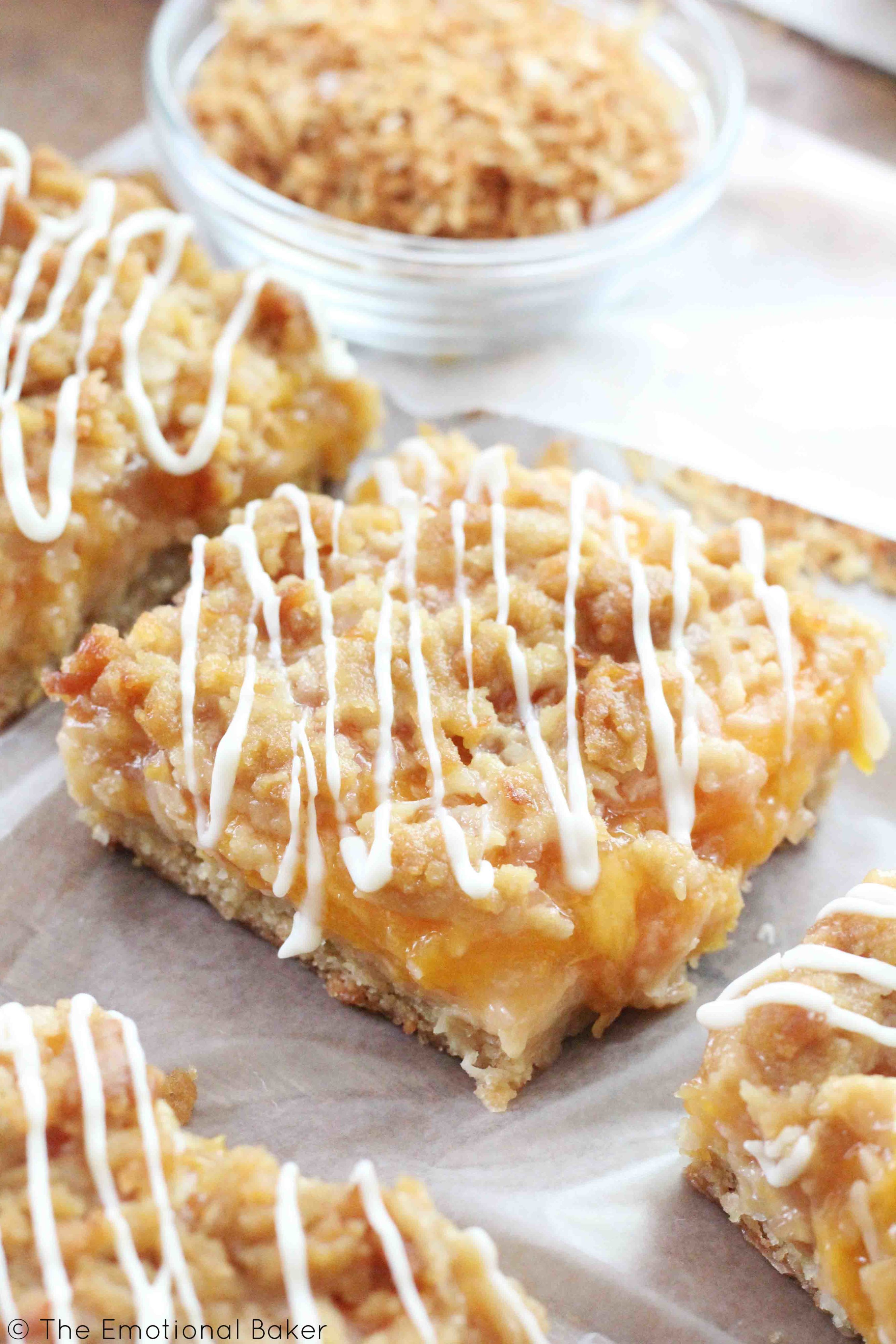 With all the options lined up, I continued to go back and forth on which pan to use.
Finally, I made a decision, but oh my goodness, how much time did I waste on that mundane decision?!?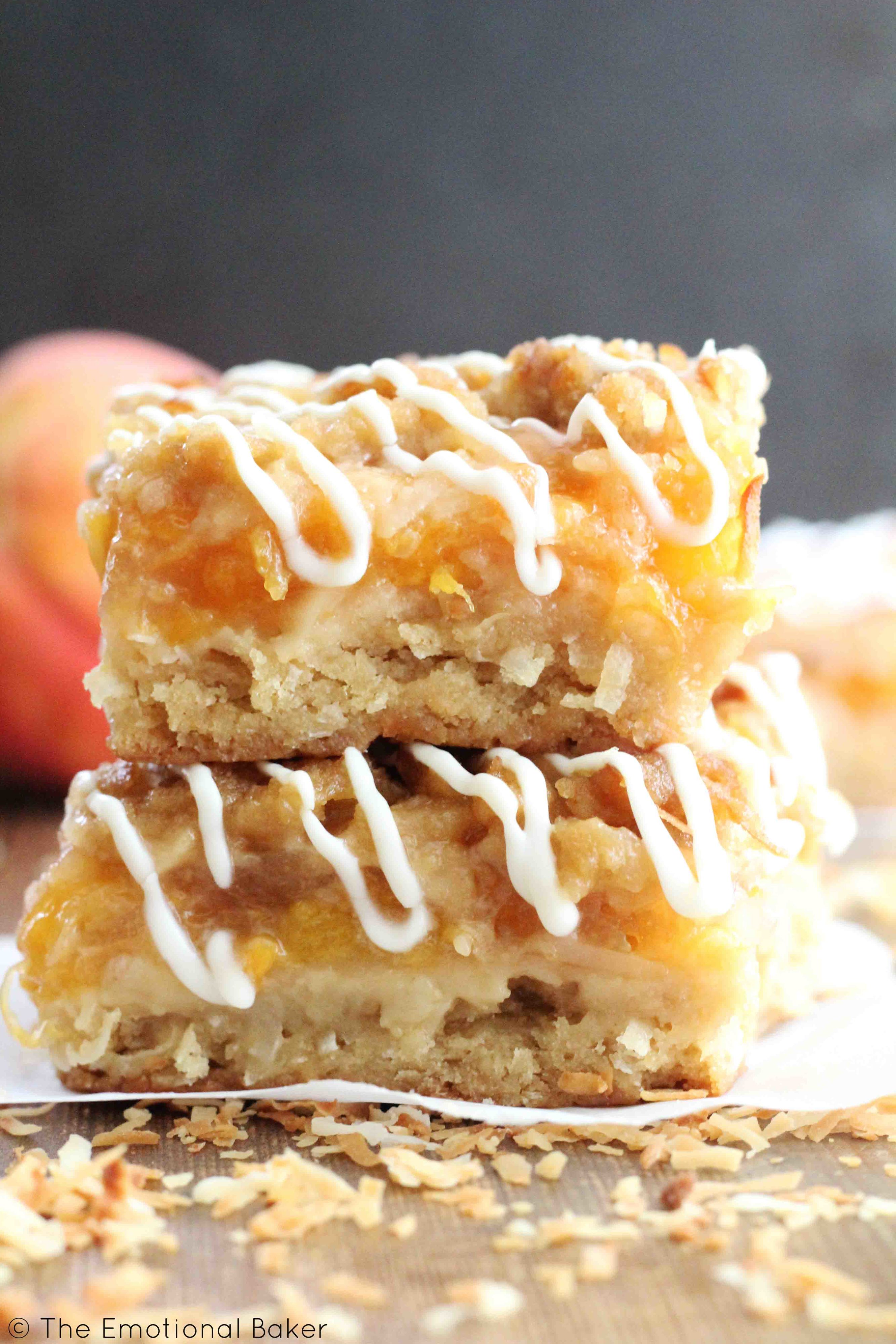 I had a similar issue with this week's treat. I made two peach recipes, but couldn't pick which one to share. I was on the fence about sharing this one since I posted bars last week.
Another thing that made this super hard is I had to comb through over 300 pictures of these bars!!! The problem is I'm not the best photographer, duh, & I don't really know what I'm doing, so I have to take a lot to ensure I get at least a few decent shots. But jeez, looking at 90 pictures of the same stack of bars and trying to pick one is super time consuming for someone who can't make decisions!!
Alas, I finally selected some pics and which treat to share. These Peach Coconut Cookie Bars feature a coconut cookie crust, topped with a sweet peach filling and a coconut streusel. Peaches and coconut make the perfect flavor combo!
Do you have trouble making decisions?
Peach Coconut Cookie Bars
Ingredients
Coconut Cookie:

1/4 cup full fat coconut milk
1 tsp vanilla extract
1.5 cups all purpose flour
3/4 tsp baking powder
1/4 tsp salt
1/4 cup canola oil
1/3 cup sugar
1/3 cup brown sugar
1/2 cup shredded coconut, sweetened

Peach Filling:

3.5 cups peeled, sliced peaches - about 4 peaches
1/2 cup sugar
3 tbsp cornstarch

Streusel:

1/2 cup shredded coconut, sweetened
1/2 cup all purpose flour
1/3 cup brown sugar
4 tbsp margarine

White Chocolate Drizzle:

1/3 cup white chocolate chips
1 tsp canola oil
Instructions
Peaches:

To peel: Bring a large pot of water to a boil. Fill a large bowl with ice and water. Cut a small 'x' in the bottom of each peach. Place peaches in boiling water for 30 seconds, then place in ice water. Peel peaches and slice. Place peaches in bowl, sprinkle with sugar, and stir until coated. Let peaches stand for 45 minutes to an hour. Drain peaches, saving juice.
To a small saucepan, add cornstarch. Slowly add peach juice, stirring to incorporate after each addition. Once completely combined, bring mixture to a boil. Stir frequently. Once boiling, stir constantly until mixture thickens about 2 minutes. Remove from heat and fold in peaches. Set aside.

Coconut Cookie:

Preheat oven to 350 degrees. Grease a 9 inch square baking pan. Line the bottom with parchment paper and grease again.
In a measuring cup, combine coconut milk and vanilla extract. Set aside.
In a medium bowl, combine flour, baking powder and salt. Set aside.
In a large bowl, combine canola oil, sugar and brown sugar. Once combined, add coconut milk mixture.
Slowly add flour mixture to liquids. Once thoroughly mixed, fold in shredded coconut.
Press mixture into prepared pan. Be sure to spread evenly and reach corners of pan.
Bake for 12 minutes.

Streusel:

Combine all ingredients. Use fingers to incorporate, until mixture comes together.

Assembly:

Spread peaches on top of cooked cookie. Sprinkle streusel on top. Bake for 30-35 minutes at 350 degrees until fruit is bubbling and streusel is golden brown. Allow to cool completely. Slice into nine bars.

Drizzle:

Melt white chocolate at 50 percent power for 45 seconds. Stir until melted. Stir in canola oil. Transfer to a ziplock bag, cut a small piece off one corner. Zigzag chocolate over cooled and sliced bars.
http://theemotionalbaker.com/2016/08/01/peach-coconut-cookie-bars/