Disclosure: This is a sponsored post brought to you by Aiya Matcha. As always, all opinions and recipes are my own. Thanks for supporting the brands that support The Emotional Baker!
Green tea cookies flavored with almond and paired with a creamy frosting.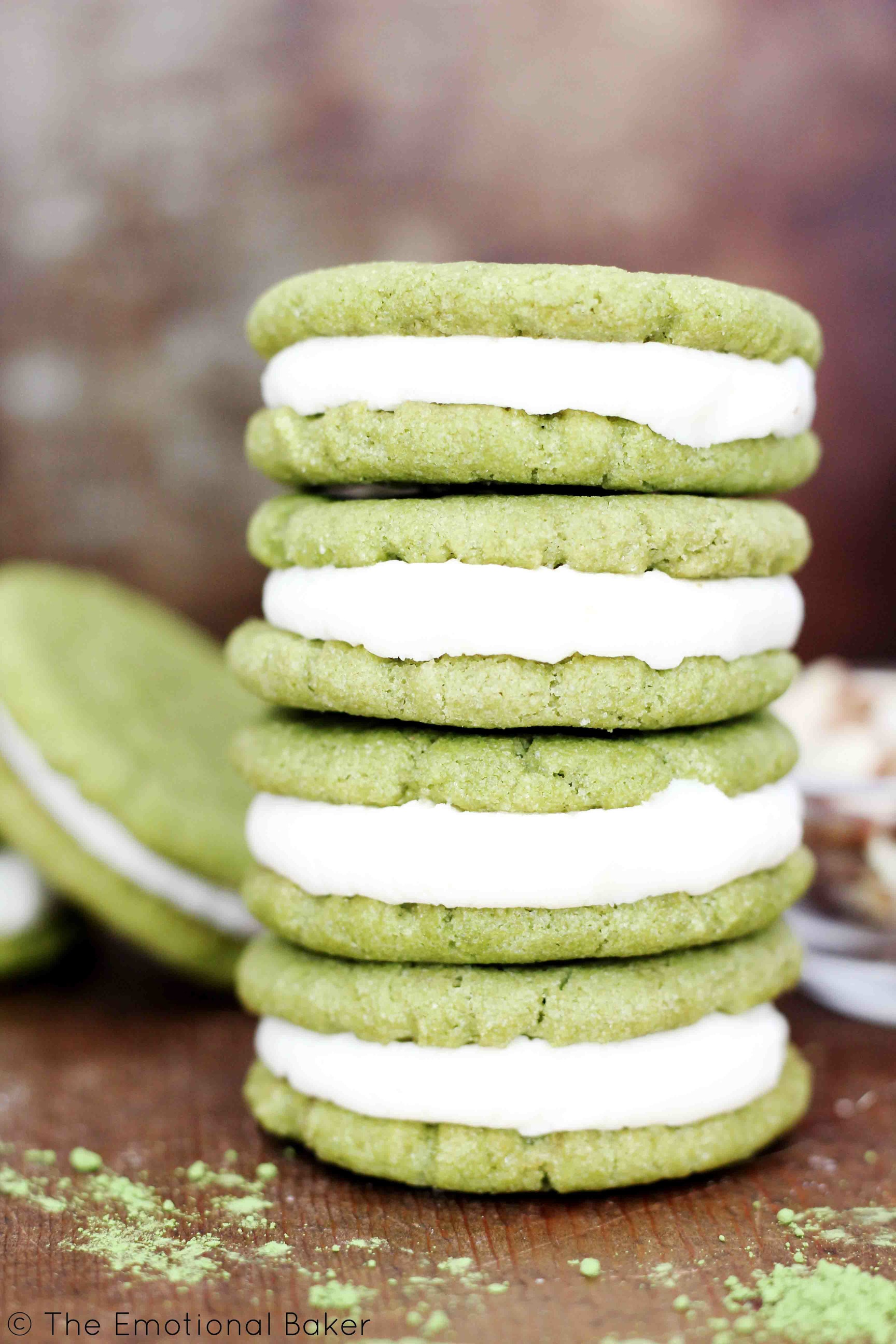 Lying on a blue mat. In the dark. For nap time.
Who wants to do that?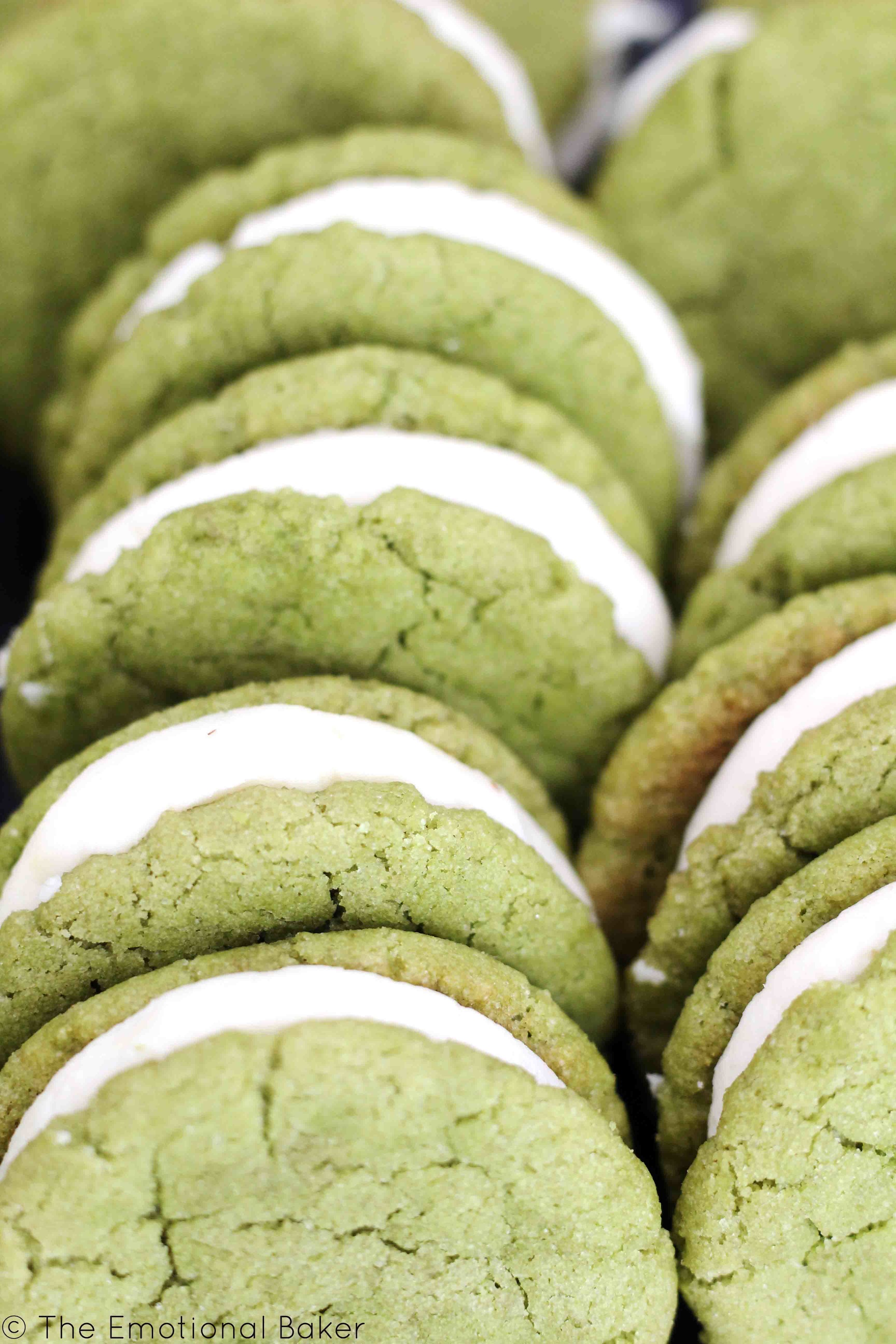 Not kindergarten me, or any of my classmates (that I know of!)
You'd think my feelings on napping would've changed throughout the years, but I remain adamant, that napping shouldn't be allowed.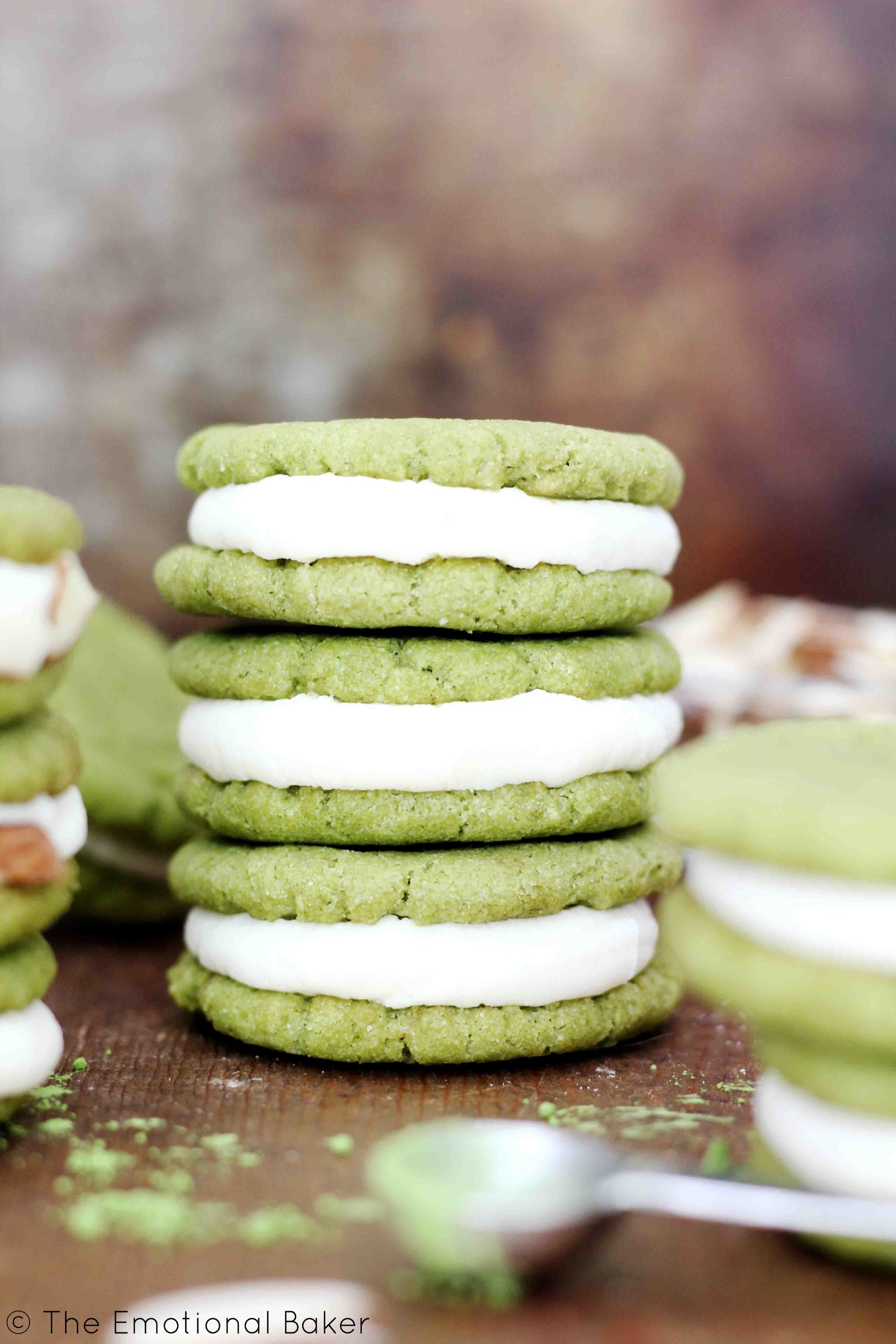 My beliefs on this subject were firmly planted on a family trip to NYC. We were only there a brief period and on our last full day, I started to feel really sick. We went back to our hotel. & I did the dreaded – I napped!!
I woke up several times, but couldn't pry myself out of bed. By the time I finally pulled myself out of my groggy state, the entire day was gone!
Now, I understand your body needs time to rest and recover, but NOT when you're on vacation in NYC!
Since then, I've vowed to never nap! I may be wrong on this subject, but there's just too much to do & it'll never get done if you're asleep!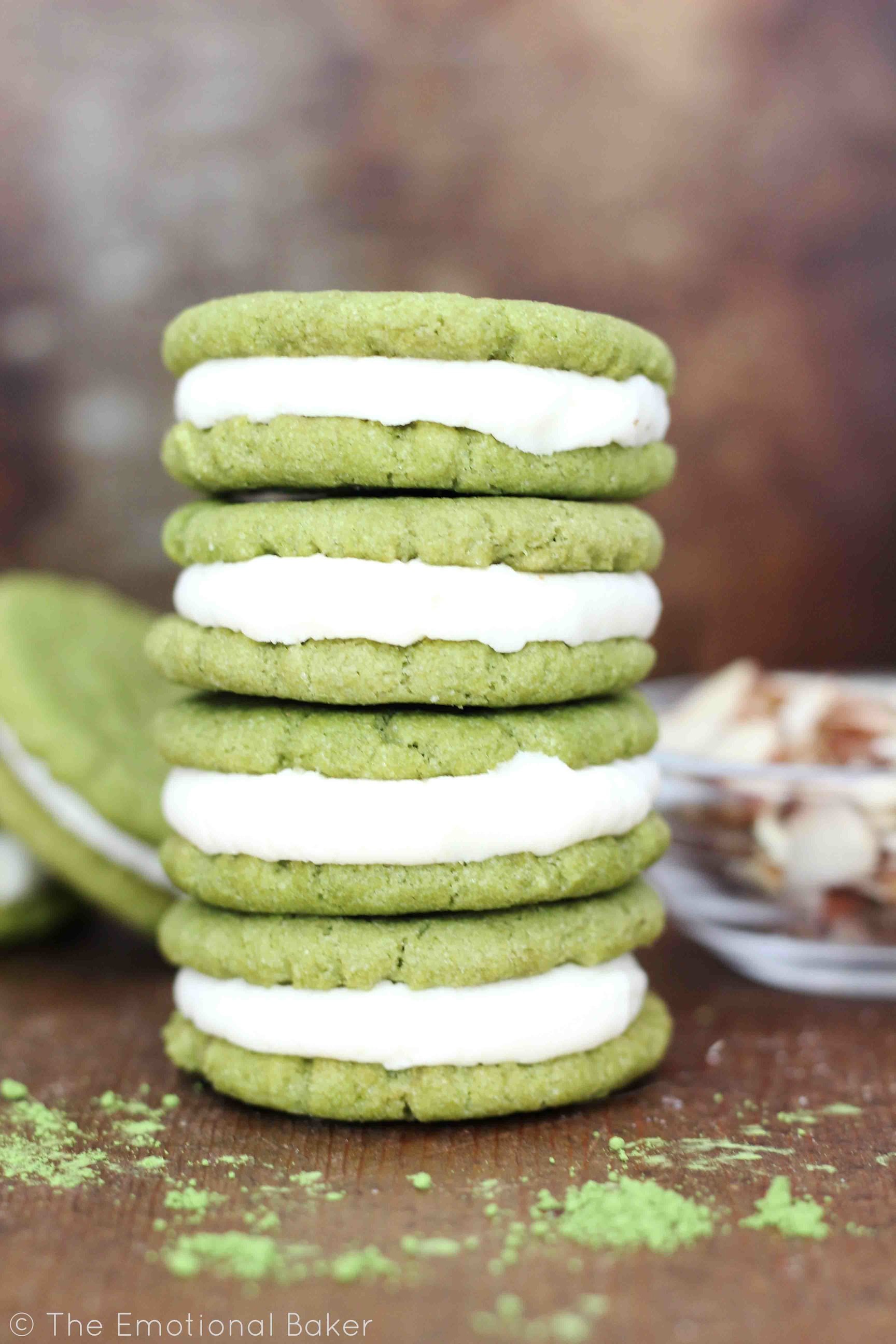 So, to pull yourself out of the afternoon slump, I propose eating a stack of these Matcha Almond Cookie Sandwiches instead! They feature Aiya's Cooking Grade Matcha that is specially blended for baking and beverages. I really enjoyed baking with this green tea. It comes in a resealable package and helps create delicious cookies. I can't wait to bake with it again and try it in a Coconut Matcha Latte 🙂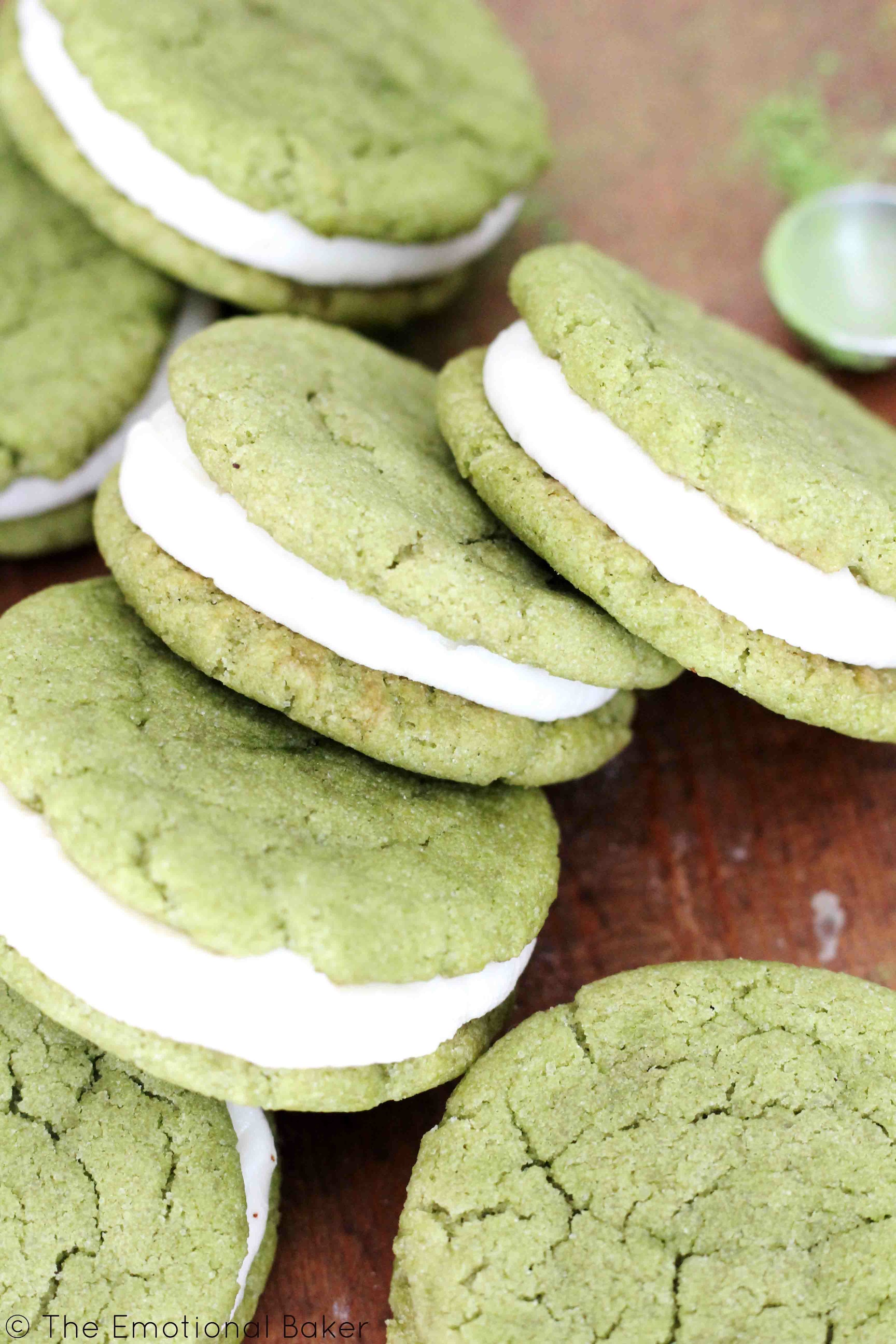 I paired the cookies with a creamy almond frosting. If desired, you can roll the sandwich cookies in sliced almonds for an extra crunch.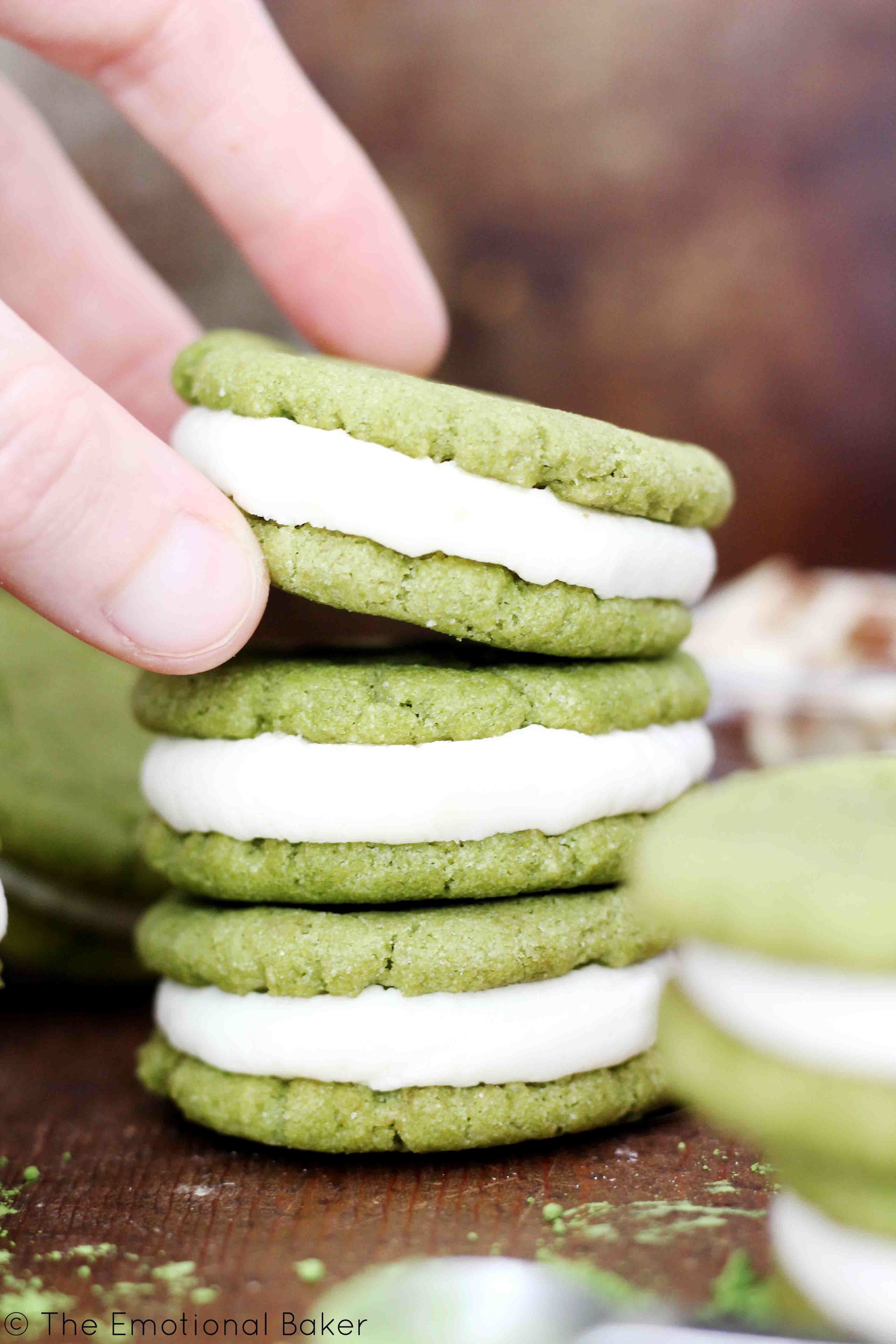 Do you believe in napping?
Matcha Almond Sandwich Cookies
Ingredients
Cookies:

2 cups all purpose flour
1 tbsp Aiya Cooking Grade Matcha
1 tsp baking powder
1 tsp baking soda
1 tsp salt
1 cup sugar
1/2 cup brown sugar
1/2 cup canola oil
1 tsp almond extract
1/3 cup lite coconut milk, or your favorite unsweetened nondairy milk

Frosting:

1/2 cup margarine
3 cups powdered sugar
1 tsp almond extract
1 tbsp + 1 tsp unsweetened cashew milk
Sliced almonds, optional
Instructions
Cookies:

Preheat oven to 350 degrees. Line baking sheets with parchment paper.
In measuring cup or medium bowl, combine flour, matcha, baking powder, baking soda and salt. Set aside.
In a large bowl, use a fork to combine sugar, brown sugar, canola oil and almond extract. Add lite coconut milk.
Add dry ingredients to liquid and mix well.
Divide dough into 72 equal balls. Roll into balls, flatten with palm of hand.
Bake for 6 minutes. Leave on baking sheet 5 minutes. Then transfer to wire racks to complete cooling.

Frosting:

Beat margarine in medium bowl. Add powdered sugar and beat until small clumps begin to form.
Add almond extract, beat. Add cashew milk in tsp increments, beat until fluffy.

Assembly:

Spread frosting between cookies with a knife or piping bag. Press cookies together so frosting is pushed to edges.
If desired, roll cookies in sliced almonds.
Note: Extra frosting may be stored in refrigerator. Allow to reach room temperature and then spread on cookies or cake.
http://theemotionalbaker.com/2016/08/29/matcha-almond-sandwich-cookies/
Looking for more matcha recipes? Try this Chocolate Matcha Swirl Loaf.