Disclosure: This is a sponsored post brought to you by Aiya Matcha. As always, all opinions and recipes are my own. Thanks for supporting the brands that support The Emotional Baker!
You can make bagels at home! Easy recipe featuring matcha powder and sourdough starter.
Ever forget your lunch? Sometimes it works in your favor.
Especially if you're in the second grade with a dad at home that works second shift.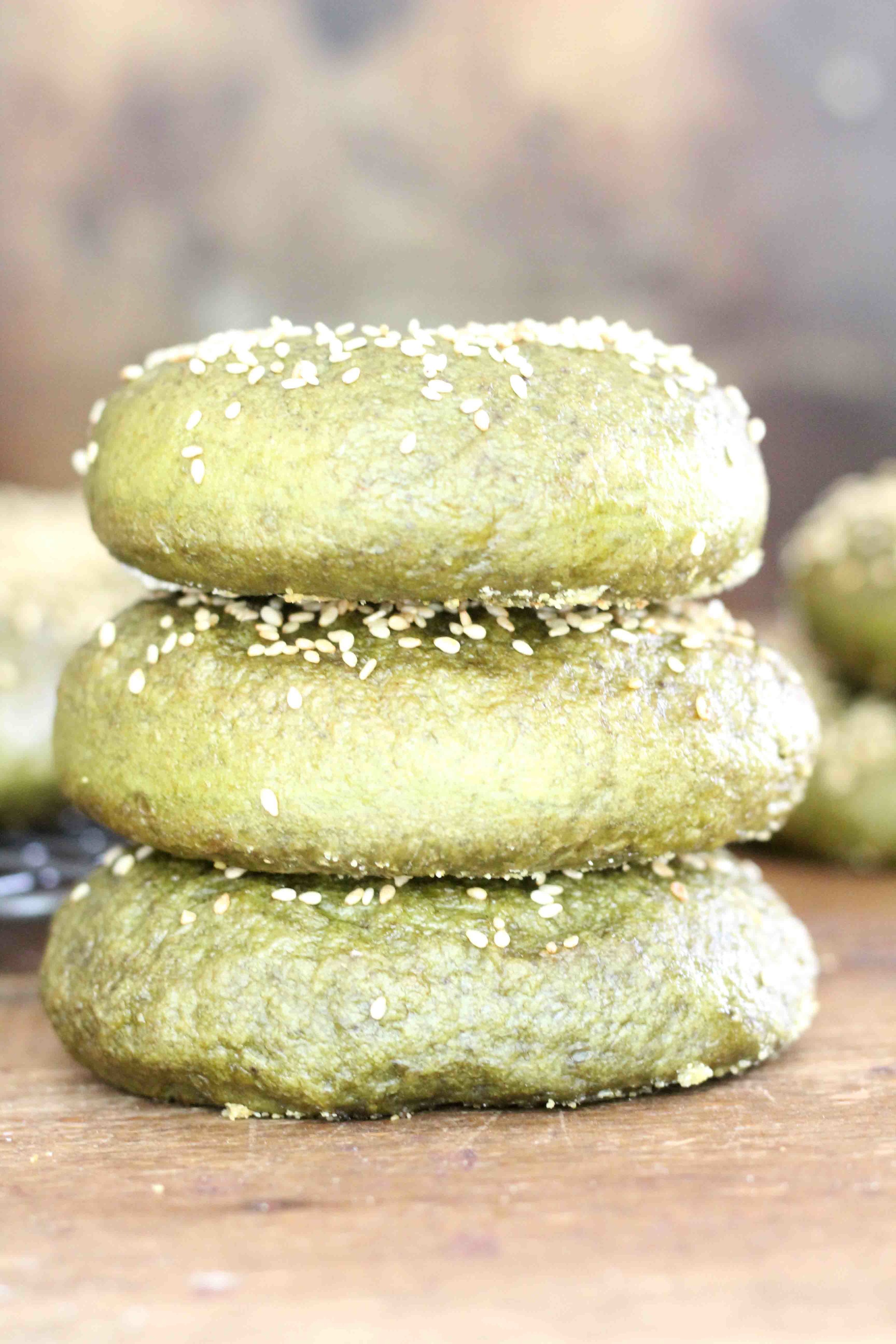 The specifics of the whole incident are a little vague for me – but here's what you need to know. My dad delivered a Hot. Toasted. Peanut Butter. Blueberry. Bagel.
Can we just say – best lunch ever?!?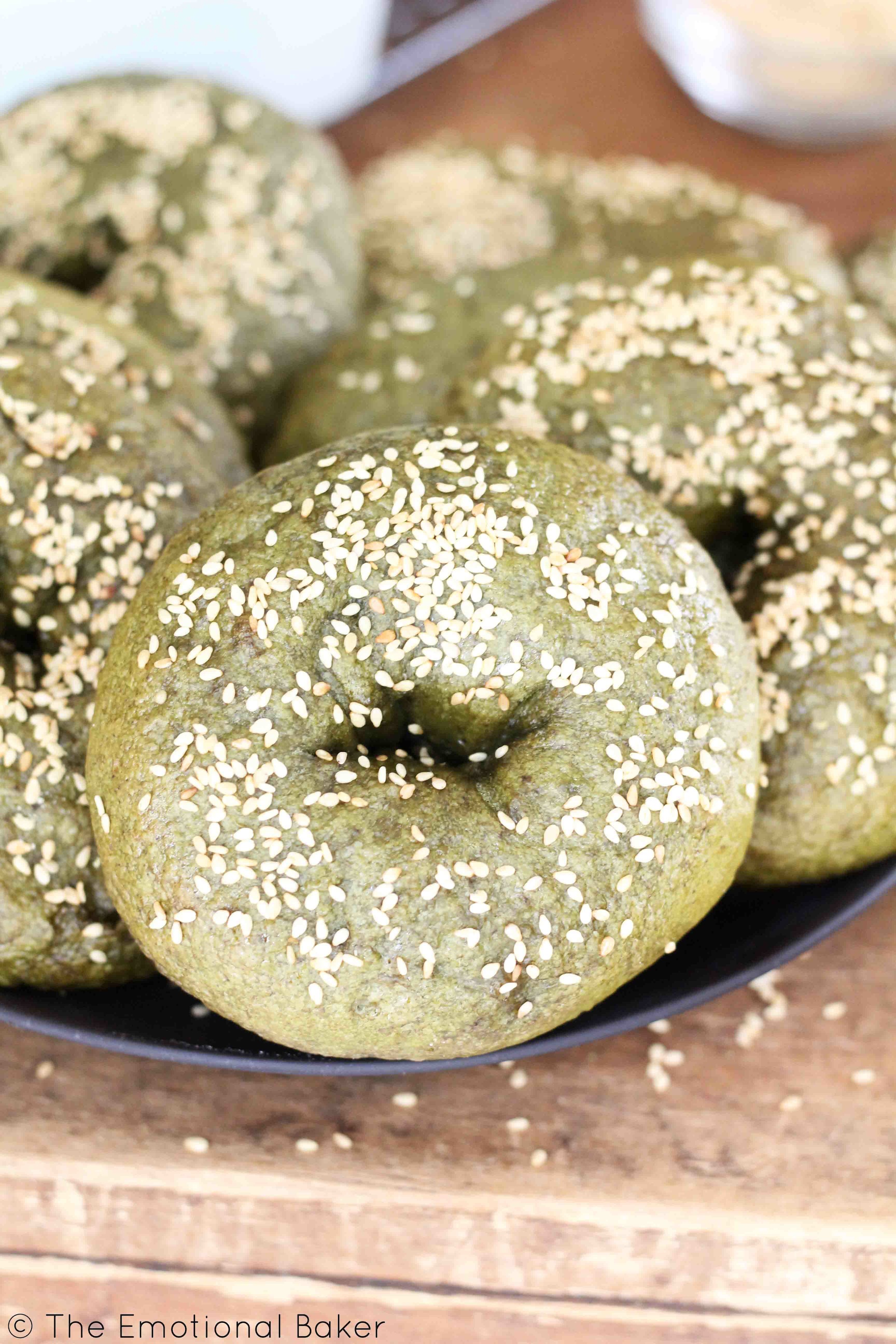 It's been awhile since I've had a bakery style bagel. Making these Matcha Sourdough ones reminded me how delicious bagels are – especially toasted! That crunchy and chewy texture – oh my!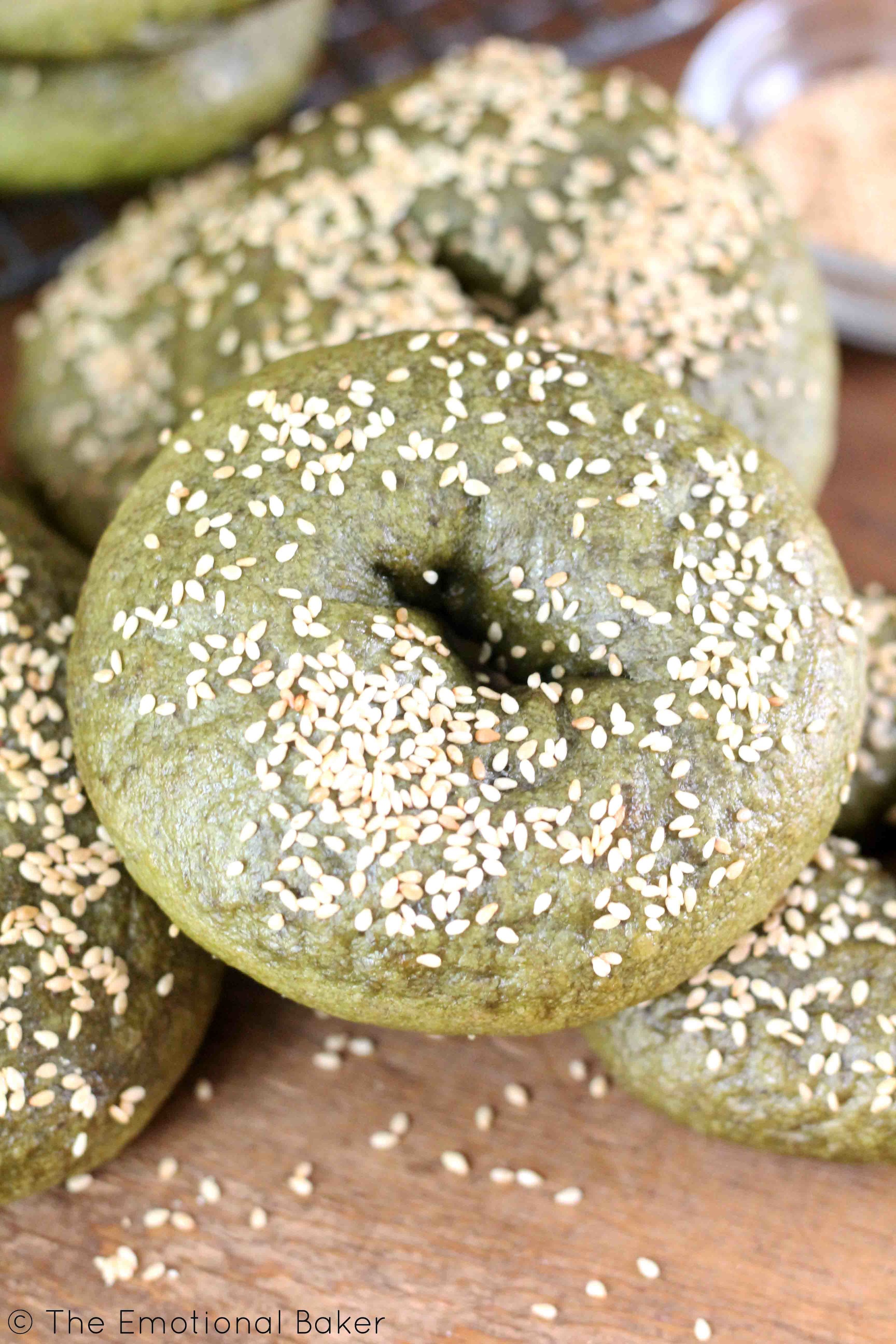 Really bagels aren't that hard to make. You make the sponge – which just involves stirring some stuff together – let it sit, add the rest of your ingredients . . .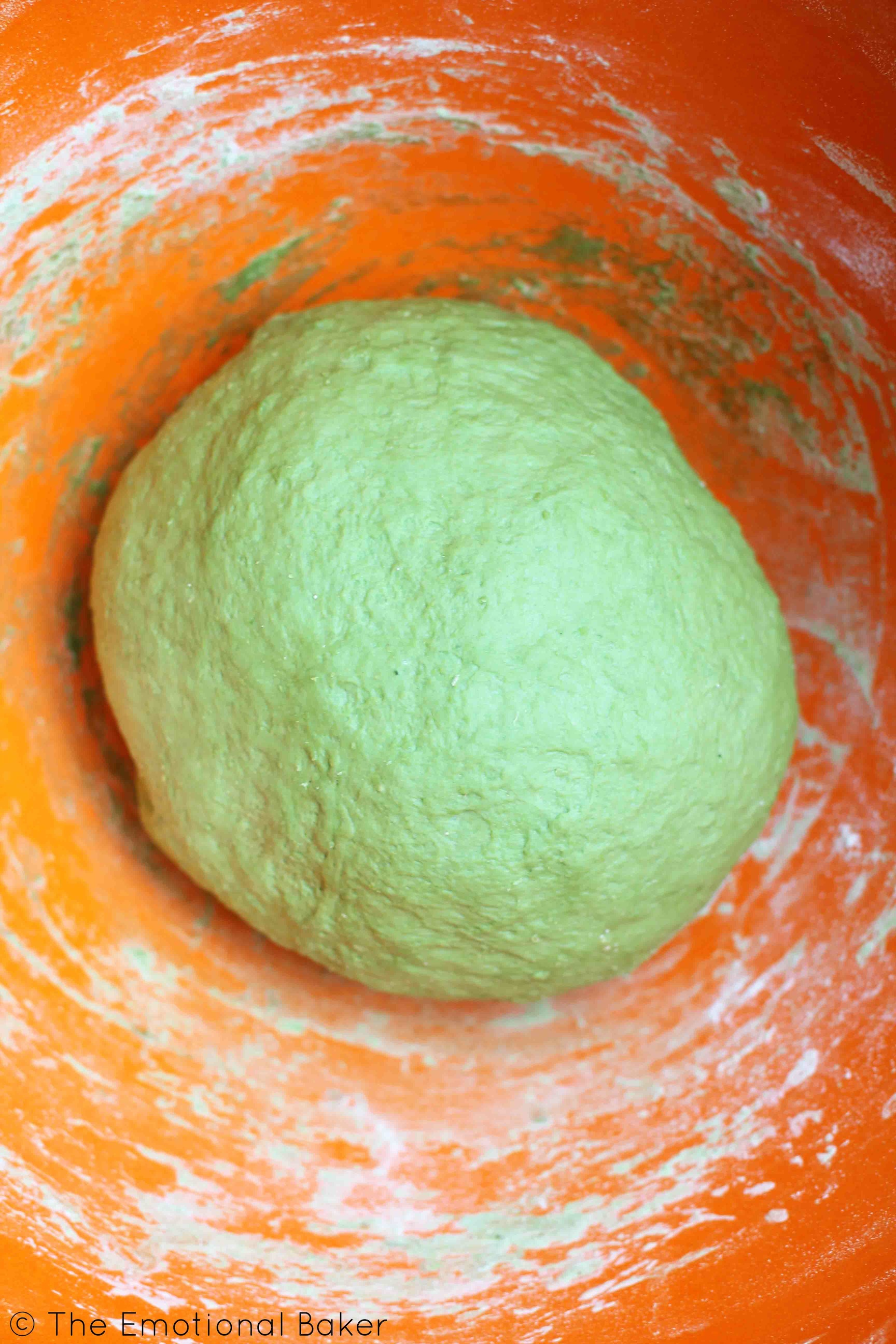 divide into balls, rest . . .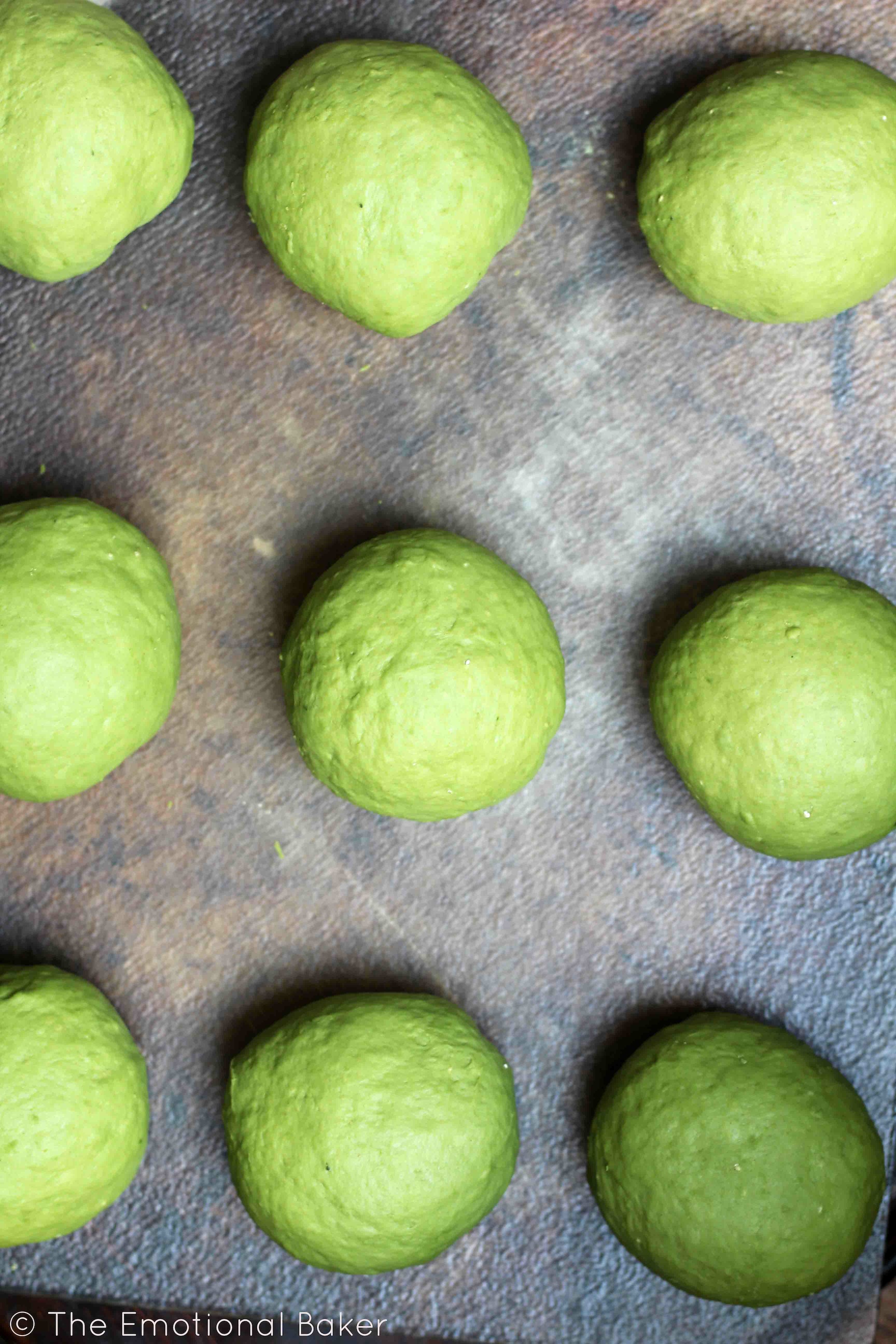 poke a hole in the center, rest, and then let it rest overnight.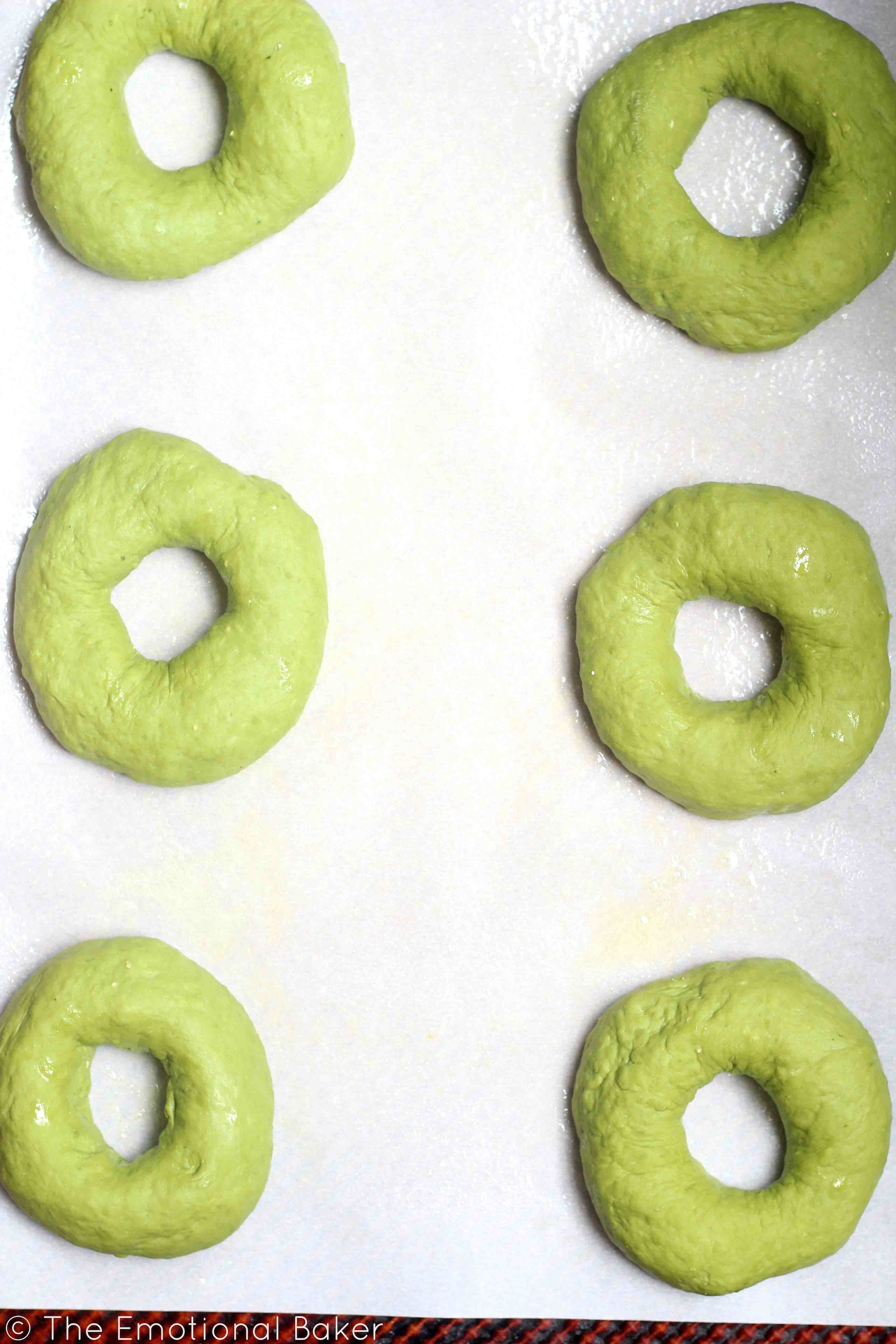 Then the next day it's quite easy to boil/bake them and have hot, fresh bagels. What could be better?
These bagels feature Aiya Cooking Grade Matcha – & a healthy sprinkling of toasted sesame seeds. The matcha gives the bagels a pretty color and a subtle green tea flavor.
I used these as sandwich buns – one night for veggie burgers and another night for loaded veggie sandwiches. I'm sure these would be great for breakfast, too with jam or just as a snack 🙂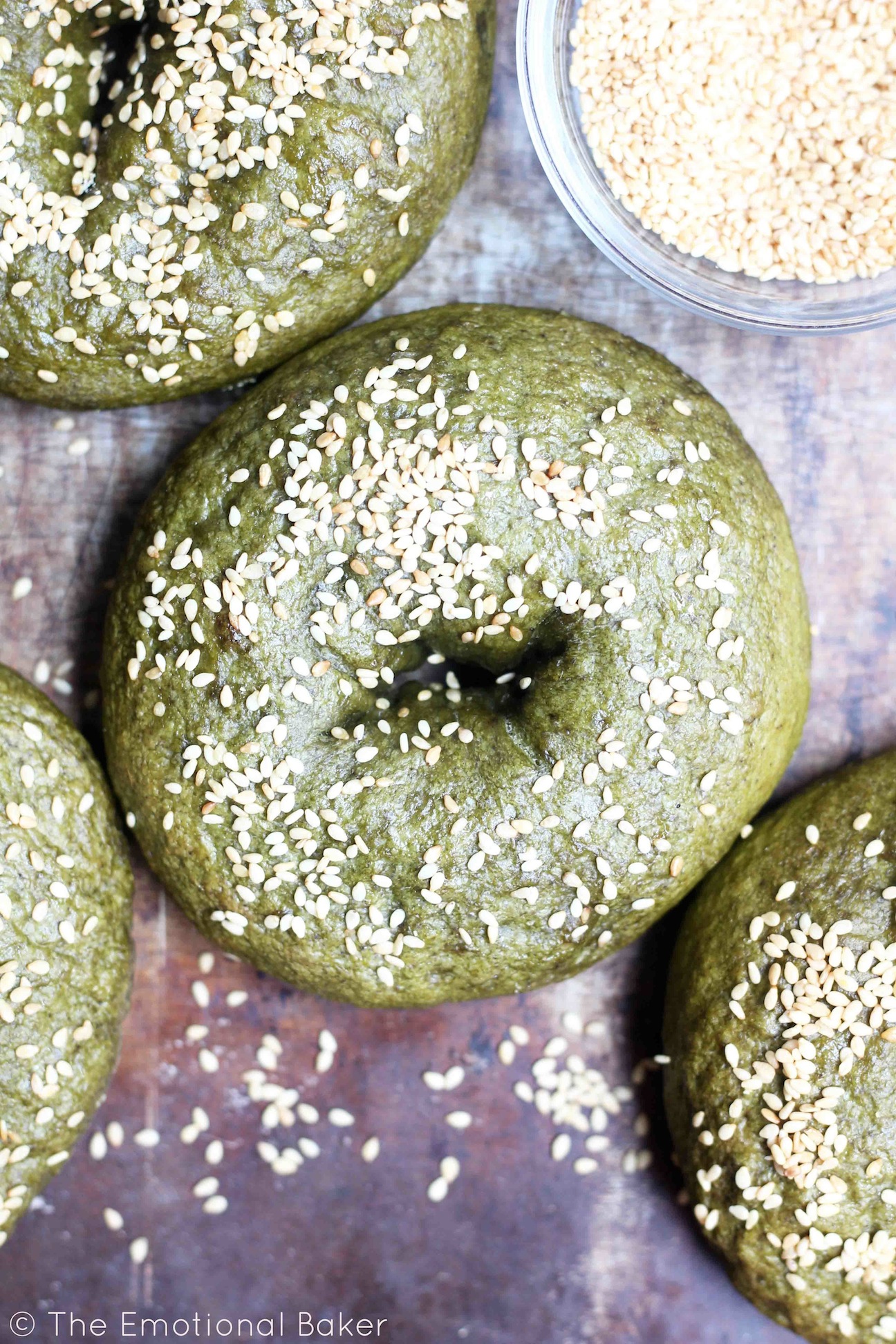 & how could I forget – these use sourdough starter! Don't have any starter hanging around? It's easy to start some, you just have to be patient. I used King Arthur Flour's guide. It took close to 10 days before mine became very active, but it was worth the wait. I've made a basic loaf, cinnamon raisin bread and waffles! It's really fun to feed it and take care of it 😉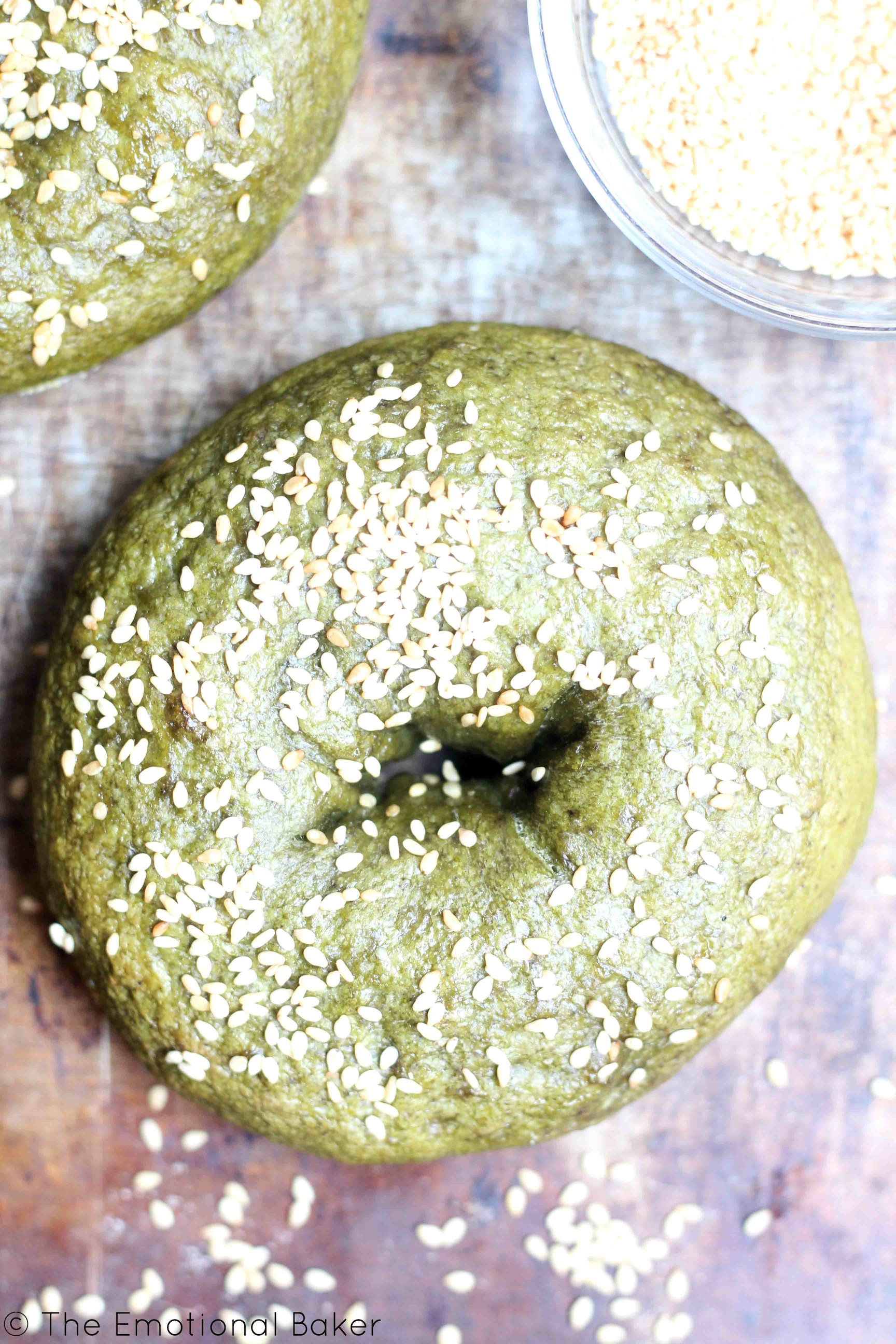 Have you ever made bagels?
Ingredients
Sponge:

1/2 cup sourdough starter, active and fed
1/2 tsp active dry yeast
1 cup room temp water
1.5 cups bread flour

Dough:

1/4 tsp yeast
1.5 tsp salt
2 tbsp brown sugar
1.5 cups bread flour - plus up to a 1/4 cup
2 tbsp Aiya Cooking Grade Matcha

Assembly:

1 tbsp baking soda
Cornmeal
Toasted sesame seeds
Instructions
Sponge:

In a large bowl, combine sourdough starter, 1/2 tsp active dry yeast, water and 1.5 cups bread flour. Cover with plastic wrap and allow to rise 2 hours. Mixture should be very bubbly and active.

Dough:

In a medium bowl or measuring cup combine additional 1.5 cups flour, salt, brown sugar and matcha powder.
Add 1/4 tsp active dry yeast to yeast mixture. Then stir in flour mixture. Knead the dough for 10 minutes. It should not be sticky. Add flour in tsp increments until firm dough forms. Continue to knead until smooth and satiny.
Immediately divide into nine pieces. Knead pieces until smooth ball forms. Place on a clean surface and cover with a kitchen towel. Allow to rest 20 minutes.
Prepare two baking sheets by lining with parchment paper and spritzing with cooking spray.
After rest period, use your thumb to poke a hole through each ball. Stretch it out so that it is 2-3 inches in diameter. Try to keep uniform bagel shape. Place on prepared baking sheet. I recommend 6 on one pan and three on the other. Rest 20 minutes.
After 20 minutes, drop one bagel in a small bowl of water. If it immediately floats, it is ready to retard in the refrigerator. If it does not, allow the bagels to rest 10-20 more minutes until it floats. Cover baking sheets with plastic wrap so none of the dough is exposed. Allow to rest overnight in refrigerator.

Assembly:

When you are ready to bake, bring a large pot of water and 1 tbsp baking soda to a boil. Preheat oven to 500 degrees. Have racks set to middle position. Once boiling, take the bagels out of the refrigerator. Drop as many as will fit (2 to 3) into the boiling water. Have a slotted spoon nearby. Boil for one minute, flip and boil an additional minute. While bagels are in water, sprinkle the same baking sheets with a little cornmeal. Remove bagels from water and place on cornmeal. Lightly spritz with cooking spray and sprinkle with sesame seeds.
Cook bagels for five minutes. Then rotate pans 180 degrees and switch rack positions. Lower oven temperature to 450 degrees. Bake an additional 5 minutes, or until edges of bagels are lightly. This can be difficult to judge due to the green color, but you should be able to see a light ring. Transfer bagels to wire rack and allow to cool 15-30 minutes before slicing.
http://theemotionalbaker.com/2016/09/26/matcha-sourdough-bagels/