Get your chocolate and coffee fix with a Mocha Pecan Cupcake featuring white whole wheat flour, maple syrup and coconut oil.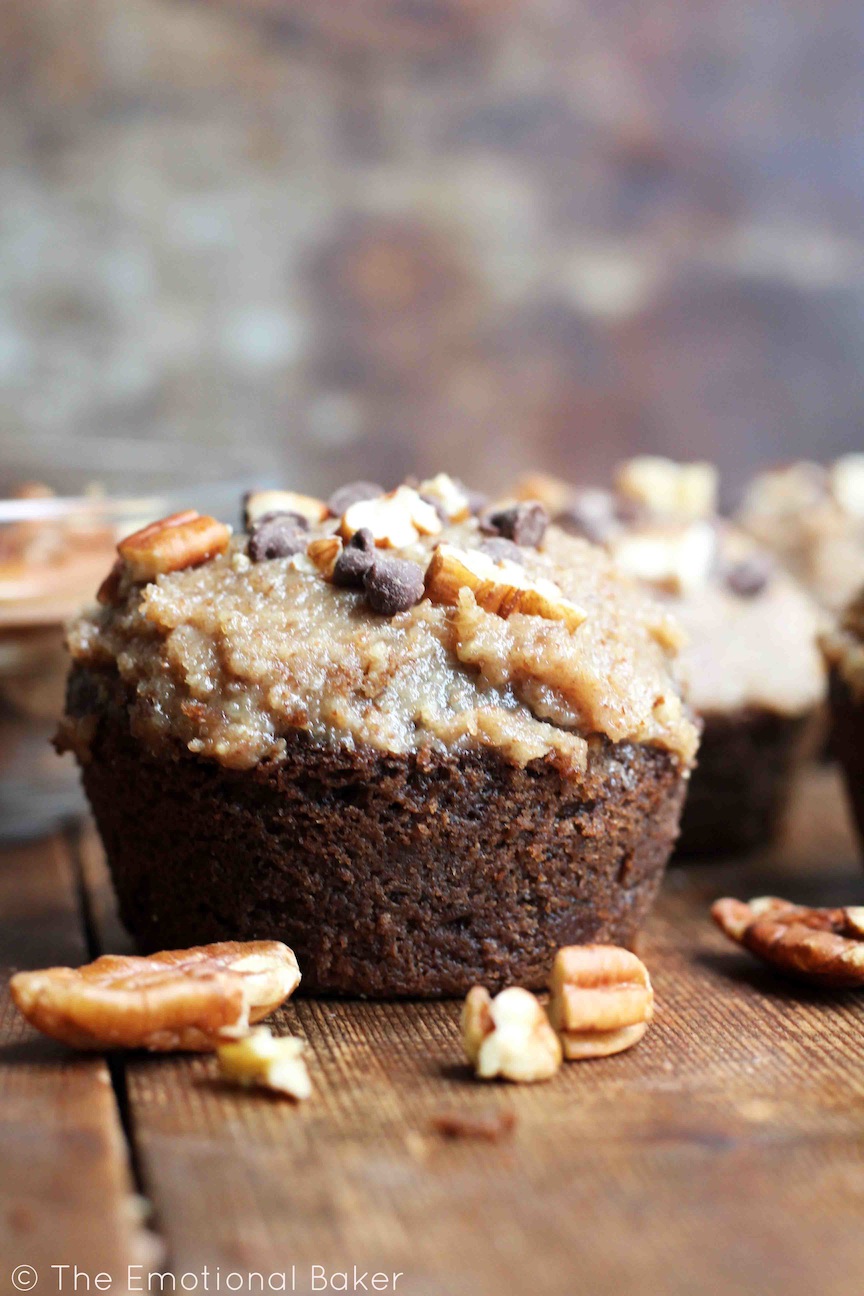 Back when I shared about my family's beach trips and my need for Shirley Temples and Frozen Custard, I totally forgot about one other essential component of a perfect trip to the coast. & that's a Mocha Shake from Port City Java.
It's essential that each trip involves multiple shakes – one when we get there, several throughout our stay, and one for the road trip home.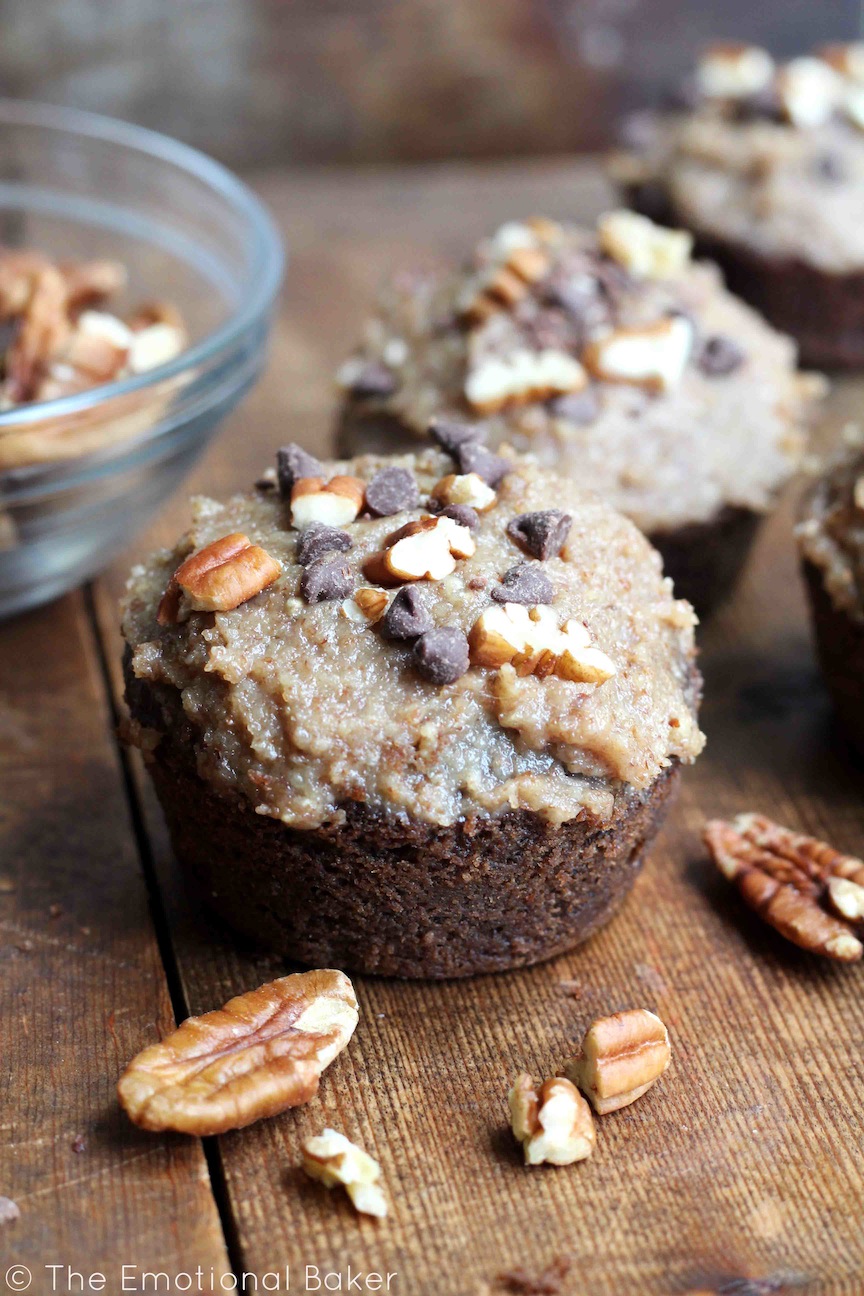 One time, on our way home, I had a little incident with my Mocha Shake.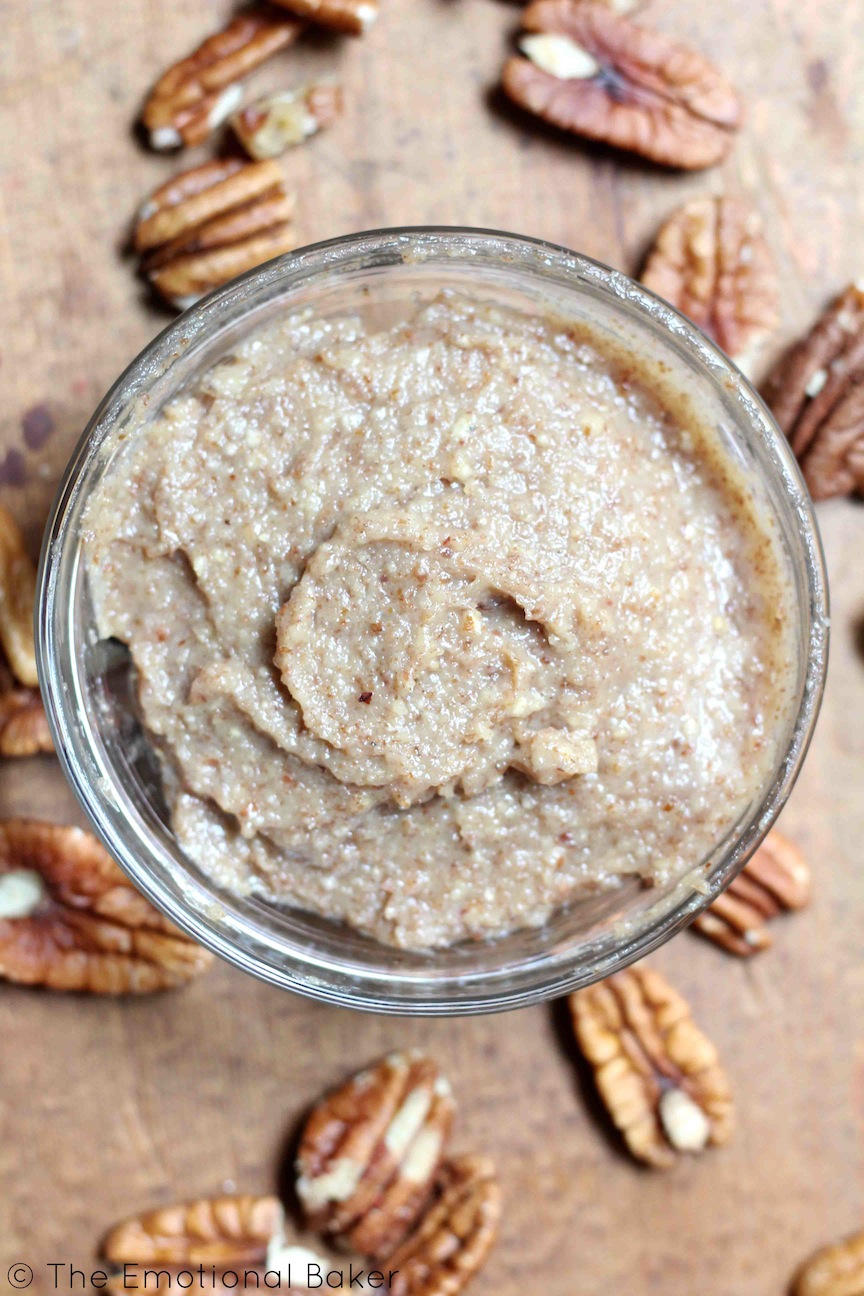 I remember having on these awkward olive capri pants and being in a grumpy mood. After retrieving my freshly blended large Mocha Shake, I proceeded back to the car. I reached for the car door handle – and then – splat! I dropped my shake all over my pants and the cement 🙁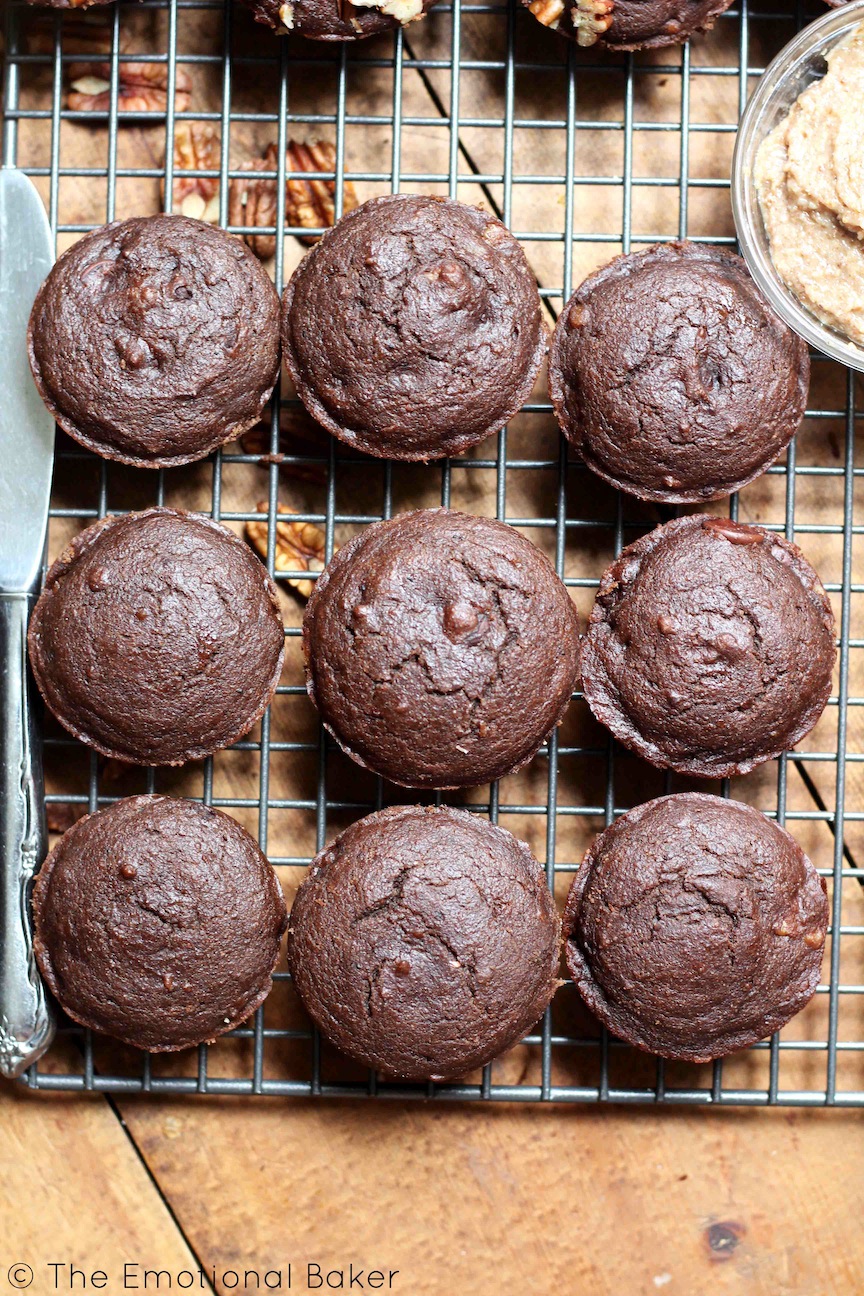 But just like always, my mom took care of things by proceeding back in and getting me a fresh shake.
After slurping down my shake, my mood had no other option but to improve 😉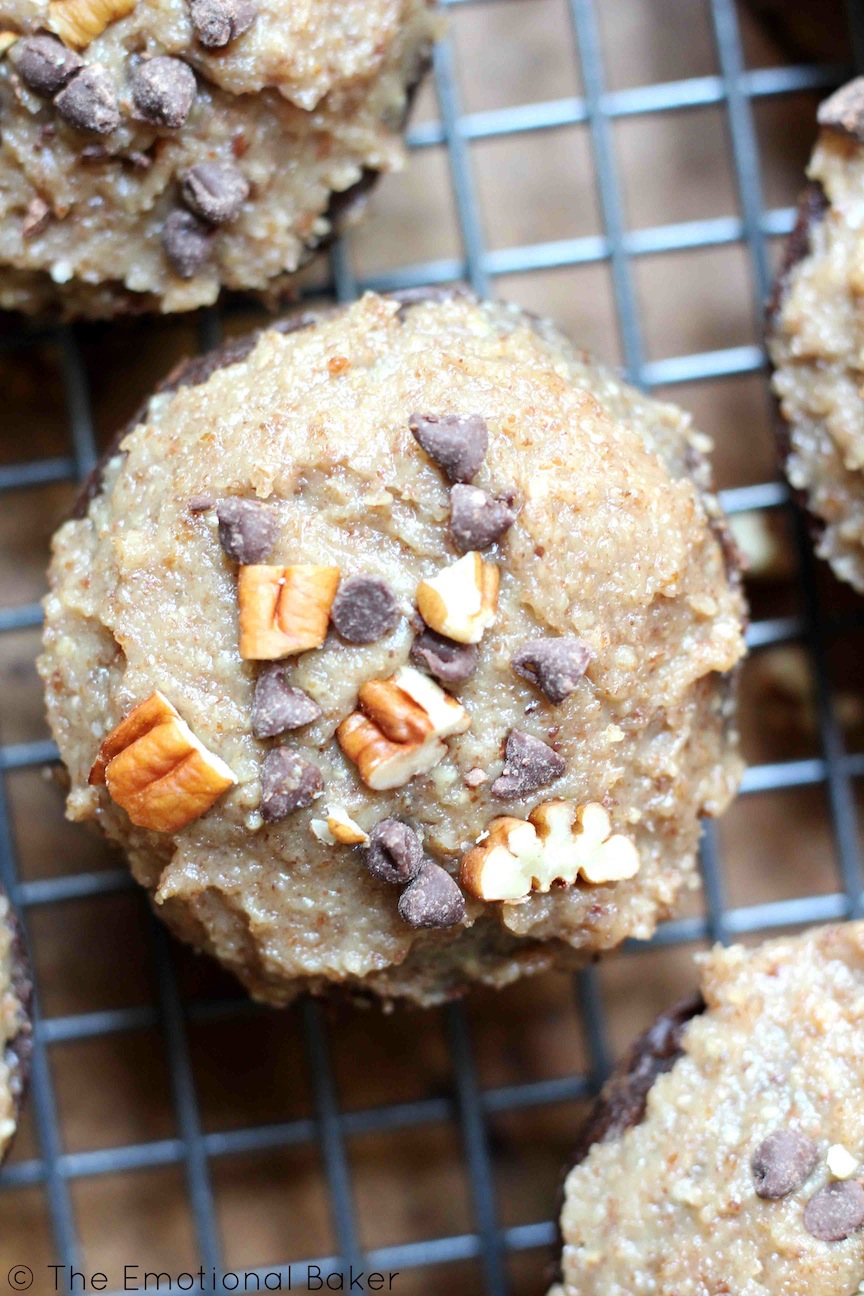 I'm sure these cupcakes could have a similar effect.
They are slightly healthier than your regular cupcake, since they incorporate white whole wheat flour, maple syrup and coconut oil. They get their coffee flavor from a secret ingredient – Beardy Boys' Pecan Joe Pecan Butter! Also, the frosting doesn't have traditional powdered sugar – it's just Pecans, Maple Syrup and Pecan Smash Pecan Butter! I was worried this frosting wouldn't work, but to my surprise it was a winner and complements these Mocha Pecan Cupcakes.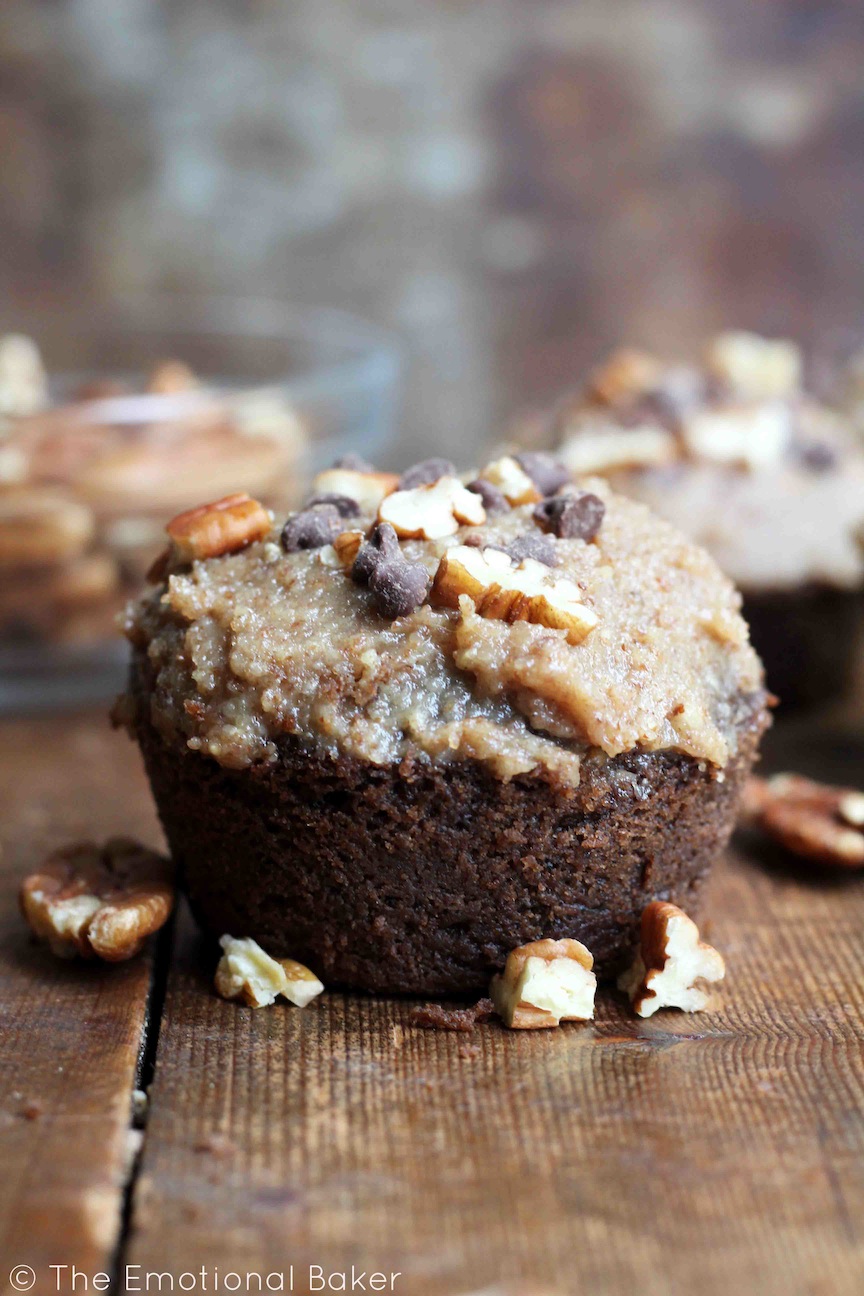 Do you have a favorite coffee drink?
Ingredients
Cupcakes:

1.25 cups white whole wheat flour
1/4 cup cocoa powder
1/4 cup cane sugar
1 tsp baking powder
1/2 tsp baking soda
1/2 tsp salt
150 g vanilla soy yogurt
2/3 cup unsweetened cashew milk or your favorite nondairy milk
1/4 cup maple syrup
1/4 cup coconut oil, melted
1 tsp vanilla extract
2 tbsp Pecan Joe or sub 2 tbsp almond butter, and add 1 tsp instant coffee or espresso powder to dry ingredients
1/2 cup chopped pecans, plus additional for topping
1/2 cup mini chocolate chips, plus additional for topping

Frosting:

2 tbsp Pecan Smash, or 2 tbsp chunky almond butter
1/4 cup pecans
1 tbsp maple syrup
1/2 tbsp water
Instructions
Cupcakes:

Preheat oven to 350 degrees. Grease two muffin tins.
In a medium bowl or measuring, combine flour, cocoa powder, cane sugar, baking powder, baking soda and salt.
In a large bowl, combine soy yogurt, cashew milk, maple syrup, coconut oil, vanilla extract and nut butter. Stir until incorporated.
Fold in dry ingredients, mixing until most lumps are eliminated. Fold in chopped pecans. Divide batter among muffin tins and bake for 12-15 minutes or until a toothpick comes out clean and cupcakes bounce back when pressed.
Allow to cool on wire rack.

Frosting:

In a food processor, combine pecan butter and pecans. Slowly add maple syrup. Add just enough water to reach desired consistency.
Once cupcakes are cool, spread frosting over cupcakes and top with chocolate chips and chopped pecans, if desired.
http://theemotionalbaker.com/2016/10/17/mocha-pecan-cupcakes/
Disclosure: I received free Pecan Butter from Beardy Boys in exchange for developing a recipe. As always, all opinions and recipes are my own. Thanks for supporting the brands that support The Emotional Baker!