This Vegan Pumpkin Chocolate Chip Bundt Cake is perfectly spiced, filled with chocolate and topped with a simple icing.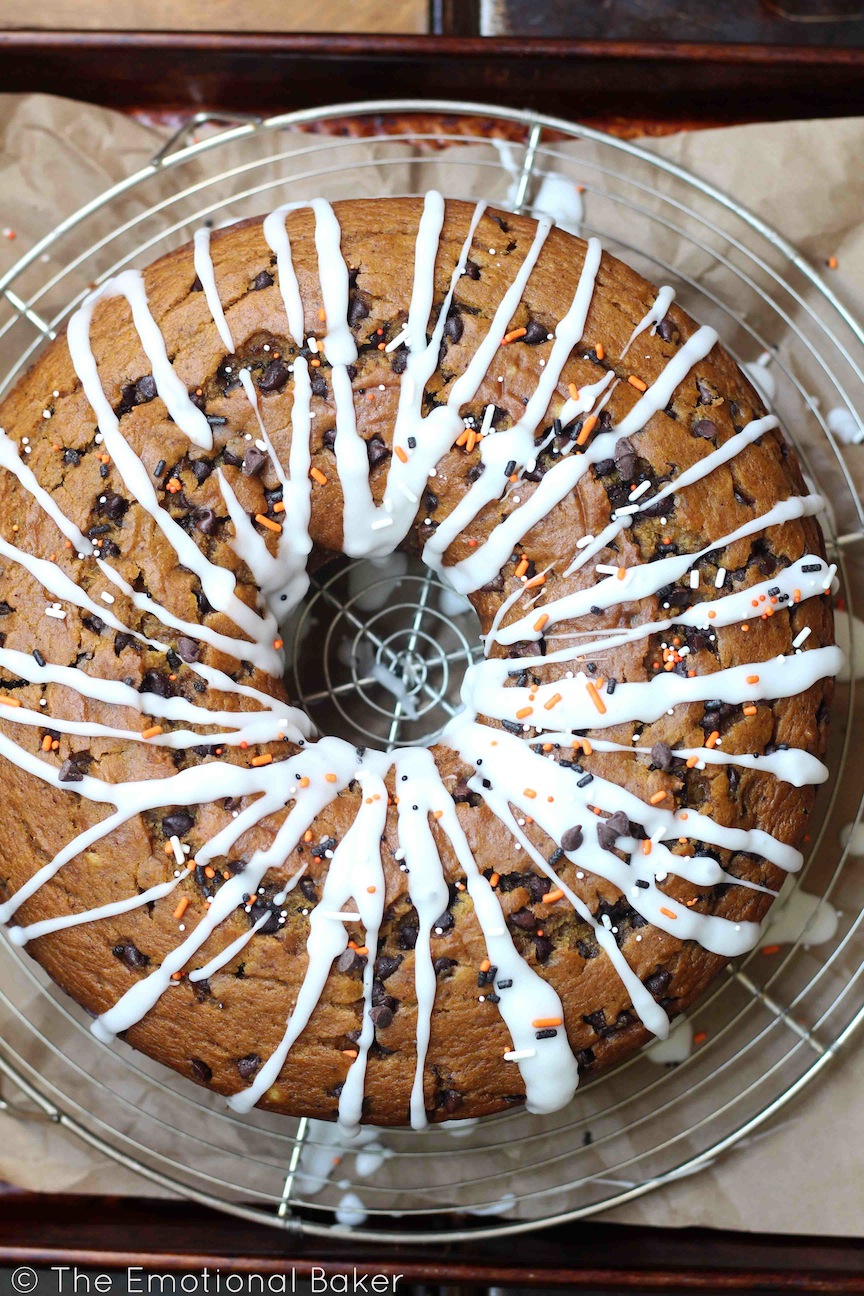 Halloween – the holiday that transforms a regular little girl into a wicked, terrifying witch or a groovy hippie (or a Spice Girl?!?)
I have lots of Trick Or Treating stories – like the time I fell and ripped my pants or when I got the best treat ever – an Oatmeal Creme Pie!!
But today let's talk about one of my more creative costumes.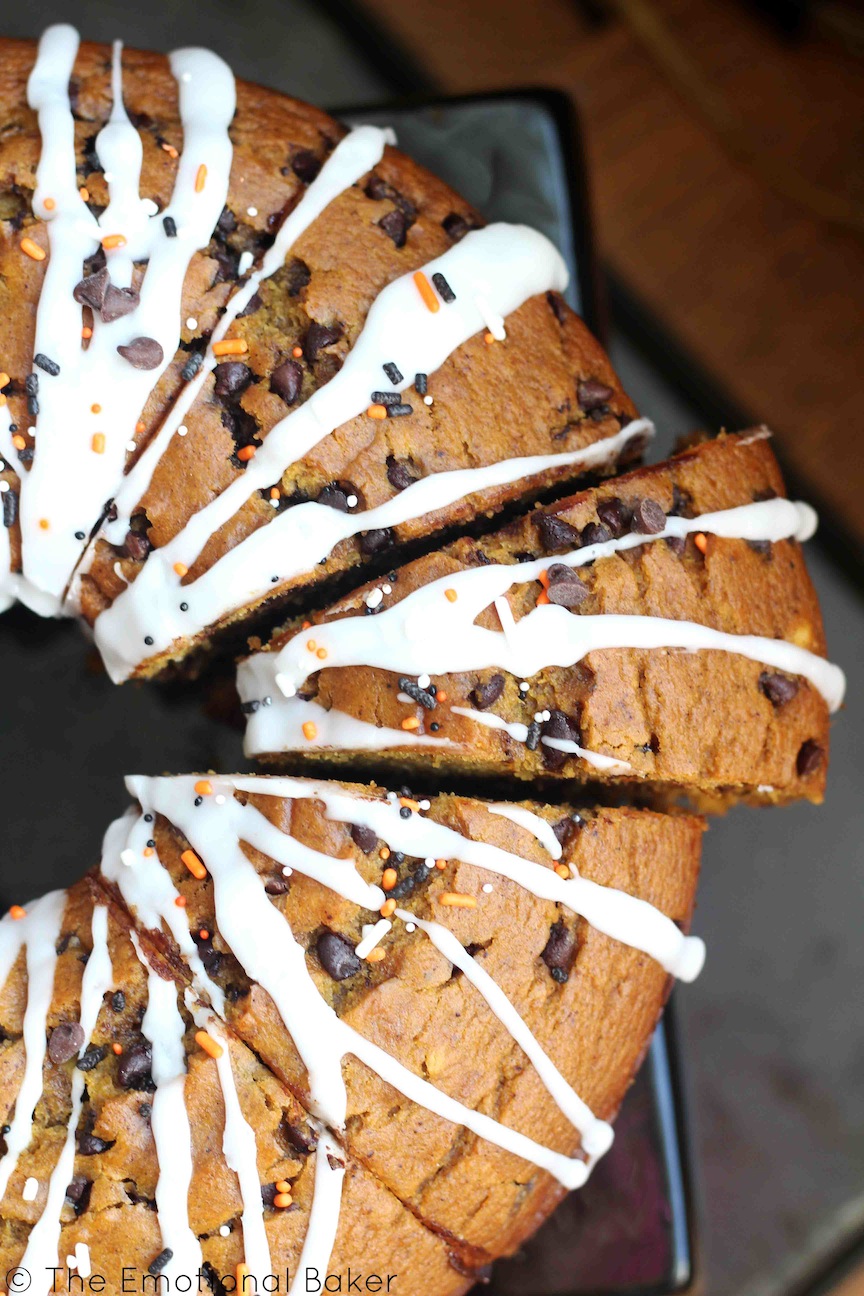 Most Octobers, my family goes to DC for the Marine Corps Marathon and it usually falls right near Halloween. One year, I wanted to be super cool and wear this rad costume.
I really don't know what I was supposed to be.
Here are the components of the ensemble: a long black dress (complete with velvet trim and a rhinestone buckle,) heavy makeup, and an elaborate hair-do consisting of lots of plastic spiders.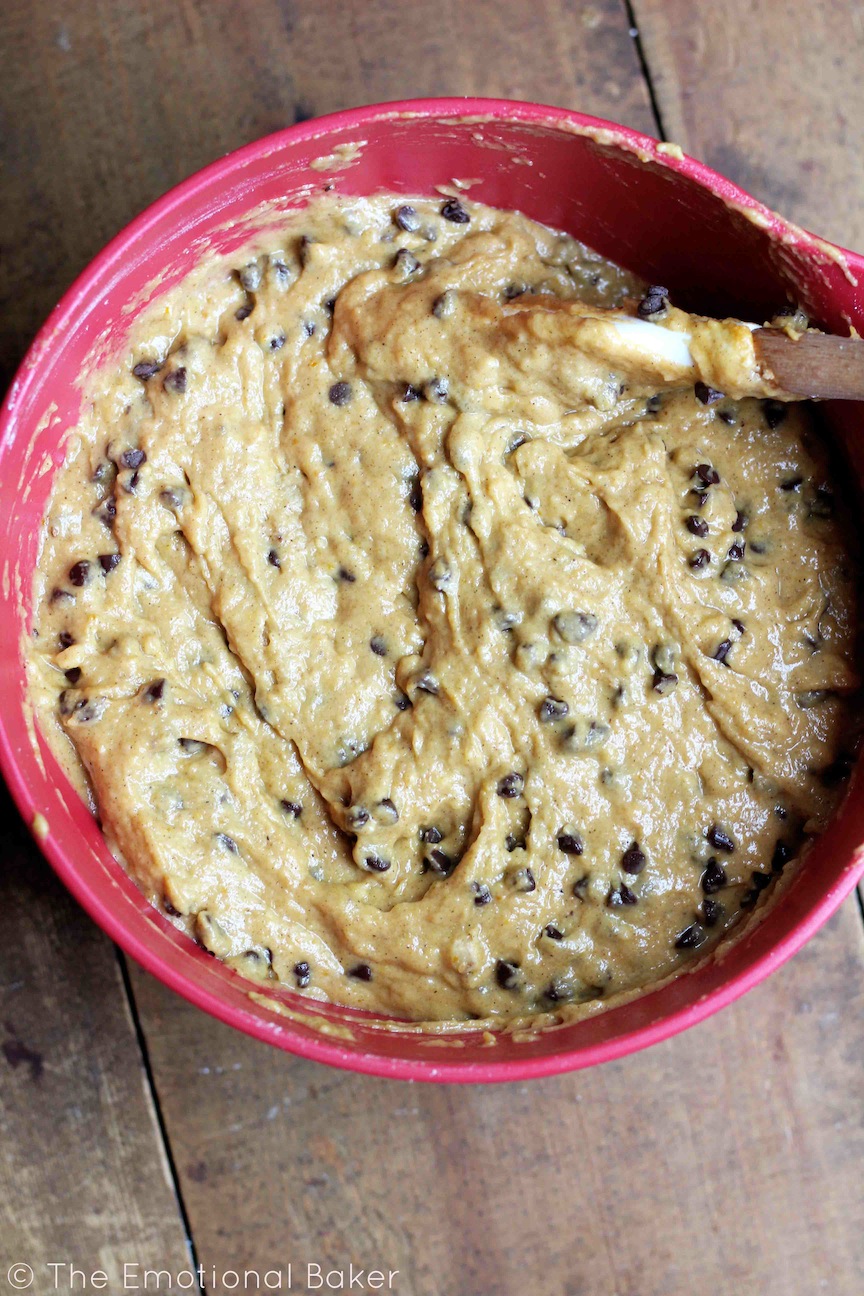 One problem – it was nearly 80 degrees that day (if memory serves me right – so probably not the best costume for cheering on runners.)
Regardless, I thought I was the coolest thing to hit the streets of DC.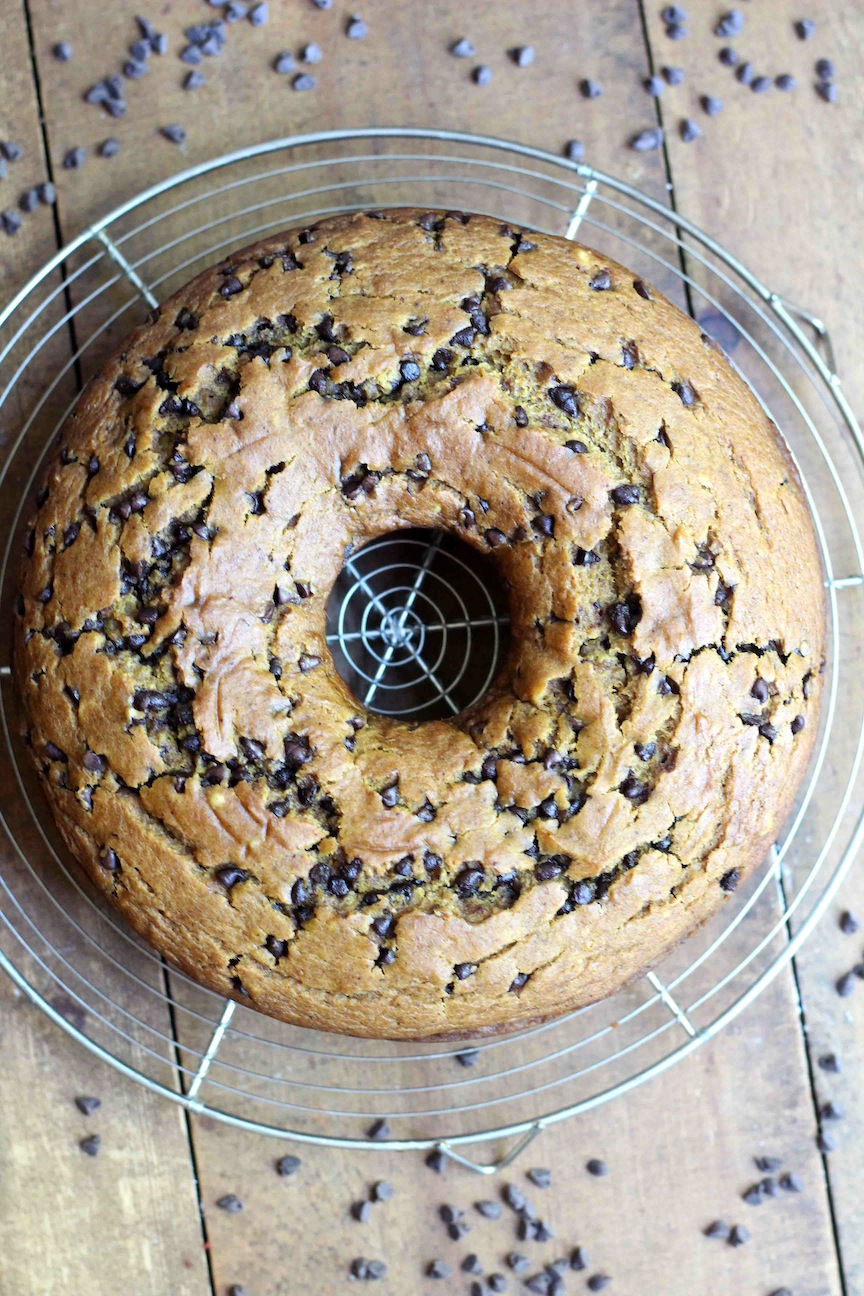 I made sure to refuel after all that cheering (because that uses lots of energy – right?!?!) with gelato from the National Gallery of Art, Pumpkin Spice Malt Balls from Dean and Deluca and a Pumpkin Spice Cupcake from Georgetown Cupcake 😉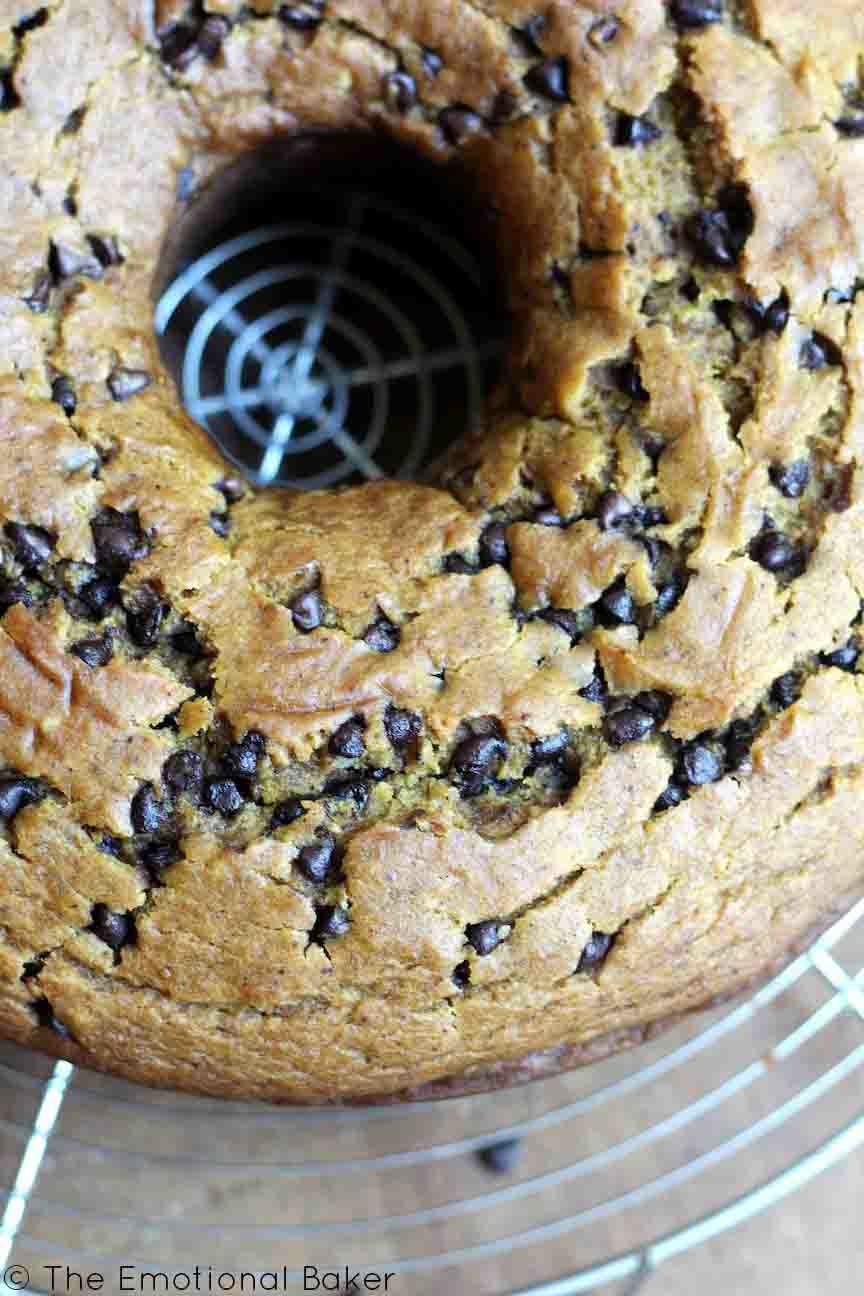 This year I'll settle with dressing up as The Emotional Baker for Halloween (the opposite of an elaborate costume) and have multiple slices of this Pumpkin Chocolate Chip Bundt Cake.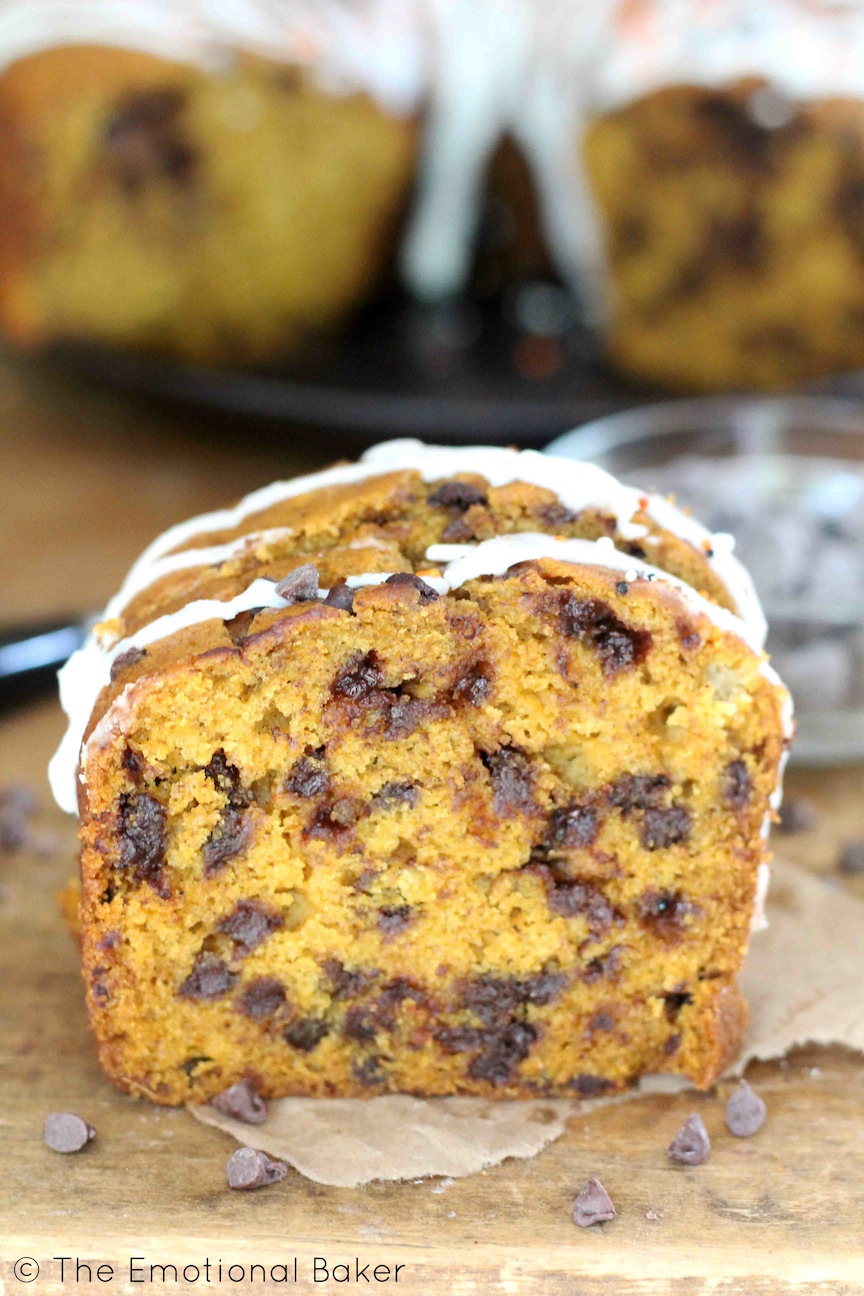 This cake is moist and flecked with chocolate throughout. I think it would make a great treat anytime – it could even make an appearance at your Thanksgiving dessert table!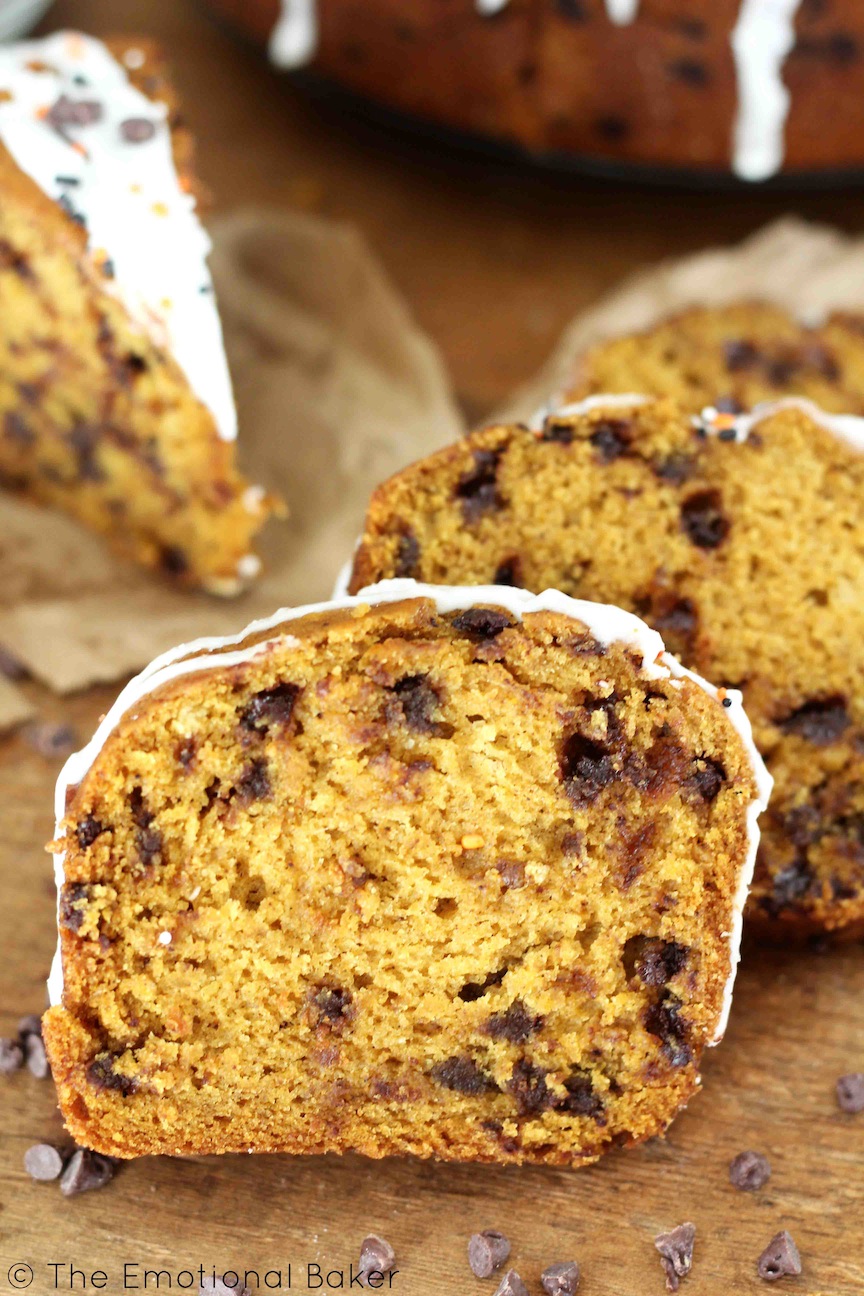 Hope you all have a sweet filled Halloween! Any special costumes planned (or favorites from the past?)
Pumpkin Chocolate Chip Bundt Cake
Ingredients
Cake:

2.5 cups all purpose flour
1.5 cups sugar
2 tsp baking powder
1 tsp baking soda
1 tsp salt
1.5 tsp cinnamon
1 tsp ginger
1/4 tsp cloves
1/4 tsp nutmeg
1/4 tsp allspice
1-15 oz can pumpkin
1 cup unsweetened cashew milk, or non-dairy milk of choice
1/2 cup canola oil
2 tsp vanilla extract
1.5 cups mini chocolate chips

Icing:

1 cup powdered sugar
1 tbsp boiling water
Instructions
Cake:

Preheat oven to 350 degrees. Grease a 16 cup bundt cake pan.
In a medium bowl, combine flour, sugar, baking powder, baking soda, salt, cinnamon, ginger, cloves, nutmeg and allspice. Set aside.
In a large bowl, combine pumpkin, milk, oil and vanilla extract. Add dry ingredients and mix until fully incorporated and few lumps remain. Fold in mini chocolate chips. Spoon batter into bundt pan. Spread batter evenly.
Bake for 50-60 minutes or until a toothpick inserted in the center comes out clean.
Once cooled, use a knife to loosen cake. Carefully invert cake.

Icing:

Stir boiling water into powdered sugar until a smooth consistency is reached. Place cake on top of wire rack with a pan underneath to catch extra icing. Drizzle icing over cake. Decorate with sprinkles, if desired.
http://theemotionalbaker.com/2016/10/31/pumpkin-chocolate-chip-bundt-cake/