You can have your favorite Thanksgiving side for breakfast! This Sweet Potato Casserole Steel Cut Oatmeal is packed with flavor just like the casserole!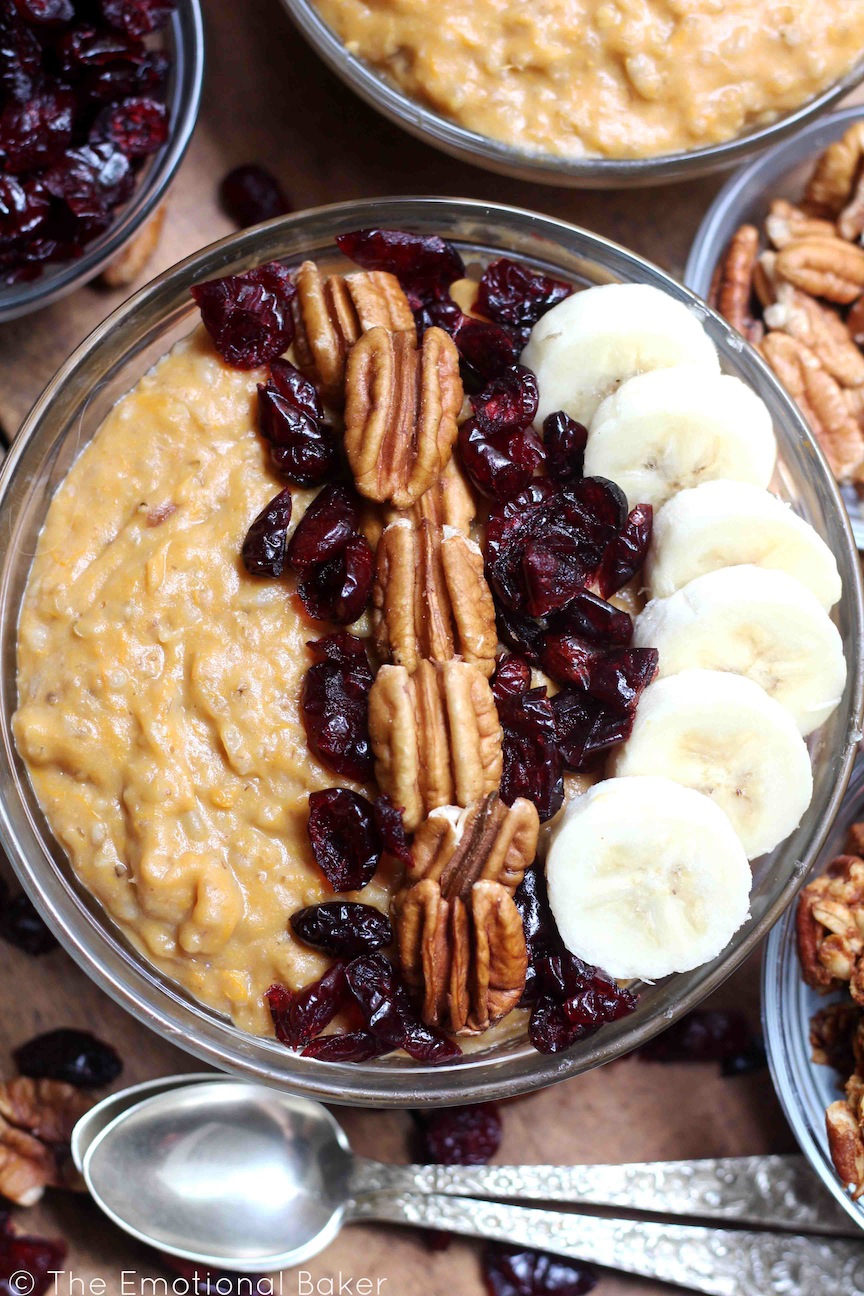 Here's a tip: don't put a sugar crazed child in charge of the sweet potato casserole streusel topping – unless you only want about a quarter of the final product to actually end up on the dish!
If you've been around these parts before, there are two things you've probably noticed – 1) I have little control when it comes to certain foods. 2) I'm not always the best cook or baker.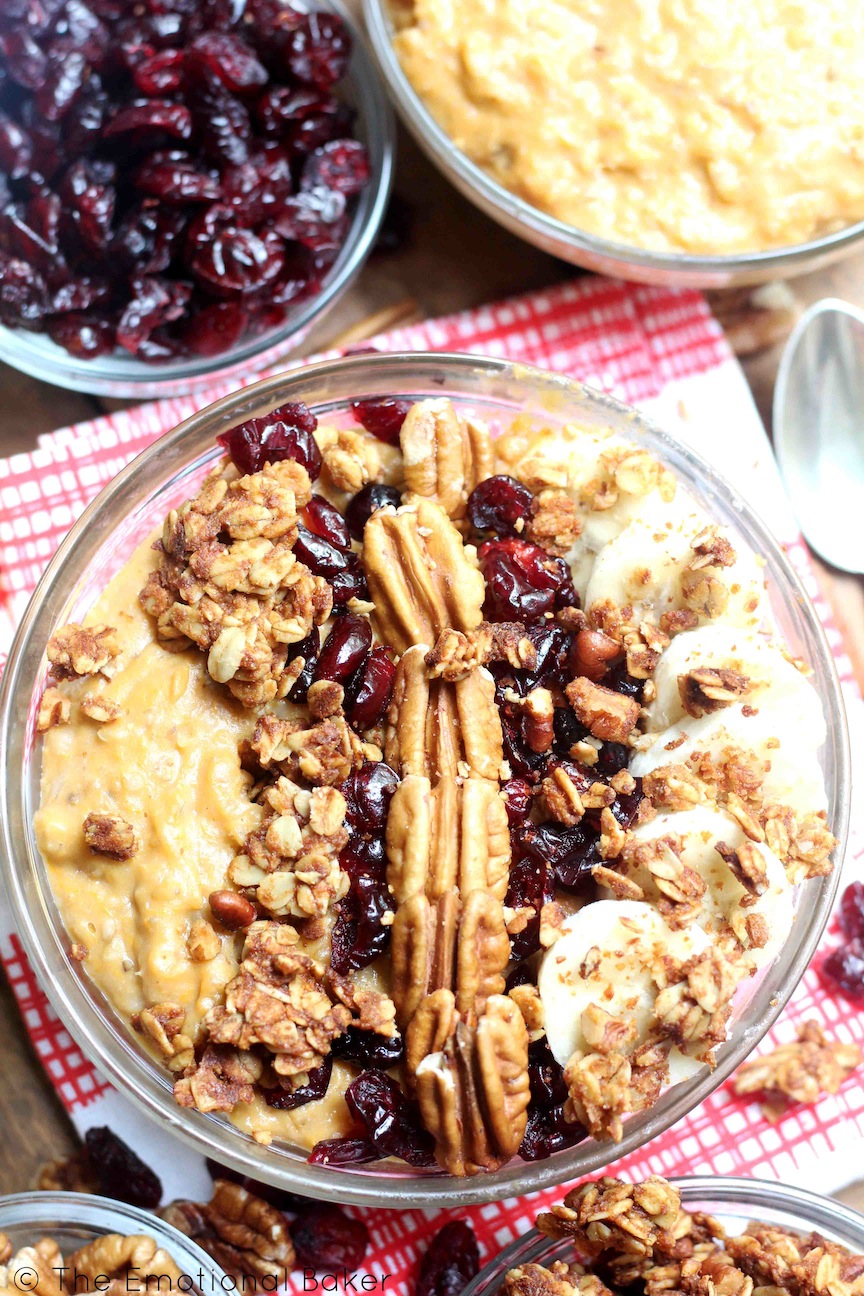 As I've already eluded, these facts apply to my all time favorite dish!! (& let's be honest – the reason I love it so much is because it really is a dessert disguised as a side dish.)
Somehow, in my very early years, I was put in charge of this orange hued beauty. My mom handed me the recipe from an old church cookbook and let me go at it. (But she did help chop up the pecans!!)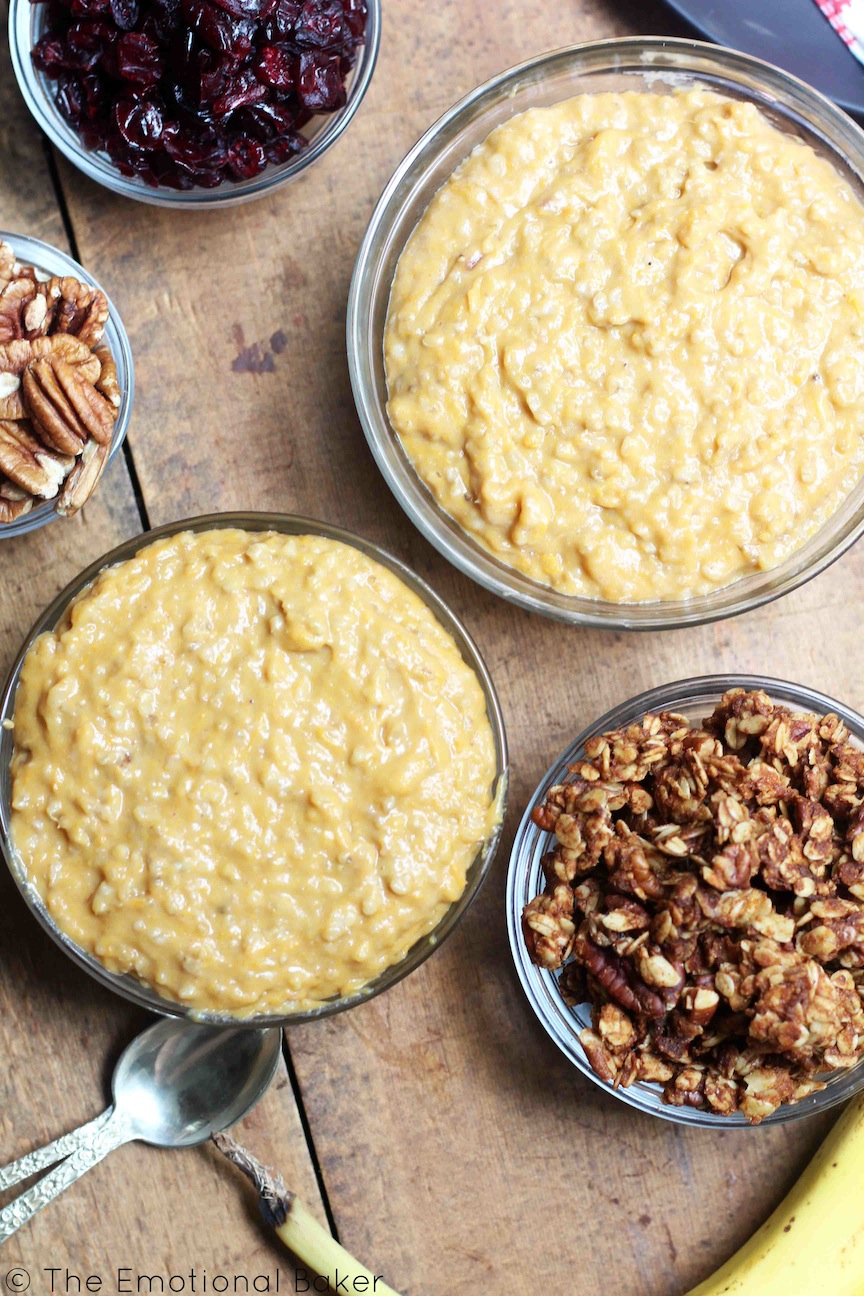 I was confident I would make the best casserole. . . but I made several rookie mistakes before mastering this coveted dish.
Mistake 1: The recipe says to beat the potatoes to remove strings. So, I used a handheld mixer, let the strings accumulate around the whisks, and then I wiped the whisks down – and added the strings back to the creamy potato mixture!!!!
Who does that?!?! The casserole was still delicious even though there was the occasional stringy bite. Luckily, everyone was too nice to say anything about it!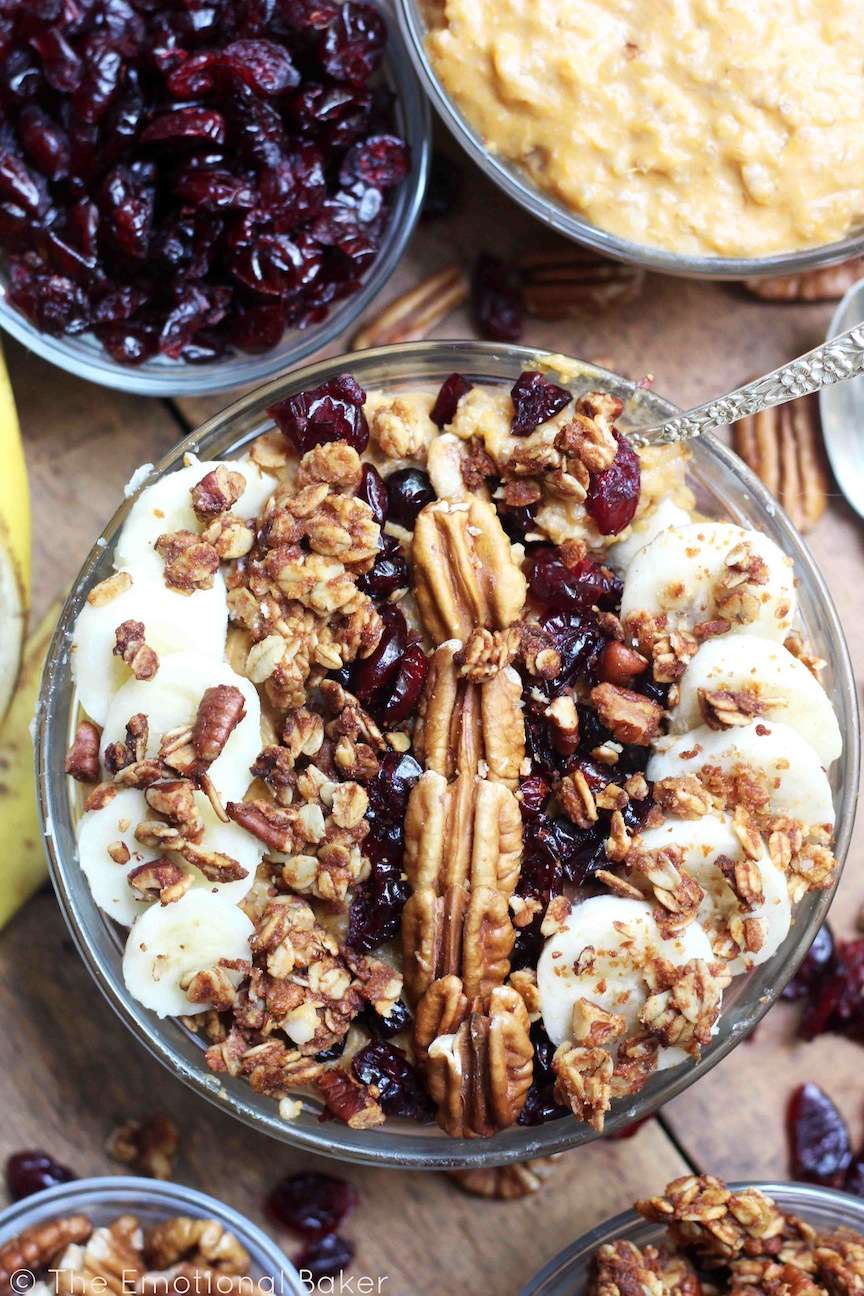 Mistake 2: The original recipe calls for 2 eggs. When my dad first went vegan, I tried subbing the eggs with ground flaxseed. Let me just say, don't try this at home. For starters, I don't like the taste of flaxseed and it was very prominent throughout.
Also, when making something vegan you don't want anyone to suspect that it is vegan. Having flecks of flaxseed throughout totally defeated that purpose. It was obvious to our nonvegan guests that something was off. Next I tried applesauce – not bad, but really not necessary. For this dish, eggs can simply be omitted.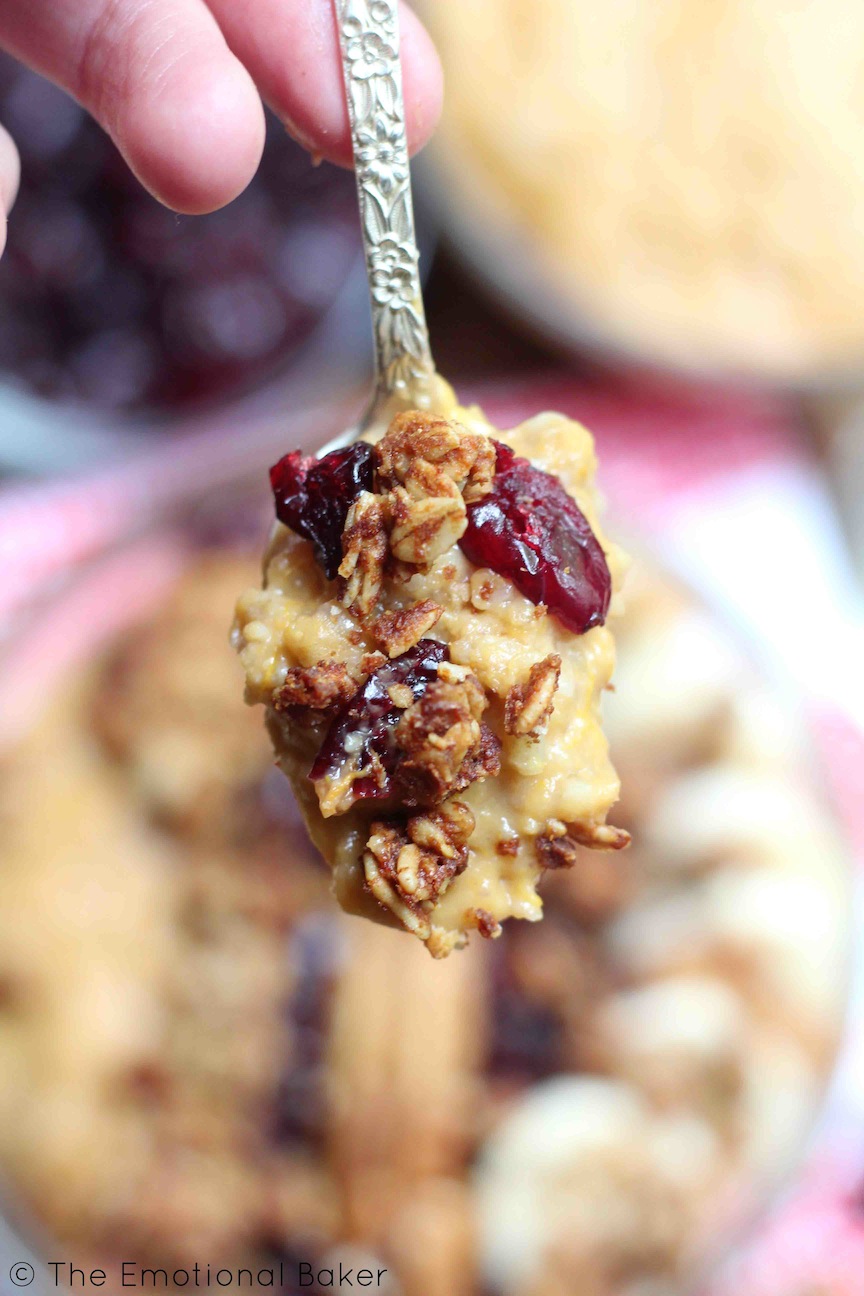 Since I crave this dish year round, I started thinking of new ways to incorporate these flavors. Thus this Sweet Potato Casserole Steel Cut Oatmeal was born. & it really does taste like the casserole!!
To make this oatmeal, I toasted the oats briefly, then simmered the mixture together until thick and creamy. The cook time is a little long, but it's so worth it.
Then I added brown sugar for an authentic casserole taste, but you can swap in your favorite sweetener if you'd prefer. Also, for an extra special add-in, I stirred in Beardy Boys' Pecan Smash Pecan Butter. It really helped give the oats that essential pecan flavor. However, you could sub another nut butter for added protein or just omit it entirely.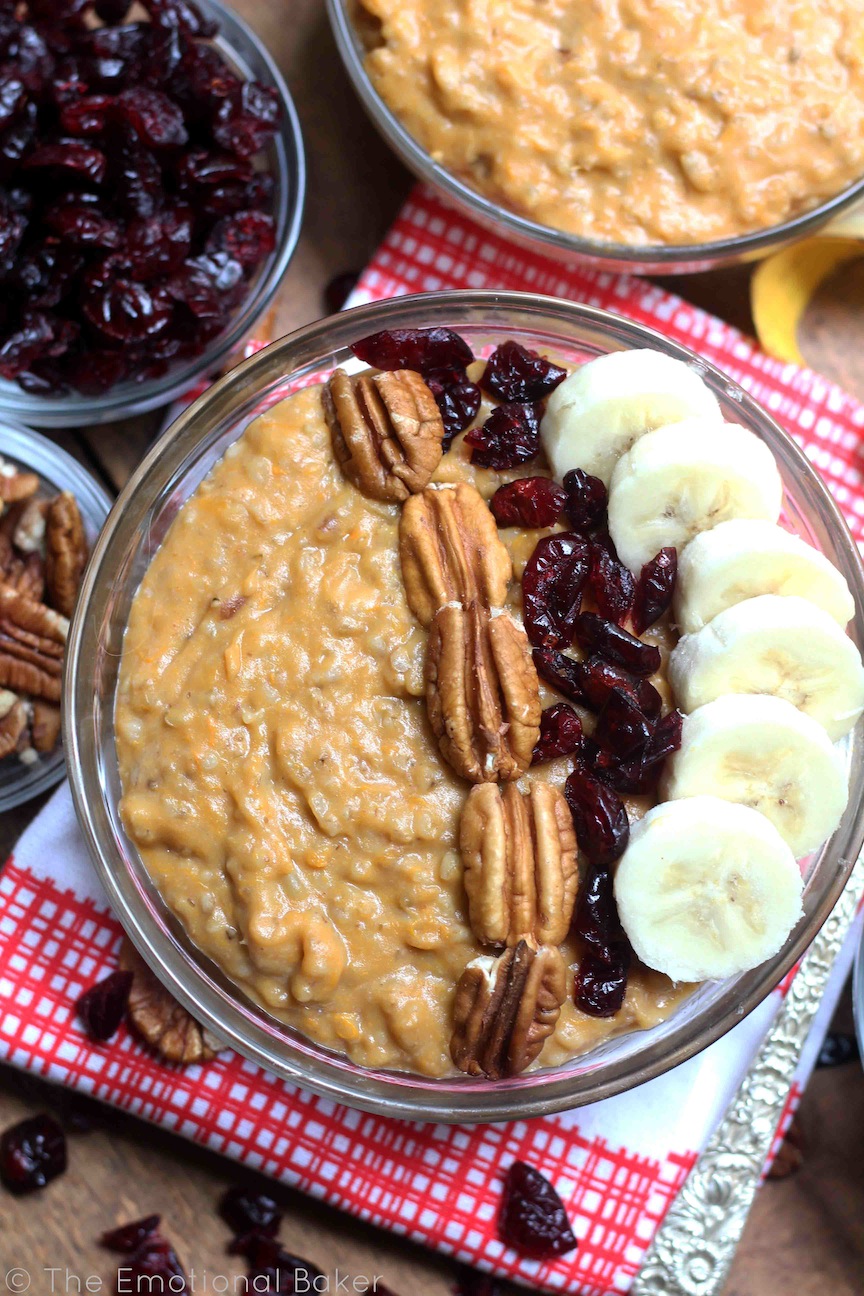 What's your favorite Thanksgiving side dish?
Sweet Potato Casserole Steel Cut Oatmeal
Ingredients
1/2 tbsp coconut oil
1/2 cup steel cut oats
1 cup unsweetened cashew milk
2 cups water
1 cup mashed roasted sweet potato
2 tbsp brown sugar
1/4 tsp salt
1 tsp vanilla extract
2 tbsp nut butter, optional - Try Beardy Boys' Pecan Smash Pecan Butter

Toppings:

Pecans
Cranberries
Granola
Sliced Banana
Instructions
Melt coconut oil over medium heat in medium sized pan. Once melted, add oats and stir until toasted and fragrant. Add milk, water and sweet potato. Bring mixture to a boil. Reduce heat to medium low and simmer oats for 50-60 min, or until desired consistency is reached. Stir oats often, making sure oats do not stick to bottom of pan. Remove from heat and stir in brown sugar, salt, vanilla extract and pecan butter. Allow to sit a few minutes.
Serve oats with desired toppings.
http://theemotionalbaker.com/2016/11/14/sweet-potato-casserole-steel-cut-oatmeal/
Disclosure: I received free Pecan Butter from Beardy Boys in exchange for developing a recipe. As always, all opinions and recipes are my own. Thanks for supporting the brands that support The Emotional Baker!