This Vegan Sweet Potato Cake is packed with flavor and perfect for any celebration. Added bonus – it's one of the easiest layer cakes you'll ever make!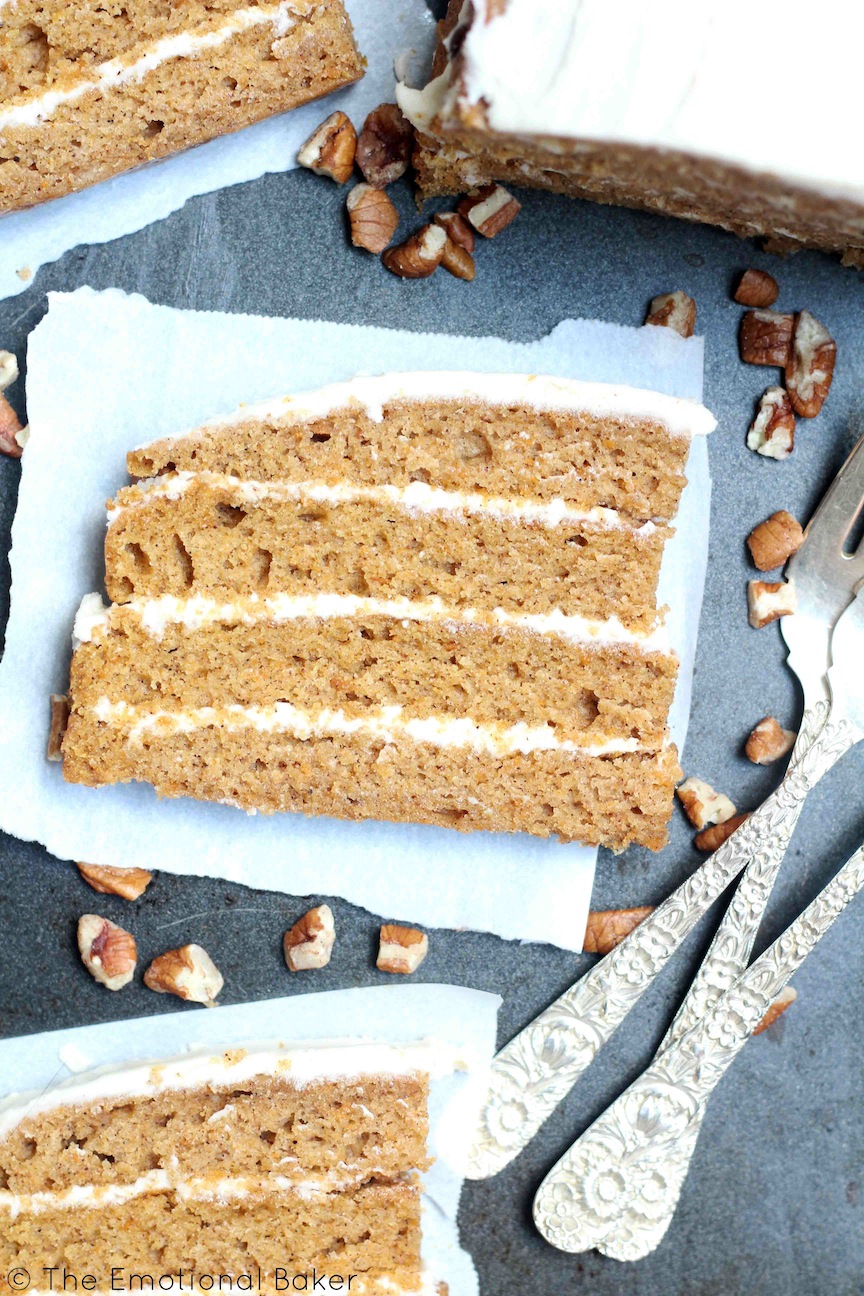 The Emotional Baker is not a Pie Maker. (& a rolling pin is her biggest enemy.)
Do you follow me on Instagram? Do you beg to differ based on: exhibit a, exhibit b, or exhibit c?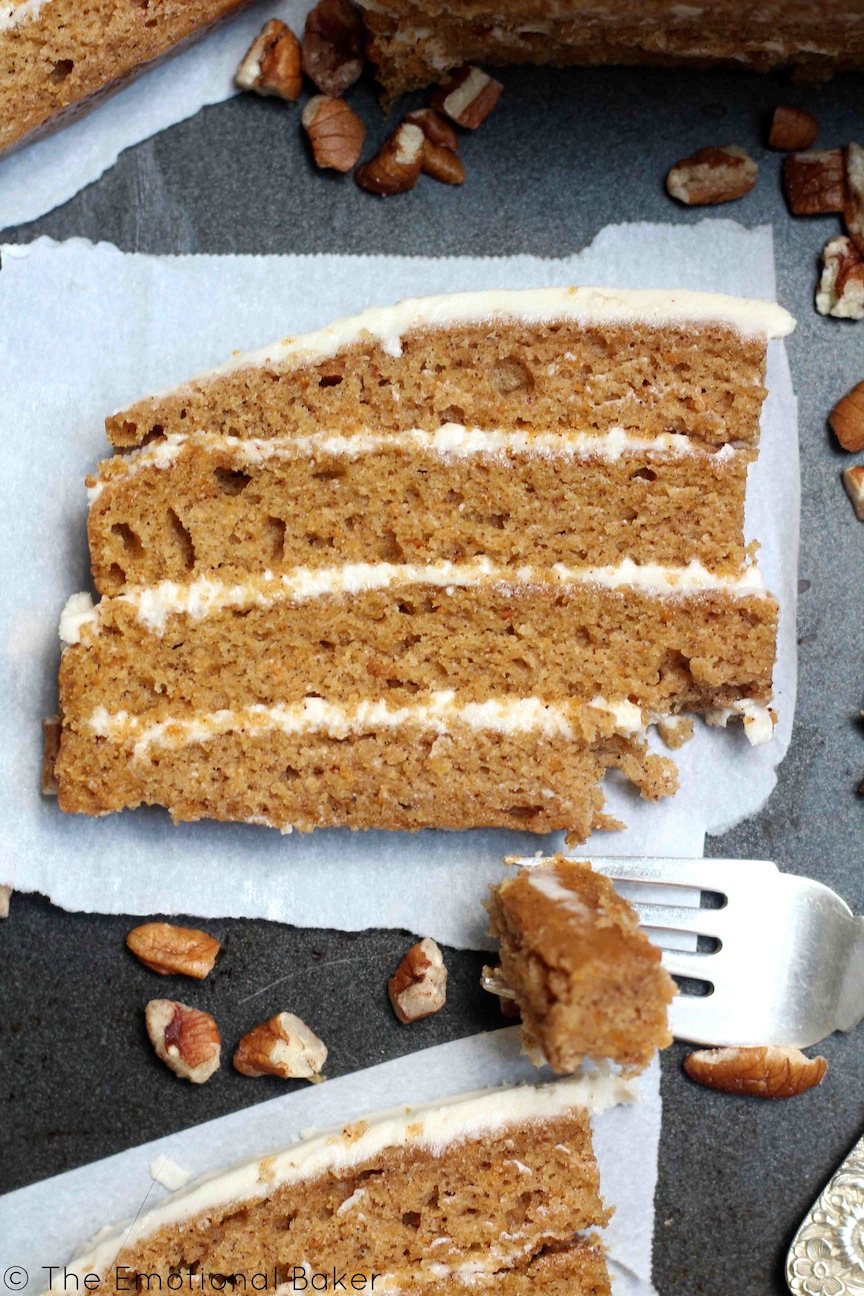 Well, these bad boys had some serious flaws.
Take exhibit c for example – Maple Pecan Pie. This was my second time making this – and I really thought I mastered it. The first time I turned the caramel sauce into candy!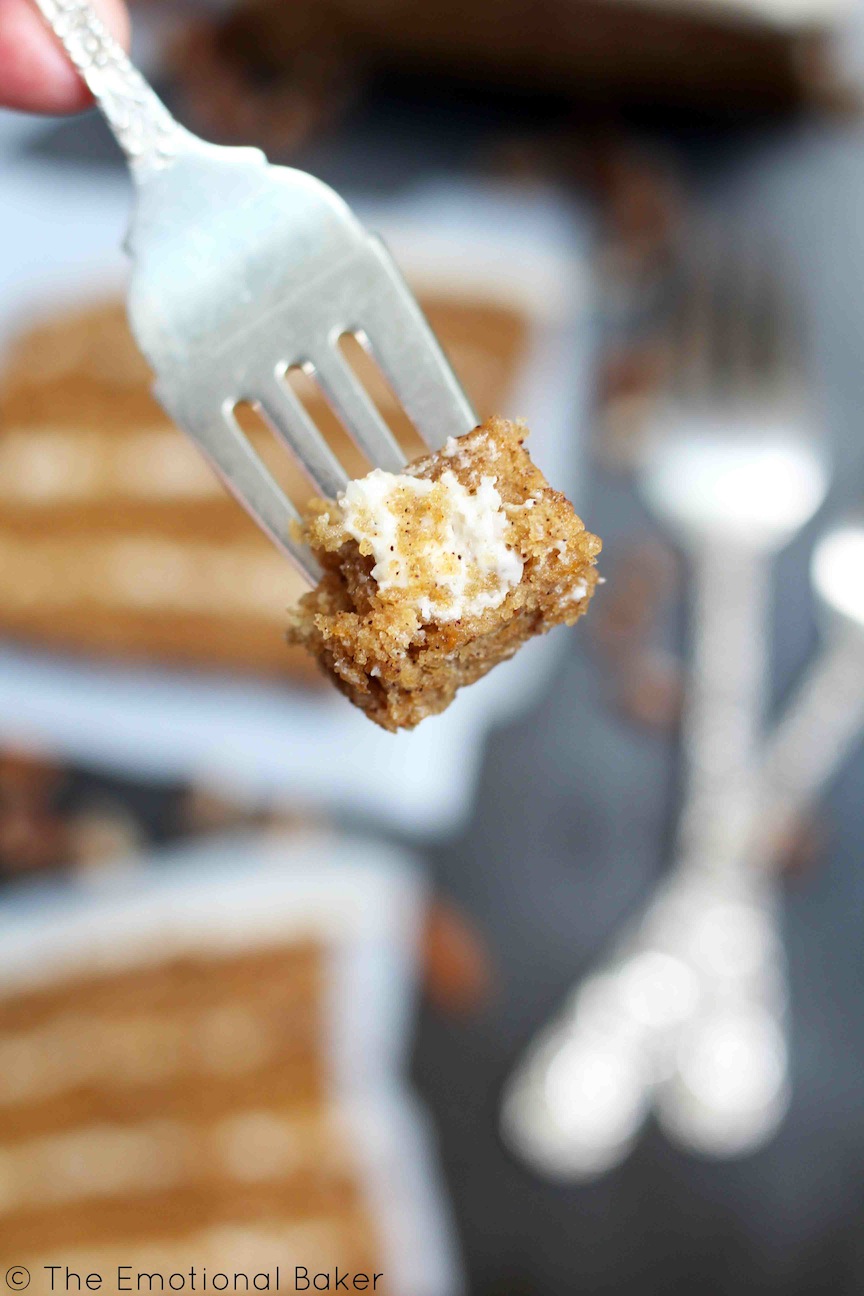 That didn't stop me from trying the recipe again though. The second time I tried to be really patient. Everything was going like it should and I really thought I had a winner. But the pie had a secret. When I sliced into it, it was a gooey, liquidy mess – although still delicious!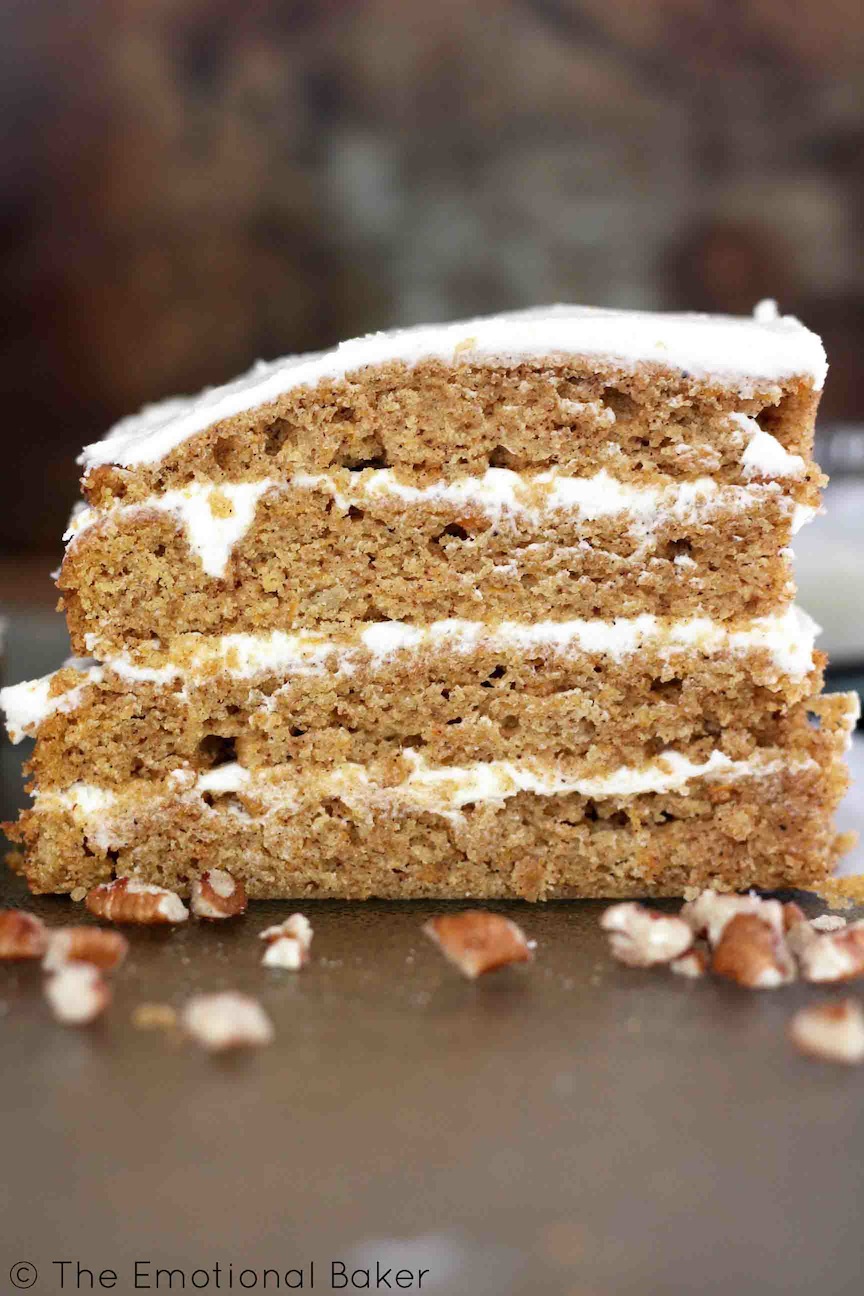 Sure I've improved over the years because I'm determined to make a perfect pie, but that day hasn't happened, yet.
Although I still plan on making a not so perfect pumpkin pie this Thanksgiving, I think this Sweet Potato Cake would be a perfect treat to change things up a bit. & believe me it is easy! This is not your traditional layer cake.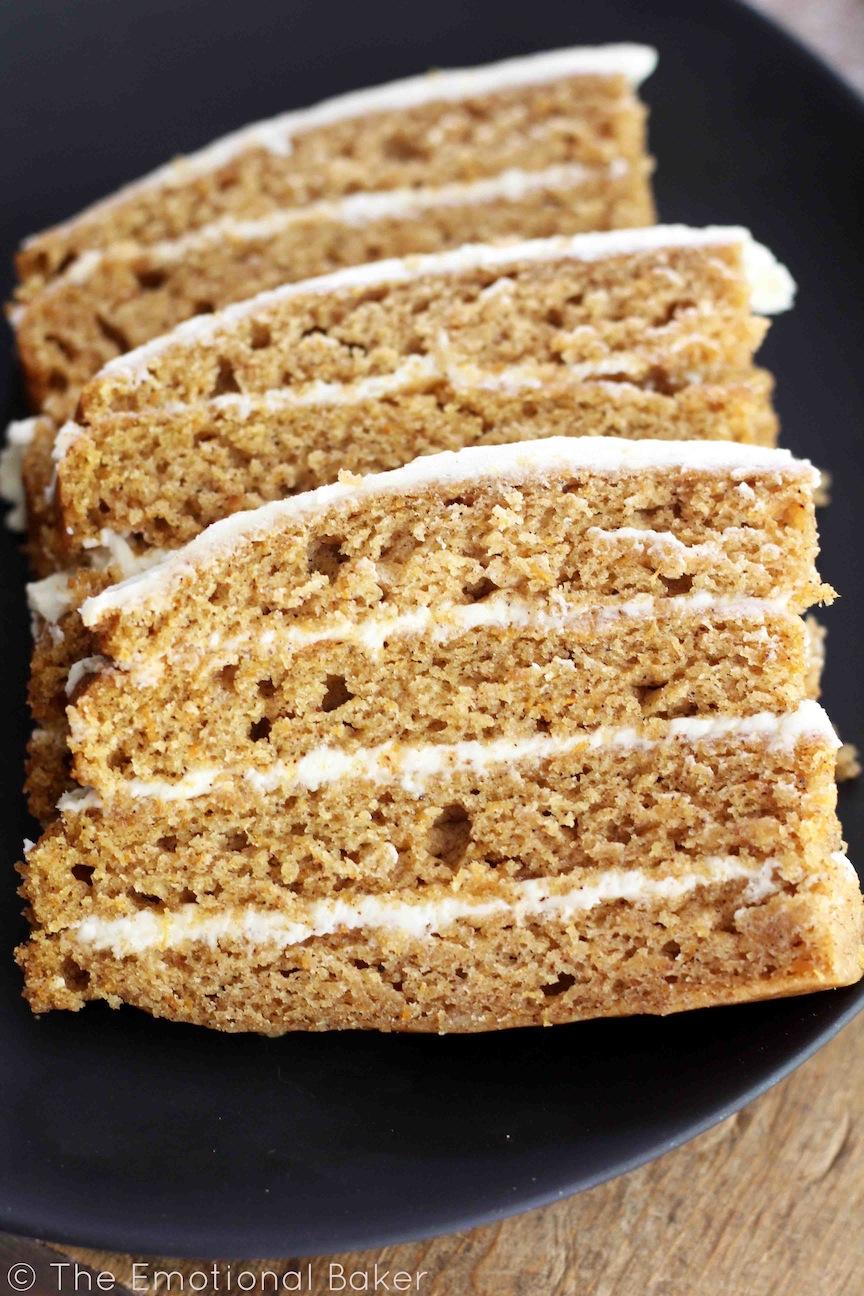 You bake this cake in a square dish and then cut it so you make a four layer rectangle cake.
It's not the prettiest cake, but when it's sliced no one will know you took a shortcut! I opted to leave the edges bare – like a naked cake, but you could frost the whole thing if you want.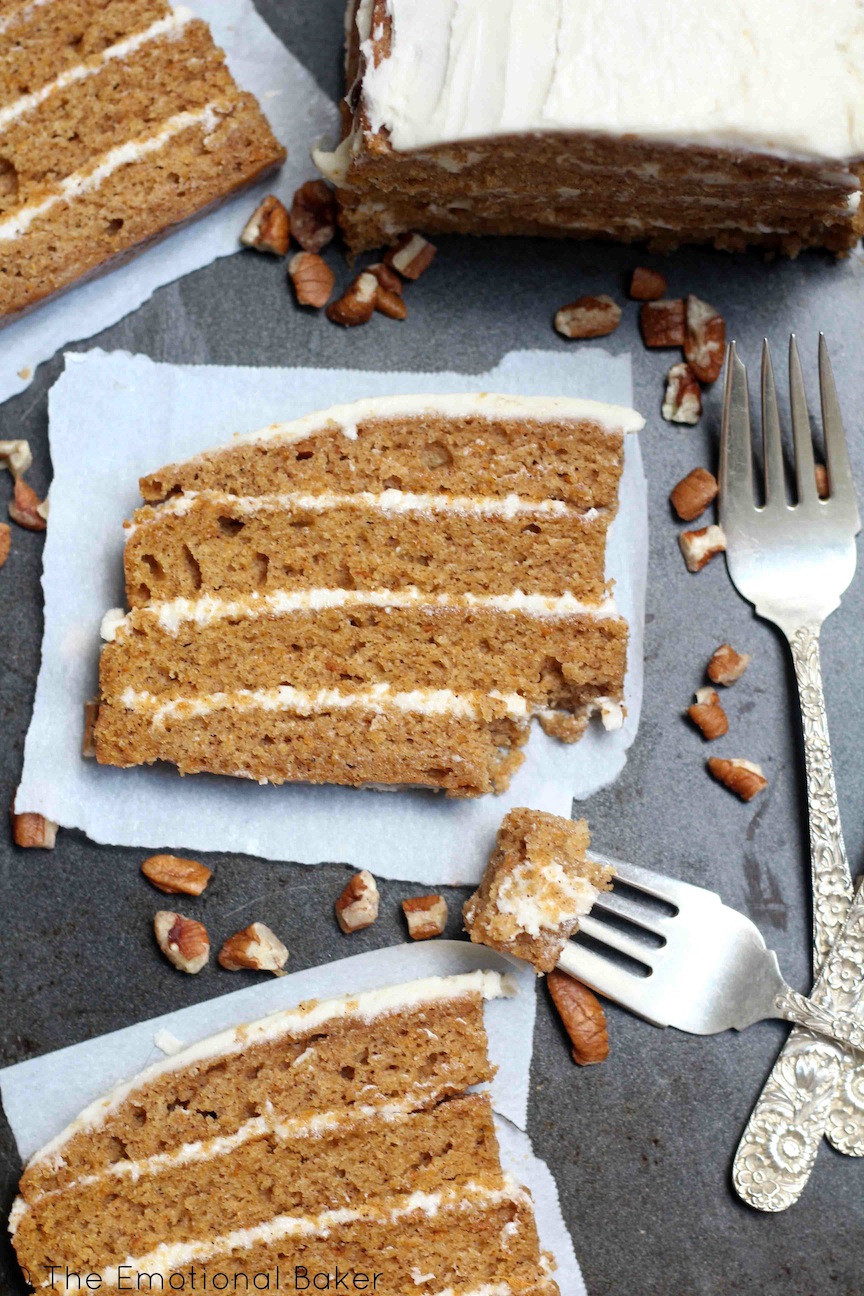 What desserts will you have this Thanksgiving?
Ingredients
Cake:

1.25 cups all purpose flour
3/4 cup sugar
1 tsp baking powder
1/4 tsp baking soda
1/4 tsp salt
1 tsp cinnamon
1/2 tsp nutmeg
1/2 cup sweet potato, mashed - about 1 potato, roasted
2/3 cup unsweetened cashew milk, or nondairy milk of choice
1/3 cup canola oil
1 tsp vanilla extract

Frosting:

1/2 cup margarine
3 cups powdered sugar
1 tsp vanilla extract
1 tbsp + 1 tsp nondairy milk
Instructions
Cake:

Preheat oven to 350 degrees. Grease a 9 inch square baking dish. Line the bottom with parchment paper. Grease again.
In a medium bowl, combine flour, sugar, baking powder, baking soda, salt, cinnamon and nutmeg. Set aside.
In a large bowl, combine mashed sweet potato, cashew milk, oil and vanilla extract. Fold dry ingredients into wet and mix until most lumps are eliminated.
Spread into prepared pan.
Bake for 28-30 minutes or until a toothpick inserted in the center comes out clean. Allow pan to cool on wire rack.
Once cool, turn out of pan. Cut the square into two rectangles, right in half. Then split each half into horizontal layers so you have four thin rectangles of similar size.

Frosting:

Beat margarine. Add powdered sugar, beat. Add vanilla extract, beat. Add milk one tsp at a time until frosting forms.

Assembly:

Spread sliced rectangles with frosting, stacking layers as you go. When serving, slice cake vertically.
http://theemotionalbaker.com/2016/11/21/sweet-potato-cake/