Have pecan pie in cookie form! These Pecan Pie Shortbread Cookies feature a buttery crust and are topped with maple caramel pecans.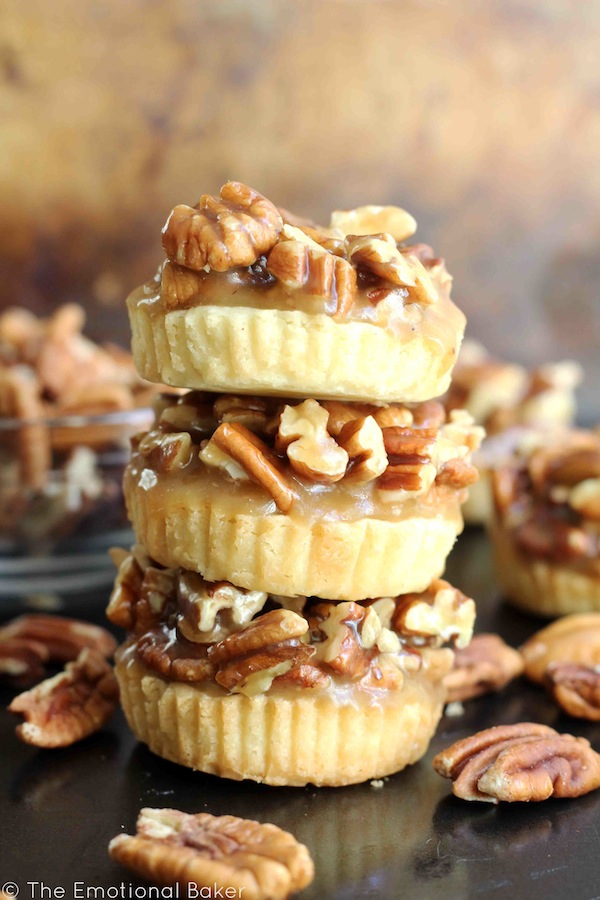 I love taking walks in fall – the changing leaves, the cooler temps.
But there's one thing I can do without – & that's everyone's giant pile of leaves stacked on the edge of the street.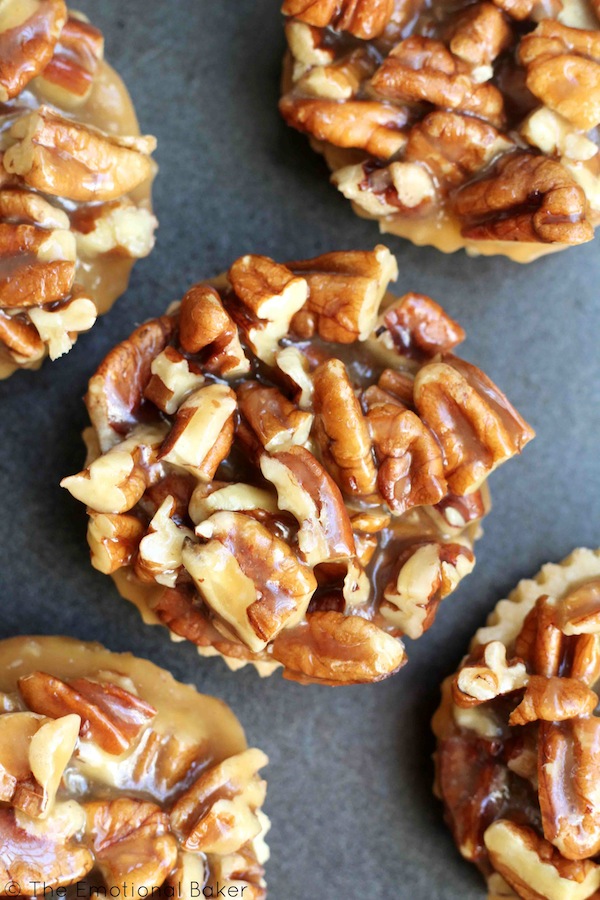 I learned early on that those things are dangerous.
One fine November day, my mom, golden retriever, Max, and I headed out for a walk. We proceeded up the street, everything seemed to be normal. And then – next thing I know Max is pulling me over into a pile of leaves. & a mighty big pile at that!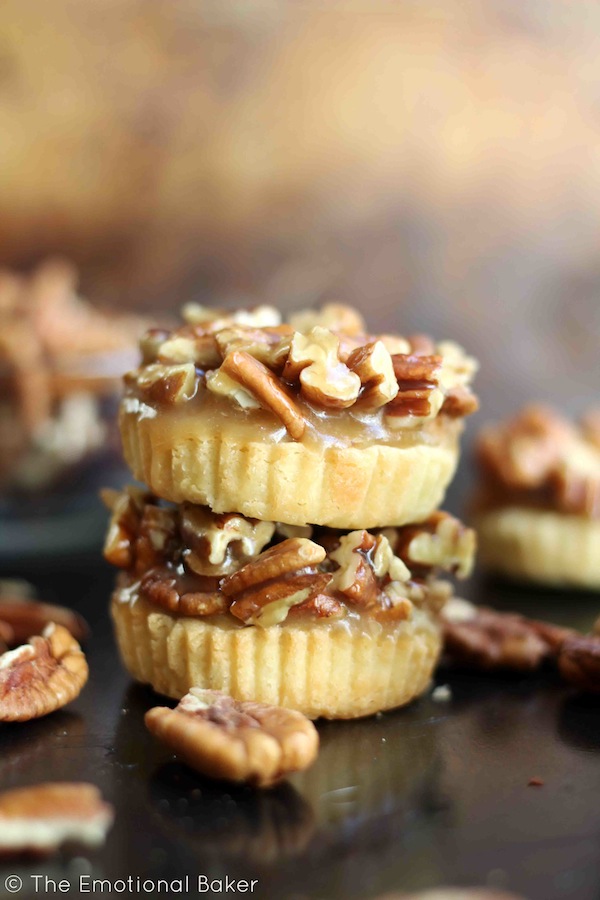 He must've smelled something amazing because one minute I was on my feet and the next I was swallowed by a huge pile of leaves! & just my luck – I had an audience – &, if memory serves me right, they were laughing at me!
These days leaf piles turn my walks into an obstacle course. When walking down the street and a car approaches, I have to hop over the leaves and then after it passes I crawl back onto the street. Not the most ideal walking situation.
I have a proposition – let's stop the practice of leaf raking. Leaves will decompose and there's no real reason to get them off the yard.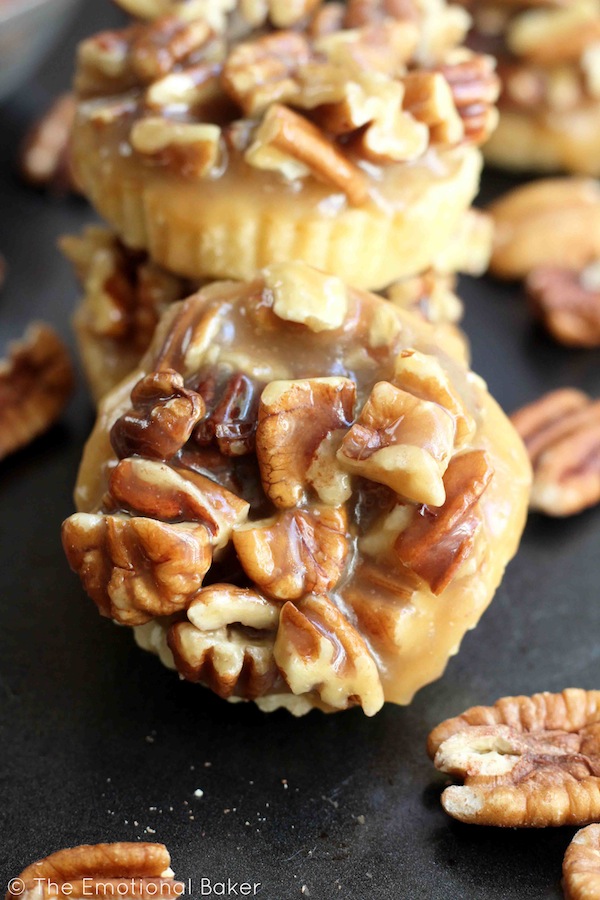 Since you'll have some extra time since you won't be raking – why not make these Pecan Pie Shortbread Cookies? They feature a buttery shortbread crust and are topped with maple caramel pecans. These are irresistible and maybe even better than a slice of pie 😉
I created these for the Sweetest Season Cookie Exchange. Be sure to head over and see what everyone's making this week!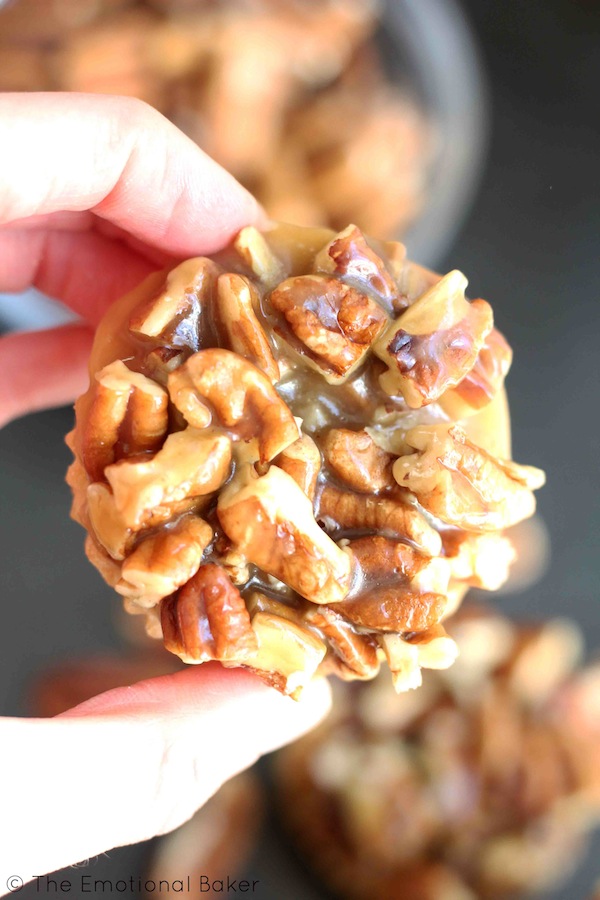 Are you in favor of leaf raking?
Pecan Pie Shortbread Cookies
Ingredients
Shortbread:

1 cup flour
1/4 tsp salt
1/3 cup powdered sugar
1/2 cup margarine

Pecans:

1.5 cups chopped pecans
1/2 cup brown sugar
1/3 cup full fat coconut milk
2 tbsp maple syrup
4 tbsp margarine
1/4 tsp salt
1 tsp vanilla
Instructions
Shortbread:

Preheat oven to 350 degrees.
Combine flour, salt and powdered sugar in medium bowl. Cut margarine in chunks. Use fingers to incorporate flour and margarine. Dough will form. Divide into 12 pieces.
Line muffin tins with liners. Press dough into bottom of liners and press into edges. Use a fork to poke holes into dough. Freeze for 30 minutes.
Bake for 5 minutes. Rotate. Bake for 7-9 additional minutes.

Pecans:

Preheat oven to 350 degrees. Toast pecans for 4 minutes, or until fragrant.
Combine brown sugar, coconut milk, maple syrup, margarine and salt over medium heat.
Reduce to medium low. Simmer 10 minutes.
Remove from heat, add vanilla.
Let caramel cool 30 minutes.
Stir pecans into caramel mixture.
Divide pecans among prepared crusts
Allow to set 2-4 hrs, or until firm.
http://theemotionalbaker.com/2016/12/07/pecan-pie-shortbread-cookies/