Celebrate the new year with a Cranberry Mimosa Bundt Cake. These mini cakes are spiked with your choice of bubbly – ginger ale, champagne, etc. – are loaded with fresh cranberries, and are topped with a simple orange glaze.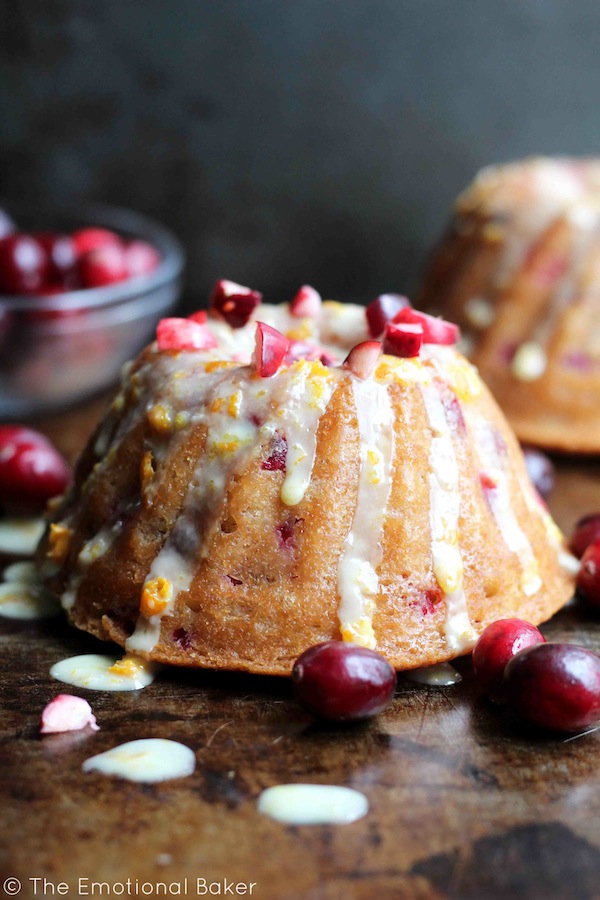 The holiday guest – the Christmas tree.
Each year – on or around December 1st – my family heads out to find the perfect tree (not an easy task!)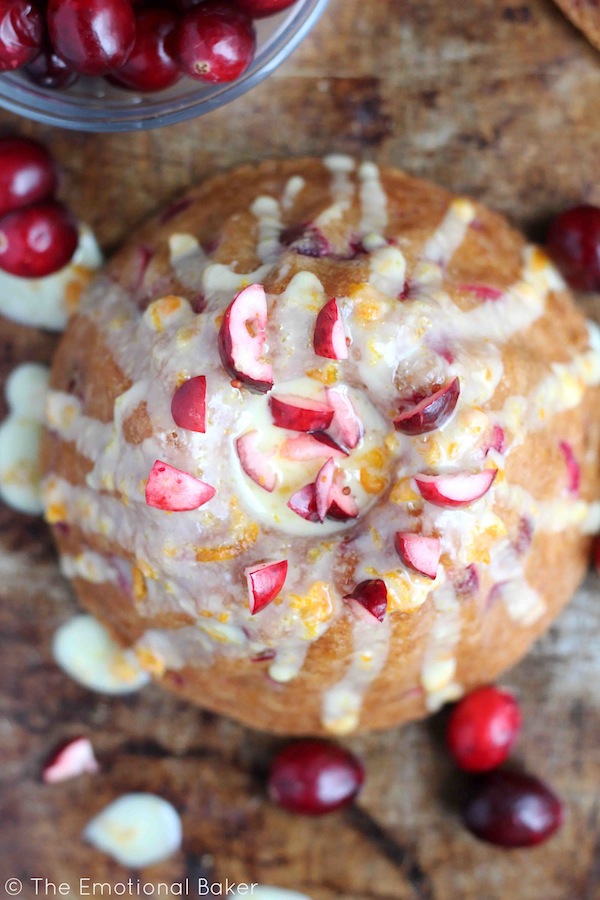 Then we lug it home and all help get it in the house. Mom puts the lights on. Dad helps with the tall branches. Sporadically throughout the season, we add ornaments – old standbys like my Hallmark cupcake collection, my dad's antique birds, and other ornaments that symbolize our Christmas traditions.
The day to day care of the tree lands on me – making sure the lights are on when we're home and off when we leave, watering the tree daily, and cleaning up needles weekly.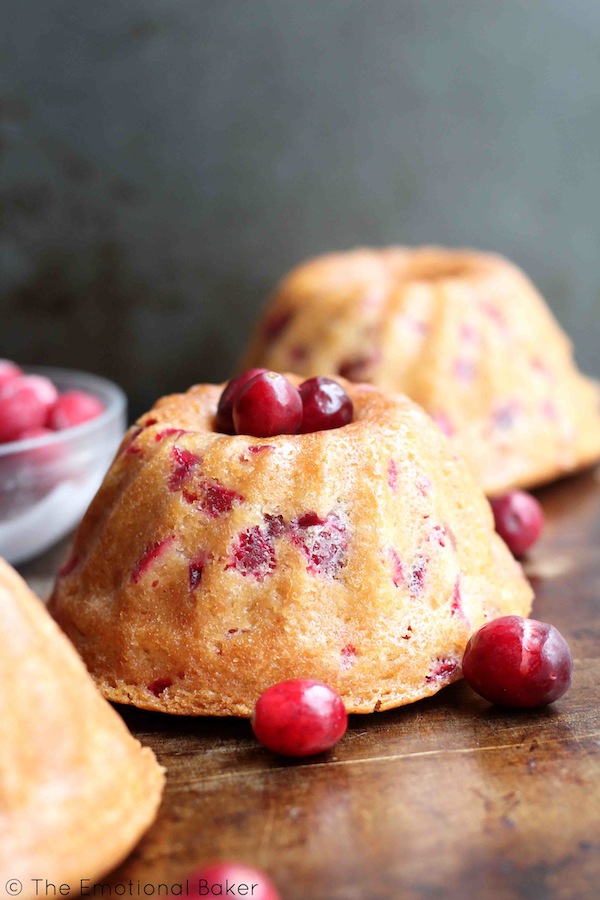 At the end of the season, the tree really is a part of the family and I always hate to part with it. I plead with my parents to let it stay another week. The tree is my last hope that Christmas isn't really over and real life isn't about to start again.
Then when it's finally time for it to go, I cut a souvenir branch and watch my dear friend sit at the road waiting to be picked up with all the other bare Christmas trees.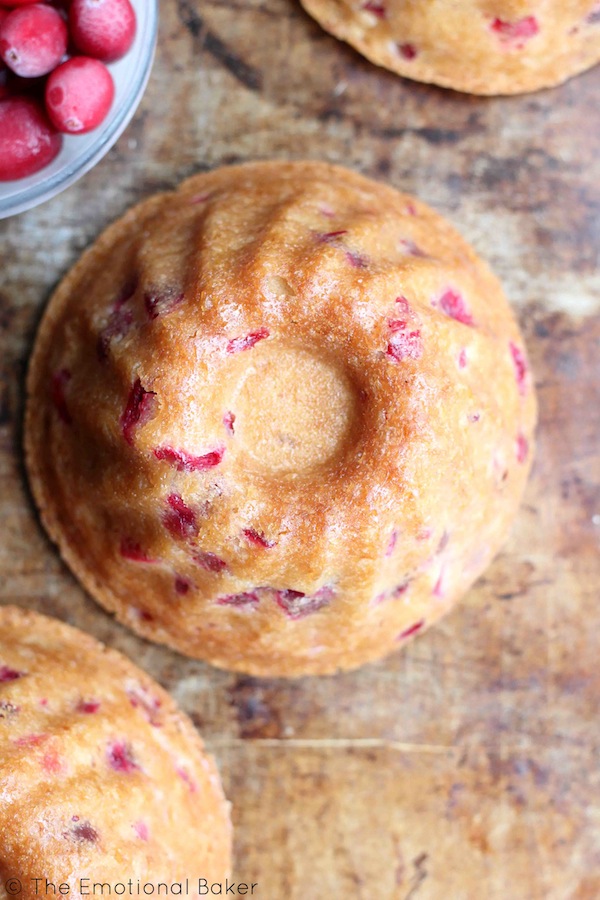 The same is true about 2016. I truly hate to part with it. At the start of the year, I set a goal to "Develop and Blog 40 Recipes for TEB." Well, I exceeded that goal creating 52 new recipes this year. Not only that, but TEB is starting to look like what I dreamed it would be back in 2013. My photography is slowly improving and I finally broke down and updated my blog design. Here are some of my favorite recipes from the year: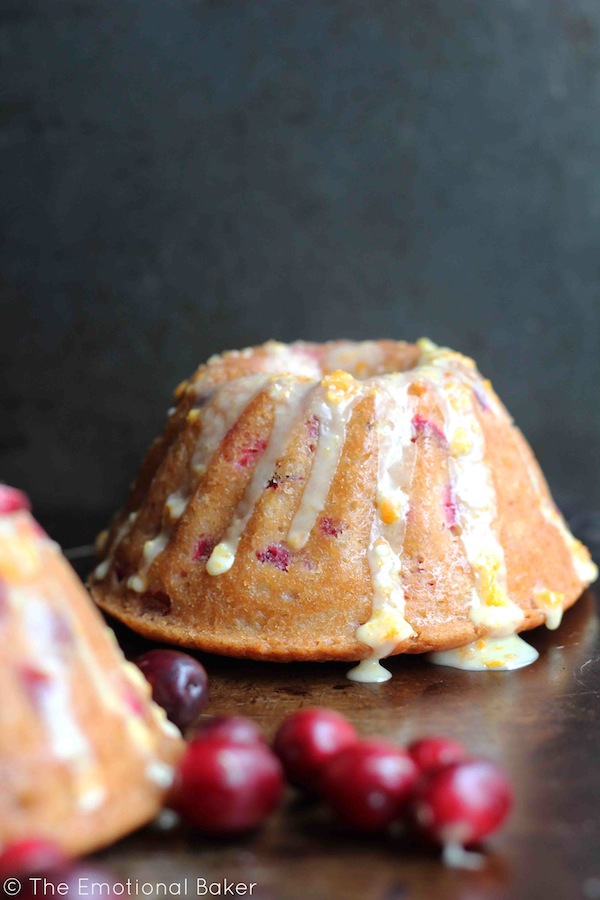 In 2017, new and exciting things are happening for me – I'm starting grad school! So, that will mean less time for blogging. This coming year my goal is to Develop and Blog 25 Recipes for TEB. I've done lots of prep work, now I just have to schedule posts.
I'll miss blogging as much as I've been able to this past year, but know I have to turn my focus elsewhere for a little while. I truly appreciate all your support this past year and look forward to seeing where the new year takes us all.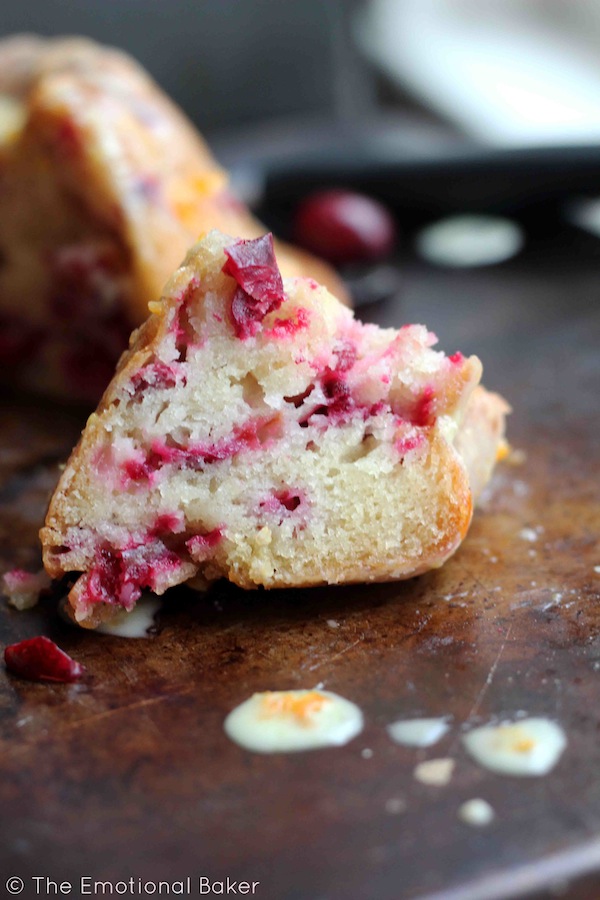 To celebrate the end of 2016 and the start of 2017, lets clink forks (instead of glasses 😉 ) and devour these Mini Cranberry Mimosa Bundt Cakes!
I knew I wanted to create a festive treat for New Year's. I went through lots of ideas – cake balls, sparkling drinks, cupcakes – but settled on these fun mini bundt cakes. I used ginger ale, but I'm sure another bubbly drink could be substituted.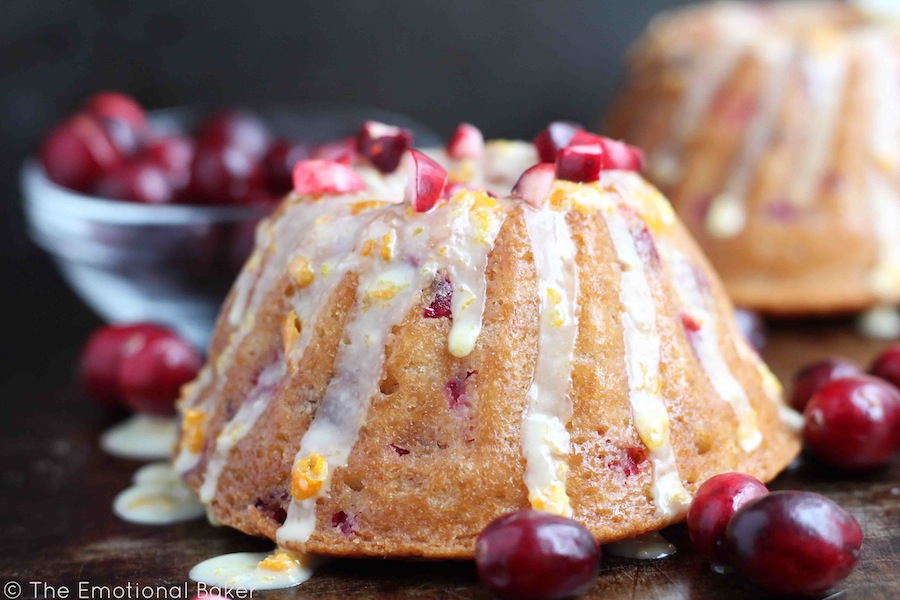 Hope you all had a wonderful holiday and a great New Year!
Mini Cranberry Mimosa Bundt Cakes
Ingredients
Cake:

1.25 cups all purpose flour
3/4 cup sugar
1/2 tsp baking soda
1/2 tsp salt
1 tsp baking powder
150 g (5 oz) vanilla soy yogurt
1/2 cup ginger ale or champagne
1/3 cup canola oil
1 tsp vanilla extract
1 cup fresh cranberries, chopped + ~1/4 cup for topping, optional

Glaze:

1/3 cup powdered sugar
1/2 tbsp orange zest
1/2 tbsp boiling water
Instructions
Cake:

Preheat oven to 350 degrees. Grease three mini bundt pans.
In a medium bowl, combine flour, sugar, baking soda, salt and baking powder. Set aside.
In a large bowl, combine yogurt, ginger ale, canola oil and vanilla extract.
Add dry ingredients to wet and mix until most lumps are eliminated. Fold in chopped cranberries.
Divide batter evenly among pans, filling 2/3rds full. Place pans on baking sheet.
Bake cakes for 20 minutes, then rotate. Bake an additional 8-10 minutes or until toothpick comes out clean and cake bounces back when touched.
Transfer cakes to wire rack and allow to cool 30 minutes. Then use a knife to carefully loosen cake from pan. Place cakes on rack and allow to fully cool.

Glaze:

Combine powdered sugar and orange zest in small bowl. Add boiling water and stir until smooth. Drizzle over cakes. Top with reserved chopped cranberries, if desired.
Note: Extra batter can be baked in mini muffin tin. Bake for 10-12 min.
http://theemotionalbaker.com/2016/12/27/mini-cranberry-mimosa-bundt-cakes/