These Coconut Chocolate Chip Energy Bars satisfy your chocolate cravings with an energy boost. These energy bars are made with wholesome ingredients including dates, almond butter and chia seeds.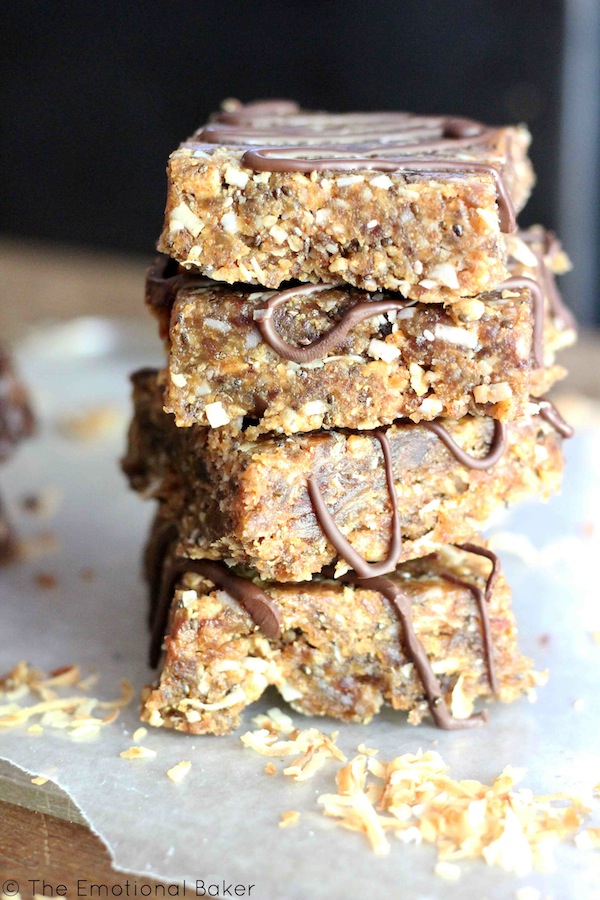 Lunch spectrum. As long term readers know, my dad has a knack for meals that land on both sides. Remember the smashed black banana?!? Or the hot toasted blueberry peanut butter bagel?!?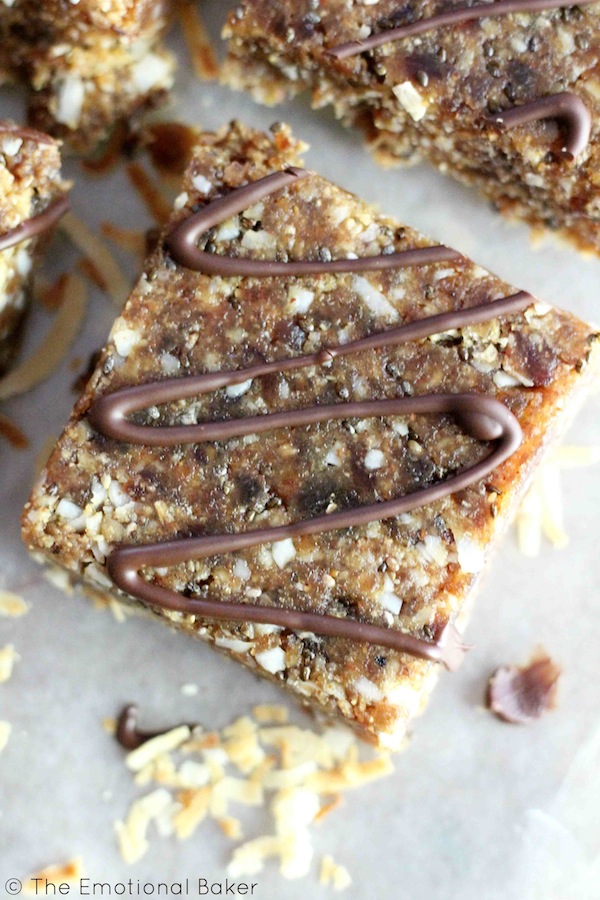 Well, another favorite – that hits the middle of the spectrum – is the Met-Rx Cookie Dough Protein Bar. Busy dads will be happy to know it's perfectly acceptable to send one for your middle school daughter's lunch.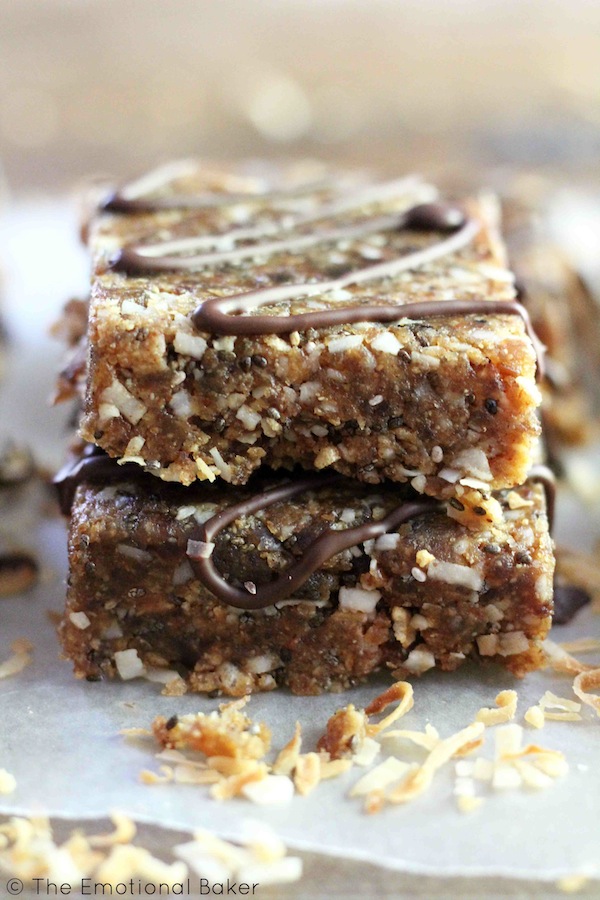 I might have complained, but truthfully I was ecstatic. Those bars were super delicious – especially to cookie dough obsessed me. I envied the other kids heating up Hot Pockets – but let's be serious, I got the better lunch for sure.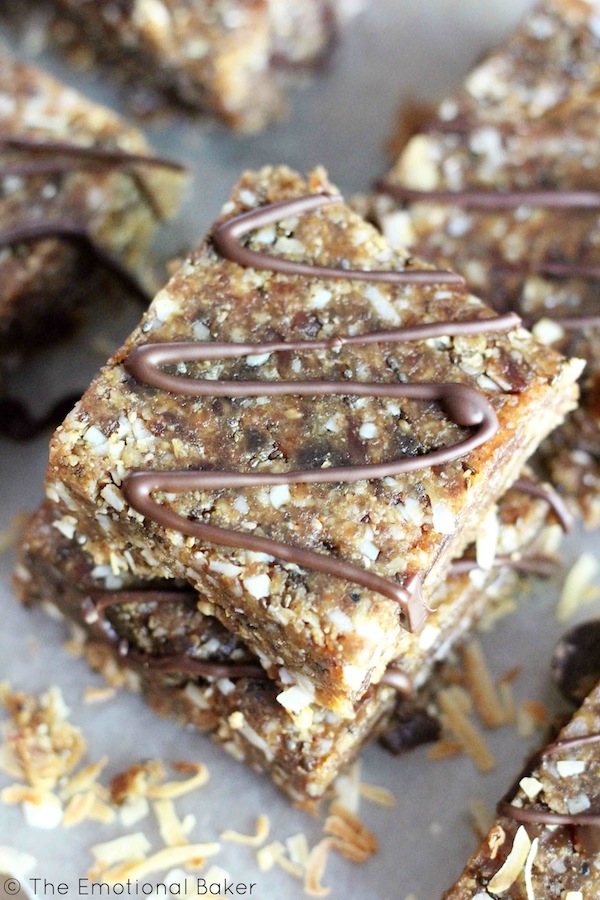 Today, my dad takes Clif Coconut Chocolate Chip Energy Bars to work. I've been desperate to recreate them at home. These aren't exactly the same, but they're still equally delicious.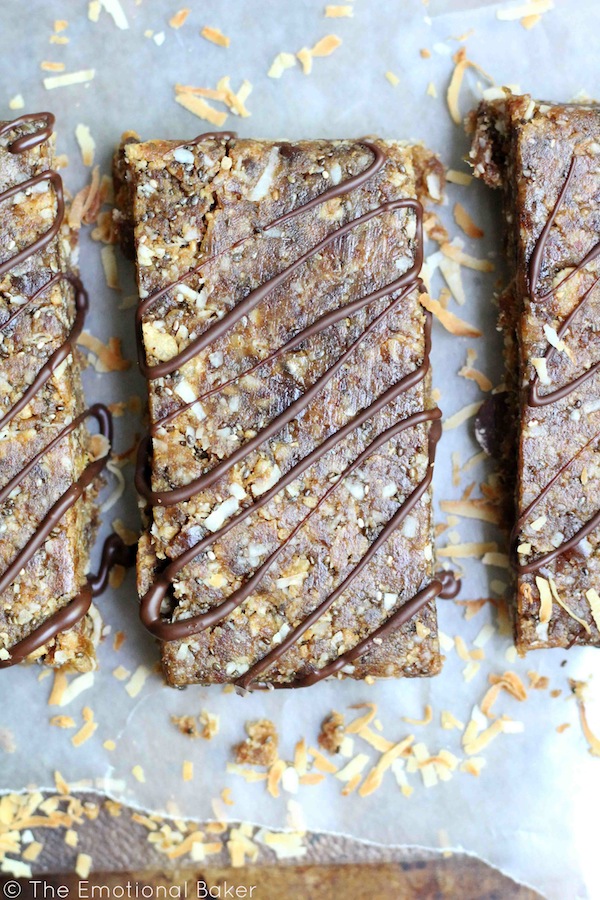 Hope your new year is off to a terrific start 🙂
Coconut Chocolate Chip Energy Bars
Ingredients
2.5 cups (410 g) pitted dates
3 tbsp almond butter
1 tbsp chia seeds
1/2 cup brown rice krispies (crispy brown rice cereal)
1/2 cup unsweetened shredded coconut
1 tbsp dark chocolate chips, plus additional for drizzle
Instructions
Line 8 x 4 inch loaf pan with parchment paper. Set aside
In a food processor, pulse dates, until broken into small pieces. Then add almond butter, chia seeds, brown rice krispies, coconut and chocolate chips. Pulse to combine.
Press mixture into prepared pan. Top with more chocolate chips, if desired. Allow to chill at least two hours before slicing in rectangles or squares.
If desired, drizzle chocolate over bars. Melt approximately 2 tbsp chocolate chips in microwave at 50 percent power. Stir until smooth. Add 1/2 tsp canola oil, stir. Pour into ziplock bag. Cut end of bag and drizzle over bars. Allow to set.
http://theemotionalbaker.com/2017/01/09/coconut-chocolate-chip-energy-bars/