This Matcha Tart is secretly healthy! It's sweetened with coconut sugar and maple syrup and has a whole wheat chocolate crust.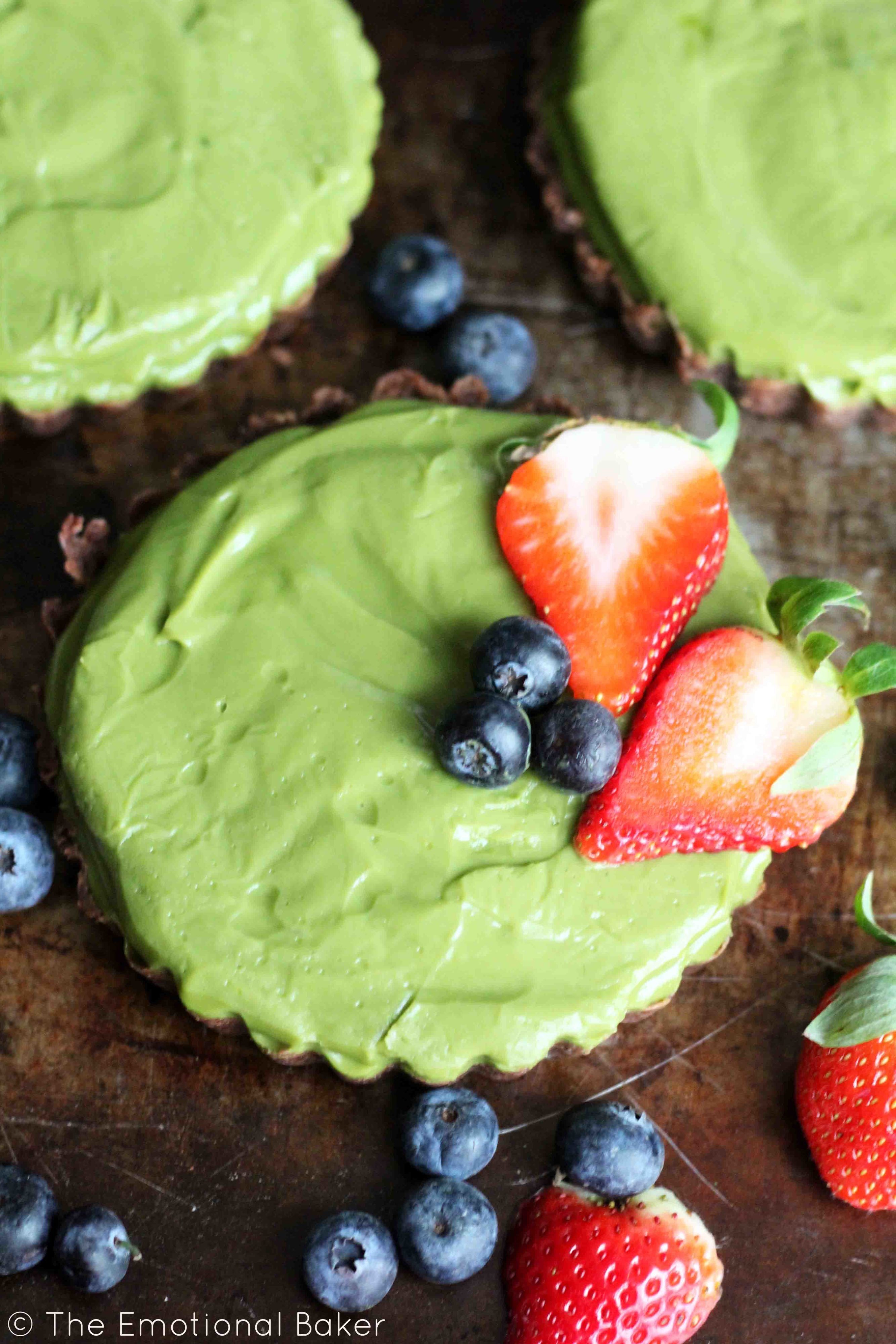 [new] thing The Emotional Baker can't do – open a bag of flour.
Sounds pretty easy right? Like the most basic part of baking?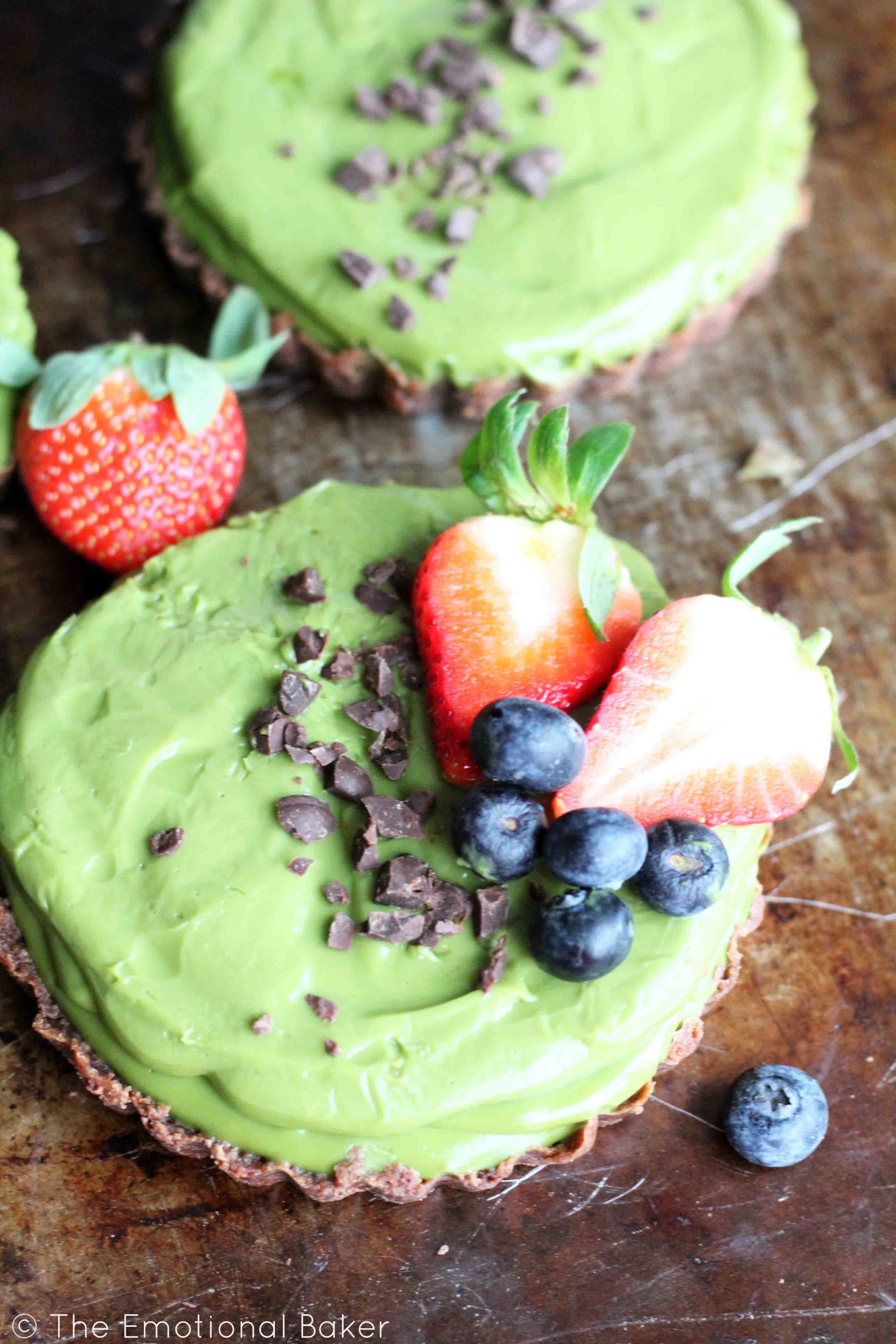 Well, approximately two out of ten bags are ripped to smithereens. For some reason, I can't properly pull up the glued portion of the bag and end up just tearing the whole upper portion of the bag. This makes it very difficult to measure flour!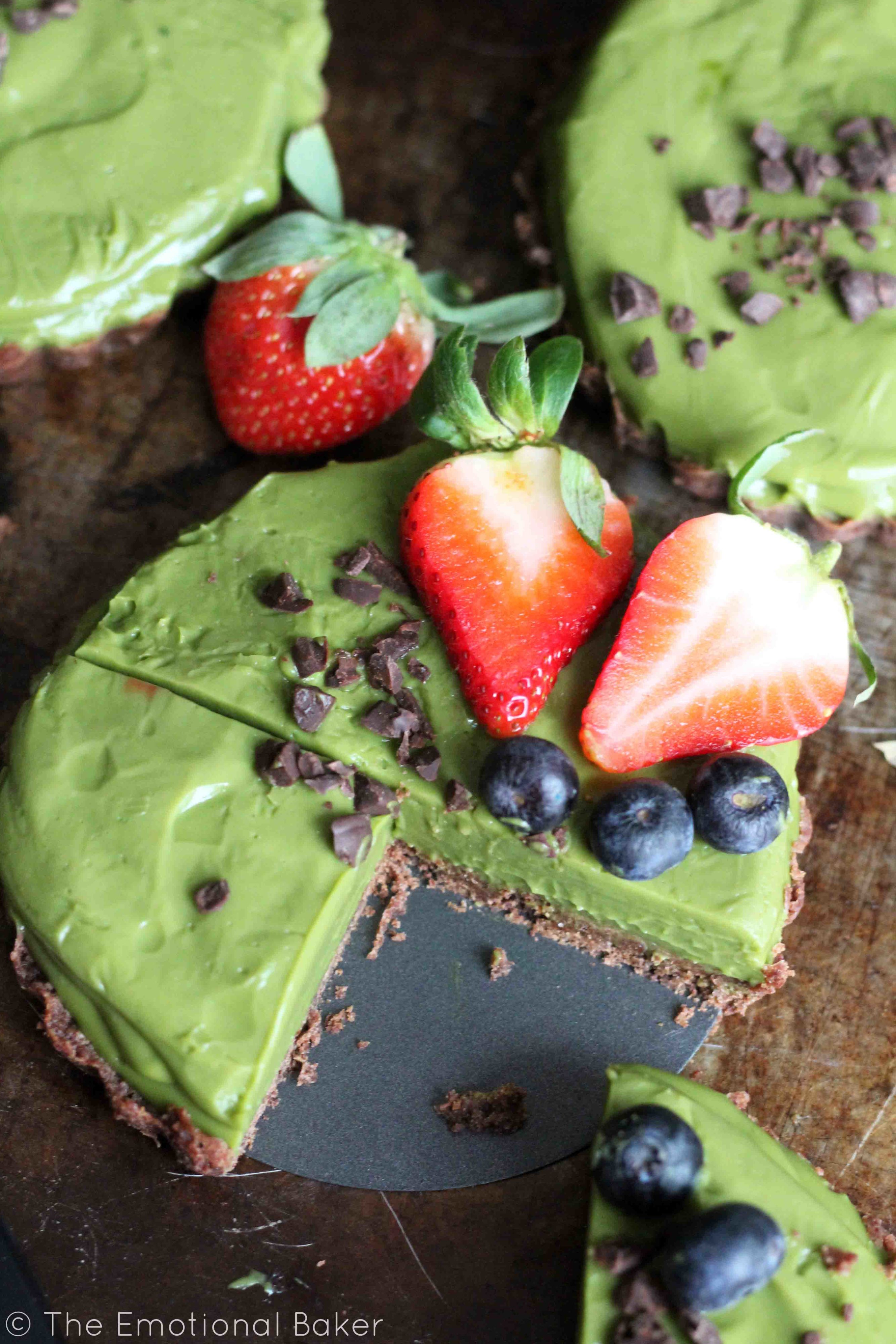 My inability to properly open flour bags drives my mom crazy. & she said someone needs to teach me how to open a bag. Any takers? I'll repay you with lots of these Matcha Tarts 🙂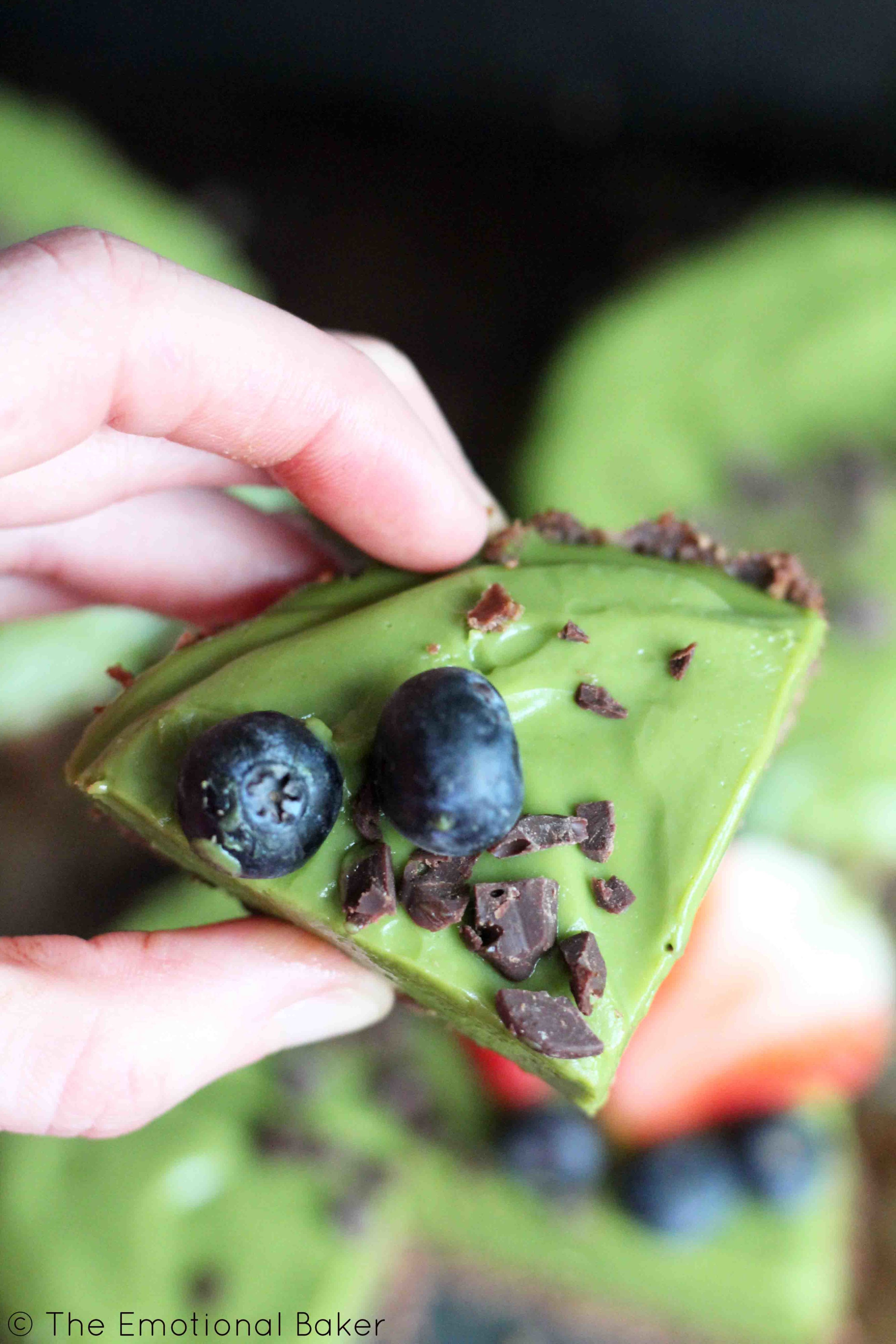 These tarts feature Aiya Matcha and are made with wholesome ingredients. The creamy Matcha portion is made with coconut milk and sweetened with maple syrup and coconut sugar. The tart crust is whole wheat with coconut oil and coconut sugar. However, I don't think you'd ever guess it!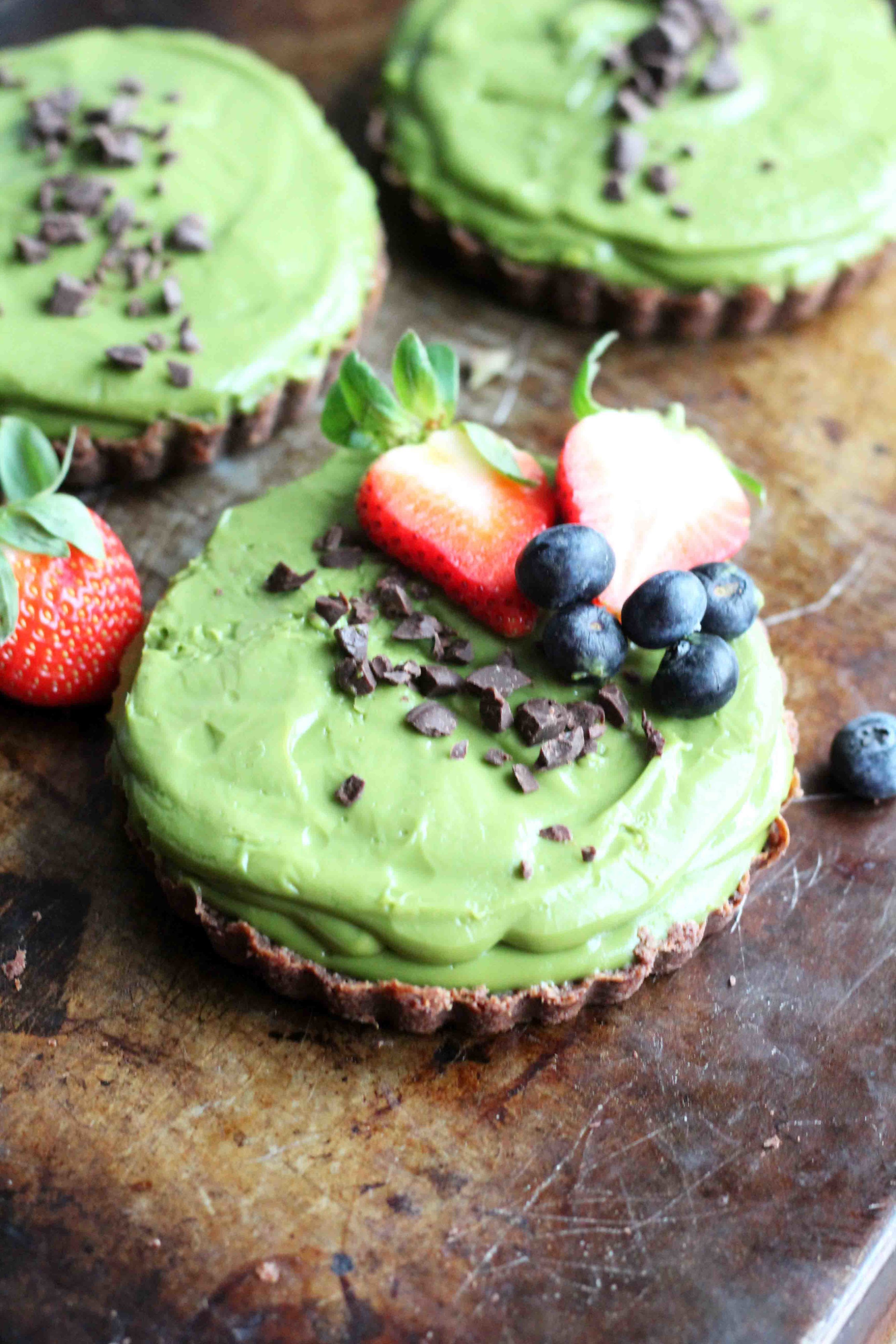 These tarts would be perfect for your Valentine or Mardi Gras or St. Patrick's Day (it's always good to think ahead! 😉 )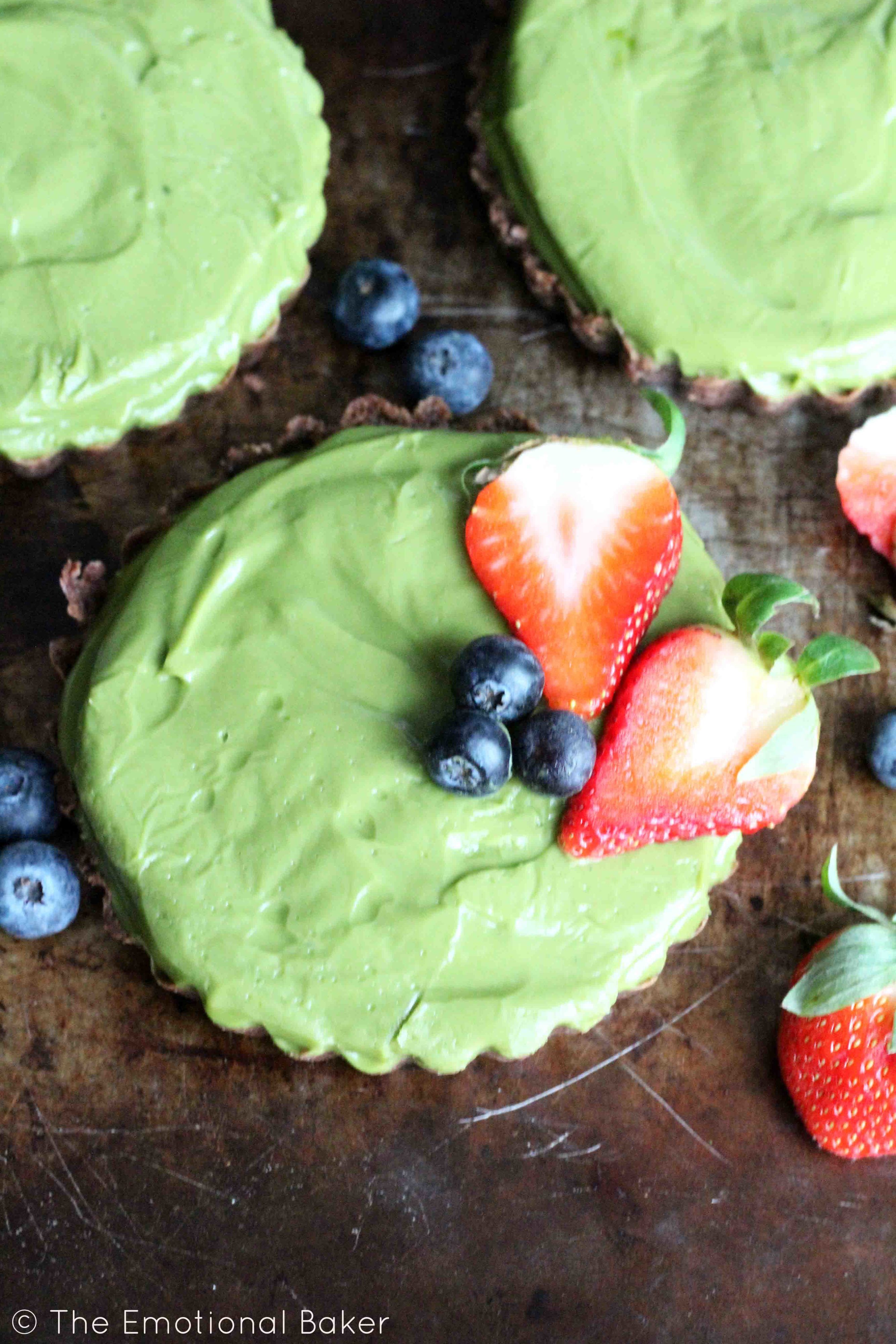 PS: I miss spending more time with TEB, but this whole grad school thing is taking a lot out of me – leaving little time for baking and blogging. But don't forget about me – I'll still try to pop in every now and then 🙂
Matcha Tarts with Chocolate Shortbread Crust
Ingredients
Chocolate Shortbread Crust:

1/2 cup + 2 tbsp whole wheat flour
2 tbsp cocoa powder
1/4 tsp salt
1/4 cup coconut sugar
1/3 cup coconut oil, solid

Matcha Tart Filling:

1-15 oz can full fat coconut milk
5 tbsp cornstarch
3 tbsp coconut sugar
2 tbsp maple syrup
1/2 tsp almond extract
1/2 tsp vanilla extract
Instructions
Chocolate Shortbread Crust:

Grease 3 mini tart shells.
In a medium bowl, combine whole wheat flour, cocoa powder, salt and coconut sugar. Break coconut oil into pieces Add to dry ingredients. Use fingers to incorporate. Once dough forms, divide dough among tart shells. Press into greased tart shells. Freeze tarts for at least 30 minutes or until frozen. Preheat oven to 350 degrees.
Bake for 10 minutes. Crust may appear bubbly and not set. Transfer to cooling rack. Crust will firm up. Once crust is cool, place in freezer while preparing tart filling (optional.)

Matcha Tart Filling:

Place cornstarch in a medium saucepan. Slowly add coconut milk. Stir until well blended.
Once cornstarch is dissolved, place saucepan over medium heat. Add coconut sugar, maple syrup and matcha powder. Whisk matcha in well to avoid clumps. Stir frequently, until mixture starts to thicken.
Cook for 5 minutes, or until pudding forms. If desired, transfer to blender. Once smooth, pour into prepared tarts.
Cover with plastic wrap and allow to chill several hours, or until firm. Garnish with chopped chocolate and fresh fruit.
http://theemotionalbaker.com/2017/02/06/matcha-tart-chocolate-shortbread-crust/
Disclosure: This is a sponsored post brought to you by Aiya Matcha. As always, all opinions and recipes are my own. Thanks for supporting the brands that support The Emotional Baker!