This Apple Cake is packed with flavor and perfect for fall. You'll love the chai spices and pistachio crumb topping!
When you take a road trip that stays in your home state of NC, you expect to stay in NC, right?
Well, that's not what happened for my mom and me.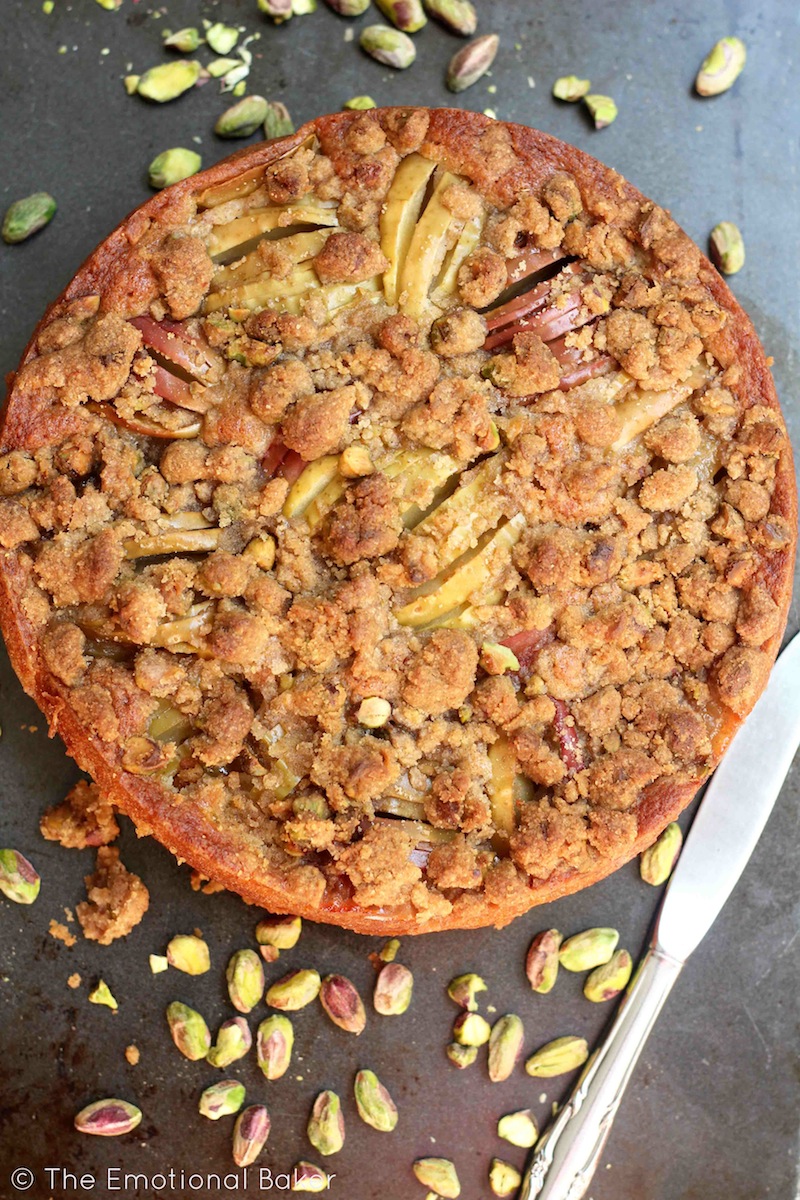 One crisp fall morning, we ventured on my first apple picking trip. My mom took the first shift and started our drive towards the mountains.
We arrived without a hitch. & began the workout to pick the apples (really we were just in it for the reward at the end – fresh, hot apple and pumpkin donuts!)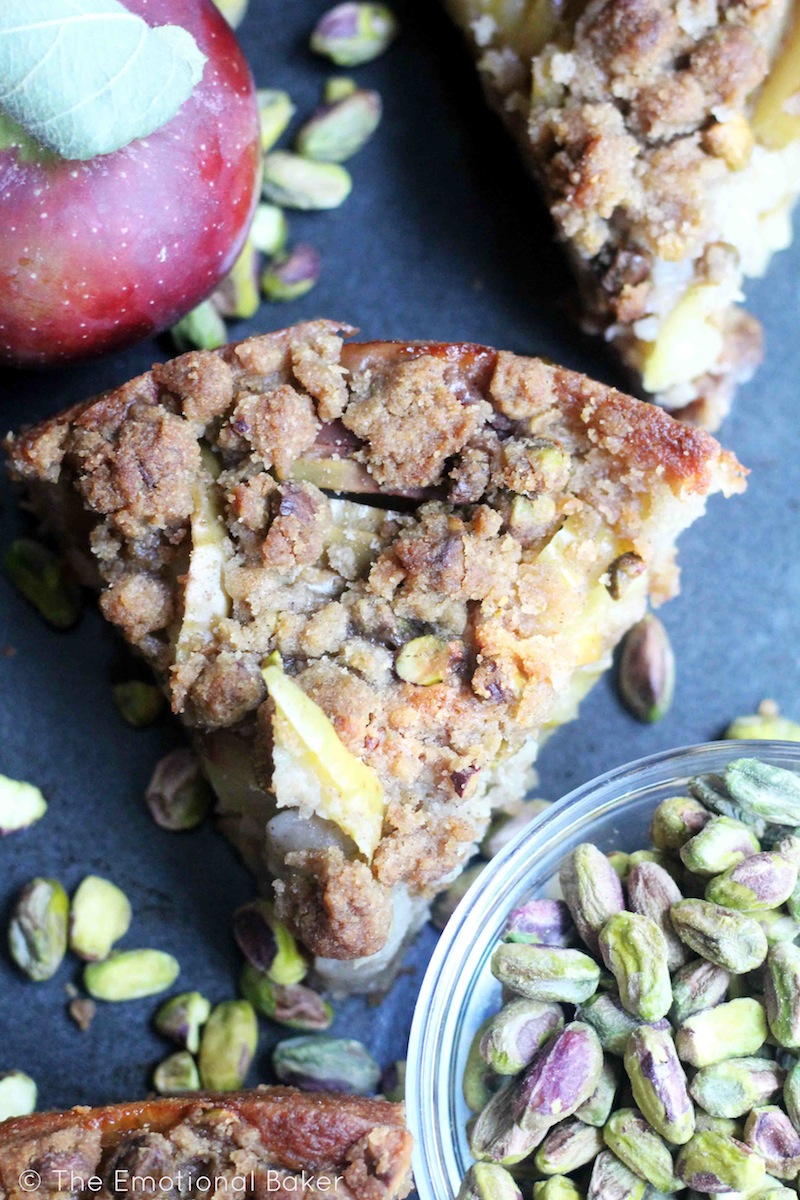 Then it was time for me to drive us home. We told the GPS to take us home. I followed all instructions, but then suddenly there was a sign saying, "Welcome to South Carolina." What?!?!?
So, we pulled over at a rest area. Refueled with a cashew butter/cookie butter sandwich with chocolate chips and candy corn – and took a look at our phones to figure it out.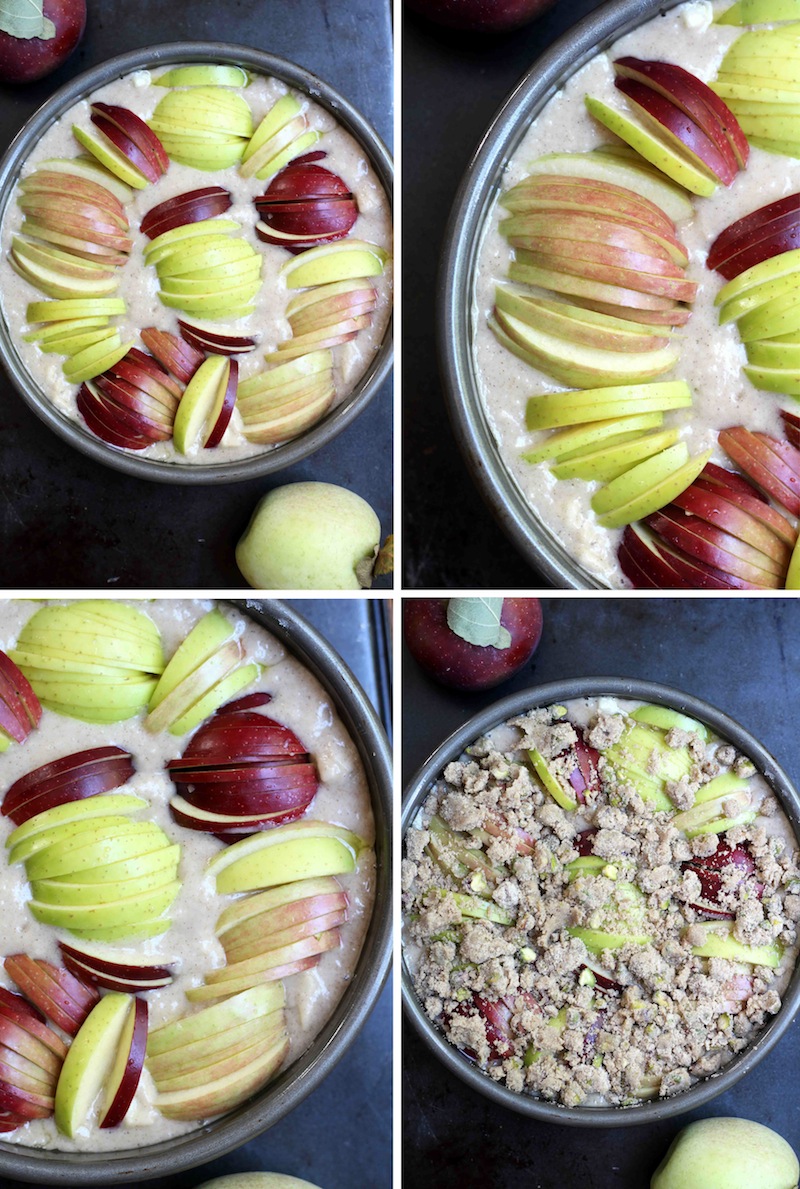 Long story short – we made it home (obviously.) Still to this day, I don't trust my car's GPS.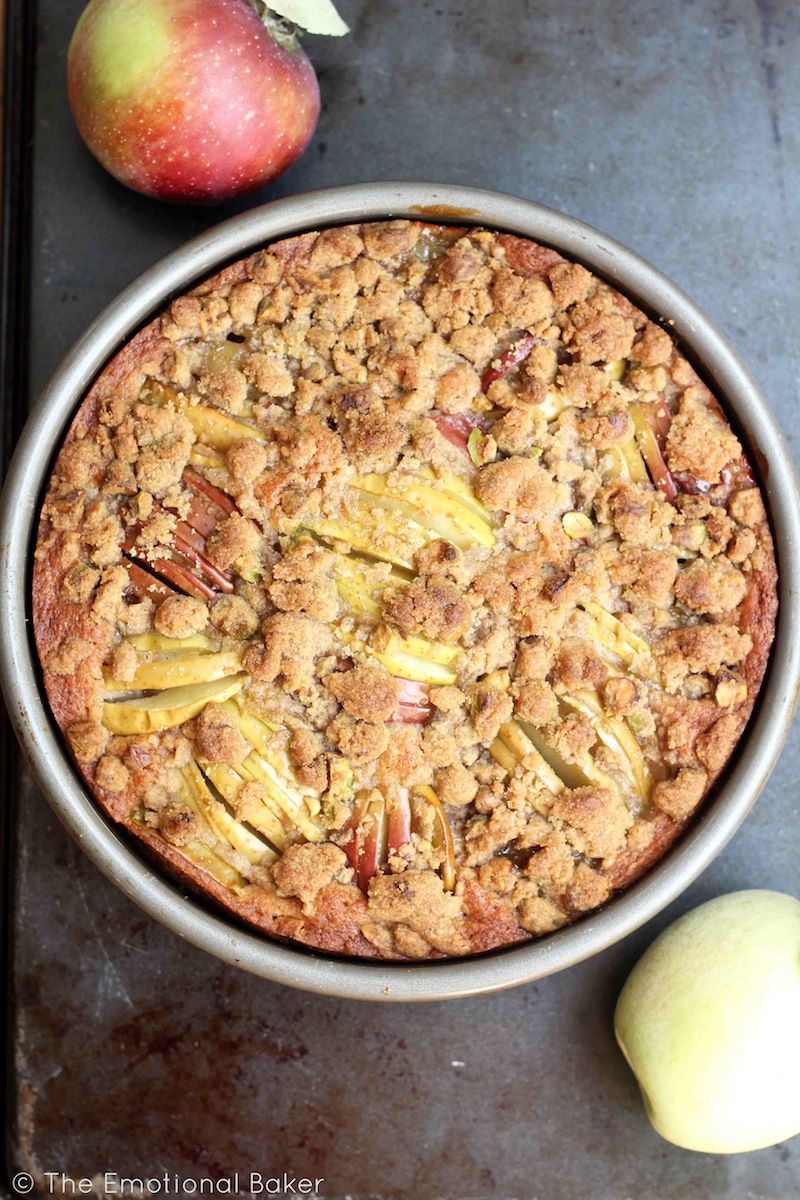 Any who, it was all worth it because I got to make Apple Pie, Apple Chips, Pumpkin Apple Muffins, . . . . the list goes on and on.
& last year I got to make this glorious Apple Crumb Cake. It has my favorite spices and a delicious crumb topping. I'm sure it will be one of your favorites this fall 🙂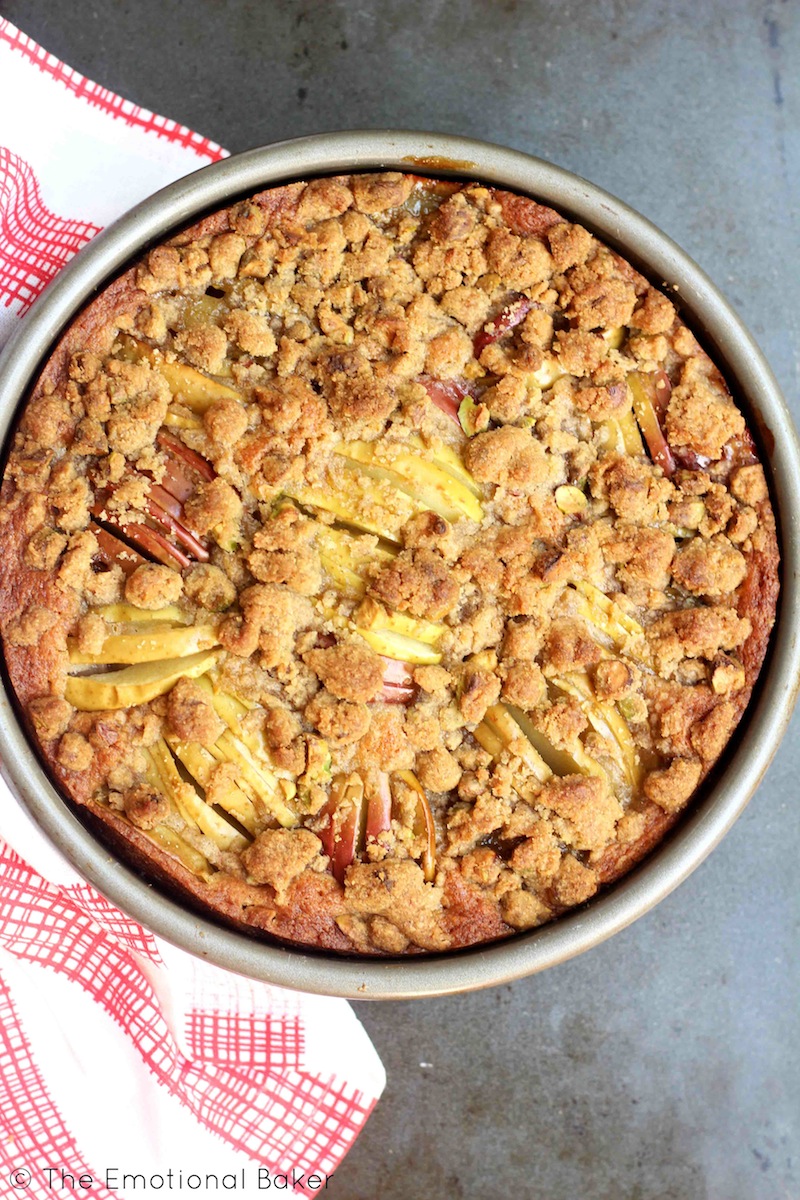 Looking for a place in NC to pick apples? Be sure to check out Sky Top Orchard.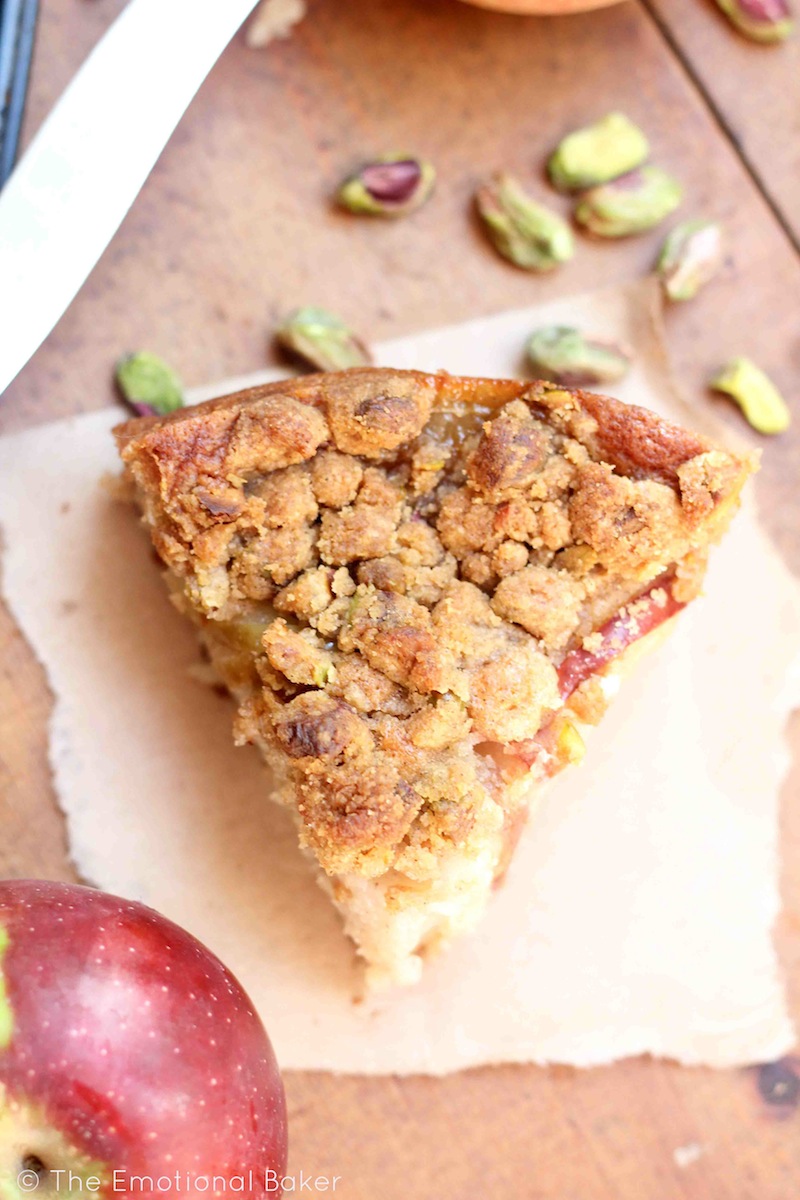 Do you have any funny GPS stories?
Apple Chai Spiced Crumb Cake
Ingredients
Cake:

1.25 cups all purpose flour
3/4 cup sugar
1 tsp baking powder
1/4 tsp baking soda
1/4 tsp salt
1/2 tsp cinnamon
1/2 tsp cardamom
1/4 tsp ginger
pinch of cloves
pinch of nutmeg
pinch of allspice
1/4 cup applesauce
1/4 cup vanilla soy yogurt
2/3 cup full fat coconut milk, or your favorite nondairy milk
1/3 cup canola oil
1 tsp vanilla extract
1 small apple, peeled, finely diced - about 1/2 cup
3 apples, sliced thinly

Crumb topping:

1/4 cup chopped pistachios
1/4 cup flour
2 tbsp brown sugar
2 tbsp margarine
1/4 tsp cardamom
1/4 tsp cinnamon
Instructions
Preheat oven to 350 degrees.
Grease a round cake pan. Set aside.
In a medium bowl, combine flour, sugar, baking powder, baking soda, salt, and spices.
In a large bowl, combine applesauce, yogurt, milk, oil, and vanilla.
Add dry to wet and mix until no lumps remain. Fold in diced apple. Cover top of cake with apple slices. Sprinkle crumb topping (see below) over cake.
Bake for 1 hour - 1 hour and 5 minutes, or until toothpick inserted in the center comes out clean.

Crumb topping:

Combine pistachios, flour, brown sugar, margarine, cardamom and cinnamon. Use fingers to fully incorporate ingredients.
http://theemotionalbaker.com/2017/09/18/apple-chai-spiced-crumb-cake/