These Vegan Pumpkin Muffins are loaded with gingerbread flavor and lots of chocolate chips.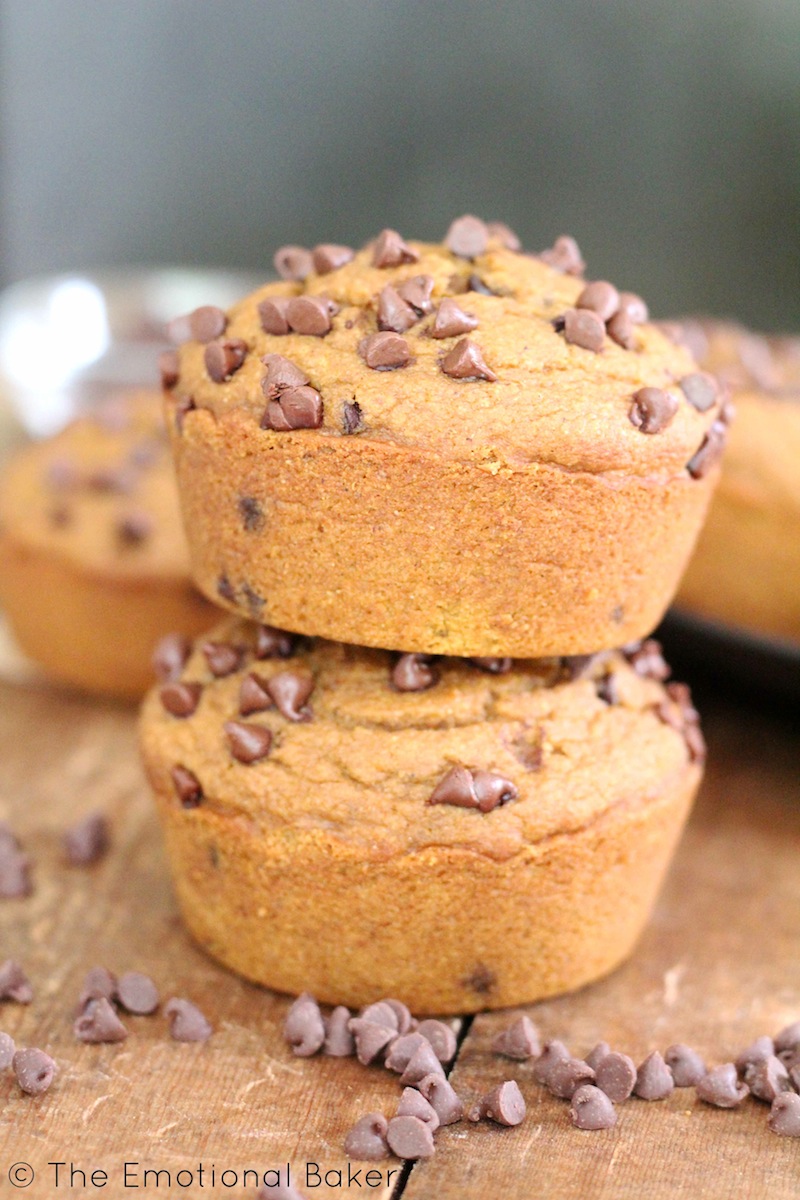 Sometimes food speaks louder than words.
Especially if you're The Emotional Baker.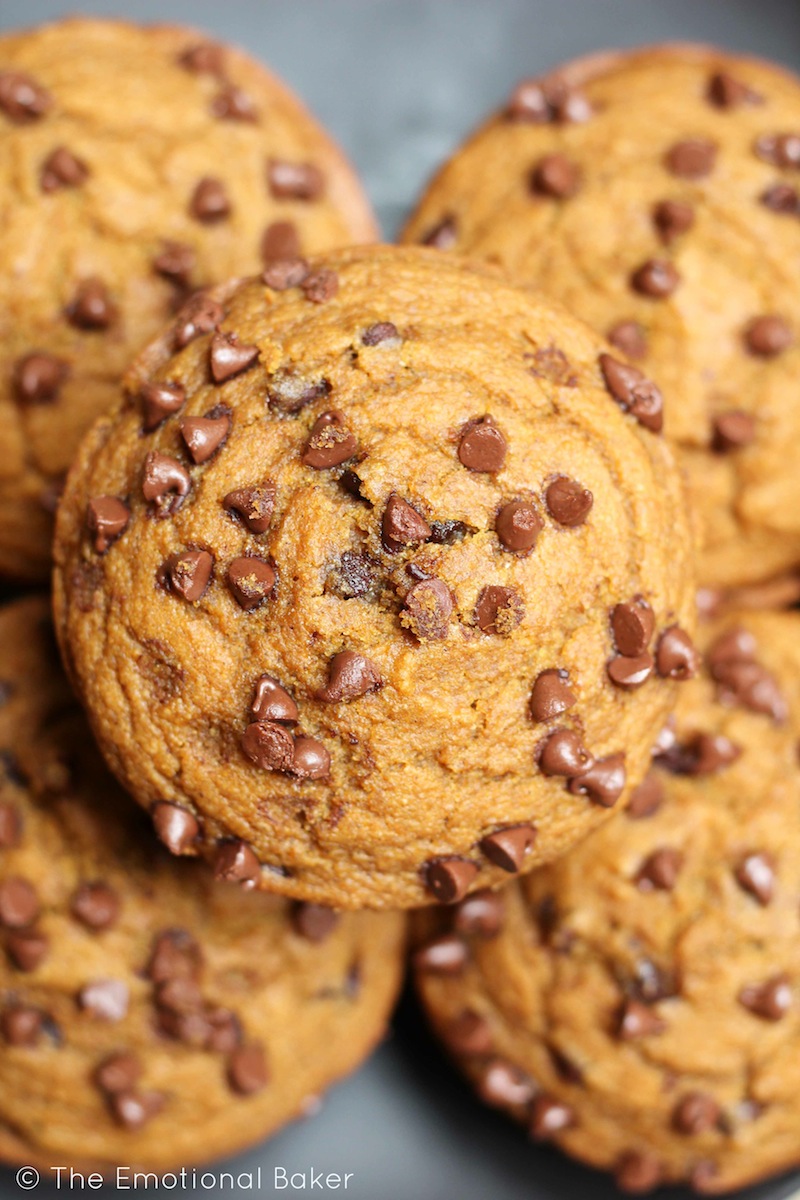 As I've told you before, I'm a pretty quiet chick.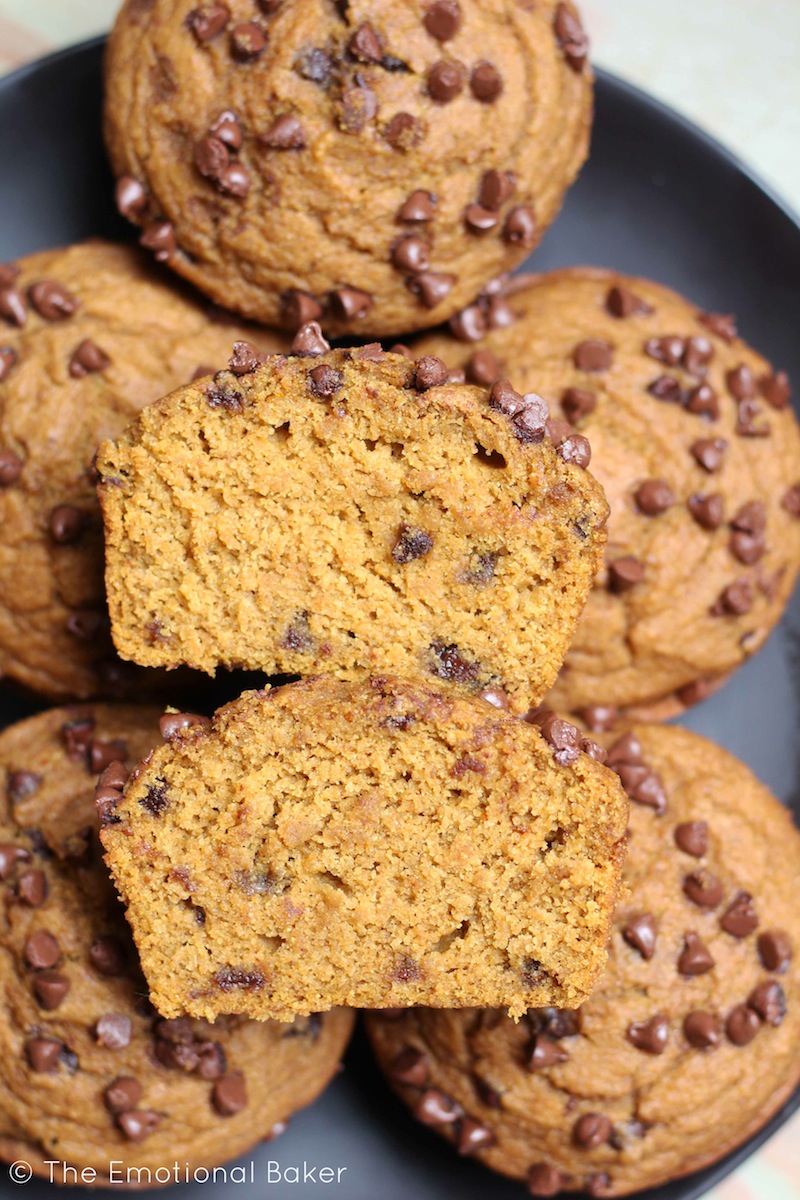 I've always been shy, but I didn't get really quiet until high school.
At my new school, we were divided into advising groups.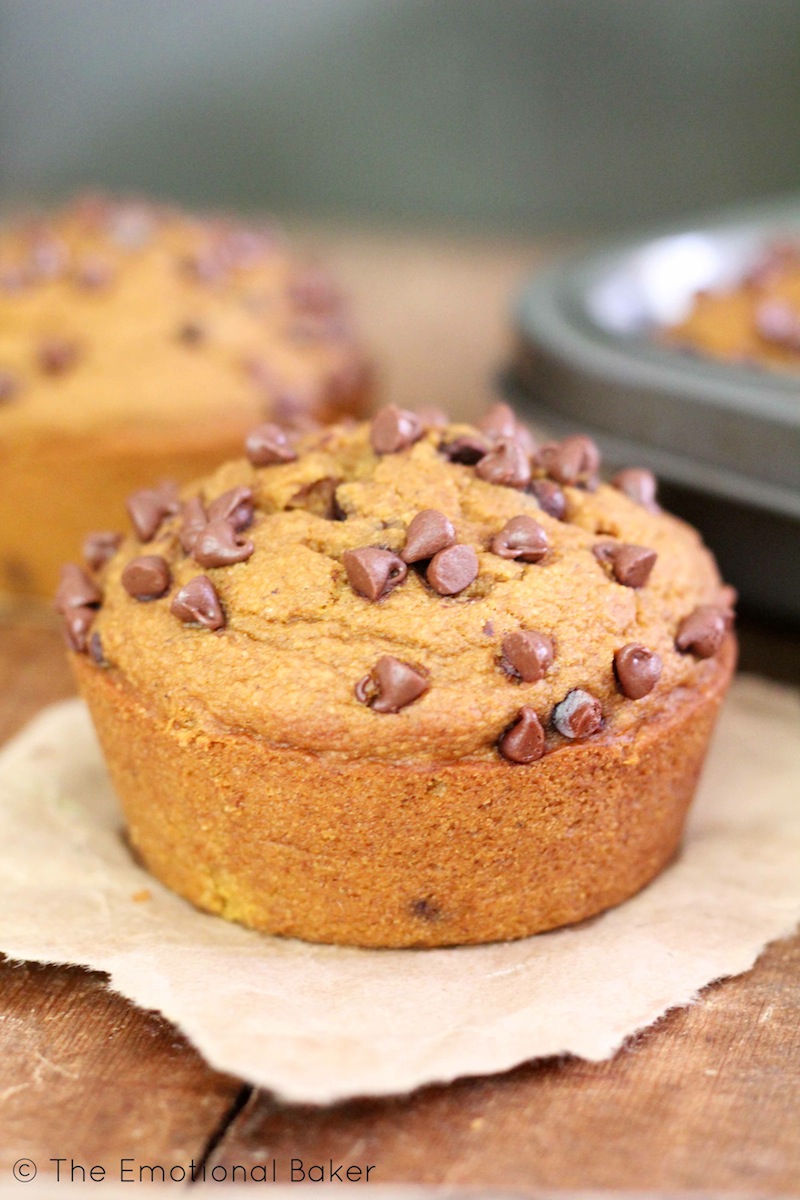 Every Thursday, we met our groups for breakfast. Each week a different student was responsible for bringing food. When it was my turn, I always brought Jumbo Muffins from a local bakery. Everyone went crazy raving how delicious they were – especially when I brought Pumpkin Muffins!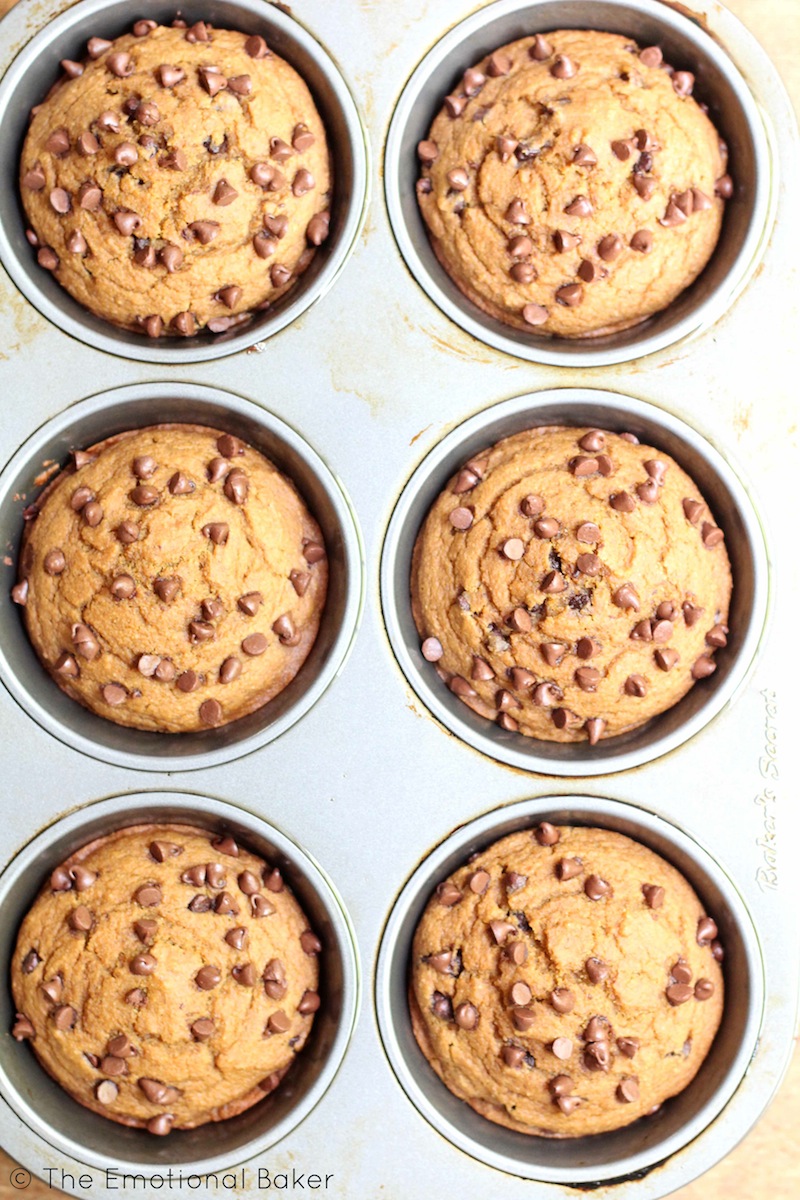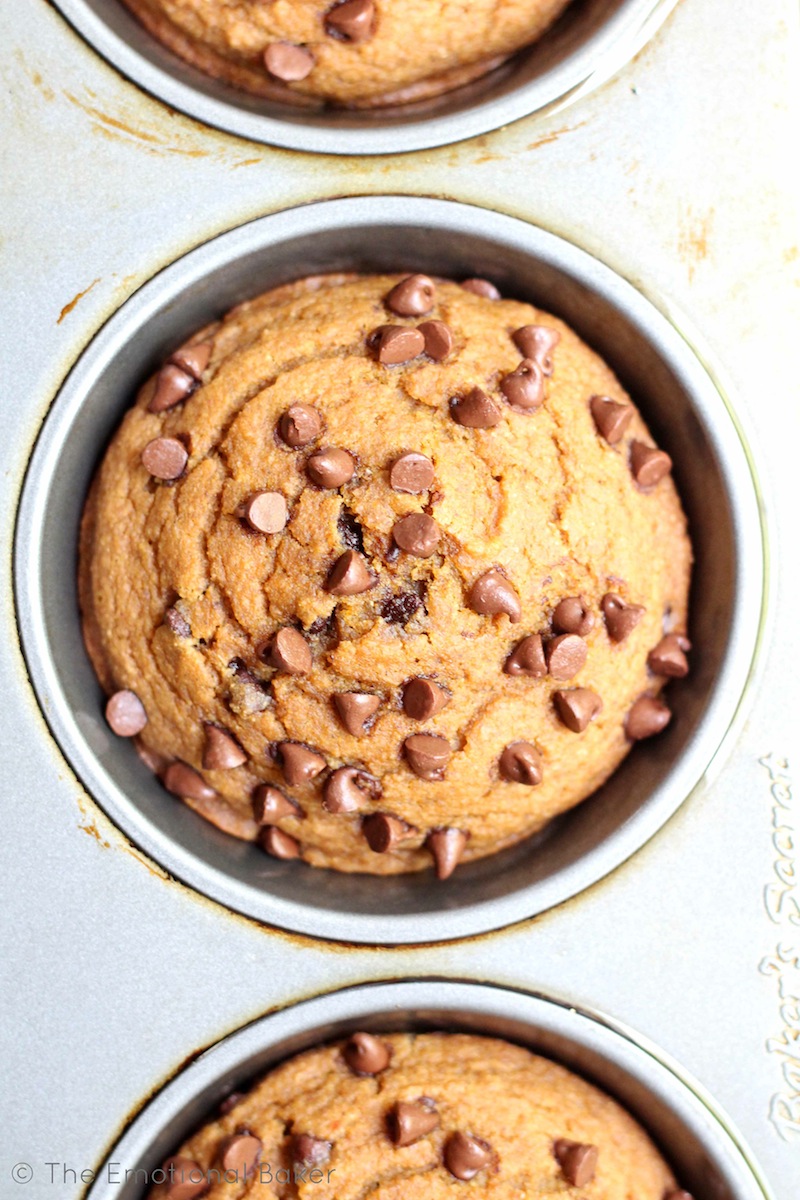 Since I didn't always have much to say, I'm sure I was mainly known as the muffin girl.
& that's fine by me 😉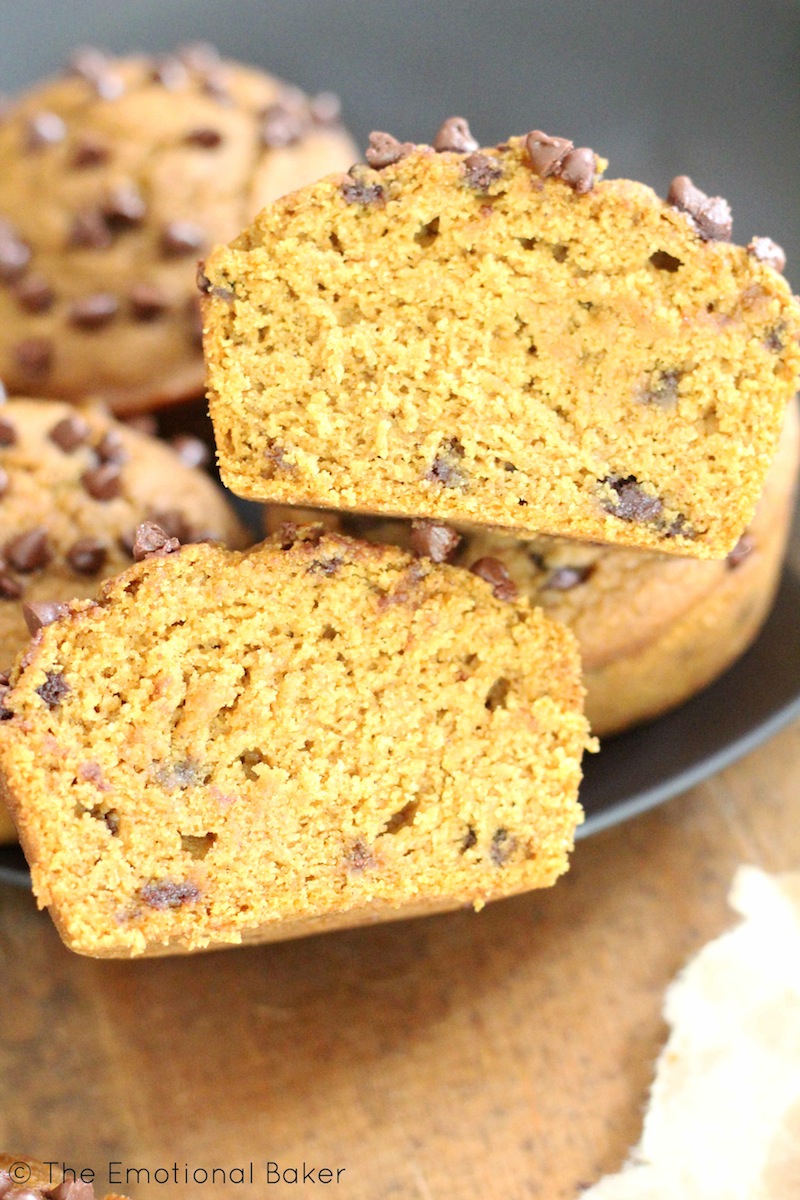 These Vegan Pumpkin Gingerbread Muffins will surely do the trick if you're ever at a loss for words.
They are full of cozy gingerbread spices and chocolate chips. It doesn't hurt they're slightly healthier than your average muffin, too.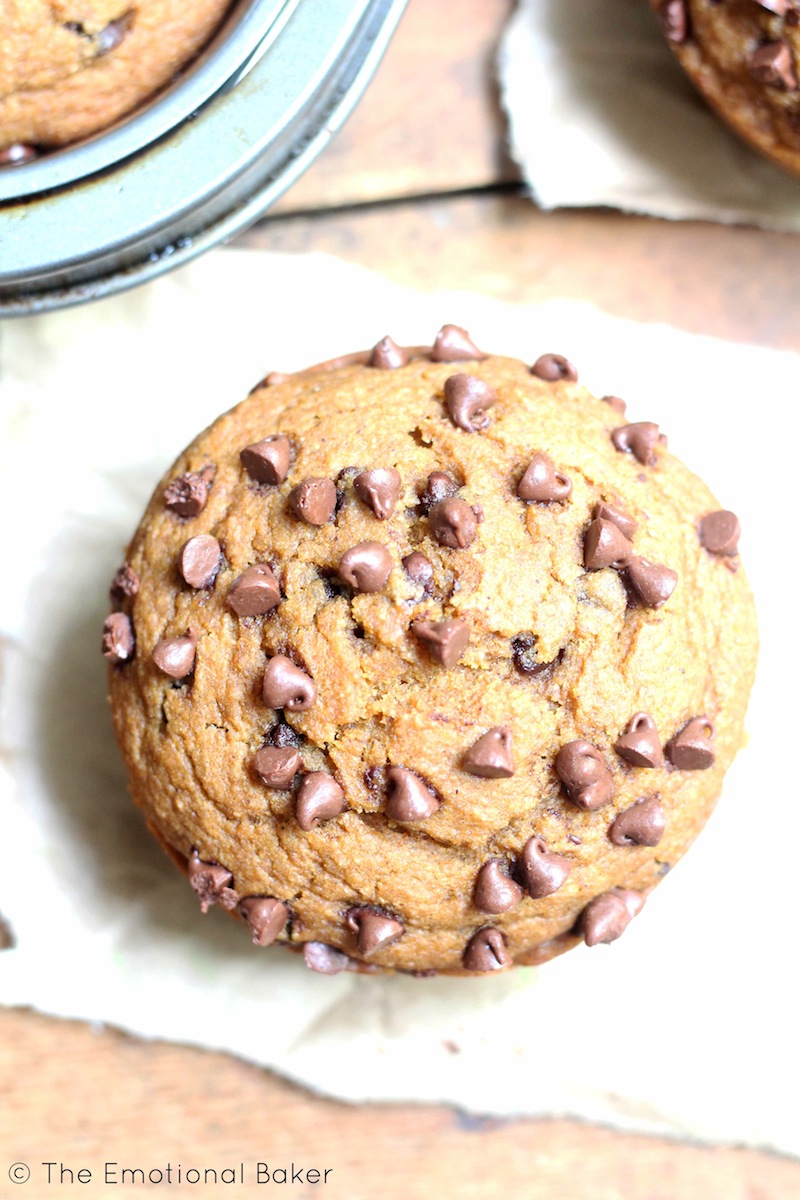 Hope you have a great Halloween!
Jumbo Pumpkin Gingerbread Muffins
Ingredients
1.25 cup white whole wheat flour
1/4 cup sugar
1 tsp baking powder
1/2 tsp baking soda
1/2 tsp salt
1.5 tsp ginger
1/2 tsp cinnamon
1/2 cup pumpkin
2/3 cup unsweetened cashew milk or your favorite nondairy milk
2 tbsp maple syrup
2 tbsp molasses
1/4 cup canola oil
1 tsp vanilla extract
1/2 mini chocolate chips, divided
Instructions
Preheat oven to 350 degrees. Grease a jumbo muffin tin with cooking spray.
In medium bowl or measuring cup, combine white whole wheat flour, sugar, baking powder, baking soda, salt, ginger and cinnamon. Set aside.
In large bowl, combine pumpkin, cashew milk, maple syrup, molasses, oil and vanilla. Add flour mixture and stir until most lumps are eliminated. Fold in 1/4 cup mini chocolate chips. Divide batter among muffin tin. Add extra chocolate chips to muffin tops. Bake for 20-25 minutes or until a toothpick inserted in the center comes out clean and muffin bounces back when pressed.
http://theemotionalbaker.com/2017/10/30/jumbo-pumpkin-ginger-muffins/