These Vegan Dark Chocolate Brownies are the perfect combo of cake-y and fudge-y. Loaded with fresh cranberries and chocolate, you'll certainly love these sweet bars!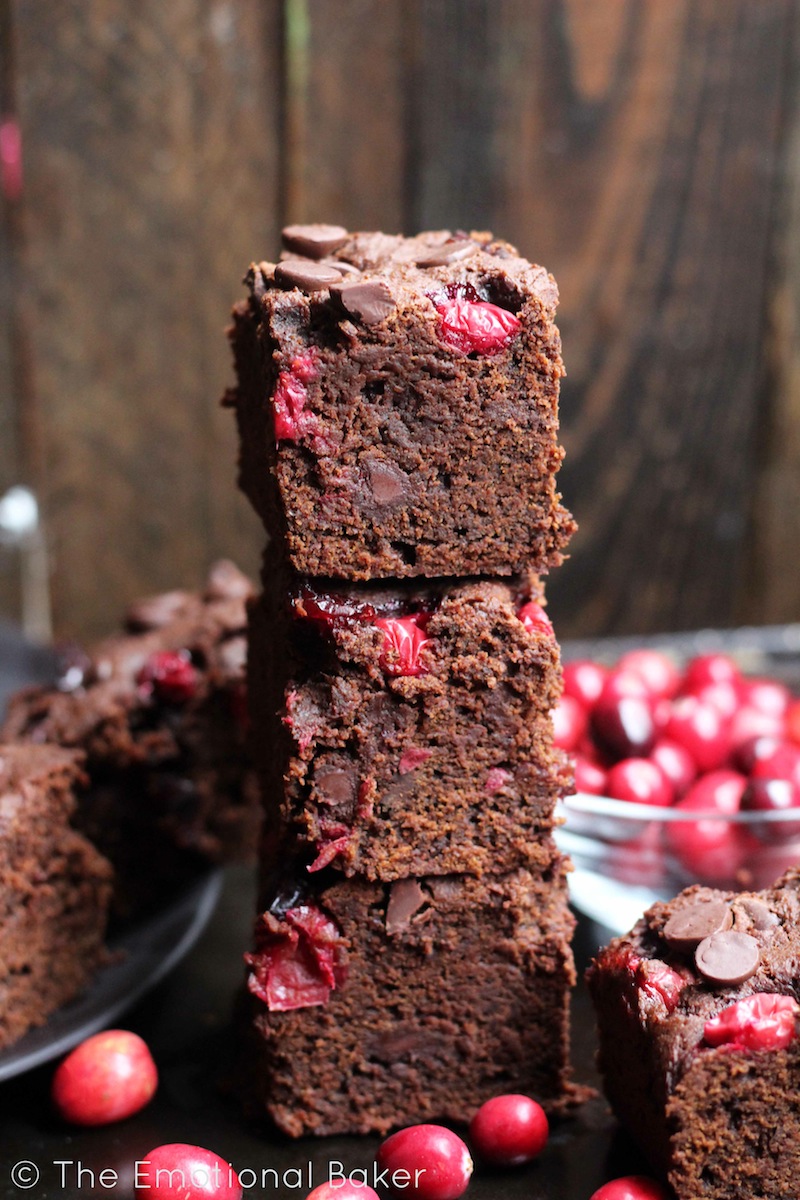 "It's the holiday season! With the whoop-de-do and hickory dock!"
As with previous years, this year I'm determined to savor every moment 🙂
To do just that, I've compiled a list of 27 things I'd love to do this year. (& yes, there is a reason there are 27 😉 ) Enjoy – & let me know your favorites, too!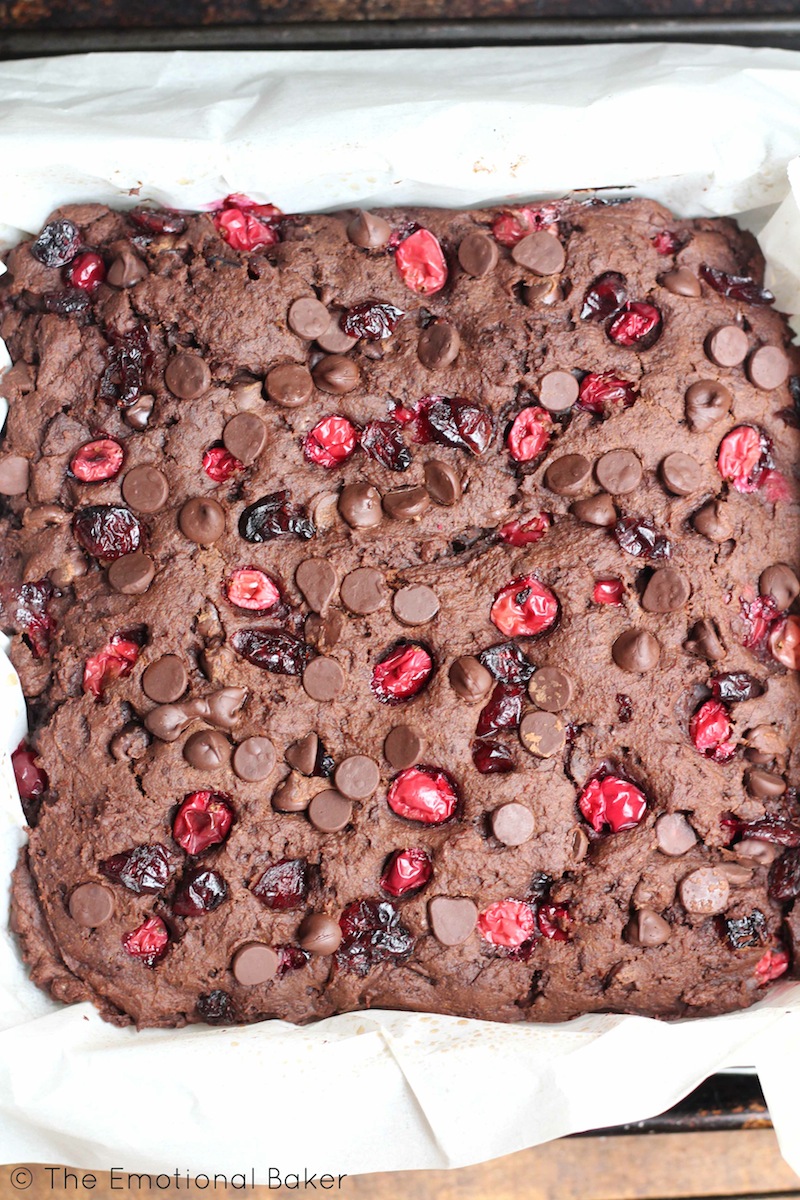 1. Make Birdseed Ornaments
2. Make Cranberry Popcorn Garland
3. Bake Gingerbread Men – coat in sugar, soft baked, with faces
4. Drink Hot Chocolate (add toasted coconut or peppermint!)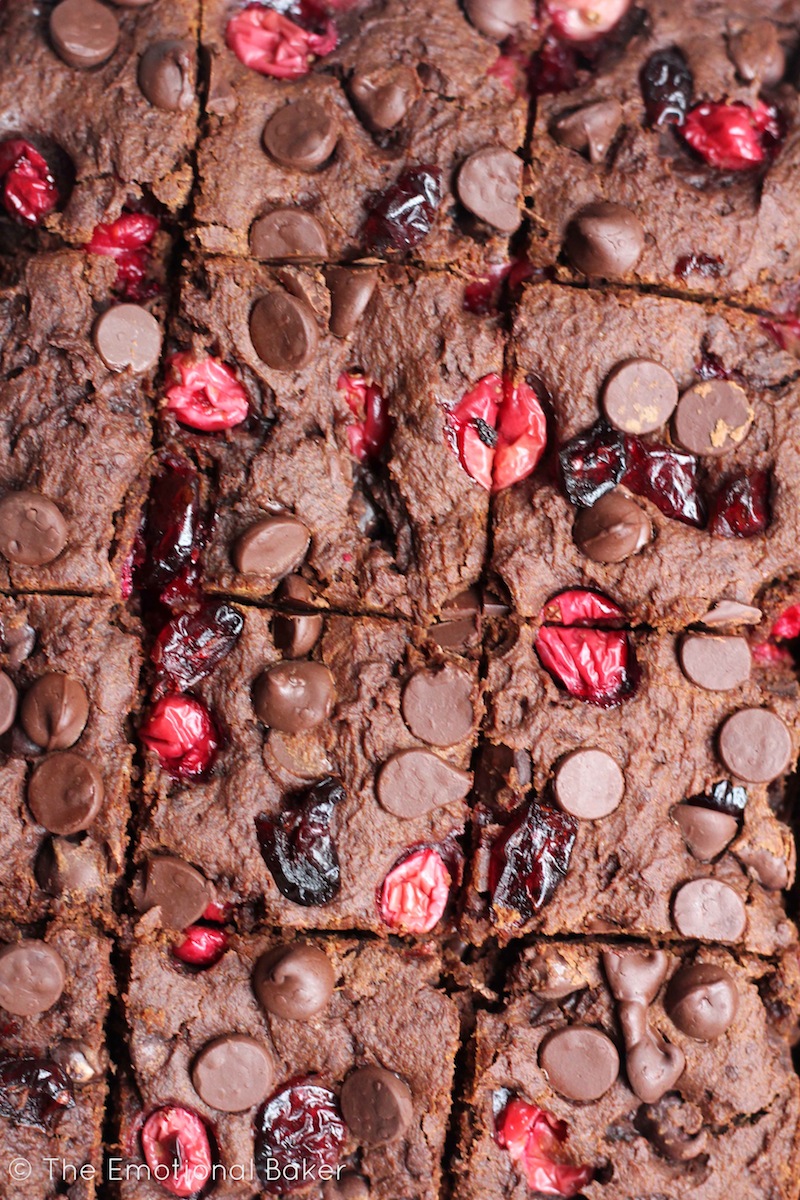 5. Bake a Chocolate Chess Pie with Peppermint Ice Cream
6. Make Jam
7. Bake Cinnamon Star Bread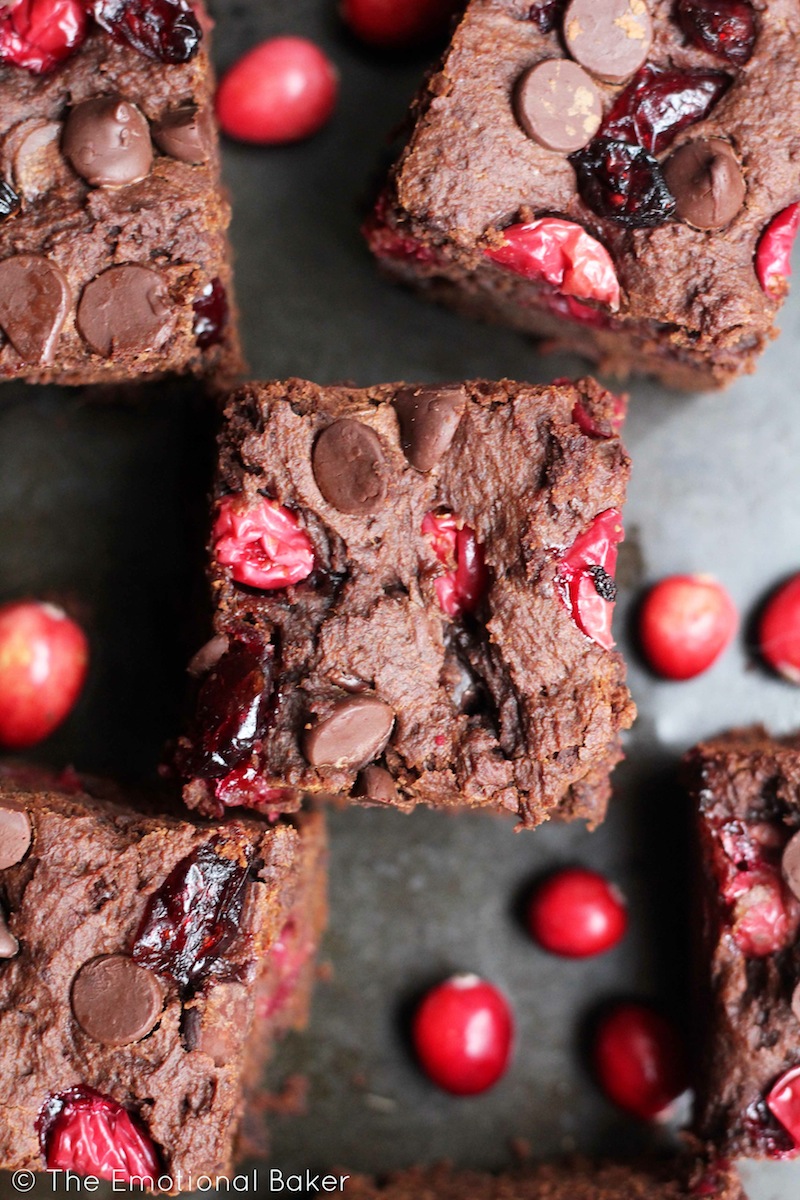 8. Bake Czech Kolaches
9. Make Homemade Vanilla Extract
10. Decorate the Christmas Tree as a family with holiday music and eggnog
11. Make Christmas Tree Pallet Art
12. Make Citrus Ornaments
13. Make Cinnamon Ornaments
14. Make a Homemade Gift
15. Have a Cookie Decorating Party
16. Hang Christmas Lights in Windows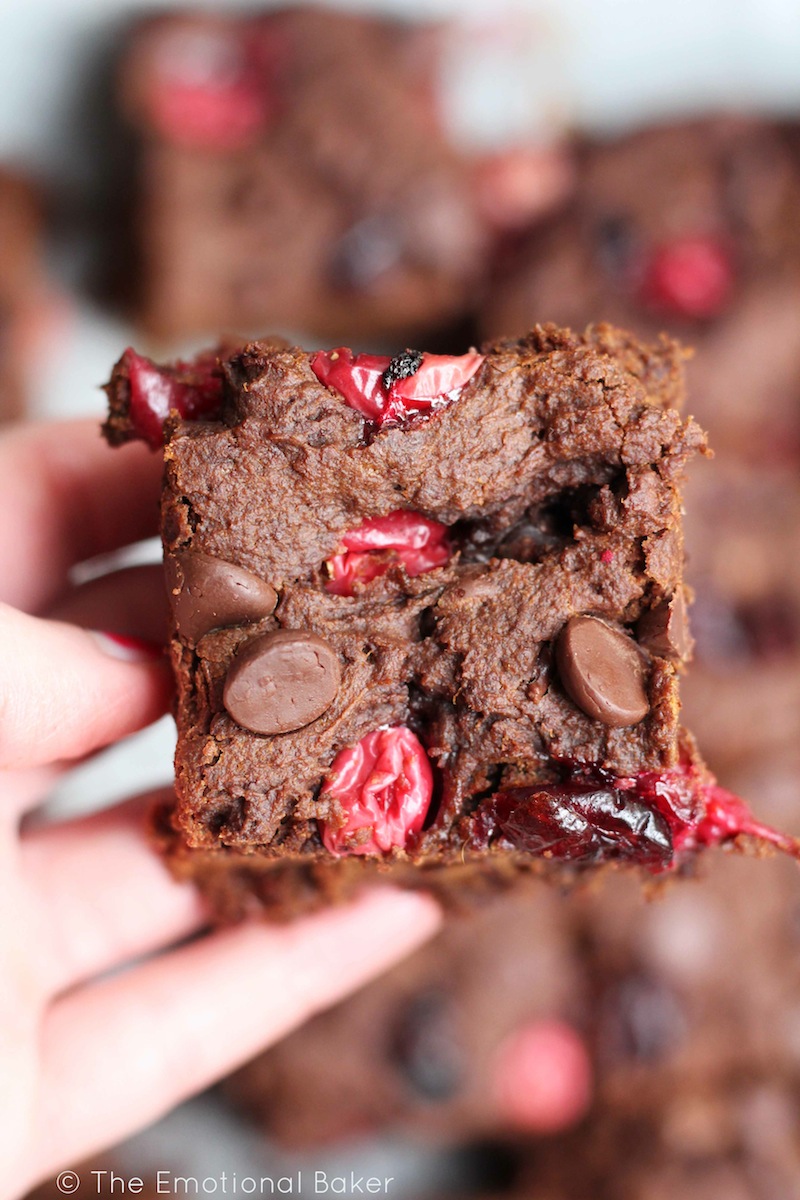 17. Make a Holiday Layer Cake
18. Make Spiced Oranges with Cloves
19. Bake a Yule Log
20. Bake Pizelles
21. Drive around and look at Christmas Lights
22. Make Squirrel Snacks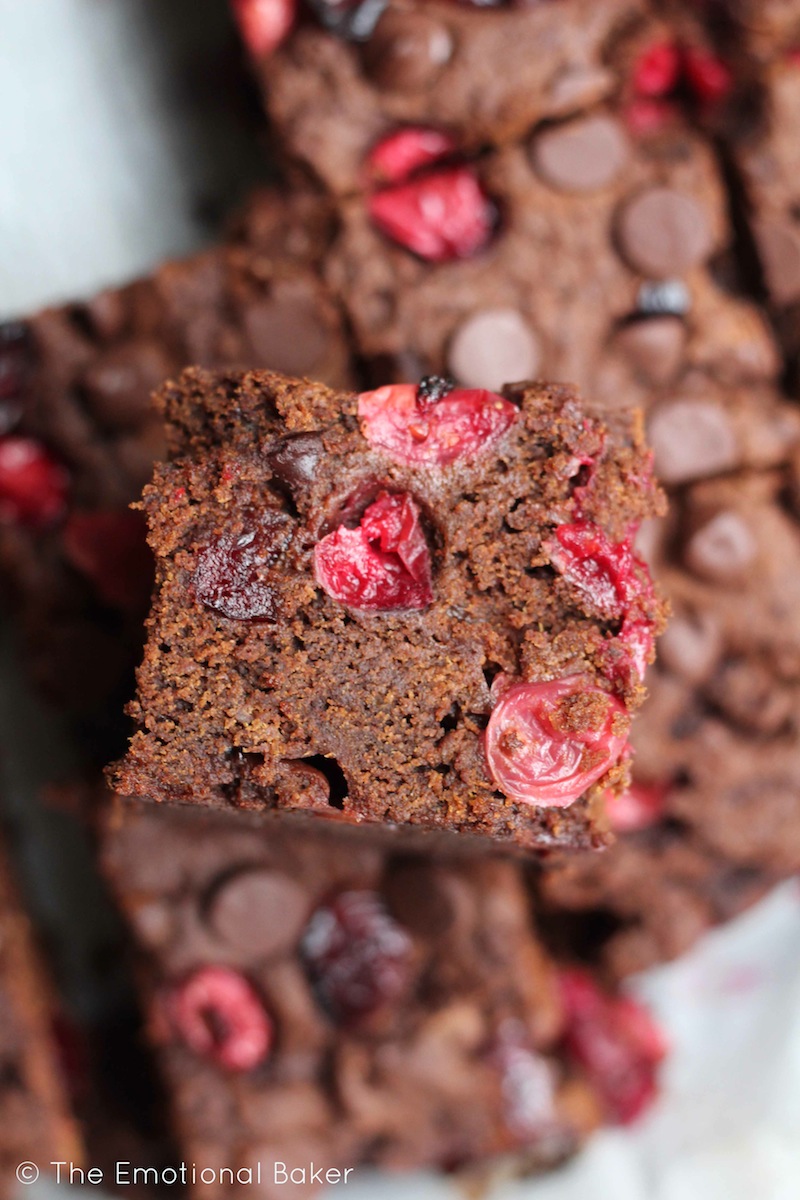 23. Make Fudge
24. Make Chocolate Bark with Peppermint or Pomegranate Arils
25. Bake Peppermint Jo Jos
26. Watch lots of Christmas Movies
27. Bake and eat Cranberry Brownies!!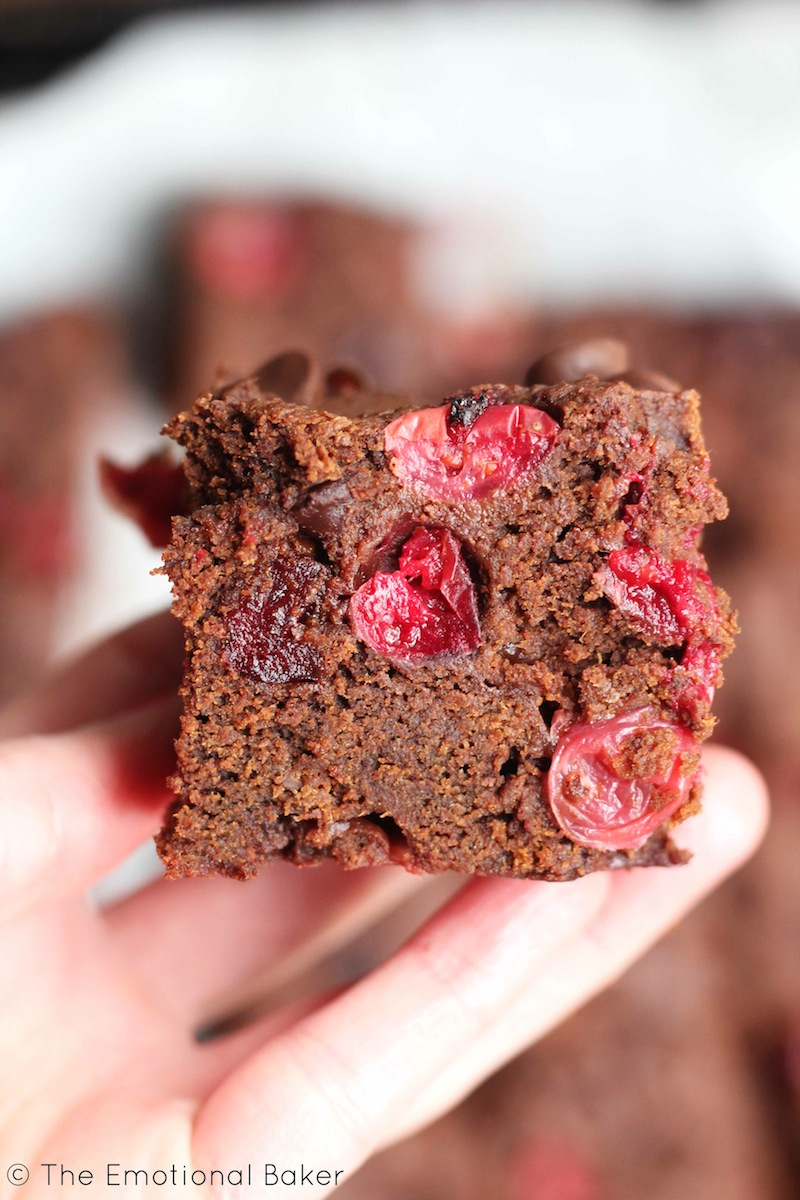 These Cranberry Brownies are the perfect combo of fudge-y and cake-y. You'll love the combination of chocolate and cranberries!
I created these brownies as part of The Sweetest Season Cookie Exchange. (see my previous contributions: Stollen Cookies, Pecan Pie Shortbread Cookies)
This year over 35 bloggers are sharing recipes and raising money for Cookies For Kids' Cancer.
If you'd like to donate simply, follow this link.
Ingredients
3.5 oz 85% dark chocolate
1.5 cups all purpose flour
1/2 cup cocoa powder
2 tbsp cornstarch
1/2 tsp baking soda
1/2 tsp salt
1- 15 oz can pumpkin
1.5 cup sugar
1/2 cup canola oil
1 tsp vanilla extract
1 cup fresh cranberries
1/2 cup dried cranberries
1/2 cup chocolate chips
Instructions
Preheat oven to 350 degrees. Grease a 8 x 8 inch glass pan and line with parchment paper. Spray pan with cooking spray, set aside. Also, prepare a mini muffin tin. Grease and set aside.
Melt dark chocolate at 50 percent power in 30 second increments, stirring in between. Once fully melted, set aside.
In medium bowl, combine flour, cocoa powder, cornstarch, baking soda and salt. Set aside.
In large bowl, combine pumpkin, sugar, oil and vanilla extra. Add dry to wet and mix until fully incorporated. Fold in melted chocolate. Fold in fresh cranberries, dried cranberries and chocolate chips.
Pour batter into prepared pan until about 3/4 full. Decorate with more cranberries and chocolate, if desired. Bake for 45-55 minutes or until a toothpick inserted in the center comes out clean. Place pan on wire rack and allow to cool. Once cool, pull parchment paper up and slice into bars.
* For mini muffins, bake 20 minutes.
Note: Recipe makes one 8 x 8 inch pan of brownies and nine mini muffins worth of brownies. Follow instructions on baking times.
http://theemotionalbaker.com/2017/11/27/cranberry-brownies/
Wishing everyone a terrific holiday season!!