These Cranberry Orange Energy Bites have bright, bold flavor that will give you a jolt for studying, exercising & everything in between.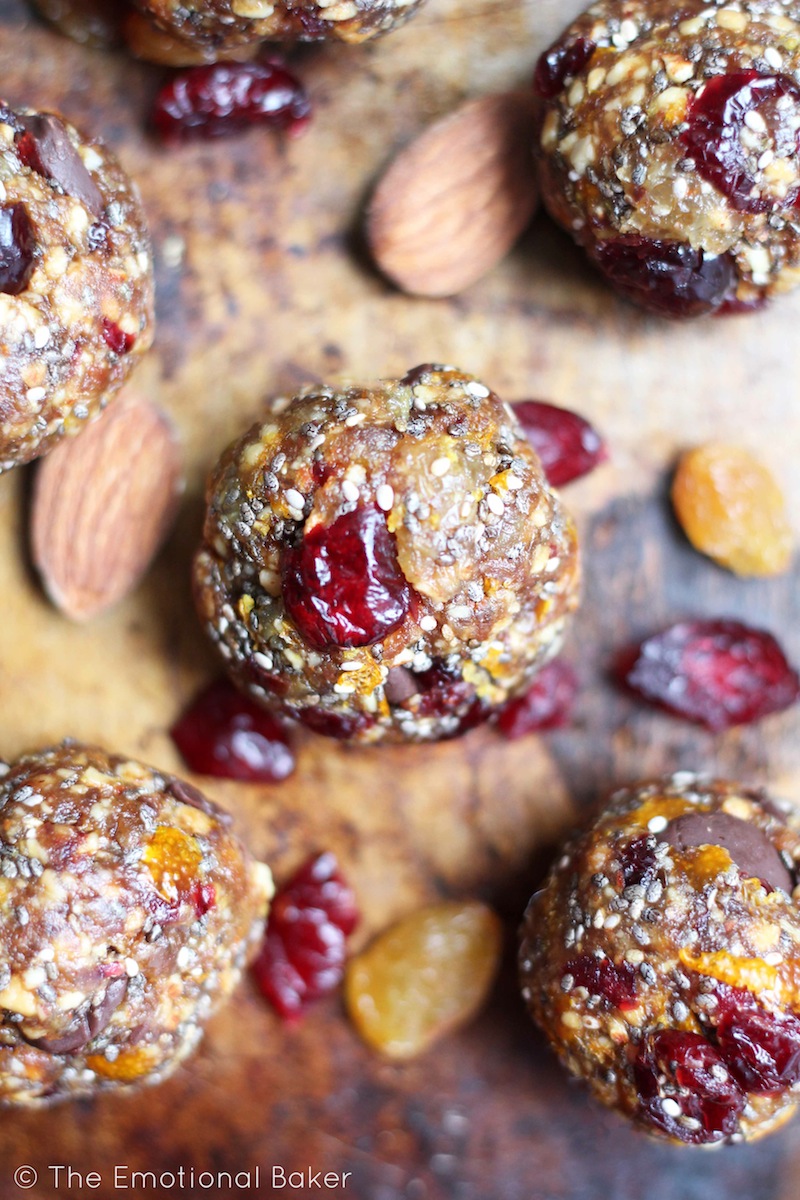 Let's be real. These energy bites were not intended to be Cranberry Orange Energy Bites.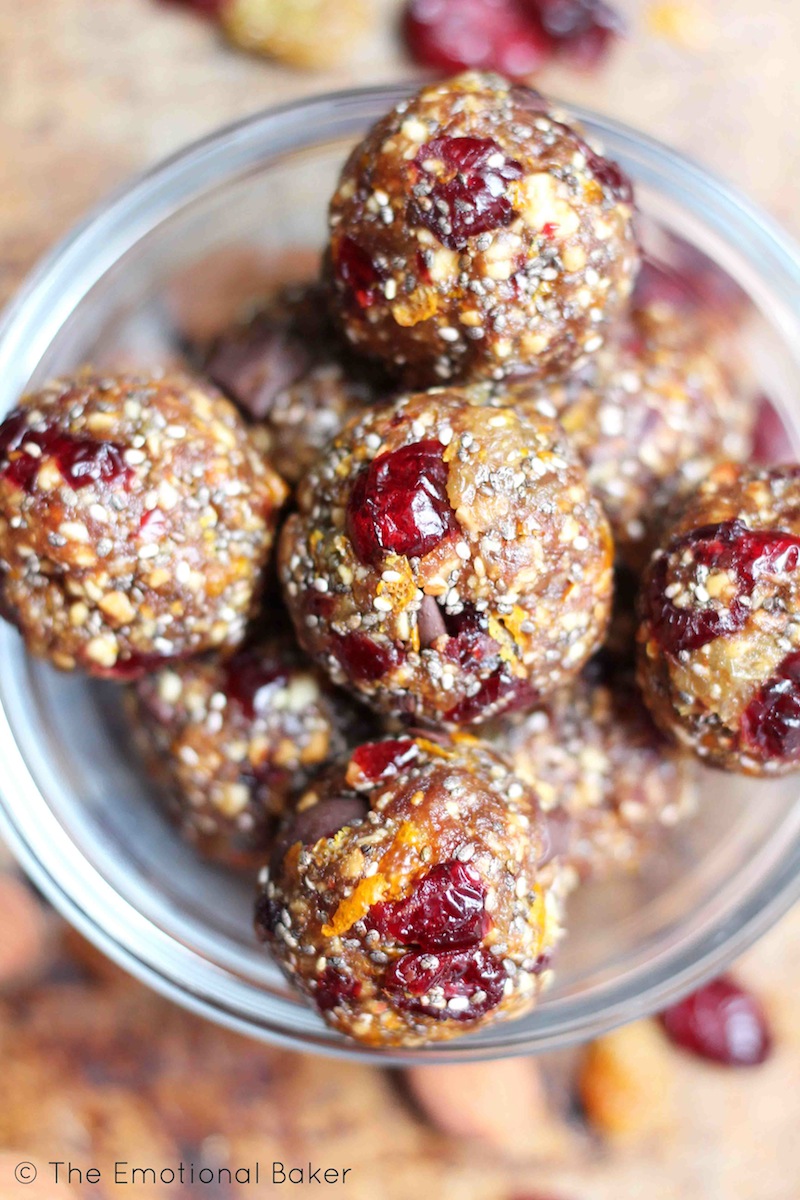 They were intended to be Stollen Energy Bites.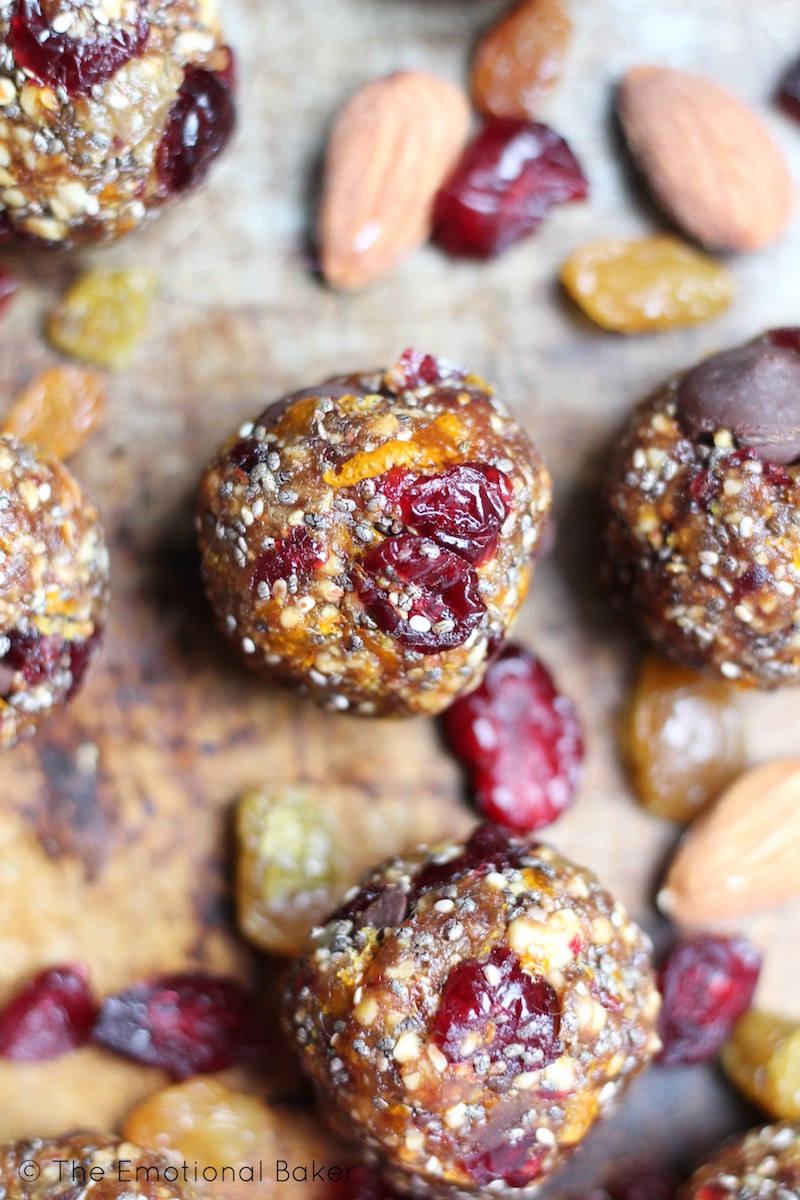 But how many people know what Stollen is? I would think a lot, but maybe not!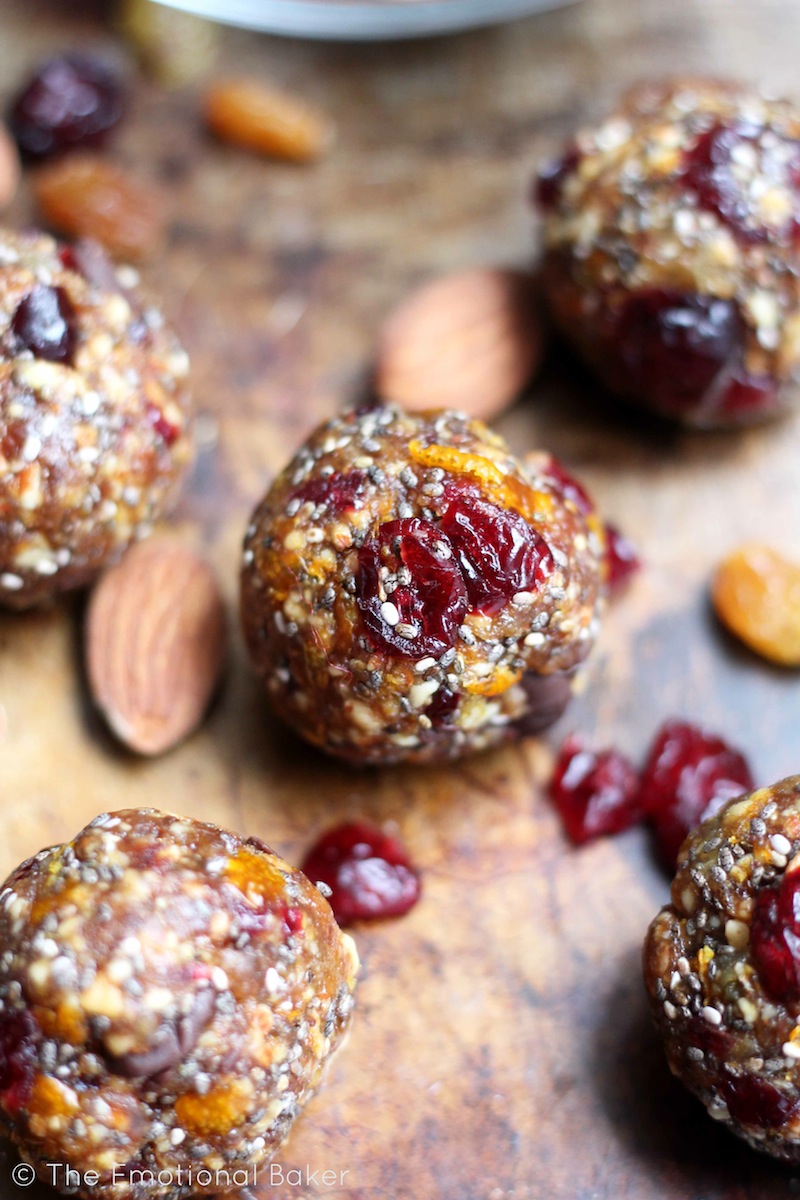 & if they do know about it, how many are looking for an energy bite version? & how many actually want an energy bite at Christmas time? Probably not as many as might want one now.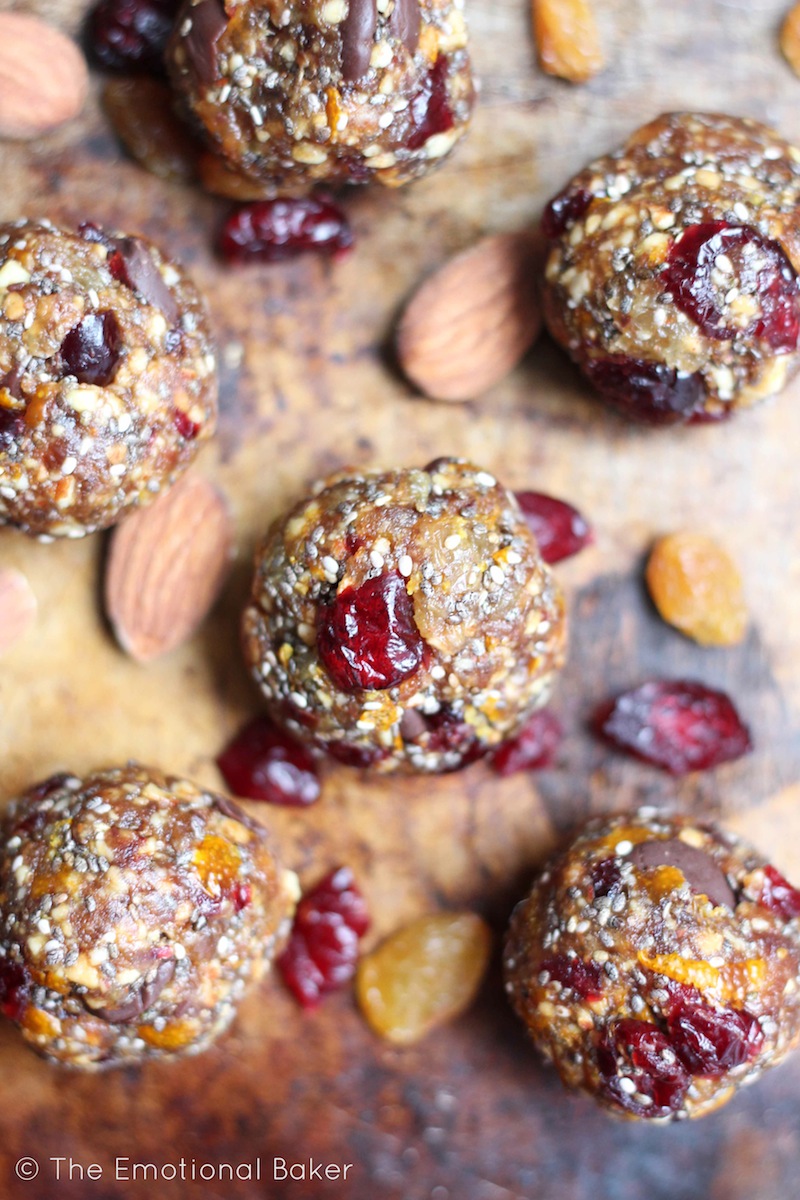 So, I bring you Cranberry Orange Energy Bites.
They are packed with fresh citrus flavor from orange juice and orange zest and plenty of cranberries throughout. (Oh, & all the stollen ingredients, too, like golden raisins and almonds to mimic marzipan!) I threw some chocolate in because who can say no to chocolate! & the most important part – they're packed with energy friendly ingredients like dates and chia seeds – my favorites!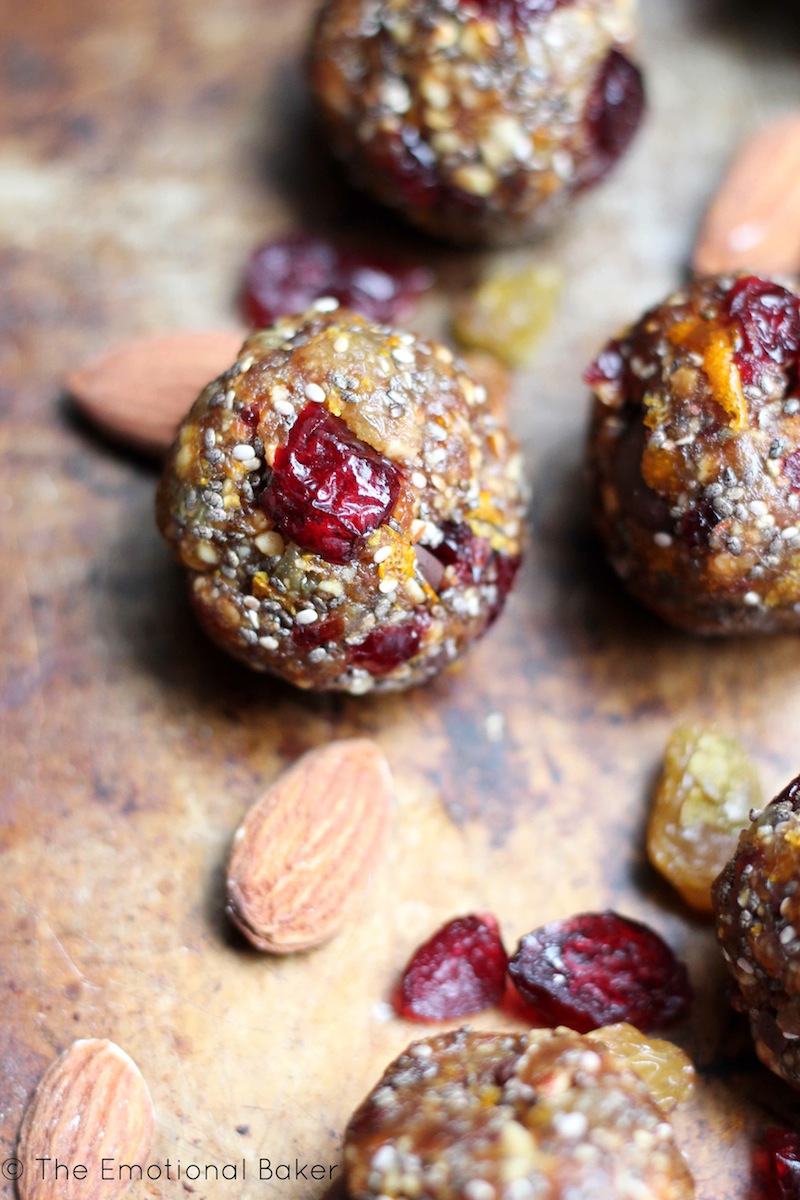 Did I make you crave stollen? These Stollen Cookies will help curb the craving (as will these bites 😉 )
Hope your new year is off to a great start!
Cranberry Orange Energy Bites
Ingredients
1 tbsp golden raisins
1 tbsp cranberries
1 tbsp orange juice
1/2 cup dates ~ 85 g
1/3 cup almonds ~ 50 g
1/8 tsp almond extract
1/2 tsp vanilla extract
1 tbsp dark chocolate chips
1 tbsp chia seeds
1/2 tbsp orange zest
Instructions
Soak golden raisins and cranberries in orange juice.
Meanwhile, pulse dates and almonds in food processor until small pieces form and it begins to come together in a ball.
Once combined, add soaked dried fruit (draining liquid,) almond and vanilla extract, chocolate chips, chia seeds and orange zest. Pulse until chocolate chips are slightly chopped.
Roll dough into one inch balls. Place on parchment lined dish and place in freezer for 20 minutes or until firm.
Store in airtight container in refrigerator.
http://theemotionalbaker.com/2018/01/08/cranberry-orange-energy-bites/