Start your day with easy and nutritious Red Velvet Overnight Oats. They feature beets and chia seeds for an energy boost!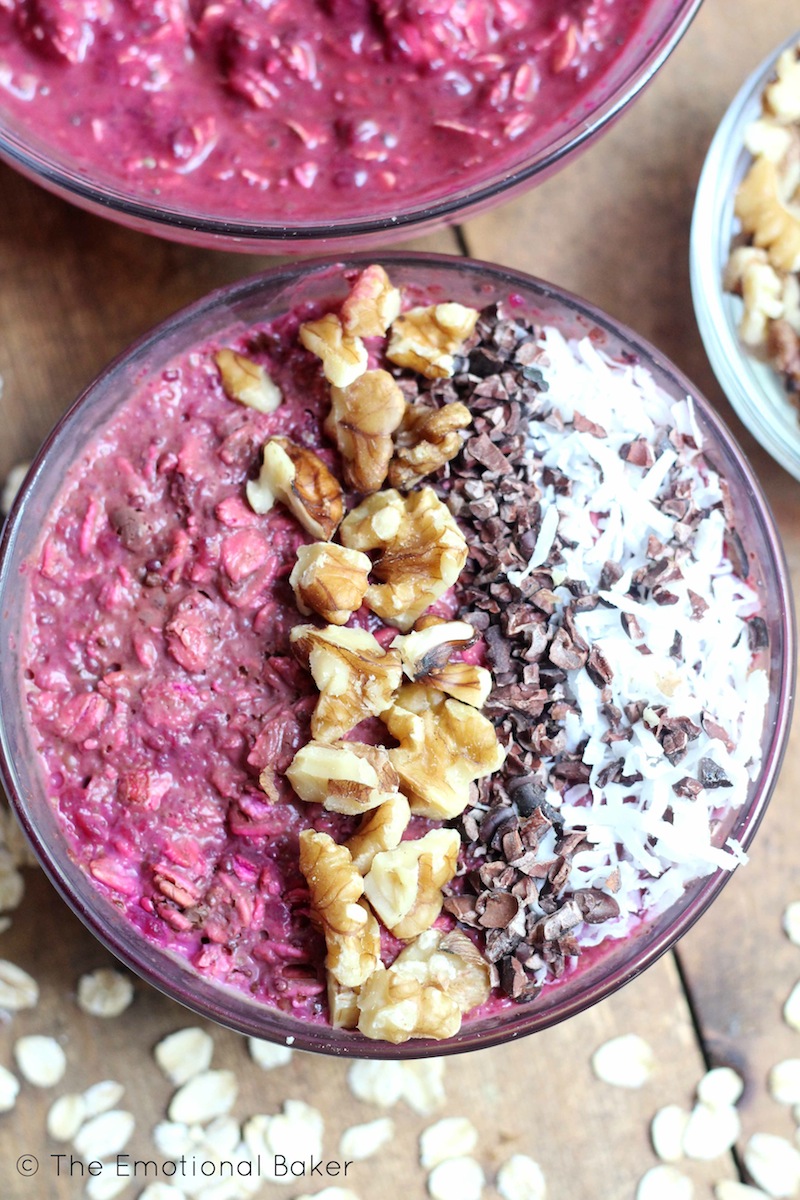 There are some things you only do once – like roast beets!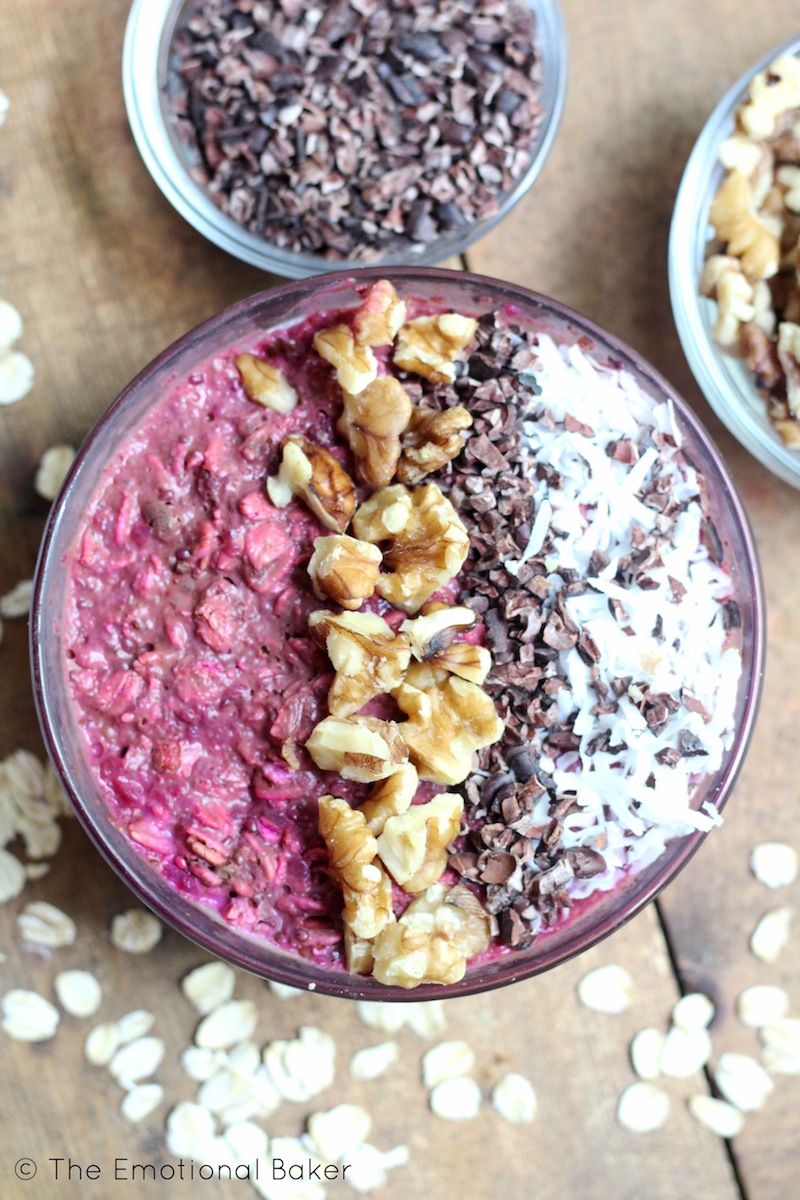 Two years ago, I set out to make naturally colored red velvet treats.
I searched for the perfect food dye alternative and decided to experiment with beets.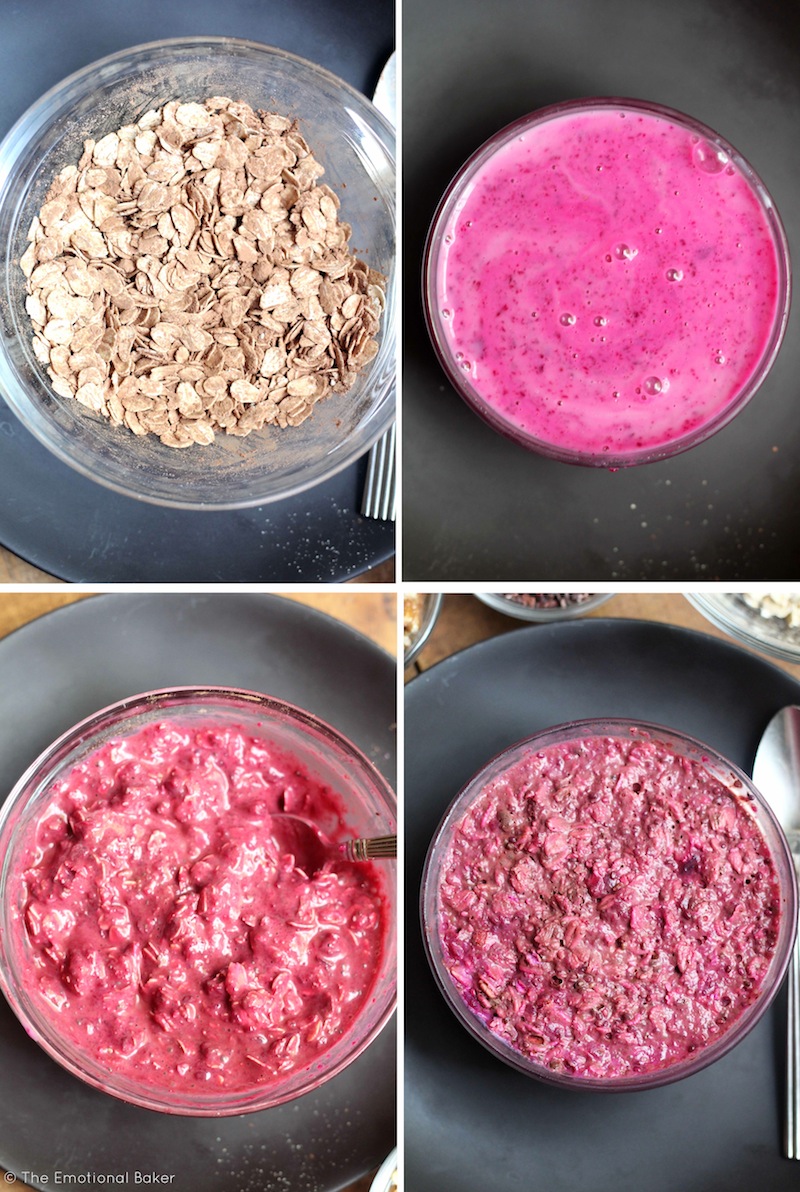 After researching cooking techniques, I carefully wrapped the beets with foil and checked them every so often, adding water as necessary to make sure they didn't dry out.
An hour went by and they still were not done. Once they finally cooked (it took close to 2 hours I think!), it was time to peel them – & boy, that was no easy task!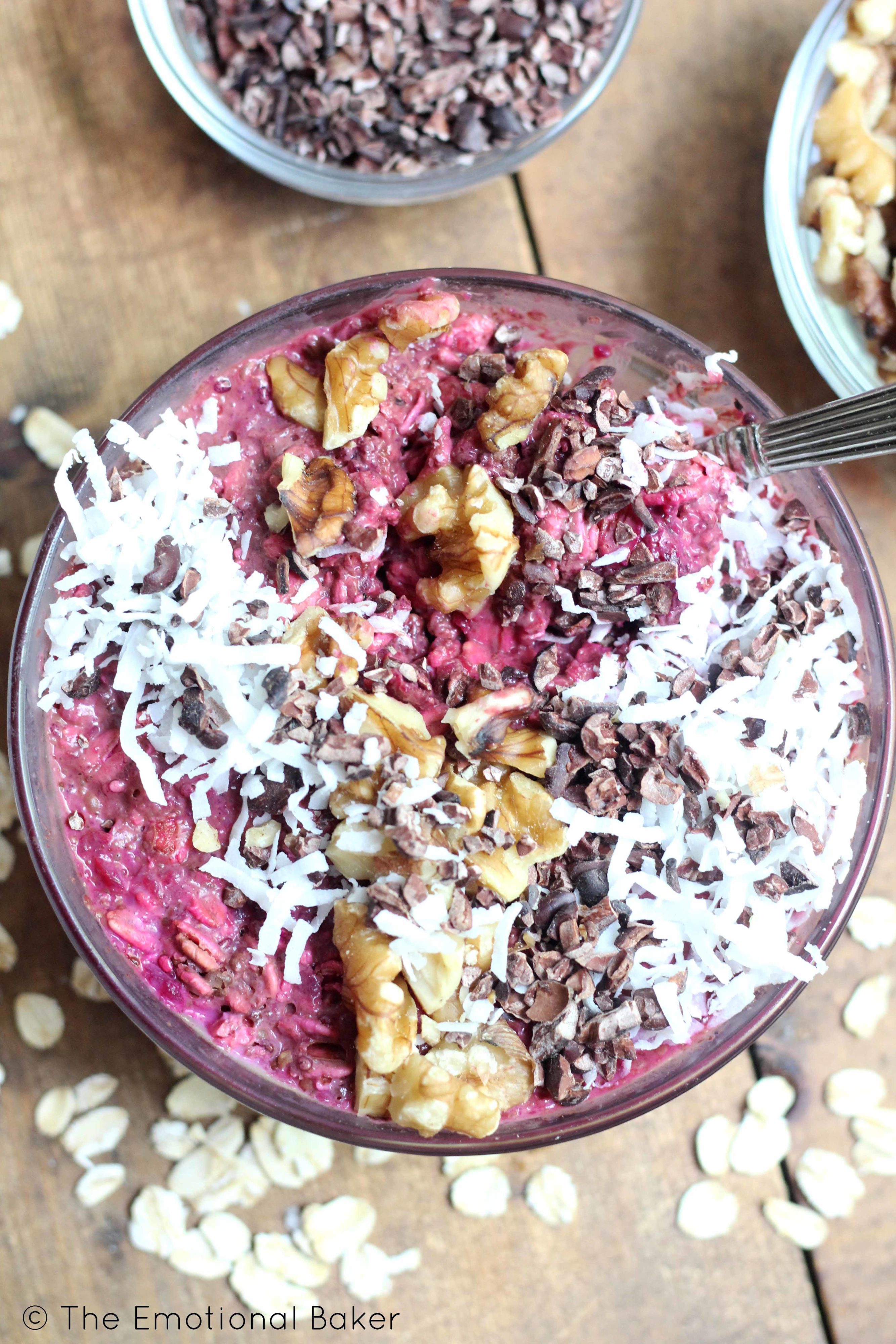 Then it was time for the easy part, mashing them – so I thought! I got a fork, but those buggers wouldn't budge – so in comes the food processor.
Once I finally had mashed beets, it was time to experiment – with cake and these Overnight Oats.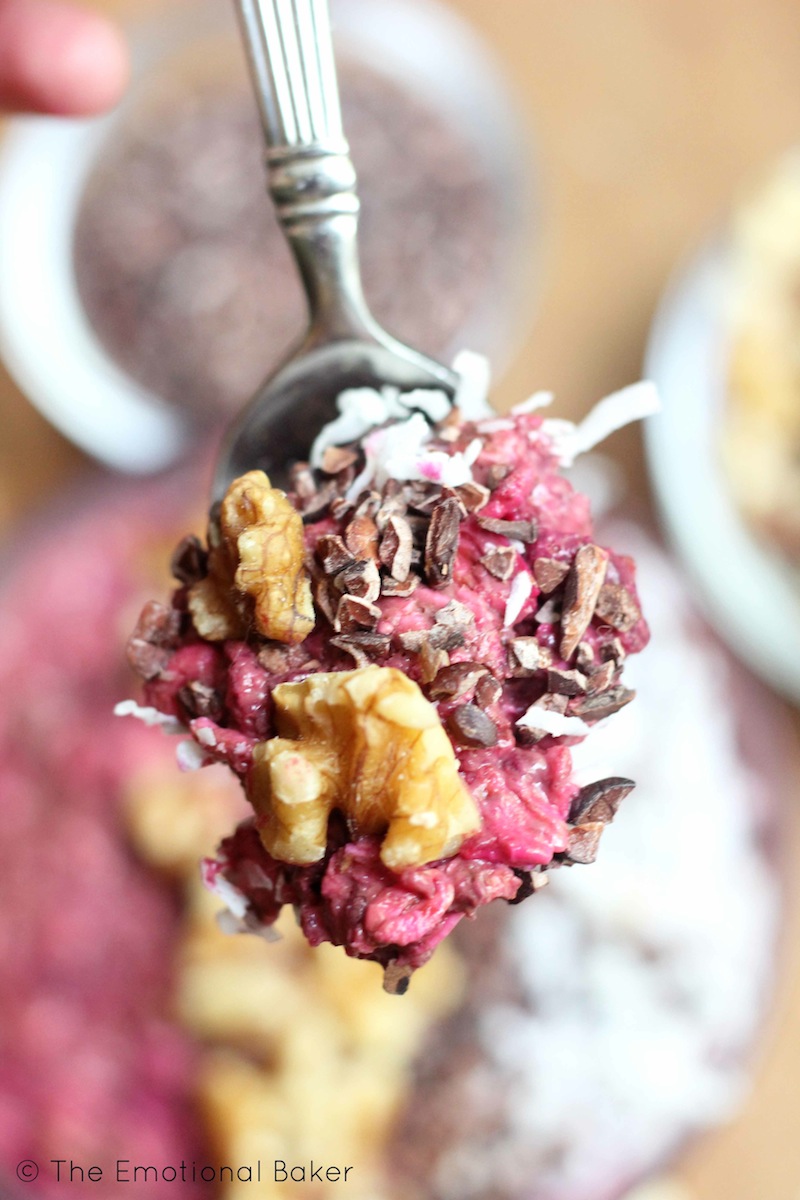 I'll admit at first I was hesitant to try these. But upon my first bite, I was in love! Be sure to be generous with toppings, like walnuts, cacoa nibs and coconut, if you're skeptical. These really do have a taste similar to Red Velvet Cake.
If you don't have time to roast beets, you can try to use canned beets, just mash them, or try baby food! There may only be mixes, such as with Strawberries. I've had success with Carrot Baby Food for my Carrot Cake Overnight Oats.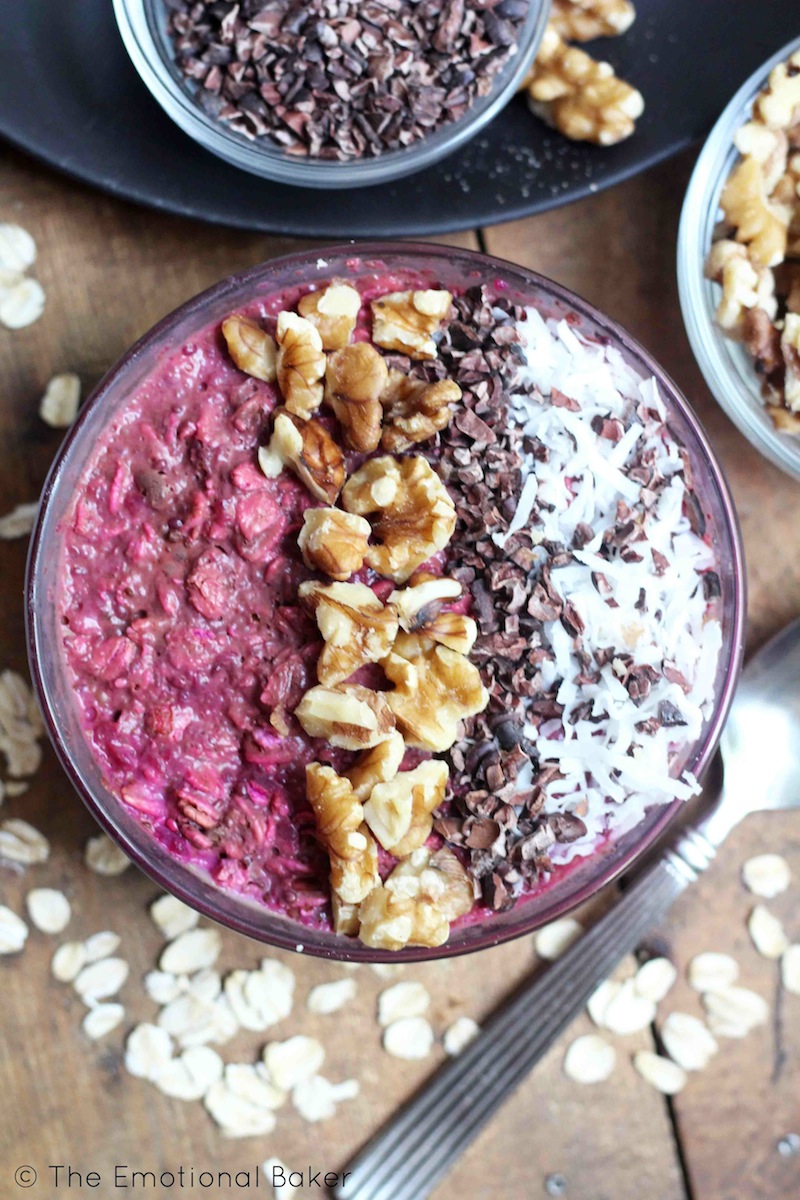 Hope you get to try these oats! Have a great Valentine's – xoxo, The Emotional Baker 😉
Red Velvet Overnight Oats
Ingredients
1/2 cup oats
1 tsp chia seas
1 tbsp cocoa powder
2 tbsp beets, roasted and mashed
1/4 cup non-dairy yogurt
1/4 cup non-dairy milk
Instructions
In medium bowl, combine dry ingredients.
In small bowl, stir together wet ingredients.
Add wet ingredients to dry and stir to combine.
Cover, and place in refrigerator overnight.
Stir and add favorite toppings, such as cacao nibs, coconut and walnuts.
http://theemotionalbaker.com/2018/02/12/red-velvet-overnight-oats/